January 18, 2011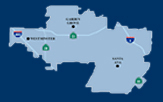 Welcome to this issue of Janet's Journal, a First District Report designed to keep you updated on issues and events concerning our communities in Orange County especially in the First District.

I am proud and honored to represent over 600,000 people within the First District covering the cities of Garden Grove, Santa Ana, Westminster and the unincorporated community of Midway City.

I hope you will find this journal informative. If you have any questions, comments, or suggestions, please do not hesitate to contact me. I look forward to hearing from you.

Respectfully,
Supervisor Janet Nguyen
---
IN THIS ISSUE...
2. Agenda Items

3. OCTA

6. Janet Around the First District

7. Local Issues

---
Click here to subscribe.
Click here to unsubscribe
---
Board of Supervisors
As we look ahead to 2011, we all know there will continue to be difficult challenges ahead of us. As I have completed my term as Chair of the Board of Supervisors, I want to thank my colleagues for their support during this challenging, yet successful, year. I look forward to continuing to work with my colleagues and constituents to address the challenges and seize the opportunities presented to us.

I especially want to congratulate newly elected Chair, Supervisor Bill Campbell, and thank him for his service as Vice Chair in 2010. I know that when we look back at the end of 2011, we will be able to celebrate the many goals we accomplished together.

I will outline in more depth some of our biggest accomplishments of 2010 in an upcoming issue of this newsletter and I look forward to sharing our goals for 2011 with you in future editions as well. Stay tuned, we have some wonderful events planned for the First District in 2011!


Agenda Items
Board Appointments

The County has many opportunities for residents interested in serving on various committees and commissions. If you are interested in what is available, visit www.ocgov.com and click on "Departments and Agencies." The Boards Committees and Commissions information can be found under the Clerk of the Board link. If you are interested in applying for an open position, send an email with your resume to first.district@ocgov.com.

John Wayne Airport Primary Concessions

At the January 11, 2011 meeting, the Board of Supervisors unanimously chose HMS Host (Host) as the primary food concessionaire for Terminals A, B and C in John Wayne Airport. Host's proposal includes a variety of restaurants, many of which are unique to Orange County. By the end of the year, passengers traveling through the airport will be able to enjoy restaurants such as Ruby's, Javi's, California Pizza Kitchen, Pei Wei, Zov's Bistro, Jerry's Wood-Fired Dogs, Fresh Market, Pinkberry, Starbucks, La Tapenade, Ciao, Hobie Hut and an Anaheim Ducks themed bar, among others.

John Wayne Airport News and Gifts

Paradies-John Wayne, LLC was chosen by the Board of Supervisors to operate the news and gifts concessions in Terminals B and C. Paradies will provide South Coast News in Terminal B and OC TravelMart in Terminal C.

OC TravelMart will feature Diedrich Coffee, a selection of prepackaged foods and plasma displays with CNBC news and local news. Beachfront News will be located in Terminal C and will feature six surf cams, prominently displayed at the entry, which immediately deliver travelers to surf, sun and sand.

"H2O & a Paper To Go" is a self serve kiosk that will allow customers to purchase newspapers and bottled water bypassing the cash register. Paradies' Recharge concept will allow customers to charge batteries for their laptops, PDAs, cell phones, etc. in a convenient, secure environment. A BlackBerry store will serve as a specialty retail location for the remaining 1/3 of the Terminal C location.

The Hudson Group was chosen to operate the news and gifts concessions in Terminals A and C. The Hudson Group's proposal includes a Hudson News, located on the secure side of Terminal A and the newswall located on the secure side of Terminal A. The store will include "Discover Orange County" and "Orange County Market" sections to accentuate the Orange County locale.

The Hudson Group has obtained exclusive agreements with Mission San Juan Capistrano, Bowers Museum, the Richard M. Nixon Library and The Heritage Museum to promote their merchandise in the "Discover Orange County" section. The Hudson Group has also teamed up with the Anaheim Orange County Visitor & Convention Bureau whose local knowledge will assist in the selection of products which represent local cultural attractions.

Hudson News will also feature a "Tech on the Go" portable electronics section. The Hudson Group proposal also includes CNN Newsstands for the store located in Terminal A pre-security and for the Terminal C location. Both CNN Newsstand locations will feature "Tech on the Go" and a selection of gifts and souvenirs. Travelers will also be able to view live CNN news programs while shopping. The Hudson Group proposes to feature a Rip Curl Surf Shop and Sunglass Hut for the specialty retail location in Terminal A. The Hudson Group's financial reports consistently indicate profitability from operations.


OCTA
First Quarter Budget Status Report

I am pleased to announce that the FY 2010-11 first quarter budget status report validates that OCTA remains on track to deliver on its goals and objectives. In the first quarter, M1 sales tax revenue exceeded the budget by $4.3 million and the Local Transportation Fund (LTF) transit program revenue by $3.1 million. Year-end projections for both the M1 and LTF sales tax revenue is on track to exceed the FY 2010-11 budget by $8.4 million and $5.8 million. This additional revenue enabled the Board to defer the planned January 2011 fare increases by at least six months.

West County Connectors Project

The West County Connectors Project was initiated by the OCTA and California Department of Transportation (Caltrans) to link carpool lanes on the I-405 with those on the SR 22 and the I-605. The goal is to create a seamless high-occupancy vehicle (HOV) connection between the three freeways. The project traverses through several cities, including Garden Grove and Westminster.

As a result, construction often causes various lane restrictions or road closures. One of the most significant closures will occur in the first quarter of calendar year 2011. The northbound 405/westbound 22/7th Street connector will be fully closed for up to one year. In order to mitigate the inconveniences associated with this closure as well as others, OCTA continues to pursue an extensive outreach effort to the community. I encourage you to visit www.octa.net/westcounty to learn more about the project, provide feedback and sign up for email updates.

For the latest information on road closures, you can also call the construction helpline at (800) 724-0353. For additional information, contact Christina Byrne at 714.560.5717 or cbyrne@octa.net.

Draft Long-Range Transportation Plan Update

The Draft Long-Range Transportation Plan (LRTP) sets a transportation vision for Orange County for the next 25 years. The Plan is prepared every four years to reflect updated demographic projects on economic conditions, new regulations and other issues. In March 2010, the OCTA Board directed staff to share the draft transit strategy with local jurisdictions to gather local input and begin land use and transportation coordination efforts.

The following changes were made since the 2006 LRTP:

Measure M Extended Through 2041
In November 2008, voters overwhelmingly approved a 30-year extension on the half percent sales tax measure (M2) that will provide $13.85 billion in additional locally-controlled funds for transportation priorities through 2041.


Passage of Prop 1B
State Proposition 1B provides $19.9 billion for transportation infrastructure investment statewide. More than $750 million was allocated to Orange County.


Environmental Legislation
State Legislature passed Senate Bill 375 in 2008, requiring that regional transportation plans include strategies to reduce greenhouse gas emissions from automobiles and light trucks.


Economic Recession
Since 2008, transportation revenues from sales taxes, state and federal government grants, and other sources have substantially declined since the 2006 LRTP. Transit service has been restructured to adjust to the economic reality.


2010 CEO Action Plan Final Report

CEO Will Kempton's Action Plan summarizes the 2010 goals, activities and metrics set forth by the CEO, which are consistent and complementary to the Chairman's 2010 goals. During this year, the emphasis of the CEO's goals continued to be on early project delivery, taking advantage of a favorable bidding environment, strategic planning and organizational efficiency. To view the CEO's Action Plan, visit http://atb.octa.net/AgendaPDF/4082.pdf. A few highlights of the plan are:

Develop an Integrated Toll/Express Lane Network for Orange County.
Develop the managed lanes concept into a countywide and regional toll and carpool network.
Work with local and regional partners to implement SB 375.
Protect and advance OCTA interests at the federal, state and local levels.
Build sustainability into OCTA's operations.
Sustain OCTA as a workplace of choice.
Respond to the changing economic environment and reductions in capital and operating resources.
Continue the conversion of HOV lanes to continuous access.
Implement plan of action to convert Orange County carpool lanes to continuous access.
Highlight OCTA activities and programs by increasing use of e-communications, including direct-mail communications on predetermined schedule, use of social networking platforms and telephone applications.
Assess public attitudes, awareness and opinions about OCTA programs, projects and services and monitor public perception about transportation services in the County.
Successfully manage financial transition from M1 to M2.
Manage OCTA health care cost growth.
Integrate rail services in the LOSSAN Corridor. Acceleration of high speed rail connection between Los Angeles and Anaheim.
Integrate Metrolink, Amtrak, future high speed rail and Orange County bus service to provide train riders with a seamless transportation experience.
Increase the efficiency of OCTA operations by implementing bus service reduction, preparing for additional reductions based on reduced state revenues, and planning to restore or introduce new service based on defined metrics.
Health Bulletin
Team in Training

Have you ever wanted to run a marathon or complete a 100-mile bike ride while helping to raise money for charity? Here's your chance to embark on a journey with like minded individuals along with raising money for The Leukemia & Lymphoma Society (LLS).

Team In Training® (TNT) is the world's first, best and largest endurance sports training program, providing first timers and seasoned athletes the opportunity to achieve their best while running or walking a marathon or half marathon, cycling a 100-mile century ride, or completing a triathlon or hiking adventure. This unique program provides you with the coaching, training and motivation to make your athletic goals a reality! In addition, you'll travel with your teammates to amazing destinations for an incredible weekend event experience.

In exchange for unsurpassed endurance sports training and support, you raise money to help LLS find cures for leukemia, lymphoma, Hodgkin's disease and myeloma and improve the quality of life of patients and their families.

Every 4 minutes one person is diagnosed with a blood cancer.
Every 10 minutes someone will lose their battle with a blood cancer.
Leukemia causes more deaths than any other cancer among children and young adults under the age of 20.
An estimated 912,938 people in the United States are living with, or are in remission from a blood cancer.
Teams are forming for the following events:

Rock 'n' Roll San Diego Marathon & Half Marathon -June 5, 2011 (San Diego)
Mayor's Marathon & Half Marathon - June 18, 2011 (Anchorage, AK)
America's Most Beautiful Bike Ride - June 5, 2011 (Lake Tahoe, NV)
South Maui Triathlon - June 12, 2011 (Maui, HI)
Big Rock Triathlon - April 16, 2011 (Lake Perris, CA)
Grand Canyon Hike - May 21, 2011 (Grand Canyon, AZ)
Learn about TNT at the following information meetings:

Irvine: Woollett Aquatics Center (classroom)
4601 Walnut Avenue
Thursday, January 13th @ 6:30 pm
Costa Mesa: Costa Mesa Neighborhood Community Center
1845 Park Avenue
Tuesday, January 18th @ 6:30 pm
Aliso Viejo: Aliso Viejo Library
1 Journey
Wednesday, January 19th @ 6:30 pm
Brea: Brea Community Center
695 E. Madison Way
Thursday, January 20th @ 6:30 pm
Ladera Ranch: Ladera Ranch Middle School
29551 Sienna Parkway
Monday, January 24th @ 6:30 pm
Newport Beach: Newport Coast Community Center
6401 San Joaquin Hills Road
Tuesday, January 25th @ 6:30 pm
Huntington Beach: Huntington Beach Library
7111 Talbert Avenue
Wednesday, January 26th @ 6:30 pm
Orange: The Leukemia & Lymphoma Society
765 The City Drive South, Suite 260
Saturday, January 29th @ 10:30 am
For questions and additional information, please contact Florence Weinstein at (714) 481-5605 or Florence.weinstein@lls.org.


Youth Connection
Volunteer in Orange County

Many high school students have a community service requirement to fulfill in order to graduate. OneOC (formerly known as Volunteer Center Orange County) is the perfect place to learn about volunteer opportunities in Orange County. Visit www.oneoc.org and navigate to the Youth & Family Volunteering link. Here you'll find links to the Project Calendar, Ongoing Volunteer Opportunities and ways to plan your own service project.

One such opportunity is the Childhood Enrichment Program (CEP). CEP is a program administered by Illumination Foundation targeting children in two age groups; 0-5 and 6-10. Volunteers will interact with these children with the goal of enhancing their learning potential in reading, coloring and other activities. A minimum four week commitment is requested to encourage stability in the lives of these children. For more information, please contact Linda Serio at lserio@ifhomeless.org.

For additional questions contact OneOC staff at info@oneoc.org or call (714) 953-5757. OneOC is located at 1901 E. 4th Street, suite 100, Santa Ana, CA 92705. Office hours are Monday through Friday, 8:30 a.m. to 5 p.m.


JANET AROUND THE FIRST DISTRICT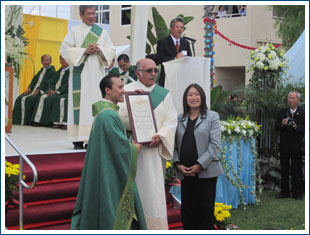 Supervisor Janet Nguyen, as Chair of the Orange County Board of Supervisors, celebrated the dedication and blessing of Our Lady of La Vang New Parish Pastoral Center at its ribbon cutting ceremony.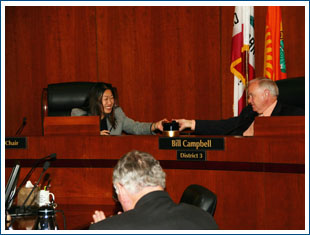 Supervisor Janet Nguyen, Chair of the Orange County Board of Supervisors for 2010, passes the gavel to the new Chairman, Supervisor Bill Campbell, who served as Vice Chair of the Board in 2010.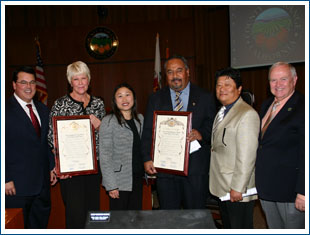 Supervisor Janet Nguyen, in her last meeting as Chair of the Board of Supervisors, presents a resolution to the First United Methodist Church in Santa Ana and the First Evangelical Free Church of Fullerton for their efforts in helping to provide shelter to those in need during the recent rain storms. Pictured (l-r): Supervisor Shawn Nelson; LaDona Peterson, Assistant to Pastor Jay Williams of First Evangelical Free Church in Fullerton; Supervisor Janet Nguyen; Pastor David Jamir and Reverend Saia Tu'itahi from the First United Methodist Church in Santa Ana; and Supervisor Bill Campbell.


LOCAL ISSUES

* The following articles are for informational purposes only and are not necessarily intended to imply endorsement or support.
Orange County

Armory Shelter Program
The County of Orange Armory Emergency Shelter Program opened at the Fullerton and Santa Ana Armory locations to house those less fortunate for the upcoming winter days.

While the program is operated by a nonprofit organization (Mercy House), volunteer opportunities are available for County employees. Last year over 32,000 bed nights were provided to over 1,500 homeless individuals at the National Guard Armories. The success of the Armory Program is largely due to the collaborative efforts of County agencies, churches, nonprofit agencies and dedicated individuals who generously volunteer their time. Volunteer opportunities include: helping the homeless to sign-in, distributing blankets and clothing, serving food, setting up and cleaning up.

Both Armories are tentatively scheduled to remain open seven days a week through at least March 2011. The Armory Emergency Shelter Program will offer hot meals, showers, clothing, blankets, a safe place to sleep, and shelter from the winter weather, as well as other supportive services to approximately 400 homeless people per night.

If you are interested in volunteering for this worthy cause, or you know someone who is or would be interested in volunteering, please contact Ashleigh Anderson Camba of Mercy House via email at ashleigha@mercyhouse.net. For any other questions about homeless issues, you may contact Kelly Lupro of the OC Community Services, Homeless Prevention Division at (714) 480-2744 or Kelly.Lupro@occr.ocgov.com.

Orange County Human Relations Award Nominations
The 40th Awards Ceremony for OC Human Relations will take place on May 5, 2011, and nominations for awards will be taken until January 25th. The public is invited to nominate individuals or groups who have made extraordinary human relations or civil rights contributions to Orange County. Also, in honor of the 40th anniversary, the commission is seeking nominations for Lifetime Achievement Awards to honor those that have made 20 or more years of contributions to Orange County.

Visit the OC Human Relations section of the County of Orange website for information on the nomination process, or contact Don Han at (714) 796-8361 or don@ochumanrelations.org. The awards ceremony will be held at the Grove of Anaheim.

Special Outreach Project with California
Important information for IRS partners in California regarding program notifying taxpayers of potential eligibility:

The IRS is initiating a program in California to reach state residents who appear to be eligible for, but did not claim the Earned Income Tax Credit (EITC) on their 2009 federal returns. The IRS already sent these individuals a letter, but they did not reply.

The IRS has sent second notices to over 46,000 California residents in November and welcome aid help in alerting clients to this mailing. The letter will arrive in November and will include instructions, worksheets and information on where to get help. Taxpayers who receive these letters may be eligible to receive up to $5,667 from the Internal Revenue Service (IRS), but they must reply and provide the requested information.

For more information, visit http://www.eitc.irs.gov/ptoolkit/caproject/.

Grand Jury Applicants
The Orange County Superior Court urges individuals to consider applying to serve on the 2011-2012 Grand Jury. The number of applications received by the Court is significantly less than in previous years and they are reaching out to the community to ensure Orange County is adequately served.

Serving on the Grand Jury is a unique opportunity to have a significant impact on the lives of Orange County residents. Grand Jurors review and evaluate county and city agencies, schools, and special districts within Orange County. Past reports have focused on timely issues such as the condition and management of Orange County jails, planning for statewide water shortages, and the child abuse index. Grand Jurors make a difference by performing an oversight function into the operation of local government. They attend tours and briefings to increase their knowledge of the workings of county agencies to help them evaluate and assess potential problems in our county.

A grand juror must be 18 years of age or older, a United States citizen, and an Orange County resident for at least one year. Before being nominated, each qualifying applicant is interviewed by a panel of Superior Court judges. The Orange County Sheriff's Department conducts background investigations of nominees.

The application is easy to complete using the fillable/savable/printable "smart form" on the Grand Jury website, www.ocgrandjury.org. Applications are also available at the Jury Commissioner's Office located in the Central Justice Center, 700 Civic Center Drive West, Santa Ana during regular business hours.

The deadline to submit applications is January 21, 2011, so apply now. For more information, visit the Grand Jury website, or call the Grand Jury Hotline, (714) 834-6747.

Disaster Debris Disposal and Fee Deferral for Cities Affected by Recent Southern California Storms
A state of emergency was declared in late December due to the severe rain storms that battered Orange County. To assist cities in disaster damage cleanup, Orange County Waste & Recycling is deferring collection of disposal fees for disaster debris disposed of at all three of the active landfills: Olinda Alpha, Frank R. Bowerman and Prima Deshecha.

Once cities follow the procedures outlined, they will be permitted to defer payment of disposal charges for disaster debris until a claim has been processed by state/federal sources. Deferral will be permitted for a 90-day disposal period beginning December 22, 2010 and ending March 21, 2011. Cities bringing in excessively wet waste need to contact the landfill site to receive approval prior to delivery.

For additional information, please contact OC Waste & Recycling at (714) 834-4000 or visit www.oclandfills.com.

Free Workforce Development Programs Available
The Rancho Santiago Community College District and the Institute Women Entrepreneurs (IWE) are offering free or low-cost resources for the Orange County business community, including free one-on-one business consulting services and workshops.

Upcoming workshops include:

The Power of LinkedIn, Wednesday, January 19, 2011, from 5:30 p.m. to 8 p.m.
Search Engine Optimization, Tuesday, January 25, 2011, from 5:30 p.m. to 8 p.m.
Blogging Bootcamp (three-part series), Wednesdays, February 9, 16 and 23, 2011, from 8:30 a.m. to 11 a.m.
The IWE is located at 2323 North Broadway in Santa Ana, Calif. 92706. For additional information and details about the full suite of economic and workforce development programs available for small, mid-sized and mature businesses, visit www.rsccd.edu.

Request for Proposals
OC Community Services released a Request for Proposal for Workforce Services applications in BidSync on January 3, 2011. The Bid number is 1012-001. Proposals are due by February 4, 2011, at 2 p.m. at:



Orange County Workforce Investment Board
County Operations Center
1300 South Grand Ave., Building B, 3rd Floor
Santa Ana, CA 92705
Attention: Special Projects Manager, Bid Number 1012-001

Respondents may be public agencies, business organizations, public or private not-for-profit corporations, community-based organizations, local educational agencies, or private for-profit corporations organized in accordance with State and federal laws. Respondents are not eligible if the organization, or if 2/3 of the officers of the organization, have been debarred from any other public agency in the United States; including, at the time of proposal submission, those listed as "debarred, suspended, or proposed for debarment" on the Excluded Parties List System in use by the United States General Services Administration.

OC Community Services released a Request for Proposal for Workforce Services applications in BidSync on January 12, 2011. The Bid number is 1012-002. Sealed applications are due by February 11, 2011 at 3 p.m. at:



Orange County Workforce Investment Board
County Operations Center
1300 South Grand Ave., Building B, 3rd Floor
Santa Ana, CA 92705
Attention: Workforce Services RFP Team, Bid Number 1012-002

Eligible applicants may be individuals, public agencies, business organizations, public or private not-for-profit corporations, community-based organizations, local educational agencies, or private for-profit corporations organized in accordance with State and Federal laws. Workforce Services activities include consultants, grant writers, training providers and pre-vocational training services, demographic analysis and resource mapping services, and project management services.

For technical assistance regarding use of BidSync, please call 1-800-990-9339.

Social Services Agency Launches Service Center
On November 30, 2010, Orange County Social Services Agency successfully launched their Service Center at the Santa Ana Regional Center for Medi-Cal and Food Stamps recipients

The Santa Ana Regional Center, which is located at 1928 S Grand Ave, Santa Ana, CA 92701, currently serves Orange County residents in the following cities: Santa Ana, Santa Ana Heights, Tustin, Irvine, Costa Mesa, Newport Beach, Balboa, Balboa Island, Corona Del Mar, and Lido Island.

The goal of the Service Center is to increase efficiency and provide better customer service to individuals receiving or pending approval for Medi-Cal and Food Stamps.

The SSA Service Center includes a call center staffed by experienced, bilingual Medi-Cal and Food Stamps Eligibility Technicians, who are able to assist with program questions, as well as process case changes.

A major benefit of the SSA Service Center will be enhanced delivery of services to clients. Similar services are planned at other SSA Medi-Cal and Food Stamp offices in 2011. The SSA Service Center may be reached by dialing 1-800-281-9799, 7 a.m. through 5 p.m. Monday through Friday.

Garden Grove

Buy in Garden Grove
The City of Garden Grove is showing its support for local businesses with this year's "Shop Local" campaign titled Buy in Garden Grove. A link from the City's website is currently up and running displaying special online discounts from participating businesses.

The discounts will be open to all, but encourages residents to invest in their community by patronizing local businesses, which helps Garden Grove keep needed tax dollars at home. This assists the City in providing a better quality of life for the community through services such as police and fire protection, and the maintenance of streets and parks.

All parties involved: the City, businesses and the community will benefit from this program, but the success of Buy in Garden Grove relies heavily on the participation of the local business community. To participate, submit a description of your offer, nature of business, contact information, and company logo (jpg or gif format, 300 dots/inch, 1.5 inches) to bigg@garden-grove.org. Businesses can also complete a Business Participation Form through the City's website at www.ci.garden-grove.ca.us.

For additional information, please call (714) 741-5280, or visit the City of Garden Grove's website at www.ci.garden-grove.ca.us/.

Free Sandbags Available
Garden Grove residents can get up to ten free sandbags at three city fire stations. Residents can fill the sandbags on a first come, first served basis 24 hours a day. Proof of Garden Grove residency may be requested. Residents are asked to bring their own shovels and must transport their own sandbags. The city will deliver sandbags to elderly or disabled residents only when flooding is imminent. Residents can get sandbags at the following fire stations:

Fire Station 2, 11805 Gilbert Street
Fire Station 3, 12132 Trask Avenue
Fire Station 4, 12191 Valley View Street
For additional information, please call the Garden Grove Public Works Department at 714-741-5375.

Santa Ana

Benjamin Franklin Exhibit at Bowers Museum
Beginning Saturday December 18th you will be able to immerse yourself into the life of one of our most important national figures; Benjamin Franklin. This fun, interactive experience presents the stories of Franklin's life is suitable for all ages, and features rare and important artifacts and personal belongings from the different stages in his life.

Benjamin Franklin was a scientist, inventor, diplomat, humorist, philanthropist and entrepreneur, who gave many years of service to the American colonies and newly formed United States of America.

This exhibit runs from December 18, 2010 to March 13, 2011. Tickets are $12 for adults; $9 for Seniors (age 62+), Students and Children (ages 6-17); and Free for children under 6. The Bower Museum is located at 2002 North Main Street, Santa Ana, 92706.

Santa Ana Northwest Little League Tryouts
The Santa Ana Northwest Little League will hold tryouts for prospective players on Saturday, January 15 and Saturday, January 22, 2011. Tryouts will be held at Riverview Park, located at 1817 West 21st Street. Players can register for the league from 6 p.m. to 8 p.m. Wednesdays and 10 a.m. to noon Saturdays through January 22nd. For additional information, visit www.eteamz.com/sanwll.

Westminster

Construction on Underground Power Lines Along Bolsa Avenue Begins
The City of Westminster secured funds for a project to underground power lines that hang above the sidewalk on the north side of Bolsa Avenue. This thoroughfare is in the heart of the Little Saigon commercial center and primarily in Westminster. However, about one-eighth of a mile section is in the City of Garden Grove. The project could not begin without funding for that portion.

Westminster Mayor Margie Rice made Supervisor Nguyen aware of this project when she was sitting on the Garden Grove City Council. When she came to the Orange County Board of Supervisors, she continued her focus on this and was able to secure funding from the First District's Proposition 1B allotment to get the project moving. Once completed power lines along a section of Bolsa Avenue will be safely underground and will greatly improve the aesthetics of the Little Saigon Business area.

Construction began on November 15th and should be complete by April 2012. Only one lane on the north side of Bolsa (westbound) will be affected by construction, leaving the City of Westminster to assert that no detour or alternate route is necessary. Also, the Contractor will follow an approved traffic control plan and no construction will occur during holidays or the TET Festival.

Senior Center Activities
Take advantage of the many activities and services that the Westminster Senior Center offers.

Services include:

Blood Pressure testing
Commodities Distribution
Home Meals
Information and Referrals
Free Legal Services
Westminster on Wheels (WOW) Shuttle
Health Screenings
Health Insurance Counseling
Classes/Activities include:

Senior Fitness: various exercise classes offered weekly
Adult Public Health Nursing Services: seminars are held Wednesdays at 11 a.m.
Diabetes Education and Support Group: facilitated by Jane Hannah, R.N., certified diabetes educator; group meets 3rd Wednesday of each month from 12:30 p.m. to 2 p.m.
Please visit the City's website at www.westminster-ca.gov, or call the Westminster Senior Center at (714) 895-2878.


REQUESTS FOR PROPOSALS

County of Orange
There are currently many new bids to contract with the County of Orange. For more information, please click here.


Community Events
City of Garden Grove
January 25, 2011 - State of the City Luncheon
Join Mayor Bill Dalton has he welcomes everyone into the New Year and shares the City's goals for 2011. The community is encouraged to attend. This Southern California Edison and Gas Company-sponsored event will be held at the Embassy Suites Hotel. Tickets are $30 per person, and reservations are required.

Location: Embassy Suites Hotel, 11767 Harbor Blvd, Garden Grove.

To RSVP or for more information, please call the Chamber of Commerce at (714) 638-7950 or email Connie Margolin at connie.margolin@gardengrovechamber.org.

City of Santa Ana
January 21, 2011 - "Recovery After Foreclosure" Workshop
The Orange County Home Ownership Preservation Collaborative (OCHOPC) and The Federal Reserve Bank are partnering to host a workshop for housing counselors, housing professionals, community organizations and faith based organizations. Participants will learn about the free local resources that can assist homeowners who have lost or are at-risk of losing their homes to foreclosure get back on track to economic recovery.

The event is free and includes continental breakfast. Registration is at 8:30, with the workshop beginning at 9 a.m. and ending at noon.

For more information please visit www.oc.myhousingforall.org. To RSVP email OCHOPC@gmail.com. Click the following link to view the flyer from the City of Santa Ana's website; http://www.ci.santa-ana.ca.us/cda/documents/ForeclosureRecoveryFlyer1-11_000.pdf. Location: Rancho Santiago Community College Bldg., 2323 N. Broadway, Santa Ana, CA 92706.

January 29, 2011 - "Super Saturday" Tax Credit Workshop
On Saturday, January 29th from 10 a.m. to 2 p.m. visit the Santa Ana Public Library for a free community resource fair and tax preparation service. If you worked during 2010 and have a total household earned income of less than $48, 362, you may be eligible to claim and receive the Earned Income Tax Credit (EITC) of up to $5,667.

To be eligible for EITC, you must be a U.S. citizen or legal permanent resident and have a valid social security number. If you attend this event, make sure you bring:

Social Security Card or Individual Taxpayer Identification Card (ITIN)
W-2 forms for all jobs worked in 2010
All 1099 forms for other income and 1098 E&T forms for educational expenses
Childcare provider information picture identification
Copy of your 2009 income tax return
If you'd like to schedule a free confidential tax preparation for Super Saturday, please call (888) 434-8248. Services are provided in English, Spanish and Vietnamese. Also visit http://icanfile.org for information on preparing your taxes online.

Location: Santa Ana Public Library, 26 Civic Center Plaza, Santa Ana.

City of Westminster
January 26, 2011 - Application Deadline for Tet Parade
Applications are available to sponsor and participate in the 2011 Tet Parade on February 5, 2011 at 9:30 a.m. Applications can be picked up at the Community Services and Recreation Department. For additional information, call 714-895-2860.

Location: Community Services and Recreation Department, 8200 Westminster Blvd.



To contact Supervisor Janet Nguyen, please call 714-834-3110 or email Janet.Nguyen@ocgov.com.