November 18, 2011


Welcome to this issue of Janet's Journal, a First District Report designed to keep you updated on issues and events concerning our communities in Orange County especially in the First District.

I am proud and honored to represent over 600,000 people within the First District covering the cities of Garden Grove, Santa Ana, Westminster and the unincorporated community of Midway City.

I hope you will find this journal informative. If you have any questions, comments, or suggestions, please do not hesitate to contact me. I look forward to hearing from you.

Respectfully,
Supervisor Janet Nguyen
---
IN THIS ISSUE...
2. ORANGE COUNTY TRANSPORTATION AUTHORITY (OCTA)

5. JANET AROUND THE FIRST DISTRICT

6. LOCAL ISSUES

---
Click here to subscribe.
Click here to unsubscribe
---
Thanksgiving is fast approaching. It's a time to give thanks for the blessings we've received. Although times are difficult, we have much to be thankful for. We live in a country full of opportunities and liberties; a land rich in beauty and freedom. Please take time this Thanksgiving Holiday to reach out to your neighbors, friends and community. If you have the time and means, please volunteer at a soup kitchen or donate to a local charity.

Additionally, take a moment to peruse through this newsletter and keep up to date with recent activities in Orange County, especially within the First District. There are many community events and opportunities to get involved in.


Board of Supervisors
Mercy House Living Center, Inc. is selected to operate the Armory Emergency Shelter Program

The Board of Supervisors approved a new one-year agreement with Mercy House Living Centers, Inc for the operation of the Armory Emergency Shelter Program. The seasonal emergency shelter program provides up to 400 beds per night for homeless families and individuals. The program offers nutritious meals, shower facilities, warm clothing and a friendly and safe place to sleep during the coldest season of the year. The Armory Emergency Shelter Program is a vital link in our community's efforts to take care of those who lack proper shelter at night and to provide needed services to families and individuals.

Student Volunteers from SAUSD Assist in the PALS Literacy Program

The Board of Supervisors recently signed a non-financial Memorandum of Understanding (MOU) with Santa Ana Unified School District (SAUSD) that would allow the local high school students to volunteer their time to read to Social Services clients and their young children at the Santa Ana Regional Center during their wait for scheduled appointments.

The Partnership Academy Literacy Support Volunteer Reading Program (PALS) encourage parents to continue this activity with their children in an effort to increase the literacy rates in the community. Bilingual speaking volunteers are available and children who participate will receive a book donated by SAUSD.

Multi-Dimensional Support for Dependent Youth

Social Services Agency has entered into a contract with TFC Consultants, Inc. for a web-based program that assists foster parents serving dependent youth. The Multi-Dimensional Treatment Foster Care (MDTF) program is a nationally recognized evidence-based practice developed by the Oregon Social Learning Center. The program tracks and provides reports on youths' daily behaviors and helps support foster parents that have been trained to focus on decreasing anti-social behaviors and increasing developmentally appropriate social skills and behaviors. The goal of the program is to have youth stabilize and reunify with a parent, relative or other permanent caregiver, thus reducing the reliance on residential group care.

Environmental Education

The Board of Supervisors approved funding for Discovery Science Center, Inside the Outdoors and Pretend City to provide environmental education and outreach programs to children throughout Orange County to support compliance with State mandated recycling goals and promote increased regional recycling and diversion efforts. The California Integrated Waste Management Act of 1989 mandates that cities and counties reduce the amount of waste deposited in the County's landfills by 50 percent.

Appointments to the Alcohol & Drug Advisory Board

I would like to congratulate Rolf Parkes and Stephen Secord for their reappointment to the Alcohol & Drug Advisory Board (ADAB), and the newly appointed members, Arthur Amidon, Lorraine Martinez, Roy Richardson and Lori Sanjuan. ADAB serves as an advisory panel for the Board of Supervisors, providing them with inside knowledge on adequate drug prevention and rehabilitation programs. I wish the new and returning members much success.

Edinger Storm Channel Improvement Project Update

Recently, the Board of Supervisors authorized OC Public Works and the Orange County Flood Control District (OCFCD) to extend an agreement with F-B Huntington, LLC and Huntington Coastal, LLC. The agreement was created to allow OCFCD to utilize the parking lot for apartment complexes owned by F-B Huntington and Huntington Coastal as a staging area for improvements being done to the Edinger Storm Channel.

The Edinger Storm Channel Improvement Project provides protection against flooding to surrounding residents and requires up keep in order to assure effectiveness. The staging area that the agreement provides for allows OCFCD to maintain an area for heavy equipment storage and preparation that is in close proximity to the job site. Improvements to the Edinger Storm Channel are ongoing and are necessary to protect the area from major flooding.

Orange County Report on the Condition of Children

The Orange County Board of Supervisors recently approved the release of the Orange County Children's Partnership's (OCCP) 17th Annual Report on the Conditions of Children. This year's edition includes 40 indicators which help paint a comprehensive picture of the present condition of children in Orange County. It also features four sections: Good Health, Economic Well Being, Educational Achievement, and Safe Homes and Communities, as well as a special section that focuses on family violence that encompasses the impact on children that violence can have in the home.

Among this year's notable findings is the significant improvement in the number of children under medical supervision as their enrollment in Medi-Cal and Healthy Families has increased by 54% over the last ten years. Education is an area that has shown similar advancement. Data confirms that nearly 75% of Orange County Schools achieved the API target, in comparison to 49% statewide.

However, despite great progress the report highlights several conditions that are in need of improvement. Of particular interest is the increased number of infants born with low birth weight, as well as the prevalence of obesity. Despite the fact that there has been a significant decrease in obesity among low income children since 2002, there is much work to be done to lessen its prevalence.

The Tenth Annual Community Forum was recently held at the Titan Student Union at Cal State University, Fullerton. The forum explored the implications of the report and possible solutions. The entire report is currently available at http://ochealthinfo.com/occp/report.


ORANGE COUNTY TRANSPORTATION AUTHORITY (OCTA)
OCTA Receives $9.3 Million in Competitive Grants from U.S. Department of Transportation

The U.S. Department of Transportation Secretary Ray LaHood recently announced that the Orange County Transportation Authority will receive $9.3 million in grants through the Bus Livability and State of Good Repair Programs. OCTA was awarded five grants to assist with improvement projects throughout the County. Three of the grants were awarded under the Bus Livability Program and two under the State of Good Repair Program.

These include $7.5 million to Anaheim's Regional Intermodal Transportation Center (ARTIC), $768,000 to further implement the Bike Share Pilot Program and $828,000 for underground storage tank removal from the Bus-bases throughout the county. I am very pleased to see these grants awarded to OCTA as these funds will assist in continuing to create a reliable, high quality transportation system in Orange County.


HEALTH BULLETIN
Counseling Standards for Long Term Care Options

The Orange County Office on Aging, as a key partner in the Aging and Disability Resource Connection (ADRC), provides information and assistance to older adults, persons with disabilities, and their caregivers. The Office on Aging received funding from the California Department of Health and Human Services to develop counseling standards for long term care options as a core service offered through the ADRC.

Consumers and family members contacting the Office on Aging for information about long term care can receive support counseling from a trained and caring specialist who can explore community based resources as an alternative to placement in a long term care facility. For more information about long term care options as well as other programs for older adults, persons with disabilities, and their caregivers, please contact the Office on Aging at 1 (800) 510-2020.


BUSINESS NEWS
Chamber Holiday Luncheon

The Fountain Valley Chamber of Commerce will be hosting the its annual Chamber Holiday Luncheon at the Mile Square Golf Course on Tuesday, December 13, 2011 from 11:30 a.m. to 1:30 p.m. Reservations are required by December 12th. Tickets are $25 for members, $35 for non-members. The Mile Square Golf Course is located at 10401 Warner Ave. Fountain Valley.

SCE Earns Highest Customer Satisfaction Ranking

Southern California Gas Company has earned the highest customer satisfaction ranking among large natural gas utilities in the Western United States and received the highest score among all utilities nationwide, according to the J.D. Power and Associates 2011 Gas Utility Residential Customer Satisfaction Study.

The study was based on a random survey of more than 62,000 U.S. residential natural gas utility customers. Scores for each utility were based on billing and payment, price, corporate citizenship, communications, customer service, and field service.

Business Development Conference

A Business Development Conference and Business Awards Luncheon will be hosted in Anaheim on November 16, 2011. The event will include discussions and seminars on marketing strategies, financial assessments, procurement tips and business coaching.

The conference will be located at the Grand California Hotel and will run from 8:30 a.m. to 3 p.m. For more information and to find out how to register, visit www.anaheimchamber.org/ or call (714) 758-0222.


JANET AROUND THE FIRST DISTRICT
| | |
| --- | --- |
| Supervisor Janet Nguyen speaks at the First District OCTA Leadership Forum in Garden Grove about upcoming plans for increased transit opportunities in Orange County. | Supervisor Janet Nguyen greets parade-goers along the Westminster Founder's Day parade route. |
| Supervisor Janet Nguyen presents a certificate to Steve Franks, Director of Orange County Community Resources; Karen Roper, Director of Orange County Community Services and John Hambuch, Housing Assistance Manager of Orange County Housing Authority, after speaking with County staff at a recent Orange County Housing Authority meeting. | Joe Schoeningh, Director of Administration for Second Harvest Food Bank and Will Kempton, CEO of OCTA join Supervisor Janet Nguyen and Baby Tommy during the OCTA Food Drive Kick-Off. |
LOCAL ISSUES

* The following articles are for informational purposes only and are not necessarily intended to imply endorsement or support.
Orange County

Decreased Solar Panel Installation Fees
Photovoltaic solar permit fees for 131 kilowatt commercial rooftop systems have decreased in several cities within Orange County. Six Orange County cities currently have no fees for businesses wishing to install solar panels, including Santa Ana. The fees for businesses in Fountain Valley have decreased from $11,179 to $2,361, and in Garden Grove fees have decreased from $9,264 to $1,685. The City of Westminster is currently reviewing their fee amount, which sits at $6,735. For businesses in the unincorporated areas of Orange County, the permit fee is $16.

Disneyland Resort Scholarship Program
The Disneyland Resort Scholarship Program will award $50,000 in scholarships to graduating seniors in the Class of 2012. Students must meet several eligibility criteria, including residence in Orange County, completion of 100 hours of local community service between January 1, 2011 and December 31, 2011, a minimum 3.0 GPA between 9th grade and the first semester of 12th grade, and initiating a significant service project in their hometown or school community, among others.

The application deadline is January 31, 2012. For more comprehensive requirements and instructions, visit www.disnelyand.com/publicaffairs or call Disneyland Resort Community Relations at (714) 781-0856.

Water Pollution Prevention Hotline
Water pollution prevention is an important is, and it's the responsibility for us all to protect Orange County's water. To report a spill, call the Orange County 24-hour Water Pollution Prevention Hotline at 1-877-89-Spill.

Grand Jury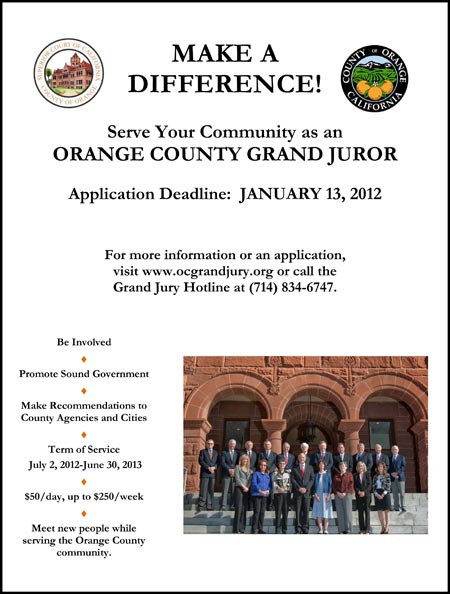 Fountain Valley

Llorens replaces Sorrell as Fountain Valley Police Chief
On November 17, 2011, Captain Dan Llorens will take over as Fountain Valley's Chief of Police. Captain Llorens is a 23-year veteran with the Police Department beginning his career as a Police Recruit with the City in 1988. Captain Llorens has worked on assignments as a Patrol Officer, Gang investigator, Senior Police Officer, Patrol Sergeant, Special Investigations Unit Sergeant, Patrol Lieutenant, and Support Services Captain. Throughout his career, Captain Llorens has been acknowledged as a leader and for his technical knowledge and abilities.

Captain Llorens will take over for Chief Paul Sorrell, who has served the Fountain Valley Police Department for 30 years. Chief Sorrell started his career with the City in 1981 as a Police Cadet and rose through the ranks to be promoted to Chief of Police in 2003. During Chief Sorrells distinguished career, he served in many key roles for the City including SWAT Team member and Commander for 18 years and supervising the successful Law Enforcement Apprehension Program. I'd like to thank Chief Sorrell for his service to the community of Fountain Valley and congratulate Captain Llorens on his new position.

Canned Food Drive
The Fountain Valley Community Foundation in conjunction with the Fountain Valley Classic Car & Truck Show Committee is holding a canned food drive to benefit Fountain Valley families this holiday season. The canned food drive is underway now and is going on through December 18, 2011.

Large, bright green donation boxes have been placed in many of the City's businesses. Residents can donate non-perishable food that will be distributed on December 18th to families who live within the Fountain Valley City limits. Boxes can be found at the following locations: Costco, Sam's Club, Grocery Outlet, Fountain Bowl, Albertson's, US Bank, Independence Bank, Stater Bros, Ralph's, David L. Baker Golf Course, Fountain Valley City Hall, Fountain Valley Senior Center, Fountain Valley Recreation Center, Fountain Valley Body Works and Body Works Express. For more information, call Pete Haak at (714) 943-4365.

Umpires Needed for Little League Baseball
The Fountain Valley Little League is looking adults and youths, 13 and older, to umpire baseball games during the spring 2012 season. Baseball games are played on weekdays and Saturdays at Mile Square Park and can earn umpires $20 per game. For more information, email cdvincent4@gmail.com.

Garden Grove

Spark of Love Toy Drive
Garden Grove firefighters join southland firefighters in asking local communities to help families in need during the holidays by donating new, unwrapped toys and sports equipment for the annual Spark of Love Toy Drive. This toy drive is sponsored by KABC-TV and other southland firefighters. Local donations will be distributed to underprivileged children in Garden Grove. The toy drive is currently underway and will be going on through December 24, 2011. Toys may be dropped off at all seven Garden Grove Fire Stations:

Station 1: 11301 Acacia Parkway
Station 2: 11805 Gilbert Street
Station 3: 12132 Trask Avenue
Station 4: 12191 Valley View Street
Station 5: 12751 Western Avenue
Station 6: 12111 Chapman Avenue
Station 7: 14162 Forsyth Lane
For more information, please call The Garden Grove Fire Department at (714) 741-5600.

Garden Grove Facebook Pages
Garden Grove news, events and other information can now be found on Facebook. Visit the city's page at www.facebook.com/cityofgardengrove and the newly launched Orange County Register joint Garden Grove-Westminster page at www.facebook.com/ggwnews.

Santa Ana

2nd Annual Noches de Posada
The 2nd Annual Noches de Posada in Santa Ana will take place in December on the 3rd and the 10th. This year's event boasts piņatas, papel picado, tamales, music and much more. On Saturday, December 3rd head down to 2nd and Broadway for the procession. On Saturday, December 10th, the procession will start at 4th and Spurgeon. For more information, please call (714) 547-6100.

Westminster

Robin Hood at the Rose Theatre
The Rose Center Theater Professional Series is proud to present the musical, Robin Hood and the White Arrow, which runs through December 11, 2011. Robin Hood and the White Arrow is an exciting musical drama based on the mythic Robin Hood legends. The energetic, humorous and romance render this a rousing musical adaptation of one of the greatest love stories of all time.

Location: The Rose Center Theater at the Westminster Rose Center, 14140 All American Way, Westminster.

For show times, ticket prices, and other information, visit www.rosecentertheater.com or call the Rose Center Box Office at (714) 793-1150 x 1. The Box Office is open Tuesday through Friday from 2 p.m. to 6 p.m. and one hour prior to performance times.

Westminster Facebook Pages
Westminster news, events and other information can now be found on Facebook. Visit the city's page at www.facebook.com/cityofwestminster and the newly launched Orange County Register joint Garden Grove-Westminster page at www.facebook.com/ggwnews.


REQUESTS FOR PROPOSALS

County of Orange
There are currently many new bids to contract with the County of Orange. For more information, please click here.


Community Events
City of Fountain Valley
December 3, 2011 - Holiday Tree Lighting
The City of Fountain Valley and the Recreation & Community Services Division invites you to the FREE annual Tree Lighting on Saturday, December 3, 2011 at 5 p.m. at the Fountain Valley Recreation Center and Sports Park.

The Mayor of Fountain Valley will have the honor of lighting the tree with a special guest from the North Pole. The event will also include live entertainment, crafts, games, pictures with Santa for $2, and much more. Also, bring your appetite; Fountain Valley's local organizations food vendors will be available for you to purchase their goodies.

Location: Fountain Valley Recreation Center and Sports Park, 16400 Brookhurst Street, Fountain Valley.

For more information, please call (714) 893-8611.

City of Garden Grove
November 19, 2011 - Tree Planting
The planting of ten, Coast Live Oak trees, is scheduled for Saturday, November 19th from 7 a.m. to 3 p.m. The best viewing hour for the planting is at 10 a.m. Trees will be planted on Stanford Avenue, within the medians located between Eighth Street and Euclid Street.

Planting of the native, drought-tolerant trees is a collaborative effort between the City of Garden Grove and the Garden Grove Lions Club. The tree planting is in acknowledgement of the Lions Club's 50 members.

For more information, please contact Garden Grove Lions Club president, Chuck Lake, or the Garden Grove Public Works Department at (714) 741-5375.

November 22, 2011 - Mayor's Prayer Breakfast
The Annual Mayor's Prayer Breakfast brings together faith leaders, residents, business owners, elected officials and community leaders from all practices and faiths. Registration and breakfast buffet begins at 7 a.m., with the program starting at 7:45 a.m. Tickets are $20 per person.

Location: Community Meeting Center, 11300 Stanford Ave., Garden Grove.

For more information, please call (714) 741-5280.

November 26, 2011 - Donation Clinic
Acupuncture of America is offering a chiropractic and acupuncture clinic for those without health insurance and low-income residents. Cost for services will be based on the patient's ability to pay. Clinics are held every Saturday from 10 a.m. to 2 p.m.

Location: 12792 Valley View St. Suite E, Garden Grove.

For more information, call (714)-898-2580 or email drpeterhahn@yahoo.com.

December 17, 2011 - A Shakespearean Christmas
Shakespeare Orange County presents "A Midwinter Night's Dream" in a joyous, poetic, humorous and touching taste of Yuletide Cheer! This warm and evocative remembrance of years past will include songs and poetry, notions and stories of a simpler time. Enjoy such stuff as dreams are made on through the eyes of Shakespeare, Charles Dickens, Clement C. Moore, Robert Frost, E.E. Cummings, Ogden Nash - along with traditional carols and personal remembrances. Following the performance join in for a variety of desserts and complimentary champagne, hot cider and other treats so that your family can toast the holiday together.

Location: TBA

For more information and tickets, call the box office at (714) 590-1575.

City of Santa Ana
November 20, 2011 - Santa Ana Zoo for FREE
On the third Sunday of each month, city residents get into the zoo for free! Bring your driver's license or utility bill to prove you live in Santa Ana in order to gain your free admission. This deal is good for up to four people per household.

Location: Santa Ana Zoo, 1801 East Chestnut Ave, Santa Ana

For more information, please call (714) 836-4000.

City of Westminster
November 20, 2011 - Old Style Car Show & Annual Toy Drive
On Sunday, November 20th roll down to Sigler Park for an old style car show brought to you by the Old Style Car Club of Orange County. From 9 a.m. to 5 p.m. donate a new unopened toy or $10 at the gate to join in the fun, food, raffle and music.

Location: Sigler Park, 7200 Plaza Street, Westminster.

For more information, please call (714) 895-2860.

November 24, 2011 - Community Thanksgiving Meal
On Thanksgiving Day from 11 a.m. to 3 p.m., American Family Housing will host a free community Thanksgiving meal. The organization is looking for volunteers and people to donate turkeys for the event.

Location: Westminster Community Services, 8200 Westminster Blvd., Westminster.

For more information, please call (714) 897-3221.


To contact Supervisor Janet Nguyen, please call 714-834-3110 or email Janet.Nguyen@ocgov.com.