February 18, 2011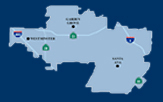 Welcome to this issue of Janet's Journal, a First District Report designed to keep you updated on issues and events concerning our communities in Orange County especially in the First District.

I am proud and honored to represent over 600,000 people within the First District covering the cities of Garden Grove, Santa Ana, Westminster and the unincorporated community of Midway City.

I hope you will find this journal informative. If you have any questions, comments, or suggestions, please do not hesitate to contact me. I look forward to hearing from you.

Respectfully,
Supervisor Janet Nguyen
---
IN THIS ISSUE...
2. Agenda Items

3. OCTA

4. OCSD

6. Janet Around the First District

7. Local Issues

---
Click here to subscribe.
Click here to unsubscribe
---
Board of Supervisors
At the January 25, 2011, I was appointed to several boards and commissions by my colleagues. These appointments will allow me to continue my commitment to making government more accessible to the residents and community.

In December of last year, I completed my term as Chair of the Board of Supervisors. I was reappointed to the Orange County Children's Partnership, the Orange County Fire Authority, the Orange County Housing Authority Board of Commissioners, the Orange County Sanitation District, the National Association of Counties and the Santa Ana River Flood Protection Agency. I was also appointed to serve on the Orange County Council of Governments.

I will also continue to serve on the Orange County Transportation Authority Board of Directors. In 2011, I will serve as Chair of the Legislative Committee and Vice Chair of the Transit Committee.

I look forward to working on each of these boards and committees so we can continue to have a positive impact in the County of Orange, especially in the First District.


Agenda Items
Board Appointments

The County has many opportunities to serve on various committees and commissions. If you are interested in what is available, visit www.ocgov.com and click on "Departments and Agencies." The Boards Committees and Commissions information can be found under the Clerk of the Board link.

If you are interested in applying for an open position, send and email with your resume to first.district@ocgov.com.

John Wayne Airport Concessions

The Board of Supervisors recently awarded the fast food concession contracts in John Wayne Airport to both McDonald's and Carl's Jr. McDonald's will remain in Terminals A and B and Carl's Jr. will set up shop in Terminal C. Both will offer breakfast and lunch menus which will include a variety of healthy options.

HCA Appointments

I would like to congratulate the new First District appointees to the Orange County HIV Planning Council: John Larson from Westminster, Leslie Lindgren from Santa Ana and Alexander Trac from Garden Grove. Thank you so much for your service to the community.

Auditor-Controller Computer Systems Update

Auditor-Controller David Sundstrom made a presentation outlining the Countywide Accounting and Personnel System (CAPS+) and the Property Tax Management System (PTMS). Both of these systems are extremely complex and involve other departments such as the Assessor, Treasurer-Tax Collector and Clerk of the Board. The budgets and design schedules have come under Board scrutiny recently, so Chairman Bill Campbell and Vice Chairman John Moorlach will form an ad hoc committee to work with the Auditor-Controller and the relevant parties involved to establish a framework from which to move these two systems forward to completion.

Armory Shelter Program

The Board of Supervisors approved $350,000 to serve as gap funding to continue operations for the 2010-2011 Armory Emergency Shelter Program. The Emergency Shelter Program serves as a safety net for those who lack proper shelter at night during the cold weather months. Each year this program provides up to 400 beds per night for homeless families and individuals. In addition to safe shelter, families and individuals are provided a nutritious meal, warm shower, warm clothes and a wide variety of supportive services.

The $350,000 will also help fund the additional costs accrued when the County declared a local emergency related to the significant storms that began on December 18, 2010. During the storms the two emergency shelter locations were opened on 24 hours a day.

While the program is operated by a nonprofit organization (Mercy House), volunteer opportunities are available for County employees. Last year over 32,000 bed nights were provided to over 1,500 homeless individuals at the National Guard Armories. The success of the Armory Program is largely due to the collaborative efforts of County agencies, churches, nonprofit agencies and dedicated individuals who generously volunteer their time. Volunteer opportunities include: helping the homeless to sign-in, distributing blankets and clothing, serving food, setting up and cleaning up.

If you are interested in volunteering for this worthy cause, or you know someone who is or would be interested in volunteering, please contact Ashleigh Anderson Camba of Mercy House via email at ashleigha@mercyhouse.net. For any other questions about homeless issues, you may contact Kelly Lupro of the OC Community Services, Homeless Prevention Division at (714) 480-2744 or Kelly.Lupro@occr.ocgov.com.

Consolidating Contracts

Over the past several years, I have called on Orange County staff to look for ways to consolidate contracts in a way that would improve efficiency and strengthen the County's negotiating position. On February 8, the Board of Supervisors approved a janitorial contract in response to an invitation for bid that was issued in September 2010. The contract now combines the services for several Orange County properties, including several in Santa Ana and the City of Orange. Annual savings due to this new contract are approximately $53,450.

Lobbying Ordinance

On February 8, 2011 after months of discussion, the Board of Supervisors unanimously approved an ordinance which will require lobbyists to register with the county and file annual reports.

The ordinance states that a lobbyist is defined as anyone who receives compensation of over $500 or more in any calendar month for engaging in lobbying activities. Lobbying activities include any oral, written or electronic communication to a County Supervisor, made directly or indirectly, for the purpose of persuading or influencing official actions or decisions of the Orange County Board of Supervisors. The ordinance will go into effect July 1, 2011 and a copy can be found online at that time at http://egov.ocgov.com/ocgov/Info%20OC/
Departments%20&%20Agencies/Clerk%20of%20the%20Board.

It is my hope that this ordinance will contribute to my ongoing goal of maintaining a high level of transparency at the Board level.

Budget Update

On the Tuesday, February 8th meeting of the Board of Supervisors, I heard the Second Quarter Budget Report.

Much of the report was related to the Governor's proposal, as funding levels from the State of California will have significant impact on programs implemented by the County of Orange. Among the significant portions of the Governor's proposal is a plan to realign some services from the State to counties. This could lead to a potential $61 million revenue loss that would mean CalWORKS benefit reductions, realignment of Medi-Cal programs, reduction of hours and services from IHSS (In-Home Supportive Services), reduction in funding for juvenile justice programs, a shift of State prisoners and juvenile wards to counties and an elimination of redevelopment agencies.

Orange County will respond to budget changes from the State of California. However, at this time, revenues and expenses for the County of Orange are expected to be within approved budget limits and the County will continue to manage its budget to live within our means.

Information Technology Quarterly Report

Four IT projects were recently completed including the District Attorney's Receipt of Case Filings from Police Departments Electronically; the Health Care Agency's Cerner Millennium Upgrade which ensures compliance with all State and Federal Medicare and Medi-Cal billing mandates; the Social Service Agency's Santa Ana Regional Call Center which enables case workers to pool resources to gain efficiencies; and the Public Defender's Case Management System which improves staff capabilities to manage case activity.


OCTA
West County Connectors Project

The West County Connectors Project was initiated by the OCTA and California Department of Transportation (Caltrans) to link carpool lanes on the I-405 with those on the SR 22 and the I-605. The goal is to create a seamless high-occupancy vehicle (HOV) connection between the three freeways. The project traverses through several cities, including Garden Grove and Westminster.

As a result, construction often causes various lane restrictions or road closures. One of the most significant closures will occur in the first quarter of calendar year 2011. The northbound 405/westbound 22/7th Street connector will be fully closed for up to one year. In order to mitigate the inconveniences associated with this closure as well as others, OCTA continues to pursue an extensive outreach effort to the community. I encourage you to visit www.octa.net/westcounty to learn more about the project, provide feedback and sign up for email updates.

For the latest information on road closures, you can also call the construction helpline at (800) 724-0353. For additional information, contact Christina Byrne at 714.560.5717 or cbyrne@octa.net.

Procurement of Independent Financial Statement Auditor

The Orange County Transportation Authority invites proposals from qualified firms of Certified Public Accountants to assist with auditing financial statements, performance of agreed upon procedures, and Transportation Development Act (TDA) fiscal and compliance audits for fiscal years ending June 30, 2011, 2012, and 2013. For more information, please contact Leticia Vaccaro at lvaccaro@octa.net or (714) 560-5609.

State Budget Update

The Governor released his FY 2011-2012 budget proposal which attempts to resolve an estimated $26.4 billion General Fund deficit over the next 18 months. Specifically, the proposed budget includes $12.5 billion in expenditure cuts, $12 billion in tax revenue extensions, and $1.9 billion in other solutions in order to balance the budget. A brief summary of the transportation component of the Governor's budget is as follows:

Assumes the gas tax swap would need to be reenacted by the Legislature with a 2/3rds vote.
Proposes a total of $192 million in funding for high-speed rail (including both state and federal).
Specifies that Prop 1A does not allow bond funds to be used for construction until a plan for completion of a segment is approved by the Department of Finance.
Allocates $27.9 million of Prop 1A funding reserved for interconnectivity projects, $20.8 million of which is to be used for capital purposes.
Appropriates $2.3 billion in Prop 1B funds for various projects.
Proposes to cancel the spring bond sale and does not propose to sell General Obligation bonds until November or December of 2011.
Includes an increase in $2.4 million and 18 positions to complete the Project-Initiation Document (PID) in the state highway system. Proposes an increase of $7.2 million in local reimbursements for locally funded projects and decreases $4.9 million from State Highway Account.
Federal Legislative Status Report

The 111th Congress has adjourned after passing an extension of the alternative fuel tax credit until December 31, 2011. Back in December 2010, the President signed the Tax Relief, Unemployment Insurance Reauthorization, and Job Credit Act of 2010 which will bring $9 million in cash to OCTA. The 112th Congress has convened with the House of Representatives enacting new operating rules which no longer protect authorized Highway Trust Fund expenditures from being reduced in annual appropriations. OCTA continues to work diligently with the federal government to advocate for the transportation needs of Orange County.


OCSD
Santa Ana River Interceptor Line Emergency Repairs

Due to heavy rainfall during the last part of December 2010, the Santa Ana River Interceptor (SARI) Line has sustained damage and erosion issues. Together, the Orange County Sanitation District, US Army Corps of Engineers, Santa Ana Watershed Project Authority (SAWPA), Orange County Water District and Orange County Flood Control District all coordinated their efforts to monitor the heavy flow of water from the Prado Dam, minimize erosion damage and stabilize the SARI Line. After two days of non-stop construction, the emergency work on the SARI Line was completed on December 29, 2010.

Larry Crandall Elected Chair of GWRS Steering Committee

For the first time ever, an Orange County Sanitation District (OCSD) Board Member has been selected to serve as chair of the Groundwater Replenishment System (GWRS). The GWRS is a partnership between the OCSD and Orange County Water District aimed at recollecting and purifying water that has already proceeded through our water consumption systems. Congratulations to Larry Crandall for serving in this capacity.

Biosolids Audit/Continued Accreditation Award

An independent audit assessed the effectiveness of OCSD's Biosolids Management System and ensured that it was conforming to requirements set by the National Biosolids Partnership Environmental Management System. The audit ensured that all legal requirements and industry standards were being adhered to. The audit supports OCSD's continued certification by the National Biosolids Partnership. In addition to this, OCSD received the American Water Works Association's 2009 Safety Achievement Award for their impressive adherence to federal and state standards of workplace safety.


Youth Connection
Youth in Government Day

If you've ever been curious how government works, then this event is for you. The City of Westminster is accepting applications for the 2011 Youth in Government Day. The event will be held on Wednesday, February 23rd from 8 a.m. to 2 p.m. at the Westminster Civic Center.

To participate, you must be a junior or senior at Westminster or La Quinta High School. Applications can be obtained on the City of Westminster's website at www.westminster-ca.gov and can be submitted at your school's ASB Office or at the Westminster Community Services and Recreation Department, 8200 Westminster Blvd, Westminster.

For more information, please call (714) 548-3671.

Volunteer in Orange County

Many high school students have a community service requirement to fulfill in order to graduate. OneOC (formerly known as Volunteer Center Orange County) is the perfect place to learn about volunteer opportunities in Orange County. Visit www.oneoc.org and navigate to the Youth & Family Volunteering link. Here you'll find links to the Project Calendar, Ongoing Volunteer Opportunities and ways to plan your own service project.

One such opportunity is the Childhood Enrichment Program (CEP). CEP is a program administered by Illumination Foundation targeting children in two age groups; 0-5 and 6-10. Volunteers will interact with these children with the goal of enhancing their learning potential in reading, coloring and other activities. A minimum four week commitment is requested to encourage stability in the lives of these children. For more information, please contact Linda Serio at lserio@ifhomeless.org.

For additional questions contact OneOC staff at info@oneoc.org or call (714) 953-5757. OneOC is located at 1901 E. 4th Street, suite 100, Santa Ana, CA 92705. Office hours are Monday through Friday, 8:30 a.m. to 5 p.m.

HEEF Scholarship Applications Now Available

The Orange County Hispanic Educational Endowment Fund (HEEF) provides a limited number of competitive academic scholarships for Orange County high school and community college transfers who enroll at a four year college or university. HEEF also awards scholarships and tuition grants for Orange County high school graduates to attend community college.

The Orange County Bar Association awards several scholarships for Orange County students to attend law school. See the HBA tab under "Scholarships Available" at www.heef.org.

Visit www.heef.org and proceed to "Scholarship Information" and to the tab "Requirements" in order to access the link to the online scholarship application. Applications will be accepted through Friday, March 4, 2011.


JANET AROUND THE FIRST DISTRICT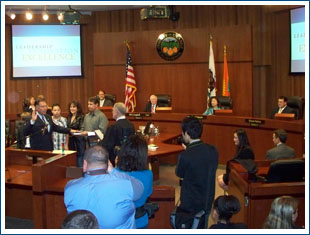 Supervisor Janet Nguyen joins her colleagues as District Attorney Tony Rackauckas is sworn in for another term on Monday, January 31, 2011.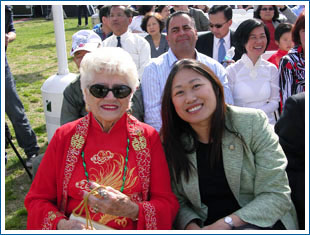 Supervisor Janet Nguyen and Westminster Mayor Margie Rice enjoy the Opening Ceremony for the Tet Festival at Garden Grove Park on February 5, 2011.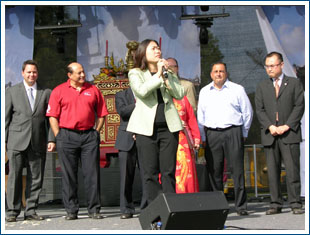 Supervisor Janet Nguyen is joined by several elected officials including Congressman Ed Royce, Assemblyman Alan Mansoor, State Senator Lou Correa, Westminster Mayor Margie Rice, Huntington Beach City Councilman Matthew Harper, Frank Cobo of the Midway City Sanitary District and members of the Westminster City Council at the Opening Ceremony for the Tet Festival at Garden Grove Park.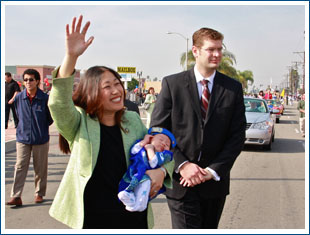 Supervisor Janet Nguyen enjoys the Tet Parade with her husband, Garden Grove Planning Commissioner Tom Bonikowski. Her son, Tommy, is exhausted by all the activity at his first Tet Parade.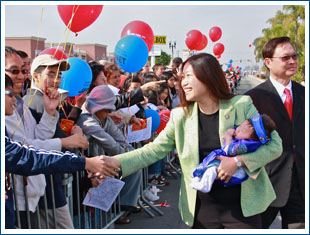 Supervisor Janet Nguyen and her Deputy Chief of Staff Nick Lecong shake hands and greet the crowd at the Tet Parade in Westminster.


LOCAL ISSUES

* The following articles are for informational purposes only and are not necessarily intended to imply endorsement or support.
Orange County

Orange County Human Relations Award Nominations
The 40th Awards Ceremony for OC Human Relations will take place on May 5, 2011, and nominations for awards will be taken until January 25th. The public is invited to nominate individuals or groups who have made extraordinary human relations or civil rights contributions to Orange County. Also, in honor of the 40th anniversary, the commission is seeking nominations for Lifetime Achievement Awards to honor those that have made 20 or more years of contributions to Orange County.

Visit the OC Human Relations section of the County of Orange website for information on the nomination process, or contact Don Han at (714) 796-8361 or don@ochumanrelations.org. The awards ceremony will be held at the Grove of Anaheim.

Special Outreach Project with California
Important information for IRS partners in California regarding program notifying taxpayers of potential eligibility:

The IRS is initiating a program in California to reach state residents who appear to be eligible for, but did not claim the Earned Income Tax Credit (EITC) on their 2009 federal returns. The IRS already sent these individuals a letter, but they did not reply.

The IRS has sent second notices to over 46,000 California residents in November and welcome aid help in alerting clients to this mailing. The letter will arrive in November and will include instructions, worksheets and information on where to get help. Taxpayers who receive these letters may be eligible to receive up to $5,667 from the Internal Revenue Service (IRS), but they must reply and provide the requested information.

For more information, visit http://www.eitc.irs.gov/ptoolkit/caproject/.

Trauma Intervention Program
The Trauma Intervention Program (TIP) is a national non-profit organization made up of citizen volunteers who respond to traumatic incidents at the request of Police, Fire and Hospital personnel. Volunteers are available 24 hours a day to support those who are emotionally affected by a traumatic event. The Orange County Chapter was founded in 1995 and TIP volunteers have been serving the residents of the County amiably ever since.

For the year of 2010, TIP volunteers answered more than 1,000 calls and served more than 6,000 clients. There are currently 107 active TIP volunteers, of which 22 graduated from the February 2010 training academy and 26 graduated from the August training academy. If you would like to learn more about TIP or become a TIP volunteer, please visit www.tiporangecounty.org.

EPA Seeks Applicants for Environmental Justice Small Grants
The U.S. Environmental Protection Agency (EPA) is accepting grant applications for $1.2 million in funding to support projects designed to research, educate, empower and enable communities to understand and address local health and environmental issues.

Funding is available for two categories of projects: (1) addressing a community's local environmental issues through collaborative partnerships, and; (2) gathering better data to show the environmental and health impacts on communities from exposure to multiple sources of pollution.

For more information on eligibility and how to apply for the Environmental Justice Small Grant program, please visit http://www.epa.gov/environmentaljustice/resources/
publications/grants/ej-smgrants-rfp-2011.pdf and http://www.epa.gov/environmentaljustice/grants/ej-smgrants.html.

Garden Grove

Garden Grove Community Garden Plots Available
A limited number of plots are now available in the City of Garden Grove's Community Garden. The Community Garden meets the City's vision of enhancing the quality of life for its residents by maintaining an aesthetically pleasing place to live.

The rental cost for these 10' x 10' plots are $45 per year. For more information about the garden or to sign up to rent a plot, contact the Garden Grove Community Services Department at (714) 741-5200.

Compost Giveaway
Garden Grove's annual Compost Giveaway is happening again! Garden Grove residents can receive up to 60 gallons of nutrient-rich compost for free on Saturday, February 26, 2011, at the Garden Grove Municipal Service Center. Rain or shine, the event will take place from 9 a.m. to 11:30 a.m., or until supplies run out. Residents are advised to bring their own containers or buckets to pick up the loose compost (no bags, please), and to expect long lines. Proof of Garden Grove residency is required.

Each year, Garden Grove Disposal and the Garden Grove Sanitary District host the Compost Giveaway as a special "thank you" to residents participating in the Sanitary District's yard waste program. The Giveaway essentially "closes the loop" in recycling when material placed in brown yard waste containers by residents is made into compost and returned to the community for reuse.

The Service Center is located at 13802 Newhope Street. Entrance to the Center is at the rear of the building, from A Better Way, accessible from Anabel Street, off of Newhope. For more information on the Compost Giveaway or yard waste recycling program, call Garden Grove Disposal at (714) 238-2444.

New Police Program, Good Samaritans
The Garden Grove Police Department is beginning a new community outreach program designed to award members of the community who display acts of kindness to others. Police officers will award those individuals with a special "Chief's Coin of Merit" for going out of their way to help their fellow man.

Each recipient will later be invited to a luncheon recognizing all recipients of the commemorative coin. For information on this program, please call the Garden Grove Police Department at (714) 741-5704.

Santa Ana

Benjamin Franklin Exhibit at Bowers Museum
If you haven't already done so, take a ride down to Bowers Museum in Santa Ana. Here you will be able to immerse yourself in the life of one of our most important national figures; Benjamin Franklin. This fun, interactive experience presents the stories of Franklin's life and features rare and important artifacts and personal belongings from the different stages of his life.

Benjamin Franklin was a scientist, inventor, diplomat, humorist, philanthropist and entrepreneur, who gave many years of service to the American colonies and newly formed United States of America.

This exhibit runs from December 18, 2010 to March 13, 2011. Tickets are $12 for adults; $9 for Seniors (age 62+), Students and Children (ages 6-17); and Free for children under 6. The Bower Museum is located at 2002 North Main Street, Santa Ana, 92706.

Resource Network Community Building Awards
Santa Ana's Resource Network will be recognizing individuals and organizations that are continuously creating a positive environment and making Santa Ana a great place to live, work and play. The recognition will come at the Santa Ana Earth and Health Fest on April 16th and in the form of the 2011 Community Building Awards. Nominations are currently being accepted for several categories and are due on February 18th. To learn more about this process, please visit www.santa-ana.org/cda/commbldgawards.asp.

Westminster

Improving Neighborhoods Program
The Westminster Housing Division is now offering grants to assist low-income Westminster homeowners correct physical deficiencies with their homes. The goal of his program is to maintain the City's affordable housing stock by improving existing single-family homes. The program will provide up to 25% of grant assistance for pre-approved work done by a licensed contractor.

Grants are available to homeowners whose income does not exceed 80% of the County's adjusted median income (AMI), with most grants being reserved for those families with incomes near 60% AMI. For more information on the program, please visit the Housing Division link under Community Development from the City's website at www.westminster-ca.gov. If you have any additional questions, call (714) 548-3495.

Hand deliver applications to the Housing Division offices at the Westminster Mall in the Macy's Wing, or mail to:
City of Westminster Housing Division
8200 Westminster Blvd
Westminster, CA 92683

Westminster Chorale Seeking New Members
The Westminster Chorale is looking for new members. The chorale welcomes new members from February 7th to March 25th. The group meets Monday evenings from 7 p.m. to 9 p.m. at the Westminster Senior Center at 8200 Westminster Blvd., Westminster. For more information, please call (714) 893-8746.

Sewer Project in Westminster
The Orange County Sanitation District's (OCSD) sewer-rehabilitation construction project is expected to continue until July. This project began in January and covers the cities of Westminster and Fountain Valley. Construction will extend along Bushard Street in Fountain Valley, north of Ellis Ave., and continue west on Edinger Ave., in Westminster, moving north at Magnolia St. to Westminster Blvd. For more information, please cal (714) 679-2088, or email constructionhotline@ocsd.com.

Senior Center Activities
Take advantage of the many activities and services that the Westminster Senior Center offers.

Services include:

Blood Pressure testing
Commodities Distribution
Home Meals
Information and Referrals
Free Legal Services
Westminster on Wheels (WOW) Shuttle
Health Screenings
Health Insurance Counseling
Classes/Activities include:

Senior Fitness: various exercise classes offered weekly
Adult Public Health Nursing Services: seminars are held Wednesdays at 11 a.m.
Diabetes Education and Support Group: facilitated by Jane Hannah, R.N., certified diabetes educator; group meets 3rd Wednesday of each month from 12:30 p.m. to 2 p.m.
Please visit the City's website at www.westminster-ca.gov, or call the Westminster Senior Center at (714) 895-2878.


REQUESTS FOR PROPOSALS

County of Orange
There are currently many new bids to contract with the County of Orange. For more information, please click here.


Community Events
City of Garden Grove
February 25, 2011 - 23rd Annual Apple of Our Eye Luncheon
The 23rd Annual Apple of Our Eye Recognition Luncheon will be hosted by the Dayle McIntosh Center on Friday, February 25th. Individuals will be recognized as role models for independent living in each of the following categories: Business, Educators, Community/Civic Service, and Ed Roberts.

Registration and silent auction begin at 10 a.m. with lunch seating beginning at 11:30 a.m. The keynote speaker will be Gary Karp, author of "Life on Wheels". The master of ceremonies will be Allen Rucker, author of "The Best Seat in the House". RSVPs are requested by February 18th and the cost is $60 per person.

Location: Crowne Plaza Resort, 12021 Harbor Blvd., Garden Grove.

For more information, please contact Angela Daniels at (714) 621-3300 or email adaniels@daylemc.org. You can also visit the website at www.daylemc.org.

March 5, 2011 - Girls Day Out Luncheon and Fashion Show
The City of Garden Grove's 4th Annual Girls Day Out Luncheon and Fashion Show celebrates International Women's Day. Females aged 13 and older are invited to attend. Mothers, daughters, sisters and girlfriends are all encouraged to participate in this special event.

The Mistress of Ceremonies will be Allison Ash, reporter for ABC Channel 10 News in San Diego, and the Keynote Speaker will be Dr. Susan Mathieu. A vendor fair will be included as well. Admission is $20 per person, and space is limited.

Location: Garden Grove Community Meeting Center, 11300 Stanford Center, Garden Grove.

For more information and to make a reservation, please call (714) 741-5200.

City of Santa Ana
March 5-6, 2011 - Garage Sale Weekend
Santa Ana's Community Preservation Division is organizing a garage sale weekend for March 5th and 6th. Residents of Santa Ana may only have yard sales on certain days throughout the year.

For additional information and if you'd like to participate, please call Community Preservation at (714) 667-2780.

March 18, 2011 - Violence Prevention Coalition Nominations
The 15th Annual Ambassador of Peace Award Ceremony for the Violence Prevention Coalition of Orange County (VPCOC) will be held on June 3, 2011. The event will honor individuals who work in the fields of education, public service, social work, community volunteer, business and media to prevent violence and promote peace.

Nominations for these awards are now being accepted and must be accepted by Friday, March 18th. Forms can be found at http://www.vpcoc.org/nomination.shtml, and must be submitted electronically at nomination@vpcoc.org.

For more information, please contact Christine Laehle at (714) 966-4439, or email Christine@vpcoc.org.

City of Westminster
February 28, 2011 - Clay and Ceramics Classes
Two classes offered at the Westminster Community Services Building may spark your interest: Parent & Tot Clay Time and Ceramic Creations. Both classes take place Mondays from February 28th through March 28th.

Parent & Tot Clay Time: Come and enjoy some creative time with your little one. Your young artist will enjoy building playful projects with clay, which will be glazed and fired. Aprons are provided. The age requirement is 3-5 years (+ parent), with a maximum of 10 kids per class. Class times are 2:15 p.m. to 3 p.m. A $20 material fee is required along with the $61 instruction fee.
Ceramic Creations: Have a blast learning how to turn clay into wonderful creations. Aprons are provided. The age requirement is 6-12 years, with a maximum of 20 kids. Class times are 3:30 p.m. to 4:45 p.m. A $20 material fee is required along with the $65 instruction fee.
Location: Westminster Community Services Building Crafts Room, 8200 Westminster Blvd., Westminster.



To contact Supervisor Janet Nguyen, please call 714-834-3110 or email Janet.Nguyen@ocgov.com.