April 25, 2011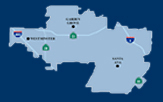 Welcome to this issue of Janet's Journal, a First District Report designed to keep you updated on issues and events concerning our communities in Orange County especially in the First District.

I am proud and honored to represent over 600,000 people within the First District covering the cities of Garden Grove, Santa Ana, Westminster and the unincorporated community of Midway City.

I hope you will find this journal informative. If you have any questions, comments, or suggestions, please do not hesitate to contact me. I look forward to hearing from you.

Respectfully,
Supervisor Janet Nguyen
---
IN THIS ISSUE...
2. ORANGE COUNTY TRANSPORTATION AUTHORITY (OCTA)

3. CALOPTIMA

4. ORANGE COUNTY FIRE AUTHORITY (OCFA)

7. Janet Around the First District

8. Local Issues

10. Community Events
---
Click here to subscribe.
Click here to unsubscribe
---
I want to highlight an important event coming soon to the First District.

On Saturday, May 14th we will be hosting the Second Annual Central County Health Expo at Coastline Community College and Concorde Career College in Garden Grove from 9 a.m. to 3 p.m. Coordinated by the Illumination Foundation and the Downtown Garden Grove Business Association, this free event will offer a wide range of health services. See below for more details and we hope to see you there!

The end of the month marks the 36th anniversary of the Fall of Saigon, also known as Black April. Please join me at Roger Stanton Park in Midway City on Saturday, April 30th at 11 a.m. to honor those who sacrificed so much for freedom and democracy.


Board of Supervisors
Presentation to Garden Grove High School Football Team

At a recent Board of Supervisors meeting, I presented a resolution to congratulate the Garden Grove High School Football team for their CIF-Southern Section Southern Division championship in December 2010. This was the first time in the school's history that the Garden Grove High School Football Team won the CIF championship.

This was the first CIF championship in team history as the Argonauts defeated Beckman High School 31 to 30 in one of the most exciting Garden Grove football games ever. Down by seven points with just over three minutes to go, the Argonauts finessed their way to an 88-yard scoring drive, complete with a two-point conversion, to pull ahead and eventually win the game

The Argonauts led by Head Coach Willy Puga and Team Captains Jesse Lozano, Dante Russomano, Josh Webb and Avery Williams, won the Garden Grove League Championship, posted a 9 - 1 regular season record and won all four CIF tournament games to become the CIF-Southern Section Southern Division Champions.

Congratulations to the 2010 Garden Grove High School Football Team for your stellar championship performance, outstanding record and dedicated teamwork throughout the season.


ORANGE COUNTY TRANSPORTATION AUTHORITY (OCTA)
New Lanes Being Added to 405 Freeway

The 405 freeway is one of the most congested freeways in Orange County and traffic volumes are expected to increase substantially by 2030. Measure M2 (M2) includes a project to add new lanes to the I-405 from the vicinity of the Santa Ana Freeway (Interstate 5) to the Costa Mesa Freeway (State Route 55) in Irvine.

The proposed project will increase mainline capacity and reduce congestion and will be designed for traffic volumes 20 years after construction. The OCTA Board of Directors recently approved consultant services to prepare a project study report/project development support document (PSR/PDS) which analyzes alternatives and determines project feasibility and preliminary costs.

SR-57 Northbound Widening Project

Construction on the Northbound SR-57 is moving full speed ahead. Crews have worked on pavement grinding, lane restriping and clearing trees and shrubs to get ready for on-site construction activities.

Construction on the Orangethorpe to Lambert Segment will last through 2014, while the Katella to Lincoln Segment will begin later this summer and last through 2014 as well. Once completed, the improvements will improve mobility on the Northbound 57, while stimulating the local economy by bringing thousands of jobs to Orange County during construction.

If you would like information on these projects, visit www.octa.net/sr57 to view regularly posted updates.

OCTA Commemorates Sunset of Measure M1

Measure M1, Orange County's half-cent sales tax for transportation, reached its sunset date on March 31, 2011, after delivering more than $4 billion of improvements to highways, streets, roads and transit throughout the county.

The Orange County Transportation Authority Board of Directors recently commemorated this milestone with proclamations of appreciation and special recognition to those who contributed to the highly successful 20-year transportation program.

OCTA Seeks Applicants for Measure M Taxpayers Oversight Committee

The Orange County Transportation Authority (OCTA) is seeking qualified volunteers to serve on the Measure M Taxpayers Oversight Committee (TOC). The independent committee was formed after the passage of Measure M in 1990, with a half cent sales tax to fund transportation improvements in Orange County. The eleven member committee monitors OCTA's use of Measure M funds and ensures that all revenue collected from Measure M is spent on voter-approved transportation projects.

Committee members are also responsible for approving changes to the Measure M Traffic Improvement and Growth Management Plan, which determines how the funds are allocated, holding annual public hearings regarding the status of Measure M funds and requesting independent audits of any issues involving Measure M projects.

Applications for the 2011 - 2014 term will be accepted through May 2, 2011 to fill two seats; one each in the Second and Third Supervisorial Districts. Candidates must be at least 18 years of age and willing to participate for a three-year term. Potential committee members should also demonstrate a history of participating in community activities, ideally with special emphasis on transportation-related activities. The committee meets the second Tuesday of every other month at 6 p.m. in OCTA's administration building, 600 S. Main St. in Orange.

The Grand Jurors Association of Orange County is conducting the recruitment program and will screen all applications and recommend qualified candidates for membership. For additional information and to request an application, contact the selection panel at (714) 970-9329 or visit OCTA's Web site at www.octa.net/toc.


CALOPTIMA
Open Enrollment Option to Begin in January of 2012

At its recent meeting, the CalOptima Board voted to eliminate the open enrollment lock-in policy beginning in January of 2012. This change in policy eliminates the 12 month lock-in period where members are prohibited from changing their primary care physician.

Originally, the open enrollment lock-in policy was established to ensure that members stayed with their primary care physicians long enough to establish a relationship and stabilize their movement among CalOptima's health networks. Currently, members are given a three month "grace period" where they can switch primary care physicians, followed by a 12-month lock-in period where patients must remain until open enrollment begins again.

The Board determined that eliminating this program will save $180,000 in annual administrative costs to operate the enrollment lock-in policy. This policy change will also encourage existing health networks to competitively vie to keep patients who will be allowed greater mobility in choosing their health provider across CalOptima's networks. Members that are dissatisfied with their primary care physician would be permitted to select a different provider at time during the year without having to wait for a specific window of time.


ORANGE COUNTY FIRE AUTHORITY (OCFA)
"Fill The Boot" is Just Around the Corner

The Muscular Dystrophy Association's Annual "Fill-the-Boot" campaign is right around the corner. On May 20th and May 21st, OCFA firefighters will help raise money for the MDA. Look for firefighters in select cities with their boots out, and donate to MDA!


YOUTH CONNECTION
Summer Youth Job Fair 2011

Do you know a young adult in need of a job? Orange County Workforce Services will be hosting a Summer Youth Job Fair on Saturday, April 30, 2011. This is the perfect opportunity to meet and interview with employers, practice your interviewing skills with employment professionals, and find out about job opportunities. Today's job market is scarce so take advantage of this great opportunity to find a potential job.

Dress for success and bring your resume to this year's Summer Youth Job Fair. Two forms of ID are necessary when attending this event: Driver's License and Social Security card, Birth Certificate, U.S. Passport or U.S. Resident card. Their will be two locations for this year's event.

Locations:

The Block at Orange, 20 City Blvd West, Orange.
Anaheim Workforce Services, 2450 E. Lincoln Ave., Anaheim.
Time for both locations: 9:30 a.m. - 12:30 p.m.

Westminster Youth Committee

Have you ever wanted to work alongside the City Council on matters that concern the youth of the City? Sign up for the Westminster Youth Committee. Recruiting is already underway. The Youth Committee acts as an advisory board to the City Council regarding youth activities and programs. The Committee is made up of nine members and four alternates.

Members must be between the ages of 12 and 18. Those who have surpassed the age of 18 may continue to serve until completion of their senior year of high school. Students must attend a school in a school district that serves the community of Westminster and reside in the City of Westminster. Let your voice be heard and apply to the Youth Committee today! Applications are due by May 1, 2011.

For more information, call (714) 895-2860 or email vjohnson@ci.westminster.ca.us.

Westminster Teen Advisory Board

The Westminster Public Library is looking for teen volunteers to join its Teen Advisory Board. The board is open to teens from the 6th through 12th grades and helps make decisions about teen services offered at the library.

Meetings are held on the first Wednesday of each month. For more information, please call (714) 893-5057.

OC Parks Children's Programs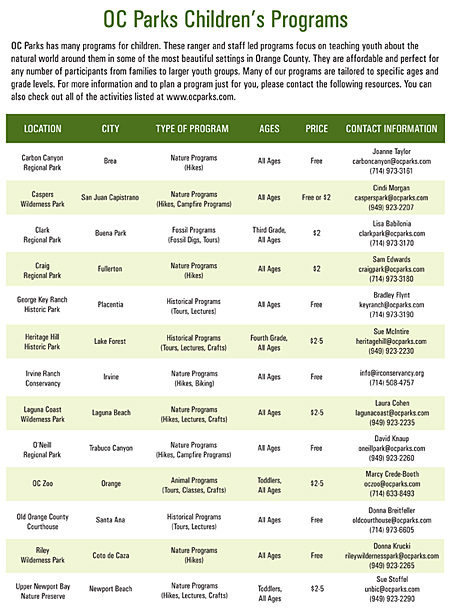 SAVE THE DATE
2nd Annual Central County Health Expo - May 14, 2011

Supervisor Nguyen's Office, the Illumination Foundation, and the Downtown Garden Grove Business Association have teamed up again for the Central Orange County Health Expo at Coastline Community and Concorde Colleges in Garden Grove. Last year's event was a great success by providing services to more then 3,000 people, and proved the need for such an event.

This year the event will be held on Saturday, May 14th from 9 a.m. to 3 p.m. This event is right around the corner, so save the date and check back for more updates.

Also, we are looking for volunteers to help staff the event. We are in need of medical and non-medical personnel.

Volunteer spots are on a first come first served basis. Call (949) 273-0555 or email expo@ifhomeless.org for more information and to sign up.

Central County Senior Summit - August 20, 2011

This year's Central Orange County Senior Summit will be held at the Crystal Cathedral in Garden Grove on Saturday, August 20, 2011, from 7:30 a.m. to 11:30 a.m. Check back for more information.


JANET AROUND THE FIRST DISTRICT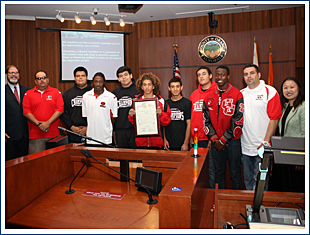 Supervisor Janet Nguyen is joined by Supervisor John Moorlach in presenting a resolution congratulating her alma mater, the Garden Grove High School Argonaut football team, for winning the 2010 Southern Division CIF Championship for the first time in the school's history.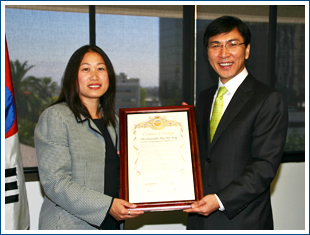 Supervisor Janet Nguyen presents a proclamation to the Governor of Chungcheongnam-do Province of the Republic of Korea, the Honorable Ahn Hee-Jung. The Governor and his delegation visited the County of Orange to learn more about County government and explore how the two countries might share ideas and work together to address common issues.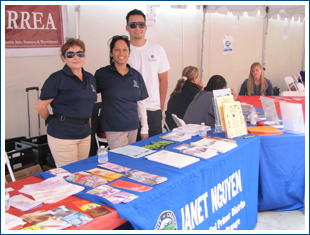 Supervisor Janet Nguyen's office participated at the American Diabetes Association's Por Tu Familia health fair in Santa Ana. Policy Advisor Frances Cadenas (center) is joined by Field Representative Laura Valdes and intern Daniel Hernandez at the health fair.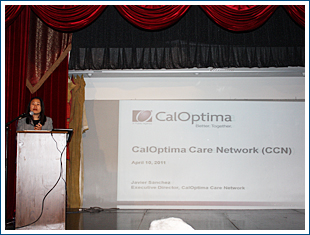 Supervisor Janet Nguyen addresses an audience of providers and community members at a CalOptima Townhall meeting on April 10, 2011. Supervisor Nguyen was recently appointed to serve on the CalOptima Board of Directors.


LOCAL ISSUES

* The following articles are for informational purposes only and are not necessarily intended to imply endorsement or support.
Orange County

Team in Training Fall Season Information
"Team in Training" (TNT) is the world's largest endurance sports training program. Teams will be formed for marathons, half marathons, triathlons and bike rides throughout California and in Washington, DC and Moab, Utah for the fall season. This unique program provides you with the coaching, training and motivation to make your athletic goals a reality! This program also supports the Leukemia & Lymphoma Society (LLS).

To learn more about TNT visit www.teamintraining.org, or contact Florence Weinstein at (714) 481-5605, or via email at Florence.weinstein@lls.org. There will also be several informational meetings throughout Orange County held in the coming weeks. Here are a few:

April 25th: Panera Bread, 1348 Bison Ave., Newport Beach; 6 p.m. to 7:30 p.m.
April 26th: REI, 2962 El Camino Real, Tustin; 6:30 p.m.
April 27th: Huntington Beach Library, 7111 Talbert Ave., Huntington Beach; 6:30 p.m.
April 28th: Brea Community Center, 695 E. Madison Way, Brea; 6:30 p.m.
April 30th: Costa Mesa Community Center, 1845 Park Ave., Costa Mesa; 10:30 a.m.

Bank Robberies Decrease in Orange County
The FBI recently reported a significant decrease in bank robberies in 2010 as compared to 2009. In Orange County there were 64 bank robberies in 2010, as compared to 116 in 2009.

Orange County Sheriff's Department PIO Jim Amormino, who serves as press liaison for the joint federal-local Bank Robbery Apprehension Team said that good coordination between the FBI and local law enforcement, along with extraordinary efforts by the press to get pictures of bank robbers out to the public has contributed to the decline in bank robberies.

Several serial bank robbers were arrested last year by the task force after tips came from the public who had viewed bank robbers on bank security camera video broadcast by regional television stations and placed on online versions of local newspapers.

2011 Essentials for Young Lives Campaign
Help donate to this years Essentials for Young Lives Campaign to benefit young homeless children in Orange County. HomeAid, in partnership with the Children and Families Commission of Orange County, will collect diapers, baby food and baby hygiene products including baby wipes and lotion. All donations will be distributed to 16 shelters across Orange County.

Families are the fastest growing segment of Orange County's homeless population. By receiving these "essential" items, shelters can expand the use of their already limited resources to help their clients achieve self-sufficiency. Businesses throughout Orange County will be participating in this year's campaign, including drop-off locations at selected VONS grocery stores and YMCA facilities. The transportation of items received is being donated by UPS.

The Donation Drive will kick-off county-wide with a family event at the Irvine Spectrum Center on April 30, 2011 from 12 p.m. to 3 p.m. For more information and donation sites, please visit http://www.essentialsforyounglives.org/cat2.php.

Sheriff's Department Raises Largest Amount of Money for United Way Fundraiser
The Orange County Sheriff's Department received the United Way's Gold Award for the largest amount of money raised by a county agency for the County of Orange United Way Campaign. The total amount raised was $113,279.

Additionally, the department raised $5,000 from fundraisers directly for Project 999, which provides financial assistance to the families of officers killed in the line of duty.

The total commitment for this project spanned a period of eight months, and included five major events and numerous opportunity drawings. Many volunteers throughout the department coordinated fundraisers and campaign contributions within their specific divisions. These personnel are to be commended for their hard work and dedication in this year's United Way effort.

Garden Grove

Swim Lessons
The Community Services Department of Garden Grove will begin offering swimming lessons on May 9, 2011. Lessons are divided into three sessions between May 9th and June 16th and will take place at Gary Hall Pool, 12001 Mark Street in Garden Grove. Bring your kids out to learn an important skill, while having fun at the same time. Registration began April 11th and lasts through April 28th. For more information, please call (714) 741-5200.

New School Materials
Garden Grove Unified School District is considering new high school text materials, and will be displaying them to the public until May 3, 2011. The materials will be on display at the district's administration office at 10331 Stanford Ave. The board is scheduled to consider adoption of the materials during its May 3rd meeting. For more information, please call (714) 663-6454.

Major Street Improvements
Four major arterial streets in Garden Grove are set to undergo significant renovations beginning March 21, 2011, and continuing through June 2011. The nearly $2.2 million project is included in the City's Capital Improvement Budget and funded by Measure M and gas taxes. These funds will pay for the resurfacing of asphalt streets, removal and replacement of curbs, gutters, bus pads, driveways, sidewalks and ramps, along with new traffic striping and signing. The street repairs are as follows:

Chapman Avenue: construction from Valley View Street to Springdale Street, and from Western Avenue to the City of Stanton boundary
Garden Grove Boulevard: construction from Beach Boulevard to Fern Street
Trask Avenue: construction from Euclid Street to Harbor Boulevard
Western Avenue: construction from Garden Grove Boulevard to Simmons Place

Vendor Opportunities Available for 2011 Concert Series
The Garden Grove Community Foundation is anticipating another year of record crowds coming out to enjoy the free Thursday night concerts in the park. The 2011 Summer Concert series runs for eight Thursdays, July 14 through September 1, from 6:30 to 8:30 p.m., at both Eastgate and Village Green parks. In preparation, the GGFC is accepting applications for vendor booth space. The last day to submit applications is Thursday, March 31, 2011.

Vendor Information and applications are available on the GGCF Website at www.ggcf.com. For additional information, contact Stacy Margolin, Garden Grove Community Foundation, at (714) 741-5168.

Santa Ana

Bubblefest at Discovery Science Center
Discovery Science Center will be hosting its annual Bubblefest from April 2 through 24, 2011, with Guinness Book World Record Holder and Bubble Scientist, Fan Yang and his son, Deni Yang. Fan has been performing his amazing "Mega Bubble Show" in New York City and has been featured on TV networks around the globe.

World-renowned for unique and stunning artistry, the Mega Bubble Show features a bubble carousel, bubbles within bubbles, smoking bubbles, spinning bubbles, bouncing bubbles and bubbles in all shapes and sizes. Inside the Center, hands-on bubble activities demonstrate a bubble's science and math principles (such as surface tension, elasticity, air pressure, molecular properties, and geometric properties), and the BubbleBusters show explains the science behind the super soapy fun.

Included with general admission are bubble activities, learning stations and the Center's more than 100 permanent hands-on exhibits. Mega Bubble Show tickets must be purchased in addition to general admission ($7 for non-members, $5 for members). Bring along your family and friends! For information please call (714) 542-2823.

Summer Camp Registration
Do you have a curious young explorer in your home? Do you have a future veterinarian or aspiring zoologist who seeks out the wilder side of science? Well, register your child today for this year's Science Camp at the Discovery Science Center. Registration is now open.

Discovery Science Center offers a variety of hands-on, highly interactive summer science camps for children ages 5-10. Camps are offered on-site at Discovery Science Center and off-site at the Santa Ana Zoo and San Joaquin Marsh in Irvine. The Science Camp is a combination of fun and education. Your child will never forget this experience. For more information, please call (714) 913-5030.

Locations:

Discovery Science Center, 2500 North Main St., Santa Ana.
Santa Ana Zoo, 1801 East Chestnut Ave., Santa Ana.
San Joaquin Marsh, 5 Riparian View, Irvine.

Westminster

Summer Jobs Available
The City of Westminster is hiring for the summer aquatics program. Open positions include pool manager, lifeguards and water safety instructors. Potential applicants must have the appropriate certification to be considered for the position. Applications for these positions are available at the Community Services and Recreation Department at 8200 Westminster Blvd. For more information, please call (714) 548-3667.


REQUESTS FOR PROPOSALS

County of Orange
There are currently many new bids to contract with the County of Orange. For more information, please click here.


Community Events
City of Garden Grove
April 21, 2011 - Women's Division Luncheon
The Women's Division of the Garden Grove Chamber of Commerce will be holding its monthly luncheon on April 21st at the Elk's Lodge. Social time is from 11:30 a.m. until noon, with the lunch and meeting beginning promptly at 12 p.m. The cost for the lunch is $15.

Location: Elk's Lodge, 11551 Trask Ave., Garden Grove.

For more information, please call (714) 638-7950.

April 23, 2011 - Donation Clinic
Acupuncture of America is offering a chiropractic and acupuncture clinic on April 23rd for those without health insurance and low-income residents. This clinic will be held every Saturday from 10 a.m. to 2 p.m. Cost for services will be based on the patient's ability to pay.

For more information, please call Dr. Peter Hahn at (714) 898-2580, or email drpeterhahn@yahoo.com.

April 28, 2011 - Essential Steps to Starting a Successful Business
What are the critical steps to stating a successful business? Learn the answer to this and many more questions on Thursday, April 28th from 6 p.m. to 8:30 p.m. Learn about tax and license requirements, the importance of good credit, the needed to secure financing, and how to write a business plan. You will walk away with materials you can refer to as you move forward. Cost for the course is $20.

Location: Rancho Santiago Community College District Center, 2323 N. Broadway, Board Room 107, Santa Ana.

For more information, please call (714) 564-5200 or register online at www.ocsbdc.com.

May 3-5, 2011 - Senior Trip
The H. Louis Lake Senior Center is organizing a trip to Laughlin, Nevada for a stay at the Colorado Belle Hotel and Casino from May 3rd through the 5th. The cost is $95 per person for double occupancy, and $120 per person for single occupancy, which includes transportation, two-night hotel stay and continental breakfast and buffet.

Location: Colorado Belle Hotel and Casino, Laughlin, Nevada.

For more information, please call (714) 741-5253.

May 11, 2011 - Garden Grove Community Foundation and Chamber Golf Tournament
The Garden Grove Community Foundation and the Garden Grove Chamber of Commerce will celebrate their annual golf classic on Wednesday, May 11th from 10 a.m. to 6 p.m. The event will feature a full day of activities, charity, silent auction and contest prizes for the golf enthusiast. Proceeds benefit both the Garden Grove Community Foundation and the Chamber of Commerce. The entry fee is $150 per player or $600 per team of four.

Location: Willowick Golf Course, 3017 W 5th Street, Santa Ana.

For more information, please call Community Relations at (714) 741-5280, or visit www.ggcf.com.

May 27, 2011 - Strawberry Festival
The City of Garden Grove will proudly host its 53rd annual Strawberry Festival from Friday, May 27th thru Sunday, May 30th. The event will feature carnival rides, raffles, contests, celebrity guests. Admission is free.

Location: Village Green Park, 12732 Main St., Garden Grove.

For more information, please call the Strawberry Festival Association at (714) 534-4729 or visit www.strawberryfestival.org.

July 16, 2011 - Garden Grove High School Reunion
Garden Grove High's Class of 1971 will have its 40th reunion Saturday, July 16th at the Historic Balboa Pavilion. Tickets are $87 per person if purchased before May 1st. The event begins with a reception at 6 p.m. followed by dinner.

Location: Historic Balboa Pavilion, 400 Main Street, Newport Beach.

For more information, please call (714) 549-7852 or email Frank and Anna Richards at annabanr@aol.com.

City of Santa Ana
April 21, 2011 - Federal/State Basic Payroll Tax Seminar for Business Owners
The Small Business Development Center of Orange County will hold a seminar on Thursday, April 21st from 9 a.m. - 3:30 p.m. This seminar will teach the basics of federal and state payroll taxes every business owner should know about! Learn how to report taxes and how to distinguish between an employee and independent contractor. You will also gather information on independent contractor reports and ways to get assistance on your payroll taxes. The course is free of charge.

Location: Rancho Santiago Community College, 2323 N. Broadway, Board Room 107, Santa Ana.

For more information, please call (714) 564-5200 or register online at www.ocsbdc.com.

April 23, 2011 - Free Shred & eWaste Day
Do you have damaged or outdated home electronics; old bills, statements or confidential papers? Head down to Orange County's Credit Union's free Shred & eWaste Day on Saturday, April 23rd from 9 a.m. to 1 p.m. The drive-thru service for paper and electronics recycling by Cintas and eWaste Recycle. Examples of electronic waste you can properly discard are computers, cell phones, cameras, TVs, printers, CD players and electronic toys.

Location: 1701 E. St. Andrew Place, Santa Ana.

For more information, please visit www.orangecountyscu.org.

May 7, 2011 - Veterans First Recycle Store
Veterans First has been providing services to veterans since 1971, and at 10 a.m. on Saturday, May 7th will be celebrating the grand opening of its new Recycle Store in Santa Ana. The Recycle Store sells clothes, furniture, small appliances, shoes, books, videos, antiques and so much more. Head down to this event and partake in refreshments, while receiving discounts on most items. All proceeds help to fund the Veterans First Emergency Shelter for Homeless Veterans & Families.

Location: 220 S. Grand Ave., Santa Ana.

For more information, please call (714) 975-4270 or visit www.veteransfirstoc.org. For information on Veterans First, please call (714) 547-0615.

May 13, 2011 - St. Anne School 65th Anniversary
Graduates, parents and former teachers of St. Anne School, are invited to the 65th Anniversary celebration on Friday, May 13th. The event includes dinner, dancing and an auction, and will be held at The Hacienda Restaurant in Santa Ana. Dinner tickets are $40 per person and are available at the school office.

Location: The Hacienda Restaurant, 1725 College Ave., Santa Ana.

For more information, please call (714) 542-9328.

City of Westminster
April 18-22, 2011 - Spring Break Program
The City of Westminster's Parks and Playgrounds program will be extending its hours during spring break at Bolsa Chica, Liberty and Sigler parks. This free, supervised drop-in recreational program for kids in elementary school features arts and crafts, games and sports. This spring break program is from 10 a.m. to 4 p.m. and begins April 18th and lasts through April 22nd.

Locations:

Bolsa Chica Park: 13660 University Street, Westminster
Liberty Park: 13900 Monroe, Westminster
Sigler Park: 7200 Plaza Street, Westminster
For more information, please call (714) 895-2860.

April 21, 2011 - Chamber of Commerce Mixe
The Westminster Chamber of Commerce is hosting a business mixer on Thursday, April 21st from 5:30 p.m. to 7:30 p.m. Come and enjoy the food and atmosphere, and network with other business professionals.

Location: Michael's Sports Pub & Grill, 15192 Goldenwest St., Westminster.

For more information, please call (714) 898-9648.

April 22, 2011 - Zumba Classes
The City of Westminster's Community Services Department is offering a Zumba Latin dance fitness class on Fridays beginning April 22nd. Classes take place from 7 p.m. to 8 p.m. This program lasts for seven weeks and is $59 per person.

For more information, please call (714) 895-2860.

April 23, 2011 - Breakfast with the Easter Bunny
The City of Westminster is hosting a Breakfast with the Easter Bunny on Saturday April 23rd from 9 a.m. to 11 a.m. Bring the whole family for a pancake breakfast, crafts, egg hunt, and of course, the Easter Bunny! The cost is $7 per person 2 years old and up, and parents are encouraged to bring the cameras.

Location: Westminster Community Services and Recreation Building East/West Room, 8200 Westminster Blvd., Westminster.

For information and to register, please call (714) 895-2860, or go online at www.activenet.active.com/westminster. Space is limited, so sign up today!

April 30, 2011 - Classic Car Show
The Westminster High School's Parent Teacher Student Association will host a Classic Car Show fundraiser on April 30th from 9 a.m. to 4 p.m. Aside from the car show, the event will feature gift baskets and great food.

Location: Westminster High School, 14325 Goldenwest St., Westminster.

For more information, please call (714) 893-1381.



To contact Supervisor Janet Nguyen, please call 714-834-3110 or email Janet.Nguyen@ocgov.com.