May 16, 2011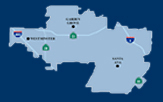 Welcome to this issue of Janet's Journal, a First District Report designed to keep you updated on issues and events concerning our communities in Orange County especially in the First District.

I am proud and honored to represent over 600,000 people within the First District covering the cities of Garden Grove, Santa Ana, Westminster and the unincorporated community of Midway City.

I hope you will find this journal informative. If you have any questions, comments, or suggestions, please do not hesitate to contact me. I look forward to hearing from you.

Respectfully,
Supervisor Janet Nguyen
---
IN THIS ISSUE...
2. ORANGE COUNTY TRANSPORTATION AUTHORITY (OCTA)

3. ORANGE COUNTY FIRE AUTHORITY (OCFA)

8. Janet Around the First District

9. Local Issues

11. Community Events
---
Click here to subscribe.
Click here to unsubscribe
---
The end of the school year is right around the corner, with summer following soon after. I want to encourage all grade school and college students to buckle down and study hard. Doing your best in school is truly admirable and a sign of good things to come.

Also, coming to a close is the 2010-2011 fiscal year, which means budget talks in the various departments are well under way and will shortly commence at the Board level. The recession continues to hurt hardworking families, and while there are signs the economy is improving, we are not out of the woods yet.

It is my goal during the upcoming budget cycle to focus on making County government more efficient while continuing to bring quality and cost effective services to the residents of Orange County.


Board of Supervisors
Sheriff's Department Renews Contract with Fairgrounds

The Orange County Sheriff's Department recently renewed contracts with the State of California to provide law enforcement services for the events held at the Orange County Fairgrounds. Such events include car shows, festivals, and the weekly Orange County Marketplace. The agreement allows the Sheriff to maintain the safety of the public during events without having to divert city law enforcement to the Orange County Fairgrounds, thereby enhancing the response time for law enforcement services in the area. The Sheriff's Department had provided these services since 1991.

Sheriff's Department Reduces Overtime Costs by $25.9 Million

The Orange County Office of the Performance Auditor recently reported to the Board of Supervisors on their follow-up to the 2008 audit that sharply criticized the Sheriff's Department overtime practices. The follow up report indicated that the Sheriff's Department reduced overtime costs by $25.9 million and has made commendable progress in addressing the deficiencies in overtime monitoring and controls that were identified in the audit team's 2008 report. An overall policy regarding overtime has been established and enforced by OCSD management. In addition, a key strategic decision by the CEO's office to pursue a change in overtime calculation has been attributed to saving hundreds of thousands of dollars for OCSD and millions of dollars Countywide.

Community Development Block Grants

The Board approved the 2011-2012 Action Plan, which outlines how the County will distribute funds received from the U.S. Department of Housing and Urban Development (HUD). The Action Plan supports HUD's mission to create strong, sustainable, inclusive communities and quality affordable homes. The Action Plan covers program funding from Community Development Block Grants (CDBG), HOME Investment Partnership Act funds and Emergency Shelter Grant funds, which total just under $6.5 million.

Funds were distributed using a Request for Proposal process and will include County wide improvements in public service, housing rehabilitation, and public facilities. First District projects include funding for the Midway City Community Services and Education Center and funding for the Cold Weather Shelter Armory Program in Santa Ana.

To review a copy of the 2011-2012 Action Plan, please contact OC Community Services at:

1770 N. Broadway
Santa Ana, CA 92706
(714) 480-2900
(714) 480-2803 (fax)

Trabuco Creek Road Resurfacing Project

The Trabuco Creek Road Resurfacing and Improvement Project will go up for bids beginning Wednesday, May 25, 2011 at 2 p.m. This project will support maintenance of the road, and improve the use and access by emergency vehicles, utility personnel and the public. The existing Trabuco Creek Road is a 2.8 mile rough-graded dirt road that has been used for many decades by emergency vehicles. Additional improvements will include, providing rock slope protection, constructing a concrete dip crossing for drainage, and installing security fence around two private water wells.

Agreement Renewal for Eligibility Technician Services for CCS Program

The Board of Supervisors recently voted unanimously to support renewing a contract with the Hospital Association of Southern California (HASC) to register and support Orange County's physically disabled children into the California Children Services program. The California Children Services (CCS) program is a State-mandated service that provides diagnostic treatment and therapy to children with physical disabilities.

In order to be eligible for participation in this program, medical, financial and residential qualifications must be met in accordance with state law. The County or Orange has since contracted with the HASC to provide technician services to assess the eligibility of children and help them enter the CCS program. This mutually beneficial agreement is at no cost to the County of Orange.

Children and Transitional Youth Mentoring

The Orange County Board of Supervisors has approved an agreement with the Orange County Association for Mental Health for the provision of Children and Transitional Youth Mentoring Services through June 30, 2012.

The program is fully financed by state funds acquired through the passage of the Mental Health Services Act (Prop 63) and provides health mentoring services for children and transitional youth who are emotionally disturbed and/or mentally ill. The program is designed to allow both children and youth to develop supportive relationships that will build the necessary skills to lead fully functioning lives. Current evaluations of the program reveal that these partnerships are instrumental, thereby yielding very positive results.

Third Quarter Budget Report

I am pleased to report that overall, the County's year-end cash balance is projected to be higher than was forecasted in the Fiscal Year 2010-11 budget. Primarily due to the timing of State reimbursements and operating transfers, General Fund cash is $67.1 million above the level set twelve months ago. There is also a $56 million year-to-date net increase in the total County reserves.

The County continues to manage the impacts of a depressed economy and a third year of depressed revenues. Notwithstanding these challenges, the County has maintained financial stability by implementing conservative policy decisions, critical to ensuring that we balance our budget shortfalls while remaining committed to carrying out critical and mandated services, meeting debt obligations and maintaining financial liquidity. The County is currently well into the preparation of FY 2011-12 budgets, a process complicated by the fiscal vacuum of not having a State budget. Based upon 2010 Strategic Plan recommended actions, departments are preparing for an additional 5% reduction in net County Cost to be implemented for FY 2011-12.

In March 2011, the State Legislature approved program cuts to welfare, medical programs for the indigent, in-home care, mental health and early childhood programs. There is still $12 billion in budget solutions the State needs to identify to close their gap, leaving Counties faced with unknown impacts. However, the County is committed to coming up with a solution to maintain serving the three million plus residents of Orange County.

County of Orange Green Fair - May 19, 2011

The 2nd Annual Green Fair will be hosted by the County of Orange in Santa Ana's downtown Civic Center on Thursday, May 19th. This event will take place from 10 a.m. - 2 p.m. and feature nearly 90 vendors that will showcase environmentally-friendly products and services.

One of the County's strategic initiatives is sustainability. The Green Fair is one of the many County-wide programs that support this initiative. More than 3,000 community members attended last year's event. Come and join this fun event! Additionally, vendor sponsorships have made it possible to stage the OC Green Fair at no expense to taxpayers. To learn more, visit www.OCGreenFair.com.


ORANGE COUNTY TRANSPORTATION AUTHORITY (OCTA)
Opportunities to Contract with OCTA

OCTA is in need of firms who can provide the following:
OCTA Citizens Advisory Committee

OCTA Citizens Advisory Committee The Orange County Transportation Authority (OCTA) considers public participation and community leadership to be vital components of delivering successful transportation projects and services. OCTA is now recruiting Orange County community leaders for openings on the volunteer Citizens Advisory Committee (CAC). This 34-member committee, appointed by the Board of Directors, plays a significant role in representing a broad spectrum of community perspectives on transportation projects, studies and outreach activities.

OCTA is looking for volunteers who live in Orange County with the following qualifications:

Community involvement - currently represent a group with a large, active membership
Demonstrated interest in community activities and transportation issues
Willingness to dedicate a minimum of 20 hours per year to OCTA meetings and other activities
If you are interested in serving or know of other motivated community leaders who could contribute their service for a two-year term on the committee, please let us know by visiting www.octa.net/cac. Applications are available to download from this site, or upon request by contacting Alice Rogan at (714) 560-5577 or arogan@octa.net.

Submitting your application:
Applications are due no later than May 31, 2011. Applications can be mailed to:

Alice Rogan
OCTA, External Affairs
P.O. Box 14184
Orange, CA 92863-1584

Applications can also be faxed to (714) 560-5795 or scanned and emailed to arogan@octa.net.

FY 2010-11 Comprehensive Business Plan

The OCTA Board of Directors recently approved the Fiscal Year 2010-11 Comprehensive Business Plan which demonstrates the financial feasibility of all programs and services over a 20-year horizon. OCTA's Comprehensive Business Plan is a financially constrained strategic business tool utilized to ensure the financial viability of OCTA programs and services. It is designed to assist OCTA in implementing its strategic goals and objectives within the framework of sound business practices. To view this plan, please visit http://atb.octa.net/AgendaPDF/8948.pdf

Transit System Study Plan

An in-depth analysis of the Orange County bus system is underway through the Transit System Study. The goal of the study is to find new, affordable ways to provide cost-effective bus services to meet diverse transportation needs by making the best use of limited financial resources. Sustaining existing and new bus services in the short, intermediate, and long-term is a key goal with this study. Guiding principles have emerged from public outreach and technical efforts and are presented for review and approval. These principles will be used to guide the development of draft service strategies that will be presented to the Board of Directors in June 2011. To view the Transit System Study update, please visit http://atb.octa.net/AgendaPDF/6220.pdf

Draft Orange County Sustainable Communities Strategy

In December 2009, OCTA entered into a cooperative agreement with the Orange County Council of Governments to prepare and adopt a subregional Sustainable Communities Strategy per SB 375. SB 375 was enacted with the intent to reduce greenhouse gas emissions from automobiles and light trucks through integrated transportation, land use, and housing and environmental planning. Since that time, jurisdictions and stakeholders throughout Orange County have been working to develop an Orange County Sustainable Communities Strategy. Following extensive local jurisdiction input, the OCTA Board of Directors recently approved the strategy. To view the Sustainable Communities Strategy, please visit http://atb.octa.net/AgendaPDF/8948.pdf

New Lanes Being Added to 405 Freeway

The 405 freeway is one of the most congested freeways in Orange County and traffic volumes are expected to increase substantially by 2030. Measure M2 (M2) includes a project to add new lanes to the I-405 from the vicinity of the Santa Ana Freeway (Interstate 5) to the Costa Mesa Freeway (State Route 55) in Irvine.

The proposed project will increase mainline capacity and reduce congestion and will be designed for traffic volumes 20 years after construction. The OCTA Board of Directors recently approved consultant services to prepare a project study report/project development support document (PSR/PDS) which analyzes alternatives and determines project feasibility and preliminary costs.

SR-57 Northbound Widening Project

Construction on the Northbound SR-57 is moving full speed ahead. Crews have worked on pavement grinding, lane restriping and clearing trees and shrubs to get ready for on-site construction activities.

Construction on the Orangethorpe to Lambert Segment will last through 2014, while the Katella to Lincoln Segment will begin later this summer and last through 2014 as well. Once completed, the improvements will improve mobility on the Northbound 57, while stimulating the local economy by bringing thousands of jobs to Orange County during construction.

If you would like information on these projects, visit www.octa.net/sr57 to view regularly posted updates.


ORANGE COUNTY FIRE AUTHORITY (OCFA)
"Fill The Boot" is Just Around the Corner

The Muscular Dystrophy Association's Annual "Fill-the-Boot" campaign is right around the corner. On May 20th and May 21st, OCFA firefighters will help raise money for the MDA. Look for firefighters in select cities with their boots out, and donate to MDA!


Youth Connection
Teen "Wreck"-reation Hall Summer Time

Come and join us at the Wreck Hall at Eastgate park! It's a place for teens to hang out and enjoy socializing with other teens. Activities include interactive Wii games, sports and a snack bar. Wreck Hall hours are as follows:

Wednesdays: 2:30 p.m. - 5:30 p.m. (1st & 3rd Wednesdays from 1p.m. - 4 p.m.)
Fridays: 3:30-6:30 p.m.
Saturdays: (1st & 3rd Saturdays from 12 p.m. - 4 p.m.)
Location: 12001 Saint Mark Street, Garden Grove (in Eastgate Park).

For more information, please call (714) 741-5200.

Westminster Teen Advisory Board

The Westminster Public Library is looking for teen volunteers to join its Teen Advisory Board. The board is open to teens from the 6th through 12th grades and helps make decisions about teen services offered at the library.

Meetings are held on the first Wednesday of each month. For more information, please call (714) 893-5057.


Health Bulletin
Vaccinations Lead to Decrease in Disease

Despite some media reports pointing to a connection between vaccinations and autism, a report brought before the Board of Supervisors on May 10, 2011 by Orange County Health Officer Eric Handler MD, reveals that on the contrary, vaccinations significantly diminish disease. In fact, the World Health Organization estimates that 2 million child deaths were prevented in 2006 due to immunizations worldwide.

In the U.S., children are vaccinated against 16 diseases through immunizations that have been thoroughly tested and deemed safe. The State of California in conjunction with the County of Orange trust that the Center of Disease Control's (CDC) assessment of the required vaccinations is accurate and exhorts citizens to comply with AB 345, which requires all children entering the 7th grade to provide proof of receiving the Tdap Booster, which provides defense against pertussis.


Business News
Garden Grove Chamber of Commerce Welcomes New President

The Garden Grove Chamber of Commerce has chosen a new President/CEO, Jeremy Harris. Mr. Harris is well known within the chamber as a tireless advocate and is a lifelong resident of Garden Grove. Congratulations Mr. Harris!

For additional information, please call (714) 638-7950 or visit www.gardengrovechamber.org.


SAVE THE DATE
Central County Senior Summit - August 20, 2011

This year's Central Orange County Senior Summit will be held at the Crystal Cathedral in Garden Grove. The event will feature seminars and informational booths and breakfast for seniors. This year's summit will be on Saturday, August 20, 2011, from 7:30 a.m. to 11:30 a.m.


JANET AROUND THE FIRST DISTRICT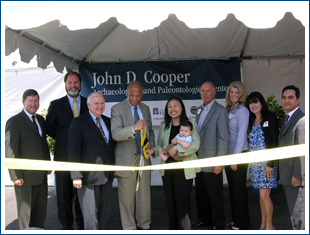 Supervisor Janet Nguyen and baby Tommy assist Milton A. Gordon, President of California State University, Fullerton, during the ribbon cutting ceremony of the new John D. Cooper Archaeological and Paleontological Center. Joining them are (l-r) Mark Denny, Director of OC Parks; Supervisor John Moorlach, Vice Chairman of the Board of Supervisors; Supervisor Bill Campbell, Chairman of the Board of Supervisors; and four members of the Cal State Fullerton Philanthropic Foundation: former State Senator Dick Ackerman, Jo E. Bandy, Chair Annette Feliciani, and Secretary Jose Lara. The new Center is a joint venture between Cal State Fullerton and the County of Orange.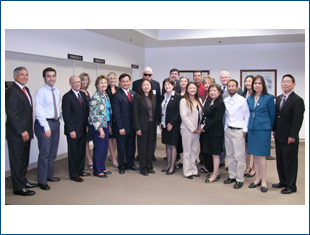 Supervisor Janet Nguyen joins Hon. Frederick P. Aguirre, Hon. Franz E. Miller, Hon. Thomas J. Borris, Presiding Judge, and Hon. Douglas J. Hatchimonji in honoring the graduates of the 2011 Orange County Superior Court Leadership Academy. Among the graduates, are members of Supervisor Nguyen's staff: Nick Lecong, Deputy Chief of Staff/Special Assistant, Christy Delp, Policy Advisor and Diane Nguyen, Senior Policy Advisor.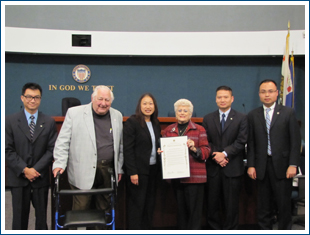 Supervisor Janet Nguyen presents a resolution on behalf of the Orange County Transportation Authority to Mayor Margie Rice and the Westminster City Council in appreciation of the residents' and the City of Westminster's support for Measure M funding.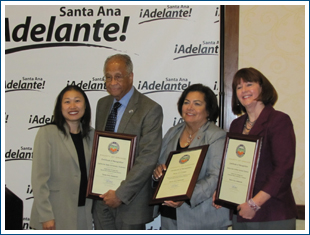 Supervisor Janet Nguyen presents certificates to Milton Gordon, President of Cal State Fullerton, Erlinda Martinez, President of Santa Ana College, and Jane A. Russo, Superintendent of Santa Ana Unified School District in honor of the signing of the Santa Ana Adelante agreement. This agreement provides graduates of Santa Ana Unified School District and Santa Ana College guaranteed enrollment at Cal State Fullerton.


LOCAL ISSUES

* The following articles are for informational purposes only and are not necessarily intended to imply endorsement or support.
Orange County

Announcements For the First District
I would like to report a few key updates for the City's in the First District:

Garden Grove: The City Council appointed Chris Beard to fill a recent vacancy on the Council. Councilmember Beard currently serves the residents of Orange County working in OC Parks within Orange County Community Resources.
Santa Ana: Police Chief Paul Walters has been named Interim City Manager as the replacement for Dave Ream, who is retiring May 31st.
Westminster: The City Council appointed Ronald Coopman as the new Police Chief for Westminster, replacing former Chief Mitch Waller who became the permanent City Manager in January.
Congratulations to Councilmember Beard, Chief Paul Walters and Chief Coopman!

Garden Grove

Day Camp
The Garden Grove Day Camp (GGDC) provides a fun and exciting experience for children ages 5-12. Staff provides a safe environment that helps a child develop social skills and appreciation for our local parks. The GGDC provides recreational activities including arts and crafts, field games, and cookouts.

For more information, please call (714) 741-5200.

New School Materials
Garden Grove Unified School District is considering new high school text materials, and will be displaying them to the public until May 3, 2011. The materials will be on display at the district's administration office at 10331 Stanford Ave. The board is scheduled to consider adoption of the materials during its May 3rd meeting. For more information, please call (714) 663-6454.

Major Street Improvements
Four major arterial streets in Garden Grove are set to undergo significant renovations beginning March 21, 2011, and continuing through June 2011. The nearly $2.2 million project is included in the City's Capital Improvement Budget and funded by Measure M and gas taxes. These funds will pay for the resurfacing of asphalt streets, removal and replacement of curbs, gutters, bus pads, driveways, sidewalks and ramps, along with new traffic striping and signing. The street repairs are as follows:

Chapman Avenue: construction from Valley View Street to Springdale Street, and from Western Avenue to the City of Stanton boundary
Garden Grove Boulevard: construction from Beach Boulevard to Fern Street
Trask Avenue: construction from Euclid Street to Harbor Boulevard
Western Avenue: construction from Garden Grove Boulevard to Simmons Place
Vendor Opportunities Available for 2011 Concert Series
The Garden Grove Community Foundation is anticipating another year of record crowds coming out to enjoy the free Thursday night concerts in the park. The 2011 Summer Concert series runs for eight Thursdays, July 14 through September 1, from 6:30 to 8:30 p.m., at both Eastgate and Village Green parks. In preparation, the GGFC is accepting applications for vendor booth space. The last day to submit applications is Thursday, March 31, 2011.

Vendor Information and applications are available on the GGCF Website at www.ggcf.com. For additional information, contact Stacy Margolin, Garden Grove Community Foundation, at (714) 741-5168.

Santa Ana

Reading Programs for Young Children
In an effort to promote reading among young children, the Santa Ana Central Library and the Newhope Branch Library are offering programs to help your child start reading at an earlier age. There are weekly baby, preschool and family story times for you and your child to enjoy. For a schedule of story times and activities for children, please visit www.santa-ana.org/library or call (714) 647-5258.

Basement Bookstore
The Friends of the Santa Ana Public Library open their Basement Bookstore every Wednesday evening from 7 p.m. to 9 p.m. at the library at 26 Civic Center Plaza. A variety of books, magazines, and media are available for purchase, typically for 25 and 50 cents.

The Basement Bookstore is located on the west side of the basement where the old Periodicals used to be. Parking tickets from the garage west of the library can be validated for up to two hours by library staff. For more information or to volunteer, please visit www.fosapl.org.

Summer Camp Registration
Do you have a curious young explorer in your home? Do you have a future veterinarian or aspiring zoologist who seeks out the wilder side of science? Well, register your child today for this year's Science Camp at the Discovery Science Center. Registration is now open.

Discovery Science Center offers a variety of hands-on, highly interactive summer science camps for children ages 5-10. Camps are offered on-site at Discovery Science Center and off-site at the Santa Ana Zoo and San Joaquin Marsh in Irvine. The Science Camp is a combination of fun and education. Your child will never forget this experience. For more information, please call (714) 913-5030.

Locations:

Discovery Science Center, 2500 North Main St., Santa Ana.
Santa Ana Zoo, 1801 East Chestnut Ave., Santa Ana.
San Joaquin Marsh, 5 Riparian View, Irvine.
Westminster Summer Aquatics Program
Registration for the 2011 Summer Aquatics program Sessions A & B began this month. Visit www.activenet.active.com/westminster. You can also register your children at the Community Services Department, 8200 Westminster Blvd. Each session runs Monday through Thursday for 2 weeks and 30 minutes a day. For more information, please call (714) 895-2860.

Summer Jobs Available
The City of Westminster is hiring for the summer aquatics program. Open positions include pool manager, lifeguards and water safety instructors. Potential applicants must have the appropriate certification to be considered for the position. Applications for these positions are available at the Community Services and Recreation Department at 8200 Westminster Blvd. For more information, please call (714) 548-3667.

Summer Classes
Registration for the City of Westminster's summer classes began this month. There are a variety of academic classes available, along with special themed classes, such as "Glee" and "Star Wars." Those interested may sign up at www.activenet.active.com/westminster or stop in at the Community Services Recreation building at 8200 Westminster Blvd. For more information, please call (714) 895-2860.

Concerts in the Park
The annual Concert in the Park summer series is happening again! Every Thursday evening from 6 p.m. to 7:30 p.m., between July 14th and August 18th, join local residents and music enthusiasts for a fun filled evening! Here are the bands that will be performing this summer:

July 14th: Air National Guard Band of the Southwest
July 21st: Old School Westminster All Stars (rock, blues, jazz)
July 28th: Nicolson Pipes & Drums featuring The Celtic Skye Dancers
August 4th: De Nada (60's and 70's, Latin, rock & roll)
August 11th: The Silverado's (country rock)
REQUESTS FOR PROPOSALS

County of Orange
There are currently many new bids to contract with the County of Orange. For more information, please click here.


Community Events
City of Garden Grove
May 27-30, 2011 - Garden Grove Strawberry Festival
The City of Garden Grove will proudly host its 53rd annual Strawberry Festival from Friday, May 27th thru Sunday, May 30th. The event will feature carnival rides, raffles, contests, celebrity guests. Admission is free.

Location: Village Green Park, 12732 Main St., Garden Grove.

For more information, please call the Strawberry Festival Association at (714) 534-4729 or visit www.strawberryfestival.org.

July 16, 2011 - Garden Grove High School Reunion Class of '71
Garden Grove High's Class of 1971 will have its 40th reunion Saturday, July 16th at the Historic Balboa Pavilion. Tickets are $87 per person if purchased before May 1st. The event begins with a reception at 6 p.m. followed by dinner.

Location: Historic Balboa Pavilion, 400 Main Street, Newport Beach.

For more information, please call (714) 549-7852 or email Frank and Anna Richards at annabanr@aol.com.

August 20, 2011 - Garden Grove High School Reunion Classes '81, '82 and '83
Garden Grove High's Classes of 1981, '82 and '83 will hold its 30th reunion Saturday, August 20th at the Hilton in Irvine. The event begins 7 p.m. with several retired faculty members and coaches expected to attend.

Location: Irvine Hilton, 18800 MacArthur Blvd., Irvine.

For more information, please call (800) 655-7971, or visit www.greatreunions.com.

City of Santa Ana
May 22, 2011 - Heritage Museum Music Festival
The Heritage Museum of Orange County will be holding its 1st Annual music festival. Music will include folk, bluegrass, and Americana artists. This special event will also include a Native-American exhibit, blacksmith demonstration, adobe brick making workshop, children's art classes, and much more. The festivities begin at 12 p.m. till 7 p.m.

Location: 3101 W. Harvard St., Santa Ana.

For more information, please call (714) 540-0404, or visit www.HeritageMuseumOC.org.

May 28, 2011 -Mr. Potato Head at Discovery Science Center
The Adventures of Mr. Potato Head is coming to Discovery Science Center on Saturday, May 28 and staying until September 11th. Mr. Potato Head will lead young visitors and parents on a number of fun and educational adventures, jungle safaris and archeological digs.

Location: Discover Science Center, 2500 N. Main Street, Santa Ana.

For more information, please call (714) 542-2823.

June 4-5, 2011 - Garage Sale Weekend
Santa Ana's Community Preservation Division is organizing a garage sale weekend for June 4th and 5th. Residents of Santa Ana may only have yard sales on certain days throughout the year.

For additional information and if you'd like to participate, please call Community Preservation at (714) 667-2780.

City of Westminster
June 4, 2011 - Mayor's Ball
Westminster Mayor Margie Rice will host a Mardi Gras Ball on June 4th at the Westminster Rose Center on Saturday, June 4th. This annual event raises funds for the Rose Center Theater.

Location: Westminster Rose Center, 14140 All-American Way, Westminster.

June 14, 2011 - Flag Day
The annual Flag Day celebration will be held on Tuesday, June 14th at noon in Westminster's Civic Center. Join Gold and Blue Star Mothers, military veterans and families of military personnel for a special celebration honoring America's Flag. The event is free, and refreshments will be provided.

Location: Civic Center, 8200 Westminster Blvd., Westminster.

July 14, 2011 - Concert in the Park
The Air National Guard Band of the Southwest will be performing from 6 p.m. to 7:30 p.m. This band performs all over Arizona, Southern California and Colorado, representing the State of California, the Air National Guard and the United States Air Force.

August 11, 2011 - 3rd Annual Green Expo
The City of Westminster is bringing hosting its Green Expo for the third year. Join residents on Thursday, August 11th from 3:30 p.m. to 6:30 p.m. and learn how to save energy, reduce waste and cut utility costs. Admission is free, and there will be free giveaways throughout the event.

Location: 8200 Westminster Blvd., Westminster.

For more information, please call (714) 548-3240.


To contact Supervisor Janet Nguyen, please call 714-834-3110 or email Janet.Nguyen@ocgov.com.