May 22, 2012


Welcome to this issue of Janet's Journal, a First District Report designed to keep you updated on issues and events concerning our communities in Orange County especially in the First District.

I am proud and honored to represent over 600,000 people within the First District covering the cities of Garden Grove, Santa Ana, Westminster and the unincorporated community of Midway City.

I hope you will find this journal informative. If you have any questions, comments, or suggestions, please do not hesitate to contact me. I look forward to hearing from you.

Respectfully,
Supervisor Janet Nguyen
---
IN THIS ISSUE...
2. ORANGE COUNTY TRANSPORTATION AUTHORITY (OCTA)

3. ORANGE COUNTY SANITATION DISTRICT (OCSD)

4. CALOPTIMA

9. JANET AROUND THE FIRST DISTRICT

10. LOCAL ISSUES

12. COMMUNITY EVENTS
---
Click here to subscribe.
Click here to unsubscribe
---

Memorial Day is a time to commend and honor the brave men and women who have served in our country's armed forces. With this holiday just around the corner, I encourage you to stop and thank our veterans and service members for their dedication and sacrifice for our freedom and democracy.

I would also like to encourage you to stop by Garden Grove's Strawberry Festival from May 25th to May 28th in honor of Memorial Day for a parade, games, booths, rides and the cutting of the largest strawberry cake!

As you look through this issue of Janet's Journal for the First District, I hope you take note of the recently published 2012 OC Facts and Figures Booklet, as well as the Westminster Summer Aquatics Program.


| | |
| --- | --- |
| | BOARD OF SUPERVISORS |

AlertOC Update

The Board of Supervisors approved an agreement between the Sheriff-Coroner Department and Orange County cities, universities, and water agencies to continue to utilize the County's Countywide Mass Notification System, AlertOC.

AlertOC was launched in 2008 after the Board and County staff expressed interest in developing a mass notification system capable of delivering alerts, warnings, and instructions to County residents and businesses during emergencies. After initial success, usage was extended to County municipalities, public universities, and water agencies to allow for quick communication and distribution of urgent information throughout the community in an effective and efficient manner. Alert OC messages have been sent during emergencies involving fires, floods and storms among other incidents.

Santa Ana River Kayaking Tours

A pilot program was authorized by the Board of Supervisors allowing Orange County Coastkeeper to conduct guided kayak trips along the Santa Ana River near Featherly Regional Park and Gypsum Canyon in the Third District.

The purpose for these kayak trips is to expand recreational opportunities while educating participants about the Santa Ana watershed and wildlife habitat in Orange County.

As the kayak program is in its initial stages, trips will be limited to guided tours on weekends as weather and water flow permits through the end of September 2012. Future activities will require further Board's action and approval.


| | |
| --- | --- |
| | ORANGE COUNTY TRANSPORTATION AUTHORITY (OCTA) |
I-405 Improvement Project Public Hearings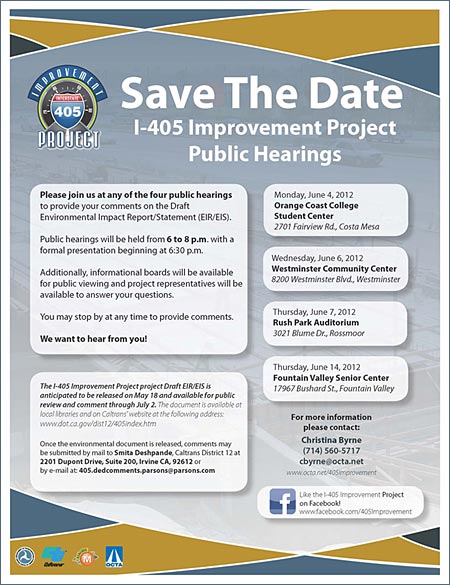 More information can be found by following this link to the OCTA website.


| | |
| --- | --- |
| | ORANGE COUNTY SANITATION DISTRICT (OCSD) |

OCSD Declared Tsunami Ready

The Orange County Sanitation District has been recognized as TsunamiReady®, a merit granted to them by the National Oceanic and Atmospheric Association (NOAA) National Weather Service.

To achieve this distinction OCSD met rigorous criteria, which included developing a tsunami safety plan and communications infrastructure, installing dozens of tsunami hazard zone and evacuation signs, as well as actively promoting tsunami safety through public awareness activities and training. The TsunamiReady® preparedness program helps communities develop tsunami response plans with NOAA's National Weather Service and local emergency managers.

Congratulations and thanks to the staff of OCSD for making the safety of our community in Orange County a priority!




New CalOptima Board Appointments

The Orange County Board of Supervisors recently appointed four new members to fill vacant seats on the CalOptima Board of Directors. Selections were made after the Health Care Agency conducted a thorough recruitment process and presented their recommendations to the Board of Supervisors. The four new appointees are Ellen Ahn, Dr. Samara Palacio Cardenas, Steven Knoblock, and Dr. Viet Van Dang. Ms. Ellen Ahn is currently an Executive Director and Social Worker with vast experience serving on multiple boards representing CalOptima's consumers. Dr. Samara Palacio Cardenas is a Pediatrician with over 33 years of experience in the medical field. Mr. Steven Knoblock is a General Counsel with over 35 years of public and private experience as an attorney. Dr. Viet Van Dang is a specialist who has 30 years of experience serving as a physician and surgeon.

Each new director brings an excellent breadth of knowledge in their respective fields. The addition of their experience and perspectives on health care will help ensure that CalOptima continues to carry its mission of providing access to quality health care services to low-income families, children, seniors, and persons with disabilities in Orange County in a cost-effective and compassionate manner.


HEALTH BULLETIN

Free Nurse Services for Seniors in Garden Grove

The H. Louis Lake Senior Center features free nurse services for seniors every third Thursday of the month. For more information, please call (714) 741-5253. The Senior Center is located at 11300 Stanford Avenue in Garden Grove.


YOUTH CONNECTION

Project Go (Graffiti Off)

Project GO is a volunteer-based graffiti removal program committed to removing unsightly graffiti in Garden Grove. Take a few hours out of your day to help keep Garden Grove beautiful. For more information, please call Garden Grove Public Works at (714) 741-5375.


BUSINESS NEWS

Business Networking Mixer

The Westminster Chamber of Commerce is hosting a mixer providing local businesses with the opportunity to network. The event will take place on June 5, 2012 from 5:30 p.m. to 7:30 p.m. at Best Western Westminster Inn (5755 Westminster Boulevard Westminster, CA 92683). Business representatives may network at this mixer by bringing their business cards or business brochures. Delicious hors d'oeuvres and refreshments will be provided.

Santa Ana Helps Local Businesses through New Ordinance

A new ordinance has been established in Santa Ana, which aims to help local businesses in Orange County succeed, specifically by giving them preference on qualifying City contracts. Orange County based businesses will be given a 4% preference and Santa Ana based businesses will be given a 7% preference over non-local companies. The Local Preference Ordinance applies to all contracts up to $100,000.


SAVE THE DATE
3rd Annual Central County Senior & Caregiver Expo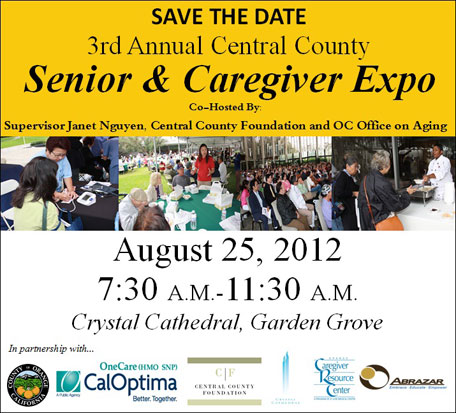 JANET AROUND THE DISTRICT
| | |
| --- | --- |
| Supervisor Janet Nguyen poses with Battalion Chief Kris Concepcion (far right), Division Chief Dave Thomas (3rd from right) and OCFA firefighters from Station #72 in Santa Ana during a tour of the facility. | Supervisor Janet Nguyen presents a certificate to Stella Choi, Branch Manager of the new United Dental Group facility in Irvine. |
| During the grand opening of Hannam Chain's new supermarket in La Palma, Supervisor Janet Nguyen presents a certificate to Dr. Kee Whan Ha, Chairman (l) and Gene Kim, Partner (r). | Supervisor Janet Nguyen joins Dr. Kee Whan Ha, Chairman of Hannam Chain, La Palma City Council Members and community leaders for the ribbon cutting ceremony at the grand opening of Hannam Chain's new supermarket in La Palma. |
| Supervisor Janet Nguyen gives her State of the County address to neighborhood leaders during the monthly Communication Linkage Forum (Com-Link) in Santa Ana. | Supervisor Janet Nguyen helps to present a raffle prize after speaking on the importance of education to a receptive audience at the Korean Women's International Network (KWOIN) Mentoring Conference at Chapman University. |
LOCAL ISSUES

* The following articles are for informational purposes only and are not necessarily intended to imply endorsement or support.
Orange County

2012 County Facts & Figures
The 2012 County of Orange Facts & Figures booklet is now available through the County website. The booklet includes, but not limited to, details ranging from city populations to property taxes, and countywide services to tourist attractions. Get complete Orange County facts by clicking here.

Animals for Veterans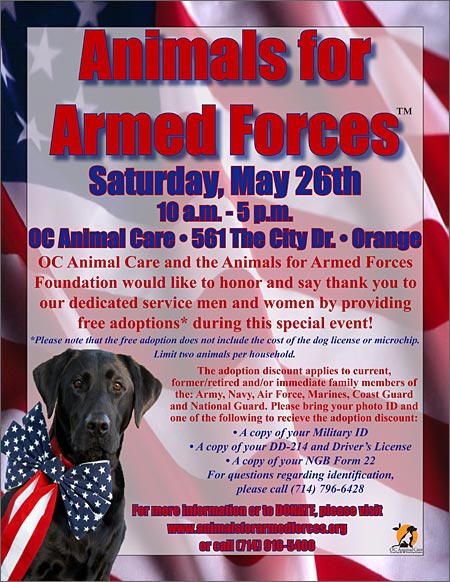 Super Senior May - Pet Adoption Month
OC Animal Care in conjunction with the Office on Aging will be providing seniors with pet adoption discounts and specials for mature cats and dogs from May 1 through the 31, 2012. If you are 55 years of age or older, you are eligible for these specials on pets ages 3 and older. Check your local shelters for details on promotions or visit www.ocpetinfo.com. For more information, please call (714) 935-6848.

New Public Works iPhone App
A new iPhone application has recently been unveiled to assist smartphone users in contacting County government. The app makes it easier for residents of Unincorporated Orange County to report damages directly to the OC Public Works Department. The app was developed in-house by OC Public Works staff, and allows residents to report potholes, graffiti, illegal dumping, water pollution, etc. with the option to include photos. Visit the OC Public Works website to download the iPhone app.

Fountain Valley

Storm Drain Filter Installation to Prevent Pollution
Through an OCTA Measure M grant, the City of Fountain Valley has installed 63 specialized trash filters inside storm drain catch basins in an effort to reduce beach and wetlands pollution. The filters prevent trash, sediment and other pollutants from washing into the beaches and wetlands and are monitored and cleaned by the Public Works Department.

Summerfest Volunteers Needed
The 2012 Fountain Valley Summerfest is sure to be an exciting opportunity to spend with family and friends. To ensure a great event, trustworthy and competent volunteers are needed. Summerfest will be held June 7th through the 10th. Information for volunteer sign-ups is available at (714) 593-4449.

Garden Grove

City Seeking Neighborhood Preservation Volunteers
Looking to pronounce your neighborhood pride while making a positive impact on your community? Consider volunteering for the Garden Grove Neighborhood Preservation Volunteer Program. By documenting maintenance violations throughout the City, volunteers help ensure residential Municipal Code standards are followed. A selection process is involved. Those chosen will receive thorough training, a uniform, and access to a city vehicle. For more information, please call (714) 741-5354.

Results in the Best-Looking Business Winners of Garden Grove
The winners of the 5th Annual Business Beautification Awards have been chosen. Marriott Suites won the awards for best-kept business in the large business category. Limbach, a construction firm, won the award in the medium business category and Battery Systems, a battery manufacturing company, won the award in the small business category.

Each winner will be featured on Channel 3's "This Week in Garden Grove" news show, as well highlighted in City publications and on the City's website. The winners will also be honored at the Garden Grove Pride Awards ceremony on May 21, 2012 at the Community Meeting Center, located at 11300 Stanford Avenue.

The Business Beautification program is run by the Economic Development Department and recognizes local businesses that strive to maintain and elevate the attractiveness of the City's business establishments. For more information on the program, please call the Economic Development Department at (714) 741-5051.

Santa Ana

New Engineering Program Available at Santa Ana College
Santa Ana College is now offering the Bridge 2 Engineering Program designed to help participants pursue a career in engineering. One goal of the program is to increase participation from underrepresented minorities, women, and veterans in engineering fields. Another purpose is to provide academic and peer support to students as they work towards an engineering degree.

The program offers academic counseling, tutoring, intensive math preparation, and paid engineering internships. For more information, please contact the Student Support Specialist Norma Salazar at (714) 878-7742, or email her at norma@growthsector.org. Additional information is available at the Bridge 2 Engineering website.

New Online Resource for Event Planning
Planning a special event in Santa Ana? A new online resource is now available on the City of Santa Ana's webpage that will assist event organizers with this process.

Westminster

2012 Summer Aquatics Program
The City of Westminster Summer Aquatics program is back! Registration for Sessions A & B has begun and registration for Sessions C & D will begin on July 12th.

Session A: June 25 - July 5
Session B: July 9 - July 19
Session C: July 23 - August 2
Session D: August 6 - August 16
All lessons are held at LaQuinta High School, 10372 McFadden Ave., Westminster, Monday through Thursday for 30 minutes (no lessons on July 4th). Each session is $45 ($40 for Session A). Additionally, free recreation swim will be available June 25th - August 15th, Mondays & Wednesdays, from 2 p.m. to 3 p.m.

For questions prior to June25th, please call the Community Services & Recreation Department at (714) 895-2860. For information on June 25th and after, please call the pool deck at (714) 715-0111.

New Parking Ordinances Take Effect
The City of Westminster has implemented updates to the ordinances regulating vehicles and commercial vehicles on city streets. The Westminster Police Department believes the new ordinances will reduce traffic congestion, noise complaints, and the number of vehicles stored on streets. Additionally, they will help to regulate commercial vehicles that are left standing on the streets for long periods of time. For additional information, please visit the City's website or call (714) 548-3220.

2012 Spring Brochure Available Now
Westminster's 2012 Spring Brochure is now available online. Browse through the many classes and activities available to the community and register now. Click here to view the brochure online. There is something for everyone!

Volunteer Drivers Needed
The City of Westminster is seeking drivers to deliver meals to homebound seniors. Those interested should contact Maribel Avilez of the Westminster Senior Center at (714) 895-2878, ext. 3678.


REQUESTS FOR PROPOSALS

County of Orange
There are currently many new bids to contract with the County of Orange. For more information, please click here.


Community Events

City of Fountain Valley
May 23, 2012 - Diabetes: Gaining Control (Lunch & Learn)
Join Susan Wergles, N.P, a nurse practitioner with Edinger Medical Group, in discussing how to identify and overcome obstacles on your path toward diabetes control. Keeping diabetes under control is important in order to preserve the function of vital organs, nerves, and circulation. A light lunch will be provided and reservations are required.

Location: Orange Coast Memorial Medical Center, 9920 Talbert Avenue Fountain Valley, CA 92708.

For more information, visit http://www.memorialcare.org/.

June 7-10, 2012 - Fountain Valley Summerfest
Join your friends and neighbors for Fountain Valley's Summerfest from Thursday, June 7th through Sunday, the 12th. The Fountain Valley Summerfest Committee, in partnership with the City of Fountain Valley is working hard to bring you the 4th annual community celebration called Fountain Valley Summerfest.

This 4-day event will be held at the Fountain Valley Sports Park and will feature carnival rides, games, live entertainment, exhibitors, a sports tent, and great food each day. The Classic Car & Truck Show will take place on Saturday, with a Battle of the Bands and Dog Day Afternoon happening on Sunday. Admission is FREE! The Summerfest flyer is available here, with additional information to be found on the website.

Location: Fountain Valley Sports Park at Brookurst St. and Heil Ave, Fountain Valley, CA 92708.

June 14, 2012 - I-405 Improvement Project Public Hearing
The Draft Environmental Impact Report/Statement (EIR/EIS) on the I-405 Improvement Project is available through OCTA's website. Join your neighbors on Thursday, June 14th for a public hearing on planned improvements to the I-405. The hearing takes place from 6 p.m. - 8 p.m. and includes a formal presentation.

Location: Fountain Valley Senior Center, 17967 Bushard St., Fountain Valley, CA.

For more information, please contact Christina Byrne at (714) 560-5717 or cbyrne@octa.net.

City of Garden Grove
May 21, 2012 - Garden Grove Pride
Come see the City honor the best-kept homes in Garden Grove at the Annual Garden Grove Pride Home Beautification Awards Ceremony on Monday, May 21st from 6 p.m. to 9 p.m.

Location: Community Meeting Center, 11300 Stanford Avenue, Garden Grove, CA 92840.

For more information, please call (714) 741-5280.

May 25-28, 2012 - 54th Annual Strawberry Festival
The Garden Grove Strawberry Festival Association is hosting its Annual Strawberry Festival on Memorial Day Weekend dedicated to raising funds for the community. It is the largest and oldest community festival in the Western U.S. and many charities will be selling food to raise funds for their organizations. The festival will also feature a parade, rides and other entertainment for the whole family. Admission is FREE! Visit http://strawberryfestival.org/ for a complete schedule of the event.

Location: Downtown Garden Grove between Euclid Street and Main Street Garden Grove, CA 92840.

For more information, please call (714) 638-0981, or email info@strawberryfestival.org.

City of Santa Ana
May 26 & 28, 2012 - Tri-City Memorial Day Weekend Events
Come join residents and volunteers from Orange, Santa Ana, and Tustin at Santa Ana Cemetery during Memorial Day Weekend for a special event honoring our fallen veterans and co-sponsored by the Orange County Cemetery District.

On Saturday, May 26th at 8 a.m., "Old Glory Flags" will be placed on respective veteran gravesites. Meet at the Cemetery Office located on the eastside of Santa Ana Cemetery.

On Monday, May 28th at 10 a.m., an observance organized by various veteran and community service organizations is scheduled. The ceremony will include speeches, a parade of flags, memorial wreaths, music, and salutes by Civil War cannons.

Location: Santa Ana Cemetery, 1919 Santa Clara Avenue, Santa Ana, CA 92701.

For more information, please contact (714) 953-2959.

May 28, 2012 - "The Sounds of Liberty" Memorial Day Remembrance & Celebration
Come to the 20th Annual Memorial Day Service as they honor those who have given their lives and celebrate those who currently serve or have served our country.

This event takes place on May 28th from 10:30 a.m to 12:00 p.m. Admission is free! The ceremony will feature military speakers, an aerial fly over, honor guard detail, entertainment by the Orange County Concert Band, the Traditions Singers, and more.

Location: Heritage Museum of Orange County 3101 W. Harvard St., Santa Ana, CA, 92704

For more information, please visit http://www.fairhavenmemorial.com/.

June 2, 2012 - 2012 Heritage Museum Music & Art Festival
The 2012 Heritage Music & Arts Festival will feature music from California's country rock and bluegrass legends: Chris Hillman and Herb Pedersen, guitar virtuoso, composer and humorist: Toulouse Englehardt, and noted singer and songwriter: Dennis Roger Reed. Delicious food will also be featured at this event including BBQ by Roadhouse, sodas by Chuckwagon Soda, and gourmet selections by The Lime Truck. The event will also include a student art competition, variety of vendors, and other activities. For updates on this event, visit www.HeritageMuseumOC.org/music-and-arts-festival.

The event takes place on June 2nd from 11:00 a.m. to 5:00 p.m. Children 10 and under get in free, student admission is $5, adult admission is $15, and VIP is $50. Tickets can be purchased at the gate for an additional $5.

Location: Heritage Museum of Orange County 3101 W. Harvard St., Santa Ana, CA, 92704

For more information, please visit http://heritagemuseumoc.org/music-and-arts-festival/.

City of Westminster
June 2, 2012 - CPR for Adults, Infants, and Children
Learn simple CPR for adults, children, and infants, as well as foreign object removal techniques for airways. This class is designed to teach both the average person and professional how to initially respond to cardiac or respiratory arrest. You will receive your certification upon completion of the class. A $20 materials fee is payable to the instructor at class.

Location: City of Westminster Community Services and Recreation Department, 8200 Westminster Boulevard Westminster, CA 92683

For more information, please contact (714) 895-2860.

June 6, 2012 - I-405 Improvement Project Public Hearing
The Draft Environmental Impact Report/Statement (EIR/EIS) on the I-405 Improvement Project is available through OCTA's website. Join your neighbors on Wednesday, June 6th for a public hearing on planned improvements to the I-405. The hearing takes place from 6 p.m. - 8 p.m. and includes a formal presentation.

Location: Westminster Community Center, 8200 Westminster Blvd., Westminster, CA.

For more information, please contact Christina Byrne at (714) 560-5717 or cbyrne@octa.net.

June 15 & 16, 2012 - Night Market
Starting on the weekend of June 15, vendors will be setting up tents in the front parking lot of the Asian Garden Mall to exhibit a wide variety of items including clothing, shoes, jewelry, arts, crafts, and lot of food! There will also be live entertainment. Hours will be 7:00 p.m. to 12:00 a.m. on Fridays and Saturdays and 7:00 p.m. to 11:00 p.m. on Sundays.

Location: Asian Garden mall, 9200 Bolsa Avenue Westminster, CA 92655.

For more information, please visit http://www.asiangardenmall.com/.



To contact Supervisor Janet Nguyen, please call 714-834-3110 or email Janet.Nguyen@ocgov.com.