August 14, 2012


Welcome to this issue of Janet's Journal, a First District Report designed to keep you updated on issues and events concerning our communities in Orange County especially in the First District.

I am proud and honored to represent over 600,000 people within the First District covering the cities of Garden Grove, Santa Ana, Westminster and the unincorporated community of Midway City.

I hope you will find this journal informative. If you have any questions, comments, or suggestions, please do not hesitate to contact me. I look forward to hearing from you.

Respectfully,
Supervisor Janet Nguyen
---
IN THIS ISSUE...
2. ORANGE COUNTY TRANSPORTATION AUTHORITY (OCTA)

3. ORANGE COUNTY SANITATION DISTRICT (OCSD)

4. CalOptima

10. COUNTY NEWS

---
Click here to subscribe.
Click here to unsubscribe
---

Summer is a great time for family fun and play! If you haven't already done so, I invite you to explore the many parks and recreational activities that Orange County has to offer!

Along with great beach weather, this summer has also marked the start of a project that will change the landscape of the First District. Construction is now underway to renovate Haster Basin in Garden Grove. The Haster Basin, Pump Station and Recreational Field Project is expected to be completed in 18 months and will include increased protection to the flood channel for home and business owners along the channel, a new pump station for increased water flow, a refurbished multi-use path, and recreational space that will include soccer fields, walk/bike pathway, picnic tables, and more.

I am very excited and look forward to the finished results, as this project has been a top priority of mine since coming to the County in 2007.

Another exciting event in the First District was the reinstallation of Sunday hours at the Westminster Library, which is a branch within the OC Public Library system. The Westminster Library had been closed on Sundays since July 3, 2011 due to the City of Westminster's low property tax revenues and budget constraints. However, I asked County staff to look for ways to bring back the much needed Sunday hours for our children and families. With the increased attendance and high check-out rates, the County decided to resume the Library's Sunday hours at no additional cost to the City of Westminster or its residents.

Please look through this newsletter edition as there are many other interesting updates and events in the First District and around Orange County, and continue to have a safe and fun summer!


| | |
| --- | --- |
| | BOARD OF SUPERVISORS |

County of Orange CEO Tom Mauk Retires

I'd like to take an opportunity to recognize and thank Tom Mauk for his incredible leadership and service to the County of Orange as our CEO. His legacy will endure after his retirement.

Tom Mauk is one of the longest serving CEO's in Orange County history and has provided outstanding leadership during one of the most trying times. With Tom's leadership during the recession, the County implemented the "glide down" effect, thereby cutting 5% across County departments and making incremental structural and budgetary adjustments on a yearly basis.

As a result, Orange County has avoided the Draconian cuts you see some other counties and cities having to make. The budget adopted by our Board this past June is not only balanced, but more importantly avoids cuts, layoffs and consumption of County reserves. There was also no need to make the aforementioned annual 5% cuts this year. Given the economic climate, this type of leadership is no small task to say the least.

In addition, Mr. Mauk has overseen many of the County's accomplishments. A few include:

negotiations with labor organizations for new health plans, which achieved a savings of about $3.4 million in 2008
a five year IT strategic plan and a three year tactical plan that ensured that all IT initiatives were aligned with the County's overall goals
the restructuring of Retirement Medical and Pensions Programs to achieve a savings of $992 million to the County's unfunded liability
the smooth transition to a new Sheriff after Sheriff Corona was indicted
the completion of the redistricting process in a fair and lawful manner that avoided litigation and enhanced the communities of interest in the First District
In addition to the major accomplishments Countywide, the leadership and support from Mr. Mauk, his office and other county agencies and staff have greatly contributed to the success of many of the projects and events that I have championed in the First District. A few of the projects include: the opening of the County Community Service Center, where over 20,000 people are served annually; the Roger Stanton Heroes Memorial; the Midway City Street and Storm Drain Improvement Project; the Santa Ana River Main Stem Project; the Central Garden Grove Overlay Project; the Haster Basin, Pump Station and Recreational Field Project; as well as community events in the First District such as the Senior Summit and the Health Care Expo.

I want to congratulate Mr. Mauk on his retirement and thank him for his years of dedication and commitment to serving the people of Orange County including the First District. I wish him the best of luck in this new chapter of his life!

Wild Rivers to Re-Open in 2014

The Board of Supervisors recently approved a 25-year lease for the development and operation of the Wild Rivers waterpark. As a result, Wild Rivers is scheduled to re-open in 2014 on a portion of the County's El Toro 100 Acre parcel. The lease apportions 17-acres for Wild Rivers to construct the water park. This agreement will help to stimulate the local economy by supplying many summer and seasonal jobs, and will ensure a constant revenue stream into the County of Orange that can then be used for future projects. More importantly, it will bring back this great attraction for so many children and families from Orange County to enjoy once again.

Housing and Community Development Commission Appointments

I want to congratulate several individuals who were recently appointed or reappointed to the Housing and Community Development Commission by the Board of Supervisors. The purpose of this commission is to advise the Orange County Housing Authority board and the Orange County Housing and Community Development Department on issues pertaining to housing-related needs of low to moderately low-income families residing in the unincorporated areas of Orange County and in the cities participating in the County housing programs. The commission also provides recommendations on funding priorities for rental assistance, new housing, residential rehabilitation, public works improvements, and other housing supportive services.

The Board of Supervisors appointed Phan Vu of Westminster and Jan Horton of Yorba Linda, and reappointed Ron Garcia of Brea, Helen Smith-Gardner of Mission Viejo and Kathryn McCullough of Lake Forest. Congratulations to all appointees.

New Appointment to the Assessment Appeals Board

I recently appointed Fountain Valley resident Clarence Alvey, Jr. to the Assessment Appeals Board. This is one of five appointments to that Board, which hears property value disputes. Members must be an attorney, CPA, Public Accountant, Real Estate Broker or an Appraiser who has been licensed by the State of California for a period of at least 5 years. Mr. Alvey previously served on the Board, and his experience will be beneficial as he assumes this important role again. Congratulations Mr. Alvey!

Coroner Courses Continue at Rancho Santiago Community College District

A five-year agreement between the County and Rancho Santiago Community College District was recently approved by the Board of Supervisors for the Sheriff-Coroner's Department to provide various Coroner courses to students enrolled in Rancho Santiago Community College District's Criminal Justice Department. This agreement continues the Coroner coursework that has been in place since 2002 at Rancho Santiago Community College District. Additionally, the County will receive up to $25,000 per year from the College District for this training to offset the costs for providing these courses.

Use Your Credit Card to Pay for Parking in Santa Ana

The Board of Supervisors authorized a contract renewal, which allows Santa Ana Civic Center visitors to pay for parking using a credit card. This creates greater ease for patrons while providing cost-savings to the County since less cashiers are needed.

Tustin Family Center to Provide Early Childhood Services

The Board of Supervisors has approved a Memorandum of Understanding (MOU) to continue educational, developmental, and health services at the Tustin Family Campus (TFC). TFC is a multi-treatment residential facility that provides comprehensive early childhood services to children. In the past, the TFC has successfully developed its clients' emotional, social, cognitive and physical potential both in the home and in the classroom.

Working with the Social Services Agency, Continuing Development, Inc. will provide quality services to many at-risk children, from birth through five years of age, and offer support to their families. The non-financial MOU procures these early childhood education services at no cost to the County with funding from CalWORKS and the California Department of Education Child Care and Development.

District Attorney's Office Receives Donation for Gang Reduction Program

The Orange County Board of Supervisors approved acceptance of a donation for the Orange County Gang Reduction and Intervention Partnership (OC GRIP). OC GRIP is a law enforcement partnership formed by the District Attorney that supports at-risk youth and focuses on decreasing gang activity. The donation was made by Angels' Outfielder Torii Hunter for an amount of $50,000. Thank you Torii for your support of our youth!

Midway City Street and Storm Drain Improvement Project

The Board of Supervisors recently approved the reallocation of $358,467 in Proposition 1B funds for Phase III of the Midway City Street & Storm Drain Improvement Project. This phase specifically focuses on the construction of the storm drain system that connects the recently completed drainage improvements from Phases I and II of the project, which were completed in June and also included significant street rehabilitation.


| | |
| --- | --- |
| | ORANGE COUNTY TRANSPORTATION AUTHORITY (OCTA) |

I-405 Improvement Project

The I-405 freeway is currently one of the most congested freeways in Southern California. Because of this, the California Department of Transportation (Caltrans) and OCTA are collaboratively working to study and discuss the possibility of widening the freeway between State Route 73 and the 605 interchange.

Included in this are four options:

Making no changes to the freeway
Alternative 1 (adding one general purpose lane in each direction)
Alternative 2 (adding two general purpose lanes in each direction)
Alternative 3 (adding one general purpose lane in each direction, adding one toll/3+ person carpool lane in each direction and changing the existing carpool lane to the same format).
OCTA has engaged in extensive community outreach efforts in the form of public town hall meetings and information sessions, as well as meetings with cities and their representatives. Also included in the outreach process was a mechanism for the public to provide written comments regarding the project and their views on the proposed options. This public comment period has ended on July 17, 2012 with all collected feedback set to be included in the final environmental impact document.

My staff and I have been working closely with the City of Westminster to mitigate the potential impacts to the areas their City as a result of construction. After several meetings with my office, OCTA staff, Mayor Margie Rice, and City Staff, many of Westminster's concerns have been addressed. I look forward to continuing to work with the City of Westminster and OCTA to make sure that all issues addressed will be a part of the implementation plan.

The OCTA Board of Directors will be discussing the project alternatives and feedback from constituents residing in the affected corridor on August 13, 2012. The Board will select their locally preferred option on September 24, 2012. Following that, Caltrans will select the final preferred option this fall. For more information on the project, visit www.octa.net.

Pacific Electric Right-of-Way Update

Over the past several years OCTA, LA Metro, the Southern California Council of Governments (SCAG) and local municipalities have been collaboratively working together to discuss potential alternative uses for the Pacific Electric Right-of-Way (PEROW). This abandoned rail line stretching from Santa Ana to Paramount in LA County has sat vacant for several decades.

A discussion had been called to review alternative uses including the development of a fixed-guideway system along the corridor. However, many cities, especially in Orange County, are not supportive of the development as this corridor runs against the grid and in many areas is very close to homes and businesses. Specifically, a significant portion of the PEROW cuts through Garden Grove and Santa Ana in the First District. These homes and businesses would be drastically affected by noise and unsightly views. Additionally, transportation funding is not readily available as it has been focused on other projects.

Because of this, I, along with many other elected officials have been opposed to the fixed-guideway system, as well as the development of a Light Rail system or the High-Speed Magnetic Levitation Train System (Maglev). Even with my outspoken opposition to these systems during Alternative Analysis Steering Committee meetings, OCTA meetings and through press releases, the Steering Committee, without the approval of Orange County representatives, decided to recommend the Light Rail Transit and Maglev Systems.

However, through my unwavering objections, the OCTA Board of Directors took an official stance in opposition to the recommendations of the Steering Committee and voted to re-establish protection along the Orange County portion of the corridor. This allows for the Right-of-Way to remain undeveloped and prevents any impacts to the corridor from the creation of a fixed-guideway system.

Intelligent Transit Management System

The Board of Directors directed OCTA staff in 2010, to move forward with upgrading the existing Radio Communications Systems onboard buses and at bus-bases. The new system, which will enhance outdated dispatching and automatic vehicle location systems, is currently in the process of being implemented and is scheduled to be complete in November 2012.

The system will be beneficial as it allows for increased safety to bus passengers through better radio coverage in buses and around the County, as well as having an automatic notification component. When buses have mechanical issues staff will be notified and can work to avert an accident preventing passengers from being harmed.


| | |
| --- | --- |
| | ORANGE COUNTY SANITATION DISTRICT (OCSD) |

OCSD Approves the FY 2012-13 and FY 2013-2014 Budgets

The Orange County Sanitation District recently approved its budgets for the next two fiscal years. The FY 2012-13 budget stands at $377.8 million, while the FY 2013-14 is $430 million. The increase in the 2013-14 budget is primarily due to the timing of the construction schedules on the implementation of OCSD's 10-year $2.0 billion Capital Improvement Project. Overall, these budgets reflect OCSD's ongoing efforts to streamline operations and continue to provide the same quality of services to the residents of Orange County.

New Boat Captain

The Orange County Sanitation District has hired Katherine Peet as its new Boat Captain. The OCSD Boat Captain is primarily responsible for commanding and navigating OCSD's twin-engine ocean vessel for field sampling purposes for the ocean monitoring program, which enables OCSD to meet standards and remain in compliance with national regulations governing water pollution.

Ms. Peet has a Master's degree in Environmental Management and is in the process of completing a Master's degree in Marine Affairs. She has worked with the National Oceanic and Atmospheric Administration for over nine years; serves as active duty member of the U.S. Coast Guard; and continues to work as a Lieutenant Junior Grade in the Coast Guard reserves. Congratulations to Katherine Peet on becoming OCSD's new Boat Captain!




New CalOptima Officers Elected

HCA Director Mark Refowitz and St. Jude Hospital President and CEO Lee Penrose were elected by their peers to serve as the Chairman and Vice-Chairman of the CalOptima Board of Directors for 2012-13, respectively. CalOptima is a county organized health system that administers health insurance programs for low-income families, children, seniors and persons with disabilities in Orange County. Congratulations to Chairman Refowitz and Vice Chairman Penrose!

Community-Based Adult Services (CBAS) Program Begins

The Community-Based Adult Services (CBAS) program, which replaces the Adult Day Care Centers, is now available through CalOptima. The program and its qualifications are set by the State, and CalOptima is only responsible for its administration.

CBAS provides services and support to eligible Medi-Cal members to keep them healthy and help them live safely at home. Services are provided at CBAS Centers located throughout Orange County and include: nursing and personal care services, social services, physical, speech and occupational therapy, as well as family/caregiver training, meals, nutritional counseling and transportation to and from the center.

Talk to your doctor to find out if you qualify for this program. For more information, call CalOptima's Customer Service Department at (714) 246-8500. TDD/TTY users can call (714) 246-8523.


HEALTH BULLETIN

Parkinson's Disease Seminar

The Adult Public Health Nursing Services will be hosting a short, informative seminar on Parkinson's Disease on August 9, 2012. The event will begin at 11 a.m. at the Westminster Senior Center. For more information, call (714) 895-2878.

Orientation for the Council on Aging – Orange County

The Council on Aging – Orange County serves older and dependent adults and their families throughout Orange County. Every third Wednesday of the month, from 10 a.m. to 11 a.m., an orientation is held to explain all the services the Council on Aging provides.

Upcoming dates for orientation are Wednesday, August 15, 2012 and Wednesday, September 19, 2012. To receive a free ticket to the orientation, click here or call (714) 560-0424. The Council on Aging is located at 1971 East 4th Street, Ste. 200, Santa Ana, CA 92705.


YOUTH CONNECTION

Santa Ana Volunteer Opportunities

The Santa Ana Parks and Recreation is in need of volunteers for litter removal throughout various neighborhoods. On the third Saturday of the month from 9 a.m. - noon, come out and help continue to make Santa Ana a beautiful place to live. For more information, call (714) 571-4239.


BUSINESS NEWS

Network OC 2012 Ultimate Business Mixer

On Thursday August 30, 2012, the Irvine Chamber of Commerce, in collaboration with other local chambers and organizations, will host their Network OC 2012 Ultimate Business Mixer from 5 p.m. to 8 p.m. at the Irvine Marriot's Tuscany Ballroom, located at 18000 Von Karman Avenue in Irvine.

The event has grown to be one of Orange County's largest business mixers, benefiting professionals with an assortment of networking opportunities. Admission is $30 for non-members and $25 for members of all participating organizations.

Pre-registration is available by clicking here. For more information, please visit the Chamber's website here.


SAVE THE DATE
3rd Annual Central County Senior & Caregiver Expo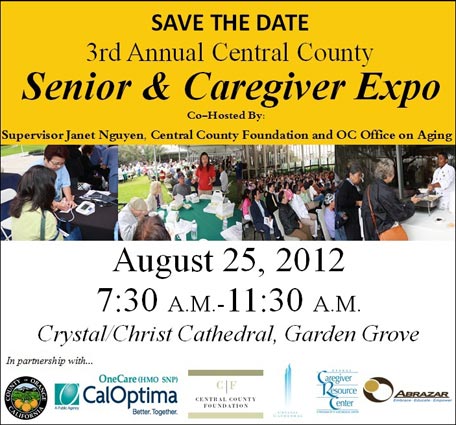 JANET AROUND THE DISTRICT
| | |
| --- | --- |
| Supervisor Janet Nguyen addresses the crowd at the Haster Basin Groundbreaking Ceremony in Garden Grove. | At the Haster Basin Groundbreaking Ceremony, Supervisor Janet Nguyen is joined by (l-r) Anthony Nguyen, OC Planning Commissioner; Garden Grove Councilmember Kris Beard; Steve Franks, Director of OC Community Resources; Mark Denny, Director of OC Parks; Nick Lecong, Deputy Chief of Staff/Special Assistant, First District; Garden Grove Councilmember Steve Jones; Garden Grove Mayor Bill Dalton; Kevin Onuma, Manager of OC Flood; and Nadeem Majaj, former Manager of OC Flood. |
| Supervisor Janet Nguyen presents a proclamation to Jane Deeley, Senior Branch Librarian and Kathleen Wade, North Regional Manager in honor of the Westminster Library's renewed Sunday hours opening. | Supervisor Janet Nguyen presents a certificate honoring the 13th Anniversary of the Nguyễn Bá Học Training Center in Westminster. |
| Supervisor Janet Nguyen and Assistant CEO Rob Richardson present Christy Delp, Policy Advisor to Supervisor Nguyen, with a certificate of completion upon her graduation from the Orange County Leadership Academy 17th. | Supervisor Janet Nguyen and Assistant CEO Rob Richardson present Ann Porter, Office Manager to Supervisor Nguyen, with a certificate of completion upon her graduation from the Orange County Leadership Academy 17th. |
COUNTY NEWS

* The following articles are for informational purposes only and are not necessarily intended to imply endorsement or support.
OC Fair
There is only one week left to partake in the excitement that is the OC Fair! Through August 12, 2012 come to the OC Fair Grounds and enjoy games, rides and unique fair foods. There is entertainment ranging from chefs to musicians as well as various shopping vendors. Be sure to also check out the food eating contests, petting zoos, exhibits and daily shows. Bring your family and friends for this fun filled event

The OC Fair Grounds is located at 88 Fair Drive in Costa Mesa and will be open Wednesdays through Sundays. For more information, visit http://ocfair.com.

OC Parks Free Summer Concert Series 2012
OC Parks annual summer concert series is off to a great start! Free concerts at Mile Square Regional Park, Mason Regional Park, Craig Regional Park and Irvine Regional Park will present local musical artists performing live in the outdoors from June through September. All concert events are free and run from 6:30 p.m. to 8 p.m. Upcoming dates are as follows:

Craig Regional Park
3300 State College Blvd., Fullerton, CA 92835
(714) 973-3180

Thursday, August 9: Flashback Heart Attack
Thursday, August 16: Swing Cats Big Band
Irvine Regional Park
1 Irvine Park Road, Orange, CA 92869
(714) 973-6835

Wednesday, August 22: Gold Rush Country
Wednesday, August 29: Cold Duck
Wednesday, September 5: Phat Cat Swinger
REQUESTS FOR PROPOSALS

County of Orange
There are currently many new bids to contract with the County of Orange. For more information, please click here.


CITY OF FOUNTAIN VALLEY

2012 Summer Fountain Pen Now Available
Fountain Valley's 2012 Summer Fountain Pen is continues to be available online as there are several activities to take advantage of this summer. Browse through the many classes, summer camps, and activities for toddlers, youth, teens, adults and seniors and register now. Click here to view the brochure online. There is something for everyone!

Summer Tennis Program
Do you enjoy playing tennis and want to improve your skills? If so, register for Session 1 of this year's Fall Tennis Program at the Fountain Valley Tennis Center. This program runs one day a week for five weeks from September 24 – October 27, 2012.

There are various days and times to choose from depending on age, and the cost ranges from $40-$60. Classes are offered for children, teens and adults at Beginner and Intermediate skill levels. For more information, call (714) 839-5950 or click here for the Fountain Valley Tennis Center website.

Community Events

August 17-19, 2012 – OC BBQ Bonanza
If you like BBQ, then you'll love the Orange County BBQ Bonanza, which features world class BBQ ribs, pulled pork, tri-tip, sausages, chicken and much more! Additionally, you'll find a giant food court, children's area, arts and crafts, cantinas and great music. The BBQ Bonanza begins at 11 a.m. each day, and general admission is free (menu items range from $2-$25).

Location: Fountain Valley Sports Park, 16400 Brookhurst Street, Fountain Valley, CA.

For more information, please visit www.ocbbqbonanza.com.


CITY OF GARDEN GROVE
Free Summer Concerts in the Park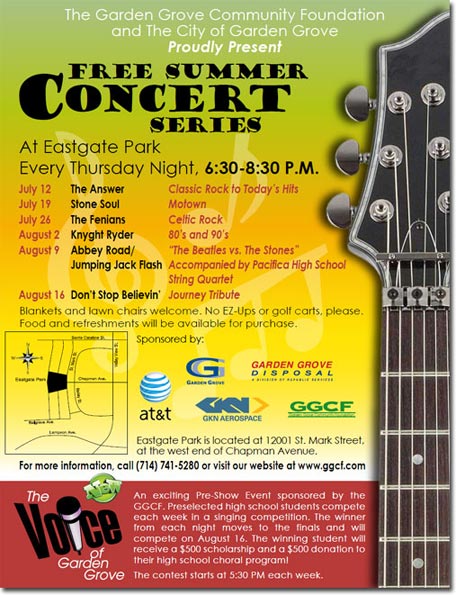 Slow for Construction Zones
This summer, there will be several major road improvement projects by the City of Garden Grove Public Works Department. Be sure to take caution and slow down for the cone zone at these locations:

Brookhurst Street, between Hazard Street and Westminster Avenue
Chapman Avenue, between Ninth Street and Westminster Avenue
Westminster Avenue, between Bushard Street and Brookhurst Street
Trask Avenue, from Harbor Blvd. to the Garden Grove 22 Fwy On-Ramp
Lampson Avenue median construction from Manley to Knott:
Harbor Blvd. median modification between Westminster Avenue and Trask Avenue
Community Events

August 17-19, 2012 – Indie Fest USA International Film & Music Festival
Indie Fest USA is once again taking place on Historic Main Street in downtown Garden Grove! Come out to this exciting festival featuring. International films, great music, fantastic receptions, exhibitor and vendor booths, celebrities and film premier parties. And while you are out, there will be opportunities meet Filmmakers, Directors, Producers, Cinematographers and Celebrities!

Location: Historic Main Street, Garden Grove Blvd. and Main Street between Euclid Street, Garden Grove, CA 92842.

August 19, 2012 – Garden Grove Farmers' Market
Every Sunday from 9 a.m. to 2 p.m. the City of Garden Grove hosts a Farmers' Market on Main Street between Garden Grove Blvd. and Acacia Parkway. The vendors will be selling fresh produce and other tasty food items.

For more information, call (562) 498-6048 or (562) 449-9299.


CITY OF SANTA ANA

The Jewelry of Fabergé on Display at the Bowers Museum
Through January 6, 2013, the Bowers Museum will host Fabergé: Imperial Jeweler to the Tsars, featuring the designs of the legendary Russian jeweler Peter Carl Fabergé. Although best known for jeweled Easter Eggs commissioned by the last Tsars of the Russian empire, the House of Fabergé produced a full range of jewelry and ornaments. The exhibit features 120 pieces from the McFerrin collection, on loan from the Houston Museum of Natural Science, including the "Nobel Ice Egg," one of the few large jeweled Easter Eggs in private hands.

The Bowers Museum is open Tuesday through Sunday, 10 a.m. – 4 p.m., weekly. Admission is $13 on weekdays and $15 on weekends with special rates for children and seniors. For more information, please call (714) 567-3600.

Additionally, there will be a film viewing on Wednesday, August 29, 2012 titled, Fabergé: Jeweler to the Stars. This behind-the-scenes film of the Fabergé Jewels was shot at the Royal Collection at the London Museum. The film will be shown from 1:30 p.m. to 2:30 p.m. and gives a historical background of their creation. Admission is free for members, free with paid admission, $8 for single ticket. The Bowers Museum is located at 2002 North Main Street, Santa Ana, CA 92706.

Receive Free Tickets to the Orange County and Santa Ana Zoos After Visiting the Discovery Science Center
Through September 3, 2012, you can receive a free ticket for admission for both the Orange County Zoo and the Santa Ana Zoo for each paid admission to the Discovery Science Center. The tickets are available as part of "Wild Summer," a series of wildlife events and exhibitions hosted at the Discovery Science Center in partnership with the Orange County Zoo and the Santa Ana Zoo. For more information, please call the Discovery Science Center at (714) 542-2823.

New Engineering Program Available at Santa Ana College
Santa Ana College is now offering the Bridge 2 Engineering Program designed to help interested community college students pursue a career in engineering. One goal of the program is to increase participation from underrepresented minorities, women, and veterans in the engineering fields. Another purpose is to provide academic and peer support to students as they work towards an engineering degree. After participating, students will be ready to transfer to a four year engineering program.

The program offers academic counseling, tutoring, intensive math preparation, and paid engineering internships. For more information, please contact the Student Support Specialist Norma Salazar at (714) 878-7742, or email her at norma@growthsector.org. Additional information is available at the Bridge 2 Engineering website.

Community Events

September 1, 2012 – Artist Village Art Walk
Come down to Santa Ana's Artist Village the first Saturday of every month at 7 p.m. for the free Art Walk! Visit Cal State Fullerton's Grand Central Art Center and stroll down the Second Street Promenade for original art viewing.

Location: Second Street between Broadway Ave. and Spurgeon St., Santa Ana, CA 92701.

For more information, visit www.santaanaartwalk.com.


CITY OF WESTMINSTER

Sigler Park Splash Pad
The Sigler Park Splash Pad is open once again! The Splash Pad is free for all and is open daily from noon to 5 p.m. Private rentals are also available. Sigler Park is located at Sigler Park, 7200 Plaza Street in Westminster. For more information, please (714) 895-2860.

Summer Concerts in the Park
The City of Westminster Community Services & Recreation Department will host free concerts in the park each Thursday night through August 23, 2012 from 6 p.m. to 7:30 p.m. Non-profit groups will sell refreshments each week during the event.


August 9 – Old School Westminster All-Stars (Rock & Blues)
August 16 – Ben Wachman (Pop/Folk/Soul)
August 23 – DeNada (Classic Rock & Latin)
Concerts will be held at the Civic Center Sunken Gardens, 8200 Westminster Blvd. in Westminster. For more information, please call (714) 895-2860 or visit the website for more info.

Community Events

August 15-16, 2012 – 55 Alive–Safe Driving Program
The Westminster Senior Center provides driving instruction for residents ages 55 and older every Thursday and Friday. Classes are four hours in length and cost $14 per person.

Location: Westminster Senior Center, 8200 Westminster Blvd., Westminster, CA 92683.

For more information, please call (714) 895-2878.

August 16, 2012 – Westminster Green Expo
Come to this free event to learn more about green energy saving innovations through various exhibits, training and incentives. There will also be sponsorship opportunities and a tour of a LEED Silver Certified Building. The event begins with an expo from 12:30 p.m. – 5:30 p.m., following the LEED silver building tour from 1 p.m. – 2 p.m., and training from 3 p.m. – 4 p.m.

Location: Expo: Civic Center, 8200 Westminster Blvd., Westminster.
LEED Silver Building Tour: Miriam Warne Building, 14400 Beach Blvd., Westminster.

For more information, please call (714) 898-3311 x4016 or click on the event flyer.



To contact Supervisor Janet Nguyen, please call 714-834-3110 or email Janet.Nguyen@ocgov.com.