March 15, 2013


Welcome to this issue of Janet's Journal, a First District Report designed to keep you updated on issues and events concerning our communities in Orange County especially in the First District.

I am proud and honored to represent over 600,000 people within the First District covering the cities of Garden Grove, Santa Ana, Westminster and the unincorporated community of Midway City.

I hope you will find this journal informative. If you have any questions, comments, or suggestions, please do not hesitate to contact me. I look forward to hearing from you.

Respectfully,
Supervisor Janet Nguyen
---
IN THIS ISSUE...
2. ORANGE COUNTY TRANSPORTATION AUTHORITY (OCTA)

3. ORANGE COUNTY SANITATION DISTRICT (OCSD)

4. OCCOG

5. CalOptima

6. OC Register

10. VOLUNTEERS
11. ORANGE COUNTY
---
Click here to subscribe.
Click here to unsubscribe
---

As we usher Winter out the door and welcome yet another beautiful Orange County Spring, I am excited to share with you the news and events around the First District!

Let me start by thanking you, my constituents, for your overwhelming support during my re-election to the Orange County Board of Supervisors last June. In January, with family, friends, supporters, and distinguished guests in attendance, I was sworn-in on the steps of the Old Orange County Courthouse for my second full term as Supervisor of the First District.

I was delighted to share the moment with so many special people, and particularly enjoyed the opportunity to meet many constituents at the post-ceremony reception. It was truly an unforgettable day.

February brought to us the Lunar New Year and yet another swearing-in ceremony. On Wednesday, February 6, 2013, I was sworn-in as a Commissioner of the Children and Families Commission, which focuses on child development from the prenatal stage to age five and has Annual Funding Expenditures exceeding $29 million. The Commission is comprised of 9 Commissioners hailing from diverse professional backgrounds, each bringing important knowledge and experience that further the Commission's mission to enhance the lives of Orange County's children and families.

The City of Santa Ana recently hosted "The Courage to Remember" exhibit at the headquarters of the Santa Ana Police Department. I was honored to address a crowd of over 200 people, mostly students, at the exhibit's grand opening. The exhibit, presented by the Simon Wiesenthal Center and the Foundation For California, displays photographs and written descriptions that detail the tragic events of the Holocaust. "The Courage to Remember" is an impactful exhibit, and serves as an important lesson in tolerance for all generations. Plans to bring this important exhibit to the Old Orange County Courthouse are currently being formulated, stay tuned for details!

Finally, I am proud to announce that the newest addition to my family has arrived. On Valentine's Day, February 14th, our family welcomed our second child, Timothy Minh Nguyen Bonikowski into the world. We are pleased to announce that he is happy and healthy. Thank you to everyone for your well wishes, thoughts and prayers for Timothy and myself.


| | |
| --- | --- |
| | BOARD OF SUPERVISORS |

Agreement for Restroom Maintenance at former Santa Ana Transit Terminal

The Board renewed a cooperative agreement between the County, OCTA and the City of Santa Ana for the maintenance of restrooms in the former Santa Ana Transit Terminal. This agreement enables the public to access the restrooms from 8:00 AM to 10:00 PM, seven days a week. The restrooms are used frequently and have been very helpful in meeting the needs of the public.

OC Waste & Recycling Partners with DSC and Angels Baseball to Promote EcoChallenge Exhibit

The Board recently approved a sole source agreement with Discovery Science Center in Santa Ana to operate and maintain the EcoChallenge exhibits of the County of Orange, promote the EcoChallenge brand and manage the EcoChallenge Strategic Marketing Plan. EcoChallenge is a state-of-the-art, environmentally themed, eco-friendly exhibit that promotes recycling, and combines learning with fun for all ages.

The Board also approved an agreement with Angels Baseball LP for educational, marketing, and media outreach activities to promote the EcoChallenge exhibits. The EcoChallenge brand and messaging will be promoted throughout Angel Stadium, appearing at home games on the electronic display boards. Orange County families attending the baseball games will have the opportunity to discuss the EcoChallenge programs and find out where to drop off their household hazardous waste at a booth staffed by OC Waste & Recycling employees. For more information on the EcoChallenge exhibit, please visit www.discoverycube.org or click here.

County Launches Re-Designed Website

The County of Orange recently launched its re-designed website, which features a more interactive and user friendly design.

Last April, the Board of Supervisors approved a contract with Civica Software to replace the County's existing website.

The new website features:

Interactive maps for County libraries, facilities and parks
Real time park status updates posted from the field
Library catalog search
Google search of website content
Simplified content organized into seven new tabs on the County homepage
Popular Item and Resources sections that provide quick links to the most sought after information
Countywide and department-specific events calendars
MyOC application that enables visitors to register and customize a personalized version of the website
Enhanced disaster recovery to keep the website online during emergencies
Please click here to experience our new site!

2012 Operation Stonegarden Grand Funding

The Board of Supervisors recently accepted a grant from the U.S. Department of Homeland Security through the California Emergency Management Agency worth $283,567. The funding is intended to enhance cooperation and coordination between Federal, State, and local law enforcement agencies in a joint mission to secure the United States borders along routes of ingress from international borders. The Orange County Sheriff's Department will use the grant to fund the Harbor Patrol and Air Support bureaus, helicopter flight costs, and boat fuel and maintenance costs.

Veterans Resource Directory is Now Available

Supervisor Pat Bates recently unveiled the new County of Orange Veterans Resource Directory. The Directory is a useful tool for Veterans which provides important information on many resources available. The Directory is available to be viewed and printed online here. Community members may also request a copy by calling the Veterans Service Office at (714) 480-6555.


| | |
| --- | --- |
| | ORANGE COUNTY TRANSPORTATION AUTHORITY (OCTA) |

OCTA Welcomes New CEO

I would like to congratulate Darrell Johnson on his recent appointment as Chief Executive Officer of the Orange County Transportation Authority, Orange County's countywide transportation agency with over 1,500 employees and an annual budget of $1 billion.

Darrell is a 20 year veteran of the transportation industry who joined OCTA in 2003 and served as deputy CEO since 2010. During his tenure as deputy CEO, Darrell helped lead OCTA on local and national issues related to transportation programs and policies, and assisted in coordinating all business, operations, and management activities among the agency's divisions. Congratulations Darrell!


| | |
| --- | --- |
| | ORANGE COUNTY SANITATION DISTRICT (OCSD) |

Capital Improvement Project Awards

During the month of February, the Orange County Sanitation District received several awards for its Capital Improvement Projects. First, the Orange County Branch of the American Society of Civil Engineers (ASCE) awarded the 2012 Project of Merit to both the Secondary Activated Sludge Facility 2 at Plant No. 1 and the Ocean Outfall Land Section Rehabilitation Project on February 21. Second, the Orange County Engineering Council awarded the Engineering project Achievement Award to the Secondary Activated Sludge Facility at Plant No. 2. Finally, the Santa Ana River Basin Section of the California Water Environment Federation awarded a Project Achievement Award to the Ocean Outfall Land Section Rehabilitation Project. Congratulations to all OCSD staff and keep up the great work!

OCSD Proposed Sewer Service Fee Public Hearing on March 27, 2013

The Orange County Sanitation District will be hosting a public hearing on the sewer services fees before the Board of Directors meeting on March 27, 2013 at 6:30PM in the OCSD Board Room, 10844 Ellis Avenue, Fountain Valley, CA 92708. For more information, please visit www.ocsd.com or call (714) 593-7281.


OCCOG

OCCOG Names New Executive Director

I would also like to congratulate Gwenn Norton-Perry on her recent appointment as the new Executive Director of the Orange County Council on Governments (OCCOG).

Ms. Norton-Perry brings more than 30 years of professional experience in government affairs, client development, and marketing, primarily for the architecture/engineering/construction industry. She also has an extensive background in public policy and the development of collaborative relationships with elected officials and stakeholders. Additionally, she served as the founding Mayor for Chino Hills. Congratulations Gwenn! I look forward to working with you.




CHOC Children's Breathmobile Program Extension

The CalOptima Board of Directors recently approved $300,000 to continue to support the CHOC Children's Breathmobile program. The program provides comprehensive asthma care for underserved, school-aged children. This new extension allows CalOptima to provide more services at 24 local schools and community sites.



FROM THE NEWS

Political Controversy aside, CalOptima is well rated by reviewers

By ANDREW GALVIN

CalOptima, Orange County's public health plan for the poor and disabled, has had a bit of bad publicity lately.

After the departure of more than a dozen senior executives, the Orange County grand jury reported in January that the agency "appears to be imploding."

County Supervisor Janet Nguyen retorted that CalOptima is "excelling" now but was mismanaged before she joined its board two years ago.

In search of more quantitative performance measures, the Orange County Register looked at third-party reviews by a national accrediting body and two public health agencies with oversight responsibilities to get some professional metrics on how well CalOptima cares for its approximately 420,000 members. It turns out these independent reviewers give CalOptima good marks for both its recent and past performance.

CalOptima's performance is important, because it will add another 100,000 or more Orange County residents as members starting next year when the 2010 Affordable Care Act takes full effect.

Here's how the three independent reviewers rated the county's system:

CalOptima in 2012 received accreditation with "commendable" status from the National Committee for Quality Assurance, becoming one of just eight Medi-Cal plans in California to earn accreditation, and one of three to earn the "commendable" designation. According to NCQA's website, "NCQA awards a status of commendable to organizations with well-established programs for service and clinical quality that meet rigorous requirements for consumer protection and quality improvement."


CalOptima's OneCare Medicare Advantage plan is rated 3.5 stars (out of 5) for 2013 by the federal Centers for Medicare and Medicaid Services. That compares to 4 stars in 2012 and 3.5 in 2011. CMS, as the agency is known, rates Medicare plans on medical outcomes, patient experience, access to care and internal processes.


MANAGED CARE MODEL

CalOptima was created by Orange County's Board of Supervisors in 1993 to serve the county's Medi-Cal population. Medi-Cal is California's name for Medicaid, the joint federal-state health insurance program for low-income people.

Before CalOptima was formed, Medi-Cal clients in Orange County saw health-care providers on a fee-for-service basis. CalOptima operates on a managed-care model, contracting with networks of providers to serve Medi-Cal patients.

CalOptima is governed by a board of directors, whose members are appointed by the county's Board of Supervisors. Nguyen joined CalOptima's board as the supervisors' representative in early 2011.

Later that year, the Board of Supervisors, at Nguyen's urging, approved an ordinance change that restructured CalOptima's board, expanding it from nine members to 11. One of the new seats was reserved for the director of the county's Social Services Agency, who joined the director of the county's Health Care Agency on the CalOptima board. The change created "a perception of intimidation," the grand jury later complained, since "county employees are reluctant to vote against a supervisor."

As part of the same ordinance change, hospitals got a designated seat on CalOptima's board. A seat reserved for a CalOptima member has so far gone unfilled.

Meanwhile, leaks to the media had portrayed CalOptima's top management in a poor light. Executives began leaving the agency, with one saying it had become "unsafe for senior executives," according to the grand jury.

By the grand jury's count, 16 top staffers – including Buchert, Carter and former CEO Richard Chambers – have left the agency since mid-2011.

Sally Molnar, who has represented CalOptima's members on an advisory committee since 2004, said "the organization has been very stable, very well managed, by the same management team, and they were very member-focused.

"When the structure of the board of directors was changed from member-focused to more provider-focused, that's when things started going downhill, for lack of a better word," Molnar said. "I don't know if they can move forward with the same board structure they have now."

Next month, the Board of Supervisors is scheduled to discuss the grand jury report as a prelude to preparing an official response. At least three of the five supervisors have said they are open to revising the structure of CalOptima's board. The grand jury recommended removing the two county employees and adding at least one more county supervisor to CalOptima's board.

NO IMPACT FROM 'CURRENT PUBLIC DIALOGUE'

In December, Michael Schrader joined CalOptima as its chief executive. The agency had been without a CEO since Chambers left in April after eight years to become president of Long Beach-based Molina Healthcare of California.

Schrader came to CalOptima from a Boston-based plan, BMC HealthNet, and before that had worked for 15 years at CenCal Health in Santa Barbara, which, like CalOptima, is a county-organized Medi-Cal provider.

In February, Schrader wrote to members of Orange County's legislative delegation "to let you know that CalOptima is thriving and that the current public dialogue is not impacting our ability to focus our day-to-day efforts in serving our members, partnering with providers and involving our stakeholders."

In his letter, Schrader also referred to anticipation of a significant increase in CalOptima's Medi-Cal population next year, "including segments that have not been traditional CalOptima members." Schrader wrote that the agency was "currently assessing our operational and clinical needs" and "working with our community partners on developing a coalition" to reach those who may soon qualify for membership.

At a recent CalOptima lunch for legislative aides and members of the media, Schrader said the head of the grand jury had told him that two more reports on CalOptima are forthcoming before the jury's term ends in June.

No word yet on what the focus of those reports will be.

Grading CalOptima

A closer look at third-party ratings:

This year CalOptima's OneCare Medicare Advantage program, a managed-care offering for seniors and the disabled, received 3.5 stars from the federal Centers for Medicare and Medicaid Services, down from 4.0 stars in 2012.

While OneCare covers just a small portion of CalOptima's members (14,535 out of 416,341, or 3.4 percent), the star rating is considered an important metric, both because OneCare accounts for a disproportionate share (13.5 percent) of CalOptima's revenue, and because OneCare members choose to be part of it. Also, Medicare bonus payments to CalOptima are tied to OneCare's star rating.

CalOptima's drop to 3.5 stars from 4, while the enrollment-weighted average for all other plans rose from 3.44 to 3.66, would suggest that OneCare was tilting in the opposite direction with respect to quality compared to its peers during the measurement period, which ranged from 2011 to 2012.

"I believe and understand that the star ratings will shift slightly over time. However, it does still demonstrate a very consistent pattern of quality and competence in member care for CalOptima," said county Supervisor Janet Nguyen, who sits on CalOptima's board.

CalOptima has generally received favorable reviews for its main product offering, Medi-Cal. CalOptima's Medi-Cal plan got an "honorable mention" from the California Department of Health Care Services in 2012, putting it fourth of 24 Medi-Cal plans statewide.

And overall, CalOptima received accreditation with "commendable" status from the National Committee for Quality Assurance. CalOptima is one of just eight Medi-Cal plans in California to earn accreditation, and one of three to earn the "commendable" designation.

So January's warning from the Orange County grand jury that CalOptima "appears to be imploding" doesn't seem to be born out by the ratings – at least not yet. To be sure, the organization faces challenges after the departures of much of its leadership, including the arrival of an expected 100,000 or more new members next year.

--Andrew Galvin, Orange County Register


JANET AROUND THE DISTRICT


Supervisor Janet Nguyen was sworn-in to her second full term by Supervisor Patricia Bates. Husband Tom and oldest son, Thomas joined her for the ceremony, which was held on the steps of the Old Orange County Courthouse.



On January 31, 2013, Supervisor Nguyen spoke at the opening ceremony for "The Courage to Remember" exhibit hosted at the Santa Ana Police Department. Supervisor Nguyen spent time viewing the exhibit, which provides written and pictorial accounts of the Holocaust, and emphasizes the importance of tolerance in our communities.



Supervisor Nguyen met with The Most Venerable Thich Quang Thanh, and The Most Venerable Thich Chon Thanh at the Bao Quang Temple in Santa Ana. Supervisor Nguyen assisted the Vietnamese-Buddhist community by arranging for the delivery of $27,000 raised by the community for the Mayor's Fund to Advance New York City, a fund created to help residents affected by Hurricane Sandy which hit New York City last fall.
REQUESTS FOR PROPOSALS

County of Orange
There are currently many new bids to contract with the County of Orange. For more information, please click here.


SAVE THE DATE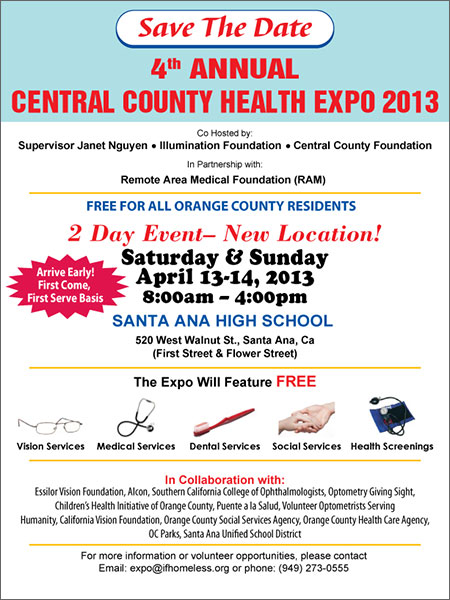 VOLUNTEERS

VOLUNTEERS NEEDED!! 4th Annual Central County Health Expo

Dear Friend:

It's our pleasure to announce the 4th Annual Central County Health Expo on April 13-14, 2013! Thousands of Orange County residents are expected to attend the Expo and we need volunteers!

This year's Health Expo will be a two-day event, hosted at Santa Ana High School. The Expo will feature free vision, medical and dental services, as well as free health screenings.

Volunteers will perform various tasks, both medical and non-medical. We have a special need for bilingual volunteers who can assist in general interpreting activities, especially in Spanish or Vietnamese.

Volunteer shifts are available on both Saturday, April 13th and Sunday, April 14th and will be assigned per your availability.

As an event co-host, our office has been asked by the Central County Planning Committee to assist in the recruitment of volunteers. If you want to volunteer or have any questions, please contact Diana Moreno at (714) 834-3110 or via email at diana.moreno@ocgov.com

We hope that you can join us!

OCTA Seeks Applicants for Taxpayers Oversight Committee

The Orange County Transportation Authority (OCTA) is seeking qualified volunteers to serve on the Taxpayers Oversight Committee. The 11 member committee monitors OCTA's use of Measure M funds and ensures that all revenue collected from Measure M is spent on voter-approved transportation projects. Your involvement will help keep an eye on your tax dollars.

Applications for the 2013-2016 term will be accepted through April 22nd, 2013. There are a total of four positions to fill in the First, Third, Fourth and Fifth Supervisorial Districts. Orange County residents living in these districts are eligible to apply.

For additional information and to request an application, visit OCTA's Web site at www.octa.net/toc or contact Alice Rogan at (714) 560-5577.


ORANGE COUNTY

Mile Square Park to Host Kids' Fishing Derby
OC Parks, California Department of Fish and Wildlife, and United Anglers of Southern California present the annual Kids' Fishing Derby at the North Lake at Mile Square Park. The event will be hosted by Fish Talk Radio's Captain Larry Moore, and is set to take place on March 16, 2013, from 7:30-12:00 p.m. The lake will be stocked with over 1,500 lbs. of trout for the derby.

Kids ages 15 and under fish for free at the Fishing Derby, and compete to win prizes. Prizes will be awarded to Finalists and Winners of each age group.

Fishing clinics will be held on-site, and a limited quantity of fishing rods will be available for loan. A complimentary barbecue lunch will be served to all who attend!

Children must be accompanied by an adult, and the event will go on, rain or shine!

Fee: Event is FREE!
Parking: $5 per vehicle
Registration begins at 7:30 a.m.
Fishing Derby starts at 9 a.m.
Bait is not provided


CITY OF FOUNTAIN VALLEY

Local News

Looking for Summerfest Vendors
The Fountain Valley Summerfest Committee is looking for businesses, craftsmen, and exhibitors to secure a vendor space at the upcoming Fountain Valley Summerfest event scheduled for June 27-30, 2013. Last year's event brought in 25,000 people over four days and included activities such as carnival rides, games, food, beer garden, classic car and truck show, and entertainment that is directed at attracting local residents of all ages.

This year the event will open a day early with a "Buck-A-Ride" preview night and will bring back "Dog Day Afternoon" on Sunday which attracted many new visitors last year. Vendors are encouraged to open their booth on Thursday. The Summerfest committee is offering 10x10 vendor booth spaces for $400 which includes basic 110 electrical and a canopy located on a corner, and $800 for a 10x20 space. This will be a great opportunity for your business or organization to introduce itself to the thousands of residents that will be at the event throughout the weekend.

If interested, applications can be found at http://www.fvsummerfest.com or by calling 714-839-8611.

Multiple Construction Projects Underway
For the past year, Fountain Valley has seen its economy recover in part by four large projects being built. The four projects include the construction of a new Hyundai headquarters, a U.S. manufacturing plant for Yakult, 27 single family and 61 townhomes, and a 127-room Ayres Hotel. These new building projects have brought in over 1,500 temporary jobs and should create at least 700 permanent jobs after construction has been completed at the end of 2013.

Community Events

Easter Egg hunt
Celebrate Easter with a fun Egg Hunt on March 30, 2013, at the Fountain Valley Sports Park! The event will be held from 8:30 AM to 11:30 AM. Remember to bring a basket or sack for your child to collect their eggs. Parents are encouraged to remain out of the hunt areas so children can enjoy collecting their own goodies!

For more information, please call (714) 593-4400.


CITY OF GARDEN GROVE

Local News

City Hall Passport Services By Appointment Only
Passport services at Garden Grove City Hall are now available Monday through Thursday, by appointment only. Services are provided through the City Clerk's Office, located on the second floor of Garden Grove City Hall, at 11222 Acacia Parkway.

Appointments can be made by either calling the City Clerk's Office at (714) 741 - 5040, or through the City's website at www.ci.garden-grove.ca.us.

Passport photos are also available through the City Clerk's Office for $10.

A certified original birth certificate or an original naturalization certificate is needed for U.S. Citizens seeking passports. All passport application fees may only be paid by check or money order.

Application forms, information on required documentation, fees, and other passport and international travel information are available at the official passport information website, www.travel.state.gov.

Community Events

Vietnam War Museum Presents Free Speaker Series
The Vietnam War Museum of America Foundation is presenting a free speaker series. Jose G. Ramos, a Vietnam Veteran, U.S. Army and Founder of the "Welcome Home Vietnam Veterans Day" will be the guest speaker on March 21, 2013, from 6:00PM -7:00PM.

Mr. Ramos launched a campaign to properly honor the men and women who served with dignity and pride in Vietnam but never received a hero's welcome from a divided nation. His efforts were instrumental in Congress officially proclaiming March 30th as "Welcome Home Vietnam Veterans Day" (WHVVD)

Recently, Garden Grove became the first city in Orange County to acknowledge WHVVD. If you are interested in hearing Mr. Ramos' compelling journey, please attend. Light refreshments will be served.

Location: The Courtyard Center, 12732 Main Street, Garden grove,

Please RSVP to the Garden Grove Office of Community Relations at (7140) 741-5280.

Celebrate Atlantis' 50th Anniversary
The Atlantis Play Center is turning 50! And the City of Garden Grove is asking the public to share with them photos of memorable moments that they may have spent at the park.

The photos will be displayed during the Center's 50th Birthday Party on June 15, 2013 from 12:00 PM to 4:00 PM. The event is free to the public.

To submit a photo, please email it with your name, phone number and date it was taken to recreation@ci.garden-grove.ca.us.

The park is located at 13630 Atlantis Way, Garden Grove.

For more information, please call: (714)741-5200.

CP3 Youth Clinic
The Chris Paul Youth Clinic will be held at the Map Sports Facility, located at 12552 Western Avenue in Garden Grove on Saturday March 16, 2013 from 8:00 AM to 4:00 PM.

The Chris Paul Youth Clinic will emphasize the basic fundamentals and advanced techniques for children ages 6-16. Children will practice shooting, ball handling, passing, rebounding and defense. Additionally, campers will participate in contests, games and other fun activities. Cost to participate is $75.

The Map Sports Facility is located at 12552 Western Avenue, Garden Grove, CA 92841. Please click here to sign up.


CITY OF SANTA ANA

Local News

Video Relay Service Available at the Central Justice Center for Deaf, Hard-of-Hearing Visitors
The Superior Court of Orange County announced the installation of its first-ever Video Relay Service (VRS) kiosk at the Central Justice Center, 700 Civic Center Drive West, Santa Ana. VRS is a free videophone relay service that provides technology for deaf and hard-of-hearing persons to communicate with hearing persons in real time using American Sign Language interpreters.

The VRS service can be used to make any call, whether it is to get legal assistance, contact a justice partner after a court appearance, or touch base with a family member, a friend, or an employer. The VRS kiosk is located on the first floor in one of the booths that previously housed a public pay phone. Signs are posted that clearly mark the location of this new telecommunication device for the deaf (TDD) at the courthouse.

Housing Development Services
If you need money to fix your home, the City of Santa Ana has loan funds to help you make necessary repairs through the City's Neighborhood Stabilization Program. Interest rates are very low, ranging from one to one and a half percent. Low interest loans are also available for the rehabilitation of mobile homes and for the restoration of historic homes.

The City of Santa Ana also has programs to assist families who would like to purchase a home. Two options are available: apply for one of the City's down payment assistance programs, or purchase an affordable home developed through the City's Neighborhood Stabilization Program. For more information and qualification criteria, please call 714-667-2256 or email LoanApp@santa-ana.org

Santa Ana Civil War Monument Restored
The Old Santa Ana Civil War Monument has been fully restored to its original glory. Reconstruction was organized by the OC Cemetery District. The eagle sitting on top of the monument is made of solid copper, while the base upon which it sits is constructed of the same marble as the veterans markers that surround it. The monument is located at the Santa Ana Cemetery, 1919 E. Santa Clara Avenue, Santa Ana, CA 92705.

Community Events

Bowers Museum – Free Days for Santa Ana Residents
Courtesy of the Lockhart Family and a generous donation in the memory of Dorothy Goerl, the Bowers Museum is pleased to offer free admission to Santa Ana residents, with proof of residency (e.g., driver's license, utility bill, etc), on the first Sunday and third Tuesday of every month. This Bowers Museum is located at 2002 N. Main St, Santa Ana, CA 92706.

Drop-In Family Art Inventions
Every Friday, Saturday, & Sunday from 10am-4pm, the culturally and artistically enriching Kidseum's Art Lab provides a hands-on experience for children ages 4 and up by creating innovative and unique art projects. Discover arts and crafts from around the world, with new techniques and materials each weekend. Parents and/or grandparents welcome! Phone: 714-480-1520 Fee: Free to Museum members or with paid admission ($6 Children & Adults; children under 2 – Free)

This event is located at Bowers Kidseum, 1802 N. Main Street, Santa Ana, CA 92706.

1st Annual Santa Ana City Games
Keep your eye out this March for the Santa Ana City Games. There will be track and field events for 3rd-8th grade Santa Ana Unified School District (SAUSD) students which will benefit the Santa Ana Parks and Recreation department. Santa Ana City Games encourages the participation of all 45 SAUSD elementary and intermediate school students in athletics and promoting a healthy lifestyle. Competitive events will include: 50m, 100m, 400m, 800m, 1500m, soccer kick, basketball shot, standing long jump, running long jump, and bag shot. Children will receive a participation t-shirt and top three places will receive medals. Sponsors and dignitaries will join the athletes for the beginning of a competitive and fun day of track and field events.

Date and location are still TBD so for more information visit www.blueraymgmt.com


CITY OF WESTMINSTER

Local News

Westminster High School Wins O.C. Academic Decathlon
Congratulations to the Westminster High School decathlon team for winning the Division 1 award. The team received $5,000 to fund travel expenses to Sacramento in March. The team was part of 38 high schools competing and moves on to compete at the state level.

Southern California Edison Warns of Imposter Scams
City officials are warning customers of a telephone scam that has imposters attempting to demand payments for overdue bills. The imposters tell the home owner that their electricity will be shut down if they do not pay and ask them to send payments through a prepaid cash card. Customers should ask the caller their name, department and phone number. Do not send any payments without first calling Southern California Edison to confirm that the call was made by an authorized employee. Please stay alert and remember that Edison employees will always give out their information and will not object if you ask to call Edison directly. Please stay vigilant and protect yourself!

Community Events

Keep America Beautiful
The Keep America Beautiful Program will take place in the month of April. Westminster residents, businesses, and schools are invited to partake in the beautification of their community with the goal of enhancing its aesthetics, vitality, and economic integrity. The annual "Adopt a Park" program offers an opportunity for citizens, youth organizations, churches, and service clubs to adopt a park of their choice and give a sprucing up on Saturday, April 20, 2013.




To contact Supervisor Janet Nguyen, please call 714-834-3110 or email Janet.Nguyen@ocgov.com.