May 29, 2013


Welcome to this issue of Janet's Journal, a First District Report designed to keep you updated on issues and events concerning our communities in Orange County especially in the First District.

I am proud and honored to represent over 600,000 people within the First District covering the cities of Garden Grove, Santa Ana, Westminster and the unincorporated community of Midway City.

I hope you will find this journal informative. If you have any questions, comments, or suggestions, please do not hesitate to contact me. I look forward to hearing from you.

Respectfully,
Supervisor Janet Nguyen
---
IN THIS ISSUE...
3. ORANGE COUNTY TRANSPORTATION AUTHORITY (OCTA)

4. ORANGE COUNTY SANITATION DISTRICT (OCSD)

5. ORANGE COUNTY WASTE & RECYCLING

10. ORANGE COUNTY
---
Click here to subscribe.
Click here to unsubscribe
---

Memorial Day is a special holiday that provides us with an opportunity to express gratitude and appreciation to the brave men and women who have served in our nation's armed forces. And thus, in between the barbeques and poolside celebrations, I hope you had the opportunity to take a moment to thank those service members for their unwavering commitment to our freedom this past weekend. As the daughter and sister of men who have valiantly fought for freedom and democracy, I am especially appreciative of this holiday.

As summer approaches please allow me to draw your attention to some of the great events that went on in the First District this spring:

On April 3, 2013, I co-hosted the Central Orange County Job Fair in conjunction with the Orange County Workforce Investment Board (OCWIB) and the City of Fountain Valley. The event was held at the Fountain Valley Recreation Center and had over 700 attendees, 355 available jobs, and 165 potential hires or second interviews scheduled. Current data shows that Orange County has an unemployment rate of just 6.3%, compared to the State of California's unemployment rate of 9.4%, and 7.6% nationwide. However, I remain committed to creating opportunities that will enhance Orange County's workforce.

On April 13-14, 2013, I co-hosted the 4th Annual Central County Health Expo in partnership with the Illumination Foundation, Remote Area Medical Foundation, also known as RAM and the Central County Foundation. Together we offered two days of on-site medical, dental, vision screening and treatment to residents who have no health insurance or who have limited coverage under their current plan. The event welcomed over 2,000 residents and provided individuals who could not otherwise afford services. There were 550 vision exams, of these 550 vision exams, it was determined that 3 of these individuals would soon be blind if they had not received immediate attention (our volunteer specialists have also volunteered to treat these individuals). There were also 150 dental cleanings and 400 medical exams provided. Events such as this ultimately save millions of dollars to the taxpayer by preventing trips to the emergency room.

I couldn't have been more honored to receive recognition for my efforts to help the children of the Myrtle Street community of Santa Ana at the 2013 Dia de los Niño's event from Mamas Activas, a local group of Myrtle Street mothers who are taking proactive steps to ensure the safety, education and happiness of their young children. The event was held on Myrtle Street in Santa Ana on April 20th and co-planned by my office, KidWorks, Immaculate Heart of Mary Church, Latino Health Access, the City of Santa Ana, and the Santa Ana Police Department. It featured neighborhood children engaging in activities that promoted exercise and an active lifestyle such as dancing, , hula-hooping, and jump-roping. It was an all-round wonderful occasion and I am already looking forward to Dia de los Niño's 2014!

See below for news stories and events in your neighborhood.

State of the County Address

On Wednesday, April 24th, I was honored to give the 2013 State of the County Address at the Sheraton Hotel in Garden Grove. Hosted by the Garden Grove Chamber of Commerce, the event welcomed over 130 business and community leaders from across Orange County. I provided an overview of the County and touched upon a few key issues within my district. The State of the County Address included the following:

Overview of economic conditions

Increase in sales tax revenues including one-half cent including the one-half cent Public Safety Sales Tax, also known as Prop 172 - greatly benefits the Sheriff's and the District Attorney's budget
Signs of recovery in the housing market

Challenges facing the County

State's decision to take away $49 million in Vehicle License fees from Orange County, and Orange County alone.
AB 109 which was passed by the State legislature and transfers low level inmates from State Prison to County jails
Federal government's impending sequestration and its effects on County's departments and agencies

Ongoing Initiatives

Fill vacancies of top management - Clerk-Recorder, Performance Auditor, Auditor Controller, CEO and Public Administrator
Pursue creative solutions to address unfunded liability issues
Work to address homelessness county-wide

2012 Accomplishments

Continued efforts to improve transparency and accountability at CalOptima by seeking new policies and procedures that make the organization more accountable to the taxpayers
Remained steadfast in opposing fee increases at OCTA and Orange County Sanitation District
Alleviate traffic congestion: PE Right of Way / Fixed Guideway Project
Mitigated First District Impacts of I-405 Widening Project
After almost 5 years of leadership and proactive advocacy from me, broke ground on the Haster Retarding Basin, Pump Station and Recreational Field Project in cooperation with OC Public Works, OC Flood, OC Parks, the County Executive Office, and the City of Garden Grove. The project will enhance flood control capabilities as well as add a two acre recreational field, soccer fields, exercise stations, park shelters, an improved jogging trail, and an expanded parking lot.
Fought real estate crime in the First District with the District Attorney and Westminster Police Department
Through the co-hosting of several events, made government more accessible while providing preventative healthcare measures that could ultimately save millions of dollars to the taxpayer by preventing trips to the emergency room. Events included the 3rd Annual Central County Health Expo, 3rd Annual Central County Senior and Caregiver Expo, and seasonal flu clinics
Helped create opportunities to enhance the County's workforce by co-hosting the 2nd Annual Central County Job Fair
| | |
| --- | --- |
| | BOARD OF SUPERVISORS |

President Obama's 2014 Budget – Santa Ana River Mainstem Project

I have traveled to Washington, D.C. throughout the years to advocate for funding for the Santa Ana River Mainstem Project. On Wednesday, April 10, 2013, President Obama recommended $42 million of his Fiscal Year 2014 Budget to be set aside for the Santa Ana River Mainstem Project (SARP). This project is a joint effort with the U.S. Army Corps of Engineers, Orange County Flood Control District (OCFCD), Riverside County Flood Control and Water Conservation District, and San Bernardino County Flood Control District. The estimated cost to complete the project is $2.1 billion, and once finished will include miles of river bank improvements, construction of Seven Oaks Dam, and modifications to Prado Dam.

Edinger Avenue Bridge-Widening

Recently, Supervisors awarded a contract to Powell Constructors, Inc. for the construction of the Edinger Avenue Bridge widening over the Santa Ana River. This bridge spans from Santa Ana on the East to Fountain Valley on the west. The existing bridge has two lanes in either direction, and no existing side walk or bike lanes. The purpose of the project is to widen the bridge to incorporate both raised sidewalks and bike lanes on either side. Additionally, the lanes will be widened and re-striped in order to allow the road to be considered a major arterial highway.

These improvements will be beneficial to traffic mitigation in the area but will also provide facilities for safe and enjoyable travel either by foot or by bicycle. Construction for the project is scheduled to begin in July of 2013 and is expected to be completed by August of 2013.

City of Westminster Contracts with County of Orange for Water Billing Services

The Board of Supervisors recently unanimously approved a five year contract for Water Billing Services with the City of Westminster. The Contract allows the Treasurer Tax Collectors' office to generate monthly water bills and process mailed payments through the Treasurer Tax Collector's payment processing units on behalf of the City of Westminster. The contract with the County will help the City of Westminster save an estimated $71,881.

Orange County Board of Supervisors appoint New CEO

I am pleased to announce that on Tuesday, May 7, 2013 the Board of Supervisors unanimously appointed Director of OC Waste & Recycling Mike Giancola as County Executive Officer (CEO). Mr. Giancola has been a member of the County family for over 30 years since 1977. He was first hired as a Park Attendant at Mile Square Park in Fountain Valley.

After serving in the U.S. Navy from 1980-1985, Mr. Giancola joined the County's Harbor, Beaches and Parks Department before moving to OC Waste & Recycling in January of 1986. During his time at OC Waste & Recycling, Mr. Giancola has demonstrated the leadership and drive demanded by the position of County CEO. For this reason my colleagues and I are confident in his ability to serve this County at the highest level, and we wish him every success in his new position.

Mr. Giancola will begin his duties as CEO effectively immediately.

Congratulations to CEO Mike Giancola!

New Clerk-Recorder Appointed

I would like to congratulate Hugh Nguyen on his appointment to the position of Orange County Clerk-Recorder. Mr. Nguyen was appointed by the Board of Supervisors at their April 2, 2013 meeting. Prior to his appointment, Mr. Nguyen held the position of Assistant Clerk of the Board. He has over 18 years of experience working at the County of Orange, which includes 12 years holding various positions in the Clerk-Recorder's office.

The Clerk-Recorder is responsible for issuing marriage licenses, performs marriage ceremonies, processes passport applications, records property ownership documents for the County of Orange, and several other responsibilities.

Congratulations Clerk-Recorder Hugh Nguyen!

New Auditor-Controller Appointed

I would like to congratulate Jan Grimes, who was recently appointed as Orange County Auditor-Controller by the Board of Supervisors. The Auditor-Controller vacancy was created by the departure of the elected Auditor-Controller, David Sundstrom in January of 2012. Prior to her appointment, Ms. Grimes served as the acting Auditor-Controller and Chief Deputy Auditor-Controller. She has over 30 years of related experience in governmental accounting.

The Auditor-Controller is an elected County official who is responsible for providing professional accounting services to the departments various clients: County Departments and agencies, individual citizens, and vendors doing business with the County. The next countywide election for Auditor-Controller will be in 2014.

Congratulations Auditor-Controller Jan Grimes!


HEALTH CARE AGENCY (HCA)
2012 Health Care Agency Accomplishments
In 2012, the Health Care Agency opened a new Mental Health Campus located at 401 S. Tustin Street in the City of Orange.
Voluntary services are provided to support recovery, wellness and resilience for individuals with a mental health disorder, as follows:


The cornerstone is a 15-bed Crisis Residential Program serving adults who are in crisis and have a high risk of hospitalization. This voluntary program offers services 24 hours a day, seven days a week, and provides a home-like environment and short term crisis services for approximately 500 people per year. Services include: crisis intervention, individual and group therapy, family and significant other involvement, psychiatric medications, food and housing, linkage to medical care and social supports in the community, and discharge planning.
A Peer Support and Wellness Center is available for individuals who are stable and trying to enhance/maintain their wellness. A wide variety of weekend, evening, and holiday social activities allow members to increase socialization and encourage integration into the community. The goal of the Peer Support and Wellness Center is to provide supportive services to people as they move into higher levels of recovery.
The campus also features an Education and Training Center. The main focus is to provide education and training services to those living with a mental health disorder and their family members who are interested in careers in behavioral health, as well as a pathway to entering an Associate of Arts (AA) degree or Consumer Employee Training Certificate Program.



The Health Care Agency received a perfect score in 2012 on a federal review of health disaster preparedness activities. The Health Care Agency's mass dispensing program received federal and state recognition for achieving a 100% score on the Center for Disease Control and Prevention's (CDC) Local Technical Assistance Review (TAR). This annual review is conducted by the CDC and the California Department of Public Health to assess the level of health disaster preparedness and readiness within Local Health Departments (LHD). The Health Care Agency is one of only five LHDs to have received a perfect score on the TAR, showcasing the exemplary work the Health Disaster Management program has accomplished in Orange County to prepare the Agency, cities, and community response partners.

Through continuous planning and partnerships with cities, fire departments, law enforcement agencies, volunteer groups, and other community and faith based organizations, the Health Care Agency has created the capability to rapidly dispense medications and distribute medical supplies and equipment to the residents of Orange County during an emergency. This mass dispensing program is part of the CDC's Cities Readiness Initiative (CRI) which utilizes Points of Dispensing or "PODs". In 2009, the County's innovative "POD" model was recognized as a national best practice by the National Association of City and County Health.

Congratulations to all staff of the Healthcare Agency for receiving the 100% score!
| | |
| --- | --- |
| | ORANGE COUNTY TRANSPORTATION AUTHORITY (OCTA) |

Employees to Pay Employee Share of Pension Cost

The OCTA Board of Directors recently voted to require that all employees pay 100 percent of the employee share of their pension costs. The employees' share of pension contributions was previously paid for by OCTA, a practice referred to as employer pick-up. In the first year this will save OCTA $800,000, and $1.6 million in the second year. This projected savings will continue to grow on a yearly basis.

Update on Interstate 5 Improvement Project Between State Route 55 and State Route 57

The Interstate 5 Improvement Project proposes to add a second high-occupancy vehicle (HOV) lane in each direction between State Route 55 and State Route 57 through the Cities of Santa Ana and Tustin. In addition, this project proposes to reconstruct the southbound Interstate 5 First Street on-ramp.

OCTA staff has been active in the community, providing general project information to key stakeholders. An initial meeting was conducted in 2011 in the City of Santa Ana to review concepts, project schedule, area maps, and sign up to receive future project updates.

Although OCTA has been active, I've asked staff to continue to make sure OCTA works with all stakeholders, especially those in the First District like the Santa Ana Zoo, Discovery Science Center, Bowers Museum, and the Main Place Mall.

Youth Summer Pass Available for Orange County Youth

As summer approaches, OCTA is once again offering the Youth Summer Bus Pass to provide a safe, reliable and inexpensive means of transportation for Orange County youth. The Youth Summer Bus Pass is a special 3-month bus pass for youth 18 and under, and is valid for use beginning June 1st through Aug. 31st. The pass is valid for use on all OCTA fixed-route buses and is available for sale beginning May 1st for only $60 (for a total savings of $60). The Youth Summer Bus Pass will be available for sale at all Orange County Ralphs, Vons, Pavilions, and Northgate markets, as well as the OCTA store and on OCTA.net. To learn more about the Youth Summer Bus Pass visit OCTA.net/summerpass

2012 OCTA and Measure M Annual Reports Now Available Online

OCTA is pleased to provide you with the e-versions of the 2012 Annual Report and the 2012 Measure M Annual Progress Report. Each year, OCTA prepares these reports to provide an overview of the actions we have taken during the past year to improve mobility in Orange County. To view the reports, please visit http://www.octa.net/Measure-M/Then-and-Now/Measure-M-(2011-2041)/


| | |
| --- | --- |
| | ORANGE COUNTY SANITATION DISTRICT (OCSD) |

Orange County Sanitation District Names New General Manager

I would like to congratulate Jim Herberg on his recent appointment as General Manager of the Orange County Sanitation District. Mr. Herberg has worked for the Sanitation District since 1995 and previously served as the Sanitation District's Director of Engineering. Among Jim's many accomplishments is the management of the Sanitation District's $2.7 billion capital improvement program including $554 million in secondary treatment upgrades, which was completed on time and on budget. Mr. Herberg has a Bachelor's Degree in Civil Engineering from the University of Oklahoma, and a Master's Degree in Civil Engineering from Long Beach State University. He also completed the Senior Executives in State and Local Government Program at Harvard University.

Congratulations General Manager Jim Herberg!

Orange County Sanitation District Residential and Industrial Sewer Fee Increase

Despite my vocal opposition, the Orange County Sanitation District Board of Directors recently approved a sewer service fee increase on residential and industrial users. This five year rate schedule includes a 4.8% rate increase effective July 1, 2013, followed by four annual increases of 2.4%. The sewer service fees are used for the collection, treatment, and disposal of sewage. Fees are collected annually as a line item on your annual property tax bill.


ORANGE COUNTY WASTE & RECYCLING

OC Waste & Recycling Eco Challenge Poster Contest

Enter OC Waste & Recycling's Eco Challenge Poster Contest for a chance to be an Honorary Bat Kid during an Angels baseball game! The Contest is open to boys and girls who will be between the ages of eight (8) and fourteen (14) at some point during the Angels Baseball regular season (April 1, 2013 to September 29, 2013).

Children must select from a list of eco-friendly topics (Recycling, Reusing Materials, Reducing Waste, A Greener Future) and must make a poster to showcase that idea. One winner will be selected from each Supervisorial District and will be named as an Honorary Bat Kid during an Angels home game. Each winner will receive four tickets to one predetermined Angels home game, complimentary parking, one bat kid uniform, one official baseball for autographs, one on-field credential for dugout access (for bat kid only), recognition on the video board during pre-game activities, and one professional on-field photo!

If your child is interested, please visit www.discoverycube.org/batkid for additional rules. All posters must be personally delivered or mailed to the Discovery Science Center by June 6, 2013. Good Luck!


ORANGE COUNTY PARKS

New Archery Range Groundbreaking at Mile Square Park

Alongside OC Parks, I celebrated the groundbreaking for an improvement project at the Mile Square Regional Park archery range on April 18, 2013.

Construction is under way on the new range, which will be the largest outdoor archery range in Orange County. The improvements will double the number of targets and add a canopy and other amenities to the range, as well as a larger safety berm.

The new range will be 6.71 acres and will include box racks, tables for servicing bows and perimeter fencing. It will also include a 20-foot safety berm and orientation to the north, an important feature for archers. It will be available to host future archery competitions.

Construction is expected for completion in November of 2013. A second phase of construction, scheduled for 2014, will also add a small event building, group shelter and restrooms.

Mile Square Regional Park has had an archery range since the 1970s. The 607-acre County regional park includes two fishing lakes, bicycle and paddleboat concessions, picnic shelters, playgrounds and more.


JANET AROUND THE DISTRICT
| | |
| --- | --- |
| Supervisor Janet Nguyen greets residents at the 4th Annual Central County Health Expo on April 13-14, 2013. The event welcomed over 2,000 residents and provided individuals who could not otherwise afford services with 550 vision exams, 150 dental cleanings, and 400 medical exams. | At the Dia de los Niño's event on April 20, 2013, Supervisor Nguyen, holding her son Thomas, was honored by the Mamas Activas for her efforts to help the children of the Santa Ana community of Myrtle Street. The event featured singing, dancing, and games. It also included information and services from several non-profits, county agencies, and public entities for the neighborhood's youth and families. |
| Supervisor Nguyen presents a Proclamation celebrating the 75th Anniversary of American Legion Post 555 to Post Commander Jose Amezcua in Midway City on March 23, 2013. | Supervisor Nguyen recites the Pledge of Allegiance alongside Supervisor Todd Spitzer at the inaugural ceremony and candlelight vigil for the upcoming memorial site at William R. Mason Regional Park. The vigil was held on April 24, 2013, and was hosted by the Orange County Board of Supervisors and OC Parks. |
| Supervisor Nguyen addressed the Alzheimer's Association as they celebrated their 4th Annual Caregivers Recognition Day at Coastal Community Hospital in Santa Ana. The event recognized the caregivers within the Latino community for their demonstrated love, patience and dedication to their loved ones. Pictured from right to left: Rama Meka, Supervisor Janet Nguyen, Alex Vasquez, Mirian Islas, Luke Tarasri, Norma Castellano, Rosalinda Arellano, Carla Valenzuela, and Tony Murcia. | Supervisor Janet Nguyen delivers the 2013 State of the County Address at the Garden Grove Chamber of Commerce held at the Sheraton Hotel in Garden Grove. |
REQUESTS FOR PROPOSALS

County of Orange
There are currently many new bids to contract with the County of Orange. For more information, please click here.


VOLUNTEER OPPORTUNITY
Senior Health Expo Needs Dental, Medical and Health Professional Volunteers!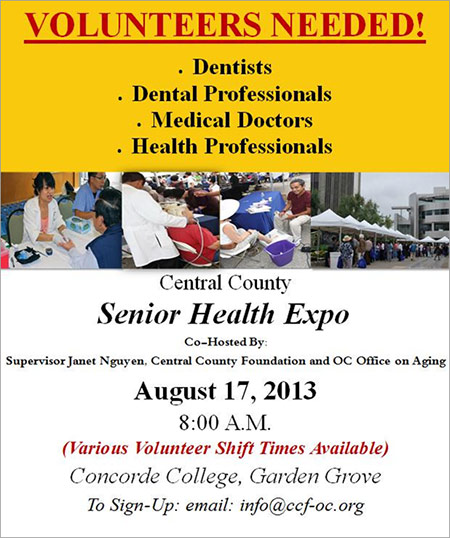 ORANGE COUNTY

Mile Square Park to Host Walk in Our Wild Side Nature Walk

On June 1, 2013, OC Parks invites you to join a Park Naturalist on an easy walk through Mile Square Park. The route is approximately 1-mile long, and eases its way through the park's natural area. Walk participants can expect to see birds, hawks, insects, butterflies and native plants. Recommended: Camera, hat, binoculars, water and comfortable shoes


Date: 06/01/2013
Time: 10:00 AM – 11:00 AM
Event Fee: FREE!
Parking: $5 per vehicle
Meet at Parking Lot F
Rain will cancel walk
CITY OF FOUNTAIN VALLEY

Local News

Looking for Summerfest Vendors
The Fountain Valley Summerfest Committee is looking for businesses, craftsmen, and exhibitors to secure a vendor space at the upcoming Fountain Valley Summerfest event scheduled for June 27-30, 2013. Last year's event brought in 25,000 people over four days and included activities such as carnival rides, games, food, beer garden, classic car and truck show, and entertainment that is directed at attracting local residents of all ages.

This year the event will open a day early with a "Buck-A-Ride" preview night and will bring back "Dog Day Afternoon" on Sunday which attracted many new visitors last year. Vendors are encouraged to open their booth on Thursday. The Summerfest committee is offering 10x10 vendor booth spaces for $400 which includes basic 110 electrical and a canopy located on a corner, and $800 for a 10x20 space. This will be a great opportunity for your business or organization to introduce itself to the thousands of residents that will be at the event throughout the weekend.

If interested, applications can be found at http://www.fvsummerfest.com or by calling 714-839-8611.

Multiple Construction Projects Underway
For the past year, Fountain Valley has seen its economy recover in part by four large projects being built. The four projects include the construction of a new Hyundai headquarters, a U.S. manufacturing plant for Yakult, 27 single family and 61 townhomes, and a 127-room Ayres Hotel. These new building projects have brought in over 1,500 temporary jobs and should create at least 700 permanent jobs after construction has been completed at the end of 2013.

Community Events

City of Fountain Valley to Host Annual Senior Expo on 6/20/13
On Thursday, June 20th 2013, the City of Fountain Valley will be hosting the annual Senior Expo at The Center at Founders Village in Fountain Valley. This event, sponsored by Edinger Medical group, the Non-Surgical Spine Center and Care ambulance, will provide information to seniors regarding health related issues.

The event will go from 9:30 am until noon and is free. The address of The Center at Founders Village is 17967 Bushard St. If you have any questions call the City of Fountain Valley at 714-593-4400.


CITY OF GARDEN GROVE

Local News

City Hall Passport Services By Appointment Only
Passport services at Garden Grove City Hall are now available Monday through Thursday, by appointment only. Services are provided through the City Clerk's Office, located on the second floor of Garden Grove City Hall, at 11222 Acacia Parkway.

Appointments can be made by either calling the City Clerk's Office at (714) 741 - 5040, or through the City's website at www.ci.garden-grove.ca.us.

Passport photos are also available through the City Clerk's Office for $10.

A certified original birth certificate or an original naturalization certificate is needed for U.S. Citizens seeking passports. All passport application fees may only be paid by check or money order.

Application forms, information on required documentation, fees, and other passport and international travel information are available at the official passport information website, www.travel.state.gov.

Road Construction on Harbor Boulevard
Road construction has begun on Harbor Boulevard and is scheduled to continue through July 2013. This $1.3 million project will remove and replace water lines, sewer lines and storm drains, install new electrical and telephone conduits, concrete improvements, as well as new asphalt paving.

The work will take place between Lampson Avenue and Palm Street. Residents are encouraged to find alternate routes during working hours (8:00 a.m. to 4:00 p.m., Monday through Friday). For more information, please contact the Garden Grove Public Works Department at (714) 741-5179.

Adopt-A-Tree Program
The City of Garden Grove is offering residents an opportunity to preserve the environment and the memory of a loved one through the City's Memorial Tree Program. The cost of the program is $55; this includes the planting of a tree selected by the resident and City staff, and a donor certificate. For more information, contact the Public Works Department at (714) 741-5384

Community Events

Celebrate Atlantis' 50th Anniversary
The Atlantis Play Center is turning 50 and the City of Garden Grove is asking the public to share with them photos of memorable moments that they may have spent at the park.

The photos will be displayed during the Center's 50th Birthday Party on June 15, 2013 from 12:00 PM to 4:00 PM. The event is free to the public.

To submit a photo, please email it with your name, phone number and date it was taken to recreation@ci.garden-grove.ca.us. The park is located at 13630 Atlantis Way, Garden Grove.

For more information, please call: (714)741-5200.


CITY OF SANTA ANA

Local News

Santa Ana Police Department Introduces e-Police Reporting
The Santa Ana Police Department has introduced a Citizens Online Police Reporting System which allows residents to submit a police report immediately and print a copy of that police report for free. The system is made for non-emergency crimes that are committed within the City of Santa Ana and where there are no known suspects. To file a report or for additional information on this system, please click here.

Discovery Science Center Wins National Honor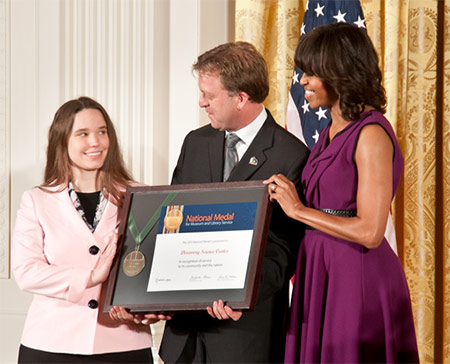 Discovery Science Center President Joe Adams receives National Medal for Museum and Library Service from First Lady Michelle Obama and Library Services Director Susan Hildreth (photo courtesy of Alexandra Butera- Susan Davis International)


The Discovery Science Center, located in Santa Ana, has recently received the National Medal for Museum and Library Service from the Institute of Museum and Library Services. The award is the highest national honor given to museums and libraries for their service to the community. The Discovery Science Center was selected from more than 200 nominees. Specifically, the Eco Challenge exhibit was highlighted for its emphasis on preserving the environment. The Discovery Science Center is located at 2500 N. Main Street. Congratulations to the staff and boardmembers of the Discovery Science Center.

Community Events

Bowers Museum – Free Days for Santa Ana Residents
Courtesy of the Lockhart Family and a generous donation in the memory of Dorothy Goerl, the Bowers Museum is pleased to offer free admission to Santa Ana residents, with proof of residency (e.g., driver's license, utility bill, etc), on the first Sunday and third Tuesday of every month. This Bowers Museum is located at 2002 N. Main St, Santa Ana, CA 92706

Drop-In Family Art Inventions
Every Friday, Saturday, & Sunday from 10am-4pm, the culturally and artistically enriching Kidseum's Art Lab provides a hands-on experience for children ages 4 and up by creating innovative and unique art projects. Discover arts and crafts from around the world, with new techniques and materials each weekend. Parents and/or grandparents welcome! Phone: 714-480-1520 Fee: Free to Museum members or with paid admission ($6 Children & Adults; children under 2 – Free)

This event is located at Bowers Kidseum, 1802 N. Main Street, Santa Ana, CA 92706.


CITY OF WESTMINSTER

Local News

City of Westminster Reminding Residents to Conserve Water
As we approach summertime, the City of Westminster is reminding residents of a Water Conservation Ordinance adopted in May 2009 which outlines the permanent water restrictions below.

No outdoor watering between the hours:


9 a.m. – 5 p.m. October - May
8 a.m. – 6 p.m. June – September

Water no longer than 15 minutes per irrigation station per day
No excessive water run-off
No washing down hard or paved surfaces
Fix water leaks within 7 days
Decorative water features must use re-circulating water
When washing vehicles must use self-closing positive shut-off nozzle on garden hose
Restaurants are required to serve water upon request only
Hotels and motels are required to provide guests option to decline daily linen service
Commercial car washes and laundries are required to use re-circulating water systems
Restaurants are required to use water conserving pre-rinse spray valves

The Water Division is available to help you save water at home and at work. Call 714 548-3690 to schedule awater audit. Check out http://www.mwdoc.com/services/conservation-resources to get information about resources and the current rebates being offered.

Community Events

Flag Day
The City of Westminster will host its annual Flag Day Celebration at the Civic Center located at 8200 Westminster Blvd. in the City of Westminster. The event includes patriotic music and remarks. Refreshments will be served and families are encouraged to bring their children to this meaningful patriotic event. This year's event will be held on Friday, June 14, 2013 at 12 p.m.

Annual Westminster Chamber of Commerce Installation Luncheon and Awards Ceremony
The Westminster Chamber of Commerce will be hosting its Annual Installation Luncheon and Awards Ceremony on Thursday, June 27, 2013 at 11:30 a.m. at the Westminster Rose Center. Several Awards presentations including: Business of the Year, Chamber Member of the Year and Chamber Ambassador of the Year will be named. To RSVP, please call 714-898-9648 or click here for more information.

Location: Westminster Rose Center, Crystal Ballroom, 14140 All American Way, Westminster.




To contact Supervisor Janet Nguyen, please call 714-834-3110 or email Janet.Nguyen@ocgov.com.