News and Updates

Homelessness Status Conference
Today, Supervisor Do along with county and city officals from across Orange County gathered in Judge Carter's courtroom for a status conference.
Check out Supervisor Do's live video with an update on what happened.

County of Orange builds a System of Care to address homelessness
It has been a year since the County assessed an unprecedented amount of unsheltered homeless individuals along the Riverbed and Civic Center.
Chairwoman Lisa Bartlett and Supervisor Do wrote an op-ed in Sunday's OC Register outlining some of the big steps we have taken to address homelessness and how we are providing these individuals with a helping hand up.
Here is a link to the op-ed.

Allies in Arms Welcome at Veterans Cemetery
Last week was a historic day as the Board of Supervisors approved Supervisor Do's proposal to include Vietnam War and Korean War ally Veterans in the County's proposed Veterans Ceremony in Anaheim Hills near the 91 Freeway and 241 Toll Road interchange. This would be the first cemetery with dedicated space for allies in arms.
In December of 2018, the Board of Supervisors approved at least 50% of the 283-acre parcel to be used as a proposed Veterans Cemetery. The action approved last week added another 10% of the land to be used for Vietnamese and Korean war veterans that fought alongside U.S. Service-members during the conflicts.
Supervisor Do is proud to provide a final resting place for our Orange County Veterans and offer the community a space to honor them with the reverence and respect they deserve.
For more info, check out the article.

Supervisor Do and OC One-Stop Host Central OC Job Fair
Looking for a job? Join more than 40 employers and us for our job fair TOMORROW, Wednesday, April 3 from 9 a.m. to 1 p.m. at Mile Square Park in Fountain Valley.
To get a list of employers, click this link.

LA County Supervisor Kathryn Berger Tours OC System of Care
Last week, Supervisor Do hosted Los Angeles County Supervisor Kathryn Barger and toured the Orange County's System of Care including the Courtyard, our first County emergency shelter opened in 2016.
Homelessness is an issue impacting the entire state and nation. The County is continually working with stakeholders of other jurisdictions to find the best solutions towards addressing our most complex issues. Orange County has been recognized as a model in developing new approaches to addressing homelessness.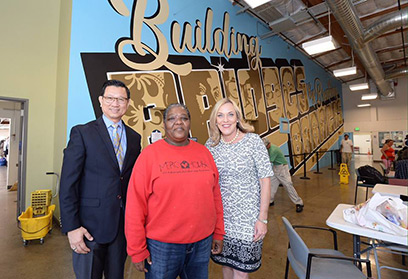 Welcome to the Board fo Supervisors, Supervisor Don Wagner!
The Orange County Board of Supervisors welcomed its newest member last week, former Irvine Mayor Don Wagner. We are now back to a full five-member Board. We are looking forward to working with everyone to provide solutions to our County's most prominent issues like public safety, homelessness, housing, and mental health care.