News and Updates



You can host your very own Neighborhood Pop-Up Pantry!

During these challenging times, I'm inspired by the incredible community spirit I've seen across Orange County. I've recently started a District-wide Neighborhood Pop-Up Pantry program where community leaders host pantries for their neighborhood. The concept is simple: take what you need, leave what you can spare.
Check out the program and learn how you can be a part of it by watching the video below! For more information, you can send an email to Andrew.Do@ocgov.com or call 714-834-3110.
Thank you to all our Captains for hosting Pop-Up Pantries!



Donation from Senator Lin Ling Chang

On Tuesday, Senator Ling Ling Chang's office distributed over 36,000 packs of bread rolls!
I want to extend my heartfelt thanks to the Senator for helping her community and 10 of our new neighborhood pop-up pantries. Let's keep it up!



4/10 Jacaranda Neighborhood

Yara Guzman and her family hosted a Neighborhood Pop-Up Pantry for the Jacaranda St. Neighborhood to provide essential goods to their community. Her son, Noah, named it his "Joy Pantry" because of the happiness it brings his neighbors. Thank you to the Guzman family for stepping up!

4/11 Wilshire Square Neighborhood

Gisela Contreras and her family hosted a Neighborhood Pop-Up Pantry for the Wilshire Neighborhood to provide essential goods to their community. Thank you, Gisela, for providing these valuable resources for her community.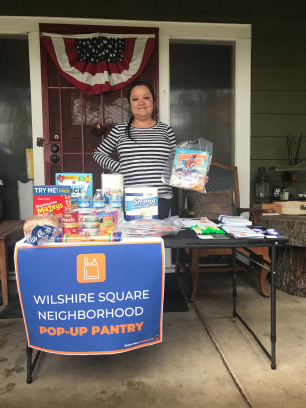 4/13 Portola Park Neighborhood

Thank you, Pastor Drew Smithson and church members of the OC First Assembly of God for your drive-thru pantry this week in the Portola Neighborhood! Truly an act of kindness for those who need it the most.

4/13 Cabrillo Park Neighborhood

Thank you, Louis Anderson and family, for hosting a pantry in the Cabrillo Park Neighborhood. Your kindness does not go unnoticed. Your neighbors will greatly benefit from such generosity.

4/13 Delhi Neighborhood

Thank you, Familia Rodriguez-Zinn, for hosting a pantry in the Delhi Neighborhood. I truly appreciate your commitment and the work you put into your pantry to make it extra special.

4/13: Sol Vista Neighborhood

Thank you, Jolene Evans for hosting a pantry at the Sol Vista Neighborhood in Westminster! Your support and contributions are helping our local neighbors.

4/14 Santa Anita Neighborhood

Thank you, Familia Calderon-Castillo, for hosting a pantry in the Santa Anita Neighborhood. As active leaders in your community, you are setting a great example for others to follow.

4/14 South Coast Metro

A big shout out to Lance Emma, General Manager KWAVE (107.9 FM) and Pastor Javier Orozco from Calvary Chapel for hosting a pantry in the South Coast Metro Neighborhood. Thank you for spreading some cheer in someone else's life.



District 1 Meal Program Updates

School Districts across the County are offering meals for students through a curbside pickup service.
Below are the flyers for Santa Ana Unified School District, Garden Grove Unified School District, and Westminster Unified School District.



You can fill out your Census questionnaire online or by phone

Our future starts with the 2020 Census.
A complete count in the #2020Census can help bring additional services and more jobs to local economies across California.
The 10-minute questionnaire is confidential and easy to fill out. Best of all, you can get counted from the comfort of your own home!
Complete yours today online at https://2020census.gov/ or by phone at 844-330-2020.