April 2, 2021
Volume 1

Issue 1
Dear Neighbor:


I'm so proud to share my first newsletter. Each week, I'll share key activities in our office and the district, and what you need to know.
As always, please don't hesitate to reach out to my team if you are ever in need of assistance.
Warmest regards,

Supervisor, District Two
Orange County Board of Supervisors

DISTRICT HIGHLIGHTS

Friday March 26th, 2021

Judge Karen Robinson performed the installation of office and swearing-in ceremony for my new role as the Supervisor for the Orange County Board of Supervisors, District 2 took place on Friday, March 26th at the Hall of Administration in Santa Ana.
I am deeply humbled by the trust our community has placed in me, and I look forward to serving our communities in this new capacity. Please click HERE to watch the ceremony.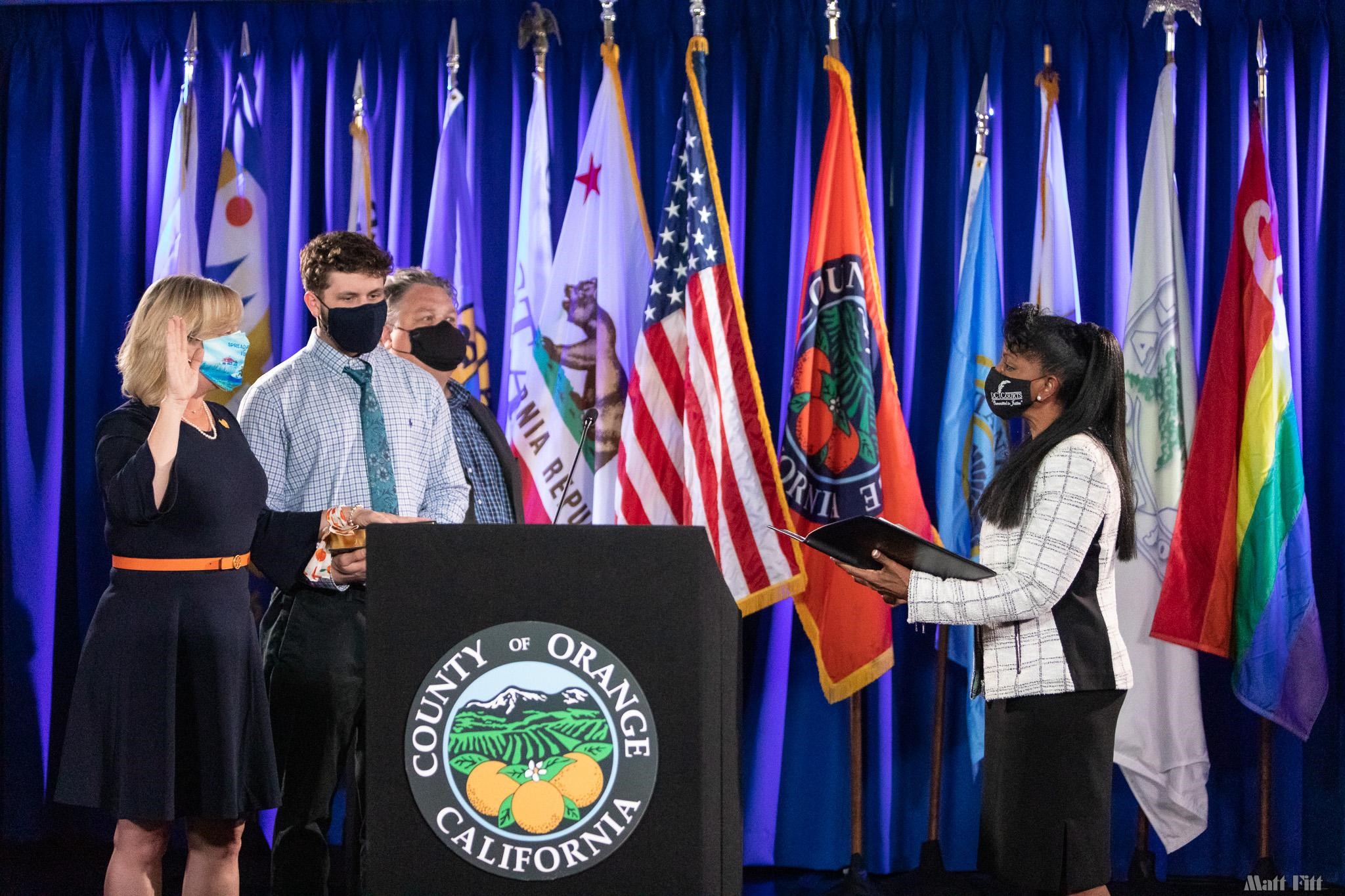 Monday March 28th, 2021

On Monday, my team and I officially moved into our new office. Please meet our BOS D2 team members, who are dedicated and ready to work on behalf of our community:
Deputy Chief of Staff: Nick Anas
Director of Operations: Hunter Jones Phillips
Communications Director: Jess Huang
Scheduler: Kimberlee Belli
Constituent Services Manager: Kalvin Alvarez
Constituent Services Manager: Manuel Chavez
Constituent Services Manager: Avery Counts
Please feel free to reach out to my office at (714) 834-3200 if you would like to schedule a meeting or are in need of County-related assistance. We are here to serve you.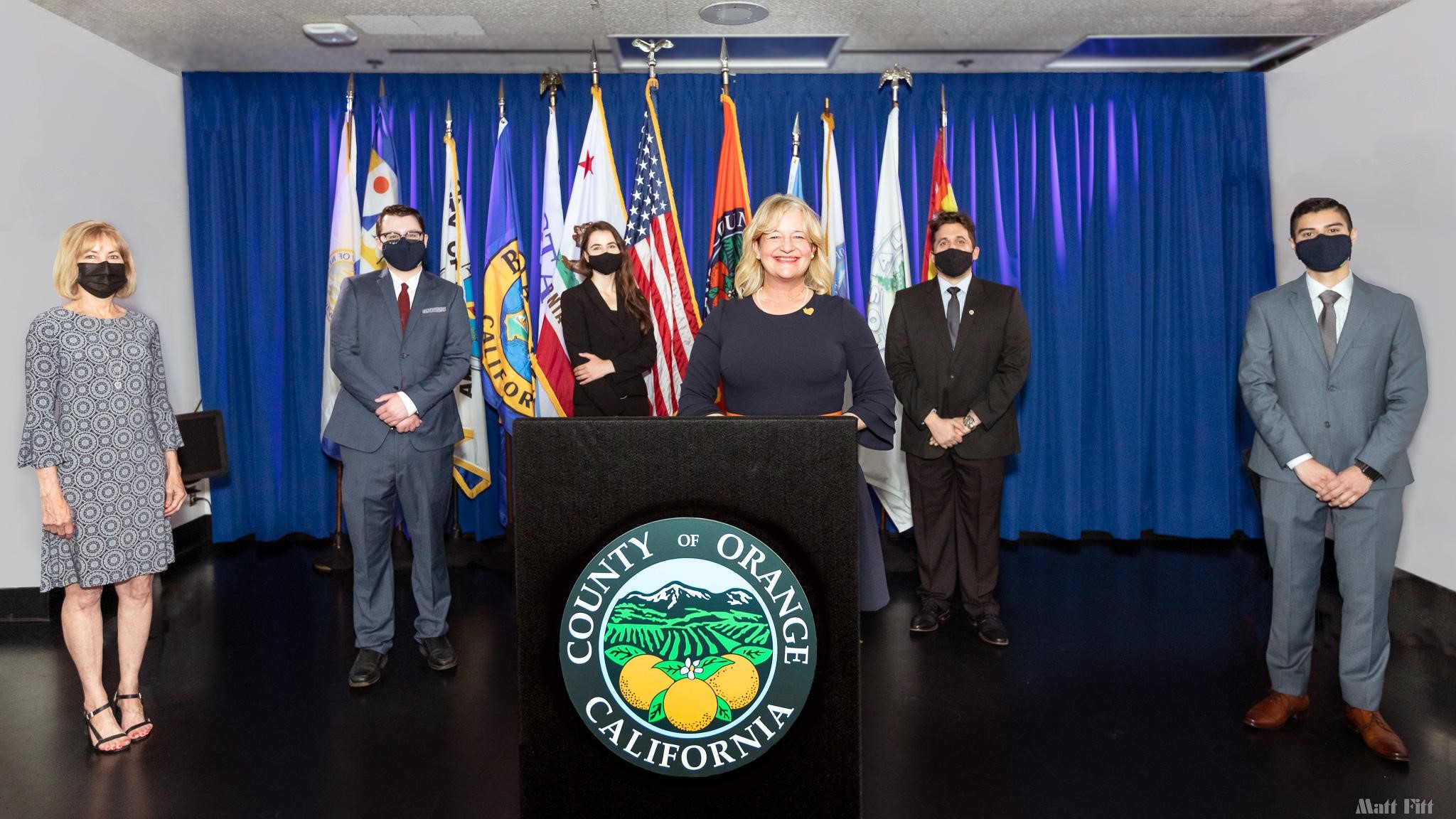 Tuesday March 29th, 2021

On Tuesday, March 29th, our team met with Health Care Officer Dr. Clayton Chau and later with Supervisor Andrew Do (Chairman of the Board and Chair of the COVID-19 Testing Ad Hoc Committee), to discuss opportunities to expand the hours of our County's COVID-19 Vaccination SuperSite PODs.
I'm pleased to report beginning Wednesday, April 7th, all county vaccination sites will open at 8 a.m. and close at 8 p.m. every Wednesday, allowing more people to get vaccinated according to their personal schedules.
Our team facilitated this process, by meeting with many of the fire chiefs of the Second District, the Orange County Fire Authority Chief, and the Department of Health, where we discussed staffing logistics to ensure our new hour extensions went as smoothly as possible.


Wednesday, March 30th, 2021

On day three of the job, our team helped spearhead the planning of a press conference for the opening of Orange County's third SuperSite POD, located at the Orange County Fairgrounds in Costa Mesa. The site is open for walk-in and drive-through vaccinations and has the capacity to administer 10,000 doses per day! You can sign up for same-day appointments on Othena.com.
This is a critical next step in ensuring our communities can continue to receive the vaccine quickly and efficiently. Please watch the press conference by clicking HERE.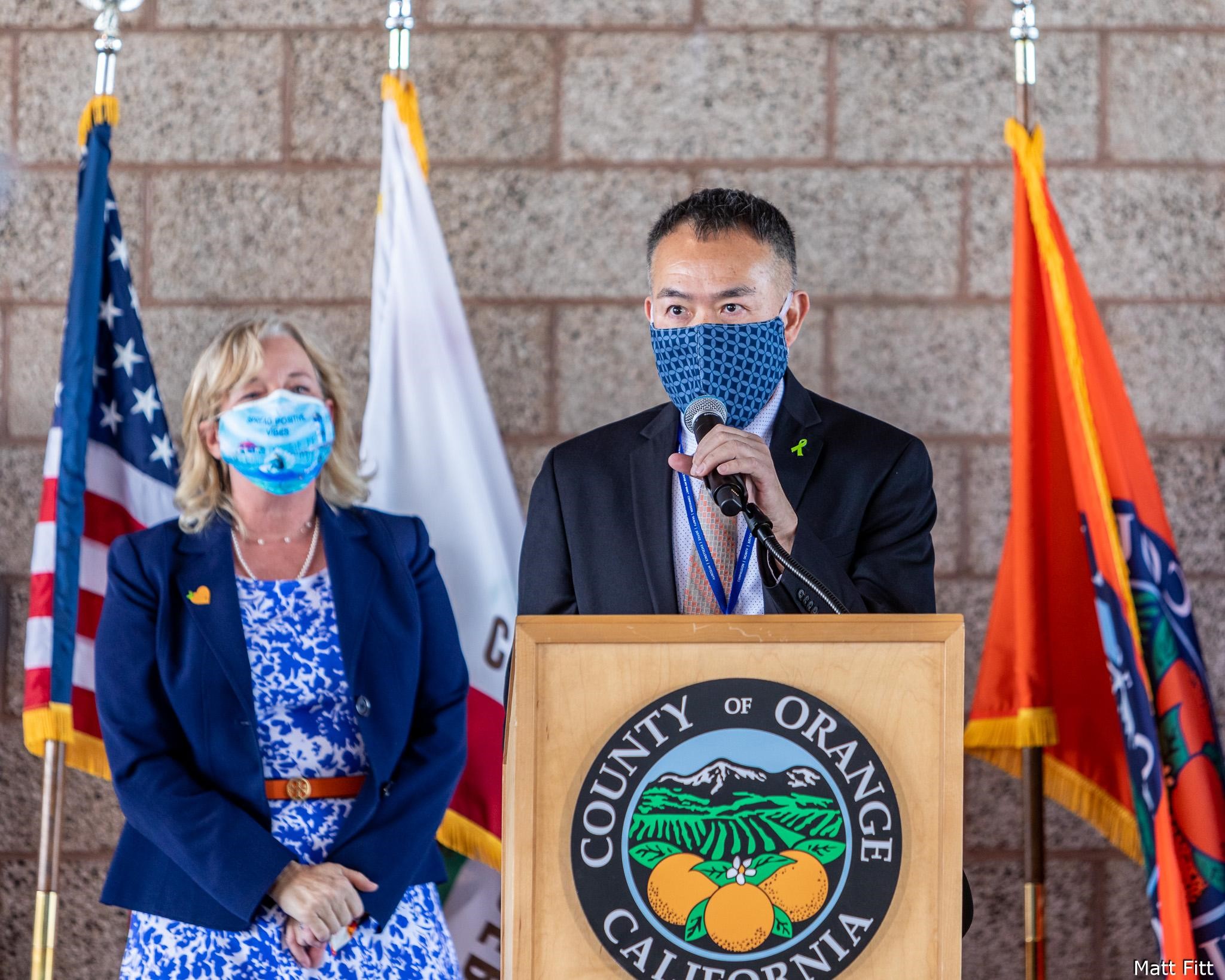 The County of Orange also announced, in accordance with the Governor's Blueprint for a Safer Economy, our county would transition to the Orange Tier, allowing for the opening of more business sectors, including expanded capacity for sports events and outdoor concerts!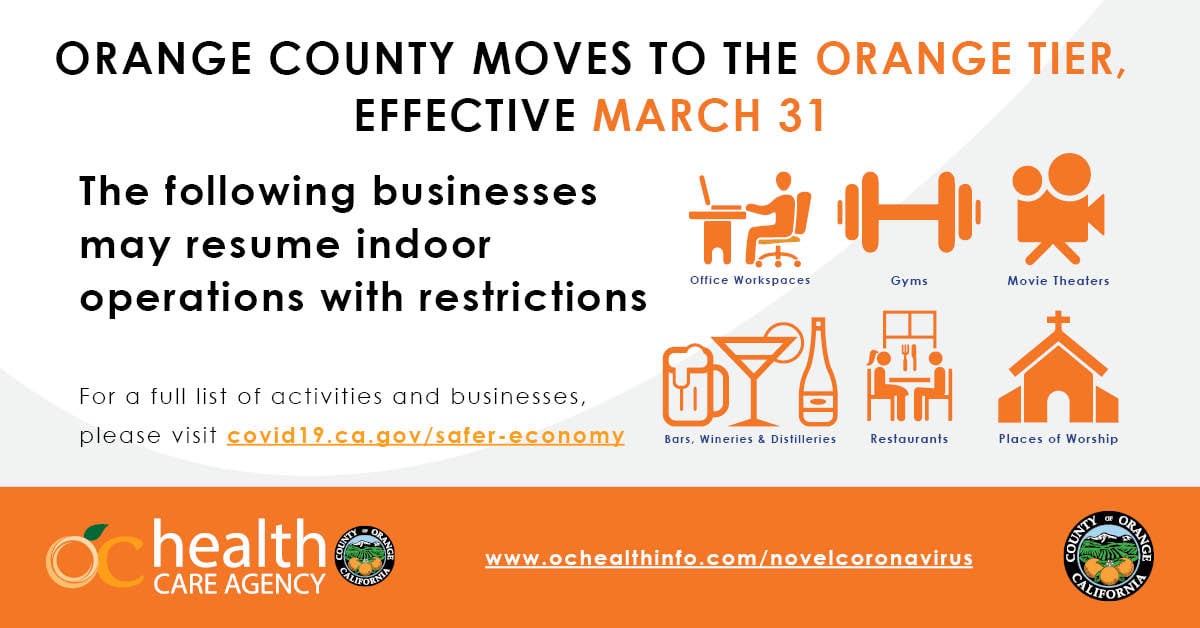 Thursday, March 31st, 2021

Thursday was full of meetings and briefings. The first meeting of the day was with Mayor Dave Shawver of Stanton. We discussed his work and how we can collaborate with homelessness and housing and how we can convert motels into permanent supportive housing. I also had briefings regarding litigation, real estate projects, and preparation of the budget.


Friday, April 2nd 2021

We ended our first week with a jam-packed day. I met virtually with the Mayors and City Managers of Huntington Beach and Fountain Valley to discuss how we could strengthen the partnership between the county and their cities. We discussed collaborations around active transportation, housing, homelessness, community services, denouncing the rise in hate crimes, and much more.
I also accompanied my state colleague, Senator Josh Newman, on a tour of our newly-opened Vaccination SuperSite at the OC Fairgrounds.
I thought the meeting was timely and productive, particularly with the Senator's role as Chair of the Special Committee on Pandemic Emergency Response. Together, we will continue working on access for our communities.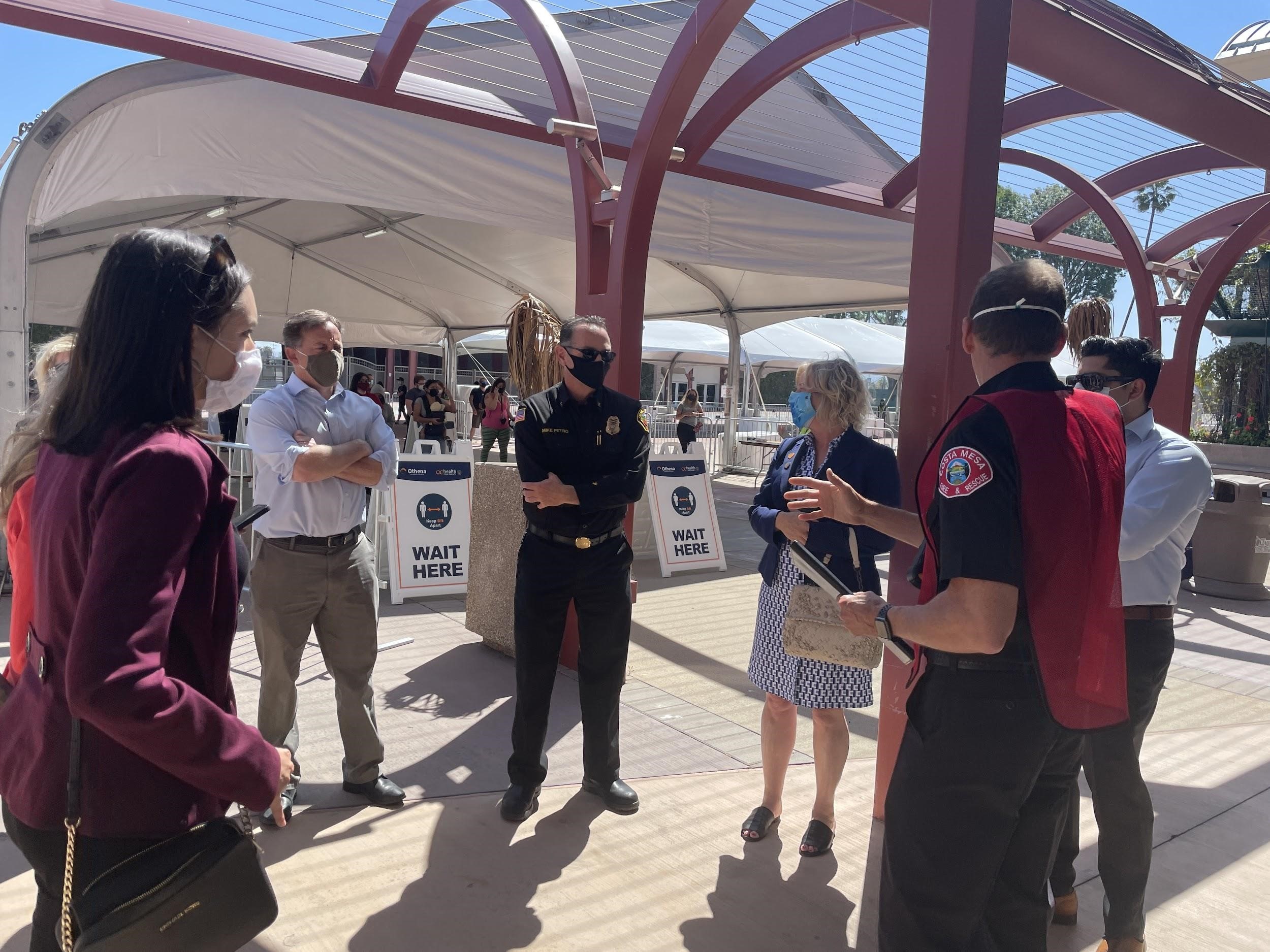 I finished the day with a thorough budget briefing from our CFO, as well as a briefing on the American Rescue Plan. We will share information in a future update.
Remember the three W's: Wear your mask, Wash your hands, and Watch your distance.
Happy Easter!



Stay Updated!