Board of Supervisors

Welcome to 2nd District Updates!

Dear Friends,

The holiday season is finally here! With Thanksgiving this week and Christmas fast approaching, many of us will be traveling to see friends and loved ones.

To ensure your travel plans go smoothly, John Wayne Airport has created some tips to help you reach your destination during this busy season.

Travel Tips

All passengers flying out of JWA are encouraged to arrive 90 minutes to two hours before the scheduled departure time for domestic flights and three hours for international flights to find parking, check luggage and go through the security screening checkpoint. Passengers who are members of TSA Pre✓™ can expedite the screening process in Terminals A, B and C.
Passengers are allowed one small carry-on bag plus one personal item as long as the carry-on bag fits airline dimensions. Check with individual airlines for specifics. For helpful information about the 3-1-1 liquids rule for carry-on bags and other travel tips from the Transportation Security Administration (TSA) please visit the TSA website.
"If You See Something, Say Something™" To report a suspicious object or activity in the Riley Terminal, dial "0" from a White Courtesy Phone to reach an operator, or dial 2-5000 to reach Airport Police Services, or you may notify an Airport employee or a uniformed officer. Guests may also dial 949-252-5200 from a mobile device.
For more helpful tips visit: http://www.ocair.com/newsroom/news/?nr=nr-2016-11-16

Sincerely,
Michelle Steel

In the Community

October 23rd

Los Alamitos Chamber of Commerce held their 15th Annual Wings, Wheels, and Rotors Expo at the Los Alamitos Joint Forces Training Base this past October. Along with Mayor Murphy and other City Council Members, I helped start things off and welcomed the crowd of over 25,000.

This year was extra special as JFTB hosted the Air Force Thunderbirds for the Breitling/Huntington Beach Airshow. The crowd was treated to the synchronized pre-flight preparation routine and had the opportunity to watch the Thunderbirds take off and return from Huntington Beach.

November 8th

I was happy to recognize Alzheimer's Orange County and all of the great work they do at the Board of Supervisors meeting earlier this month.

Since 1982, Alzheimer's Orange County has been the county's major resource providing quality care and support to the thousands of residents affected by this disease.

They help to provide educational support programs, activities, and discussion groups. They also partner with local researchers for clinical trials and have created a research grant award to help advance important research on Alzheimer's, which is the 4th leading cause of death in Orange County.

Thank you Alzheimer's Orange County for all the work you do to provide support to the residents of Orange County who are affected by this terrible disease.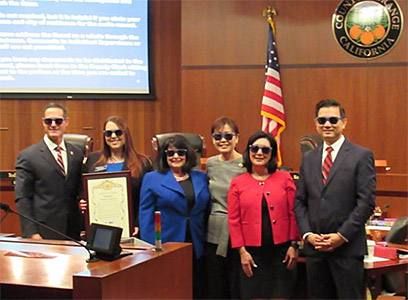 November 10th

Vanguard University recently held their 2nd annual Larson Lectureship on Ethics & Business featuring former United States Attorney General, the Honorable John Ashcroft. Both the VIP Reception and the lecture were packed to hear this distinguished gentleman speak.

Former Attorney General Ashcroft's speech as well as his sit down interview with Vanguard President Beals were both inspiring and uplifting.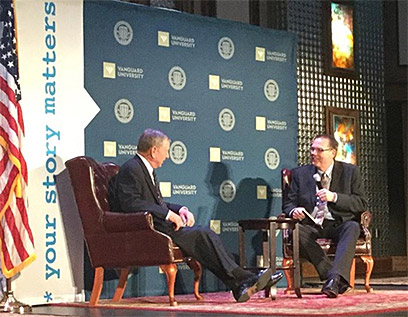 November 11th

American Legion Post 133 of Huntington Beach held their annual 11/11 at 11 a.m. Veterans Day Event at Pier Plaza. It was a beautiful, sunny day - perfect weather to honor those men and women who have served in our Nation's Armed Forces. The Huntington Beach High School marching band added a touch of class by performing our National Anthem as well as the respective Services Hymns, and Taps.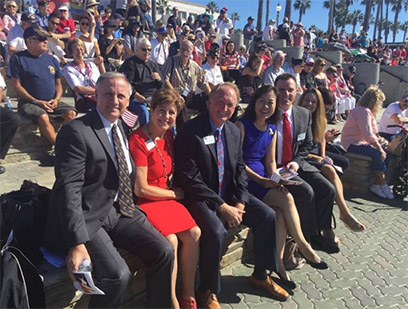 I was honored to be a guest speaker on Veterans Day for the Heroes Hall Veterans Museum Dedication Ceremony.

As a staunch supporter of the honorable men and women who have served, or who are serving our great nation, it has been a privilege to help ensure Heroes Hall becomes reality for Orange County. A profound "Thank you for your service" is not enough. When the museum actually opens in February 2017, it will forever and properly memorialize Orange County Veterans who have answered the Call of Duty.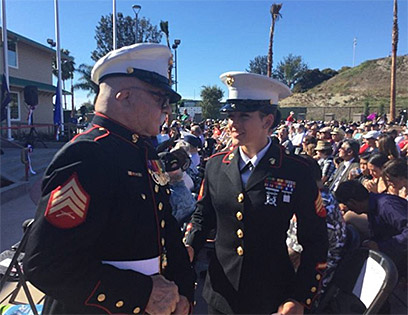 November 17th

South Coast Plaza's 35th Annual Tree Lighting Ceremony at Town Center Park last week was a wonderful event to ring in the Thanksgiving & Christmas season.

A special thank you to the Segerstrom family for continuing with their beloved tradition that highlights the community spirit of the season. As well as the Orange County High School of the Arts for presenting their spectacular production themed with Santa's preparation for his trip to South Coast Plaza.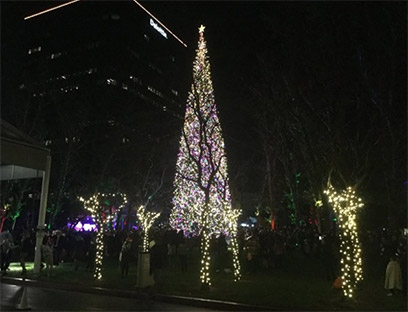 Announcements

Volunteer Income Tax Assistance Program (VITA)

The Volunteer Income Tax Assistance Program (VITA) is a tax preparation assistance program available to those individuals with an annual income of less than $57,000.

The program is currently looking for volunteers until the end of January to help with this tax preparation. If you are interested and wish to learn more or are would like to get involved you can visit their website at:
https://www.unitedwayoc.org/changing-lives/income/
free-tax-preparation/

OC Alert


AlertOC is a mass notification system designed to keep Orange County residents and businesses informed of emergencies and certain community events. By registering with AlertOC, time-sensitive voice messages from the County or City in which you live or work may be sent to your home, cell or business phone. Text messages may also be sent to cell phones, e-mail accounts and hearing impaired receiving devices.

For more information or to learn if your city is a participating member visit http://bos.ocgov.com/alertoc/alertoc.asp

OC Animal Care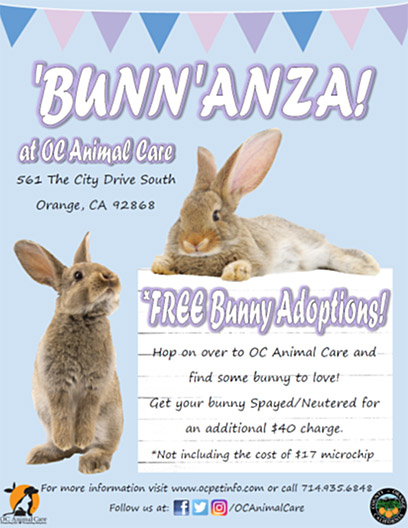 Click on the image above to view a larger version.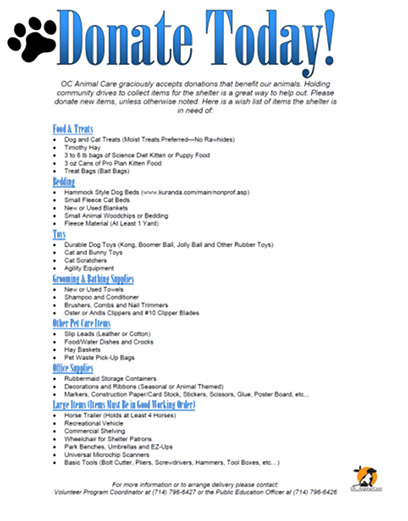 Click on the image above to view a larger version.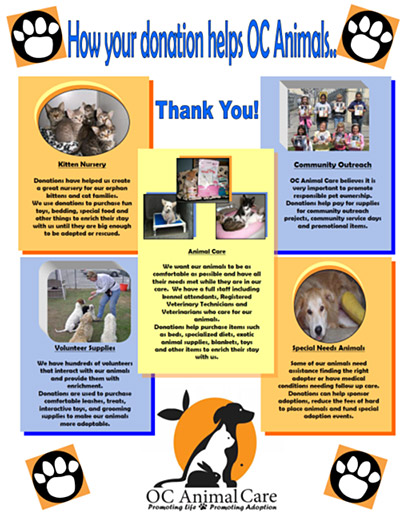 Click on the image above to view a larger version.

OC Waste & Recycling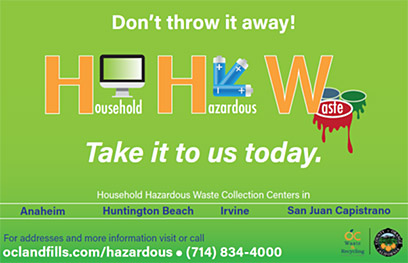 OC Waste & Recycling Wants You to Know About Hazardous Household Waste

Knowing about proper disposal of household hazardous waste is important, both for the potential effects on our environment and the health and safety of your family. Examples of household hazardous materials that we no longer need include everyday products for our homes, yards and autos, such as drain cleaners, oil paint, motor oil, antifreeze, fuel, poisons, pesticides, herbicides and rodenticides and some types of cleaning chemicals. Also, items such as batteries, fluorescent lamps, lamp ballasts, smoke detectors and consumer electronics, including televisions, computers and cell phones are classified as hazardous household waste.

Today there are multiple avenues for proper disposal of household hazardous waste. Through our OC Waste & Recycling department, the County provides four free Household Hazardous Waste Collection Centers. In the Second District, the closest location is in Huntington Beach at 17121 Nichols Street, Gate 6. When you visit, be sure to ask for a free battery bucket! If the County center is not convenient, many retailers now take back such items as paint, batteries, fluorescent tubes, halogen bulbs, cell phones and more.

Whether you use an OC Waste & Recycling facility or a retailer, I encourage you to become knowledgeable about hazardous household waste and do your part to keep it out of the landfills through proper disposal. Please call OC Waste & Recycling at 714-834-4000 for more information or if you have questions.

OC Parks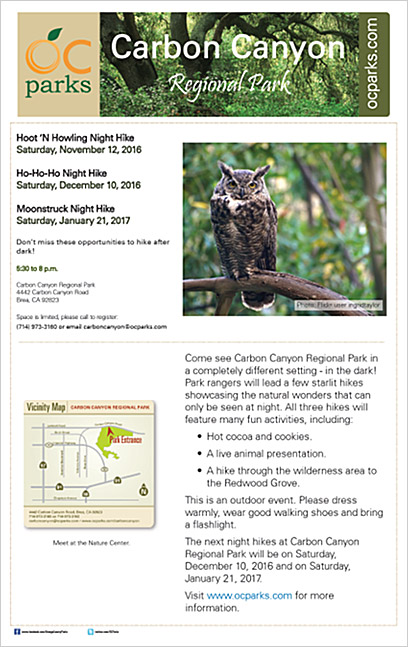 Click on the image above to view a larger version.

OC Social Services Agency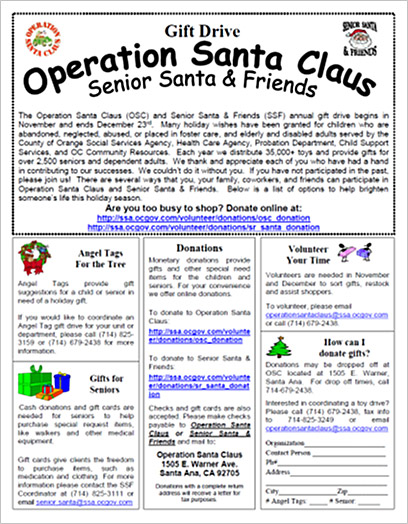 Orange County Public Libraries

Take part in in the many events and activities offered by our Orange County Public Libraries! Besides the multiple story times for different ages, local branches also offer workshops, academic help, and adult activities.

A few upcoming events and workshops for the months of November and December:
Sunday, November 27th

Cypress Public Library: Tech Open House 9:30-10:30am

Monday, November 28th

La Palma Public Library: Coding Cadets 3:00-4:00pm

Mesa Verde Public Library: Teen Advisory Group 5:00-6:00pm

Cypress Public Library: Tech One-on-One 5:30-6:30pm

Wednesday, November 30th

Cypress Public Library: Lapsit Storytime 10:00-10:30am

Stanton Public Library: Homework Help 4:00-6:00pm

Cypress Public Library: Rookie Readers 5:30-6:30pm

Monday, December 5th

Los Alamitos-Rossmoor Public Library: Book Club/Discussion 1:00-3:00pm

Stanton Public Library: Coloring and Coffee 5:00-6:30pm

Seal Beach Mary Wilson Public Library: Digital Drop In 5:00-6:30pm

Wednesday, December 7th

Fountain Valley Public Library: Luce Puppet Show "Wacky Winter Adventure" 10:30-11:30am

Stanton Public Library: Gingerbread House Decorating 3:00-6:00pm

Cypress Public Library: Doggie Storytime 6:00-7:00pm