Clear For Takeoff

Dear Friends,

Traveling during the holidays to see loved ones can be stressful. With thousands of passengers flying all over the world, airports can be a hassle to navigate. Here in the County of Orange, our local John Wayne Airport anticipates a busier-than-normal travel period between December 16, 2016 and January 2, 2017.

Last year, more than 500,000 passengers traveled through JWA during this period. JWA travelers can visit www.ocair.com for real-time flight status, parking availability, and road closures and construction activity near the Airport.

To ensure your travel plans go smoothly, John Wayne Airport has created some tips to help you reach your destination during this busy season.

Travel Tips

All passengers flying out of JWA are encouraged to arrive 90 minutes to two hours before the scheduled departure time for domestic flights and three hours for international flights to find parking, check luggage and go through the security screening checkpoint. Passengers who are members of TSA Pre✓™ can expedite the screening process in Terminals A, B and C.
Passengers are allowed one small carry-on bag plus one personal item as long as the carry-on bag fits airline dimensions. Check with individual airlines for specifics. For helpful information about the 3-1-1 liquids rule for carry-on bags and other travel tips from the Transportation Security Administration (TSA) please visit the TSA website.
"If You See Something, Say Something™" To report a suspicious object or activity in the Riley Terminal, dial "0" from a White Courtesy Phone to reach an operator, or dial 2-5000 to reach Airport Police Services, or you may notify an Airport employee or a uniformed officer. Guests may also dial 949-252-5200 from a mobile device.
For more helpful tips visit:
http://www.ocair.com/newsroom/news/?nr=nr-2016-12-15

Happy Holidays,
Michelle Steel

In the Community

December 1, 2016

I had the pleasure of attending the Huntington Beach Chamber of Commerce Annual Business and Leadership Awards Luncheon--recognizing eleven outstanding individuals and businesses who were selected by the Chamber for going above and beyond in 2016. The Chamber staff did a great job as usual. Congratulations to this year's recipients!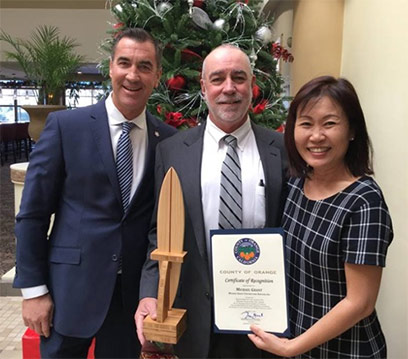 December 2, 2016

The Seal Beach Lions Club Christmas Parade was the largest ever this year. They do such a great job! It was a cold, blustery, and fun night. The sidewalks were jam-packed with families bundled up and having a great time at this annual community get-together.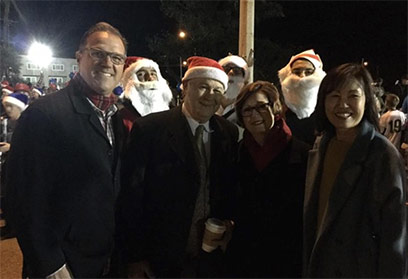 December 6, 2016

I was honored to recognize the distinguished Orange County Council of the Navy League of the United States before the Board of Supervisors on eve of the 75th Anniversary of the Attack on Pearl Harbor - "a date which shall live in infamy." The League's Secretary, Robert Bents, recounted to us what took place that fateful day, and the importance of honoring those whose lives were lost as well as the lucky few who survived rather than focusing on the great work their organization does.

Lest we forget, the attack claimed over 2400 lives and wounded almost 1200 and inflicted great damage to the U.S. Navy's Pacific Fleet, sinking or damaging a number of ships, including the sinking of four battleships. Additionally, over three hundred aircraft were lost or damaged. The attack led to the United States entering World War II.

On October 26th, the League hosted a special luncheon saluting twenty-seven Pearl Harbor Survivors still alive in Southern California. Eleven of them were able to attend in person and ranged in age from 92 to 104!

Both at that luncheon and today the Santa Ana High School NJROTC Unit rendered honors to the Pearl Harbor Survivors, including the solo singing of our National Anthem. They did a fantastic job!

Thank you to the Navy League for all you do for our veterans and thank you to those who attended that morning-- helping us to honor this special 75th anniversary.

December 6, 2016

The Women's Council of REALTORS Coastal - West Orange County held their 2017 Officers Installation & 2016 Awards at Mesa Verde Country Club. It was my pleasure to recognize the outgoing Officers with certificates and welcome the new Officers to the Board.

I had a wonderful and inspirational evening surrounded by such dynamic businesswomen. I wish new President Joyce Endo and her Board every success in the coming year!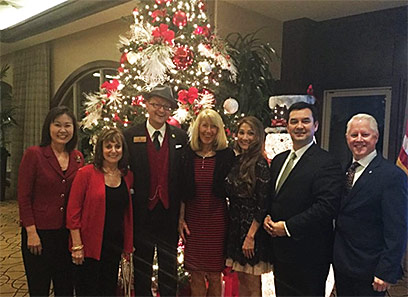 December 8, 2016

Recently, I had the pleasure of administering the oath of office to Frances Nguyen, the newly elected Trustee of the Westminster School District. Frances made a little history by being the first Vietnamese American elected to this local school board.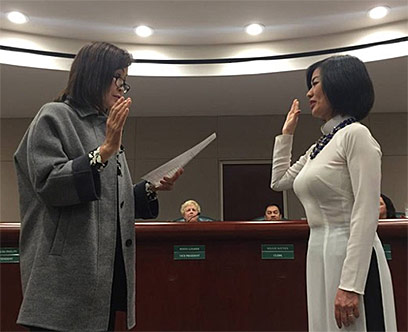 December 14, 2016

Last Week, I spoke at a press conference in Newport Beach along with the Orange County District Attorney's Office, the Newport Beach Police Department, and the Orange County Society for Prevention of Cruelty to Animals (OCSPCA) about the consequences of animal cruelty and the resources available to pet owners who are unable to provide care for their pets.

Specifically, about the case of Henry, an 8-year-old golden retriever who was abandoned in May at an animal hospital. Henry was suffering from a 42-pound malignant tumor. Thankfully NBPD Animal Control staff took custody providing veterinary care and began an investigation into his abandonment.

As a pet owner myself, I consider these animals family members and I encourage others who are struggling to not abandon their animals but to bring them to a shelter or find alternatives to surrendering your pet. We have many resources in the county and for those living in cities who contract with OC Animal Care, we accept animals of all size and condition.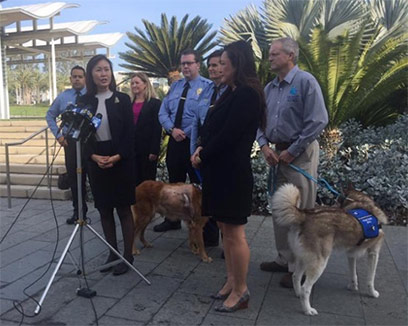 December 18, 2016

CHOC Children's and Orange County Harley-Davidson - Irvine held their 22nd Toy Drive & Ride this past weekend. This event ensures children receive some joy and happiness year round as they visit the hospital for treatment and care.

Hundreds of Orange County "Wild Hogs" joined in the Drive & Ride and it was very touching to see the way they interacted with some of the little patients who came outside to meet with the many Santa's in the crowd.

It was an honor to recognize both CHOC and Orange County Harley-Davidson for all they do for on behalf of children. May God give extra Christmas blessings to all of the riders and volunteers who made today's event another huge success!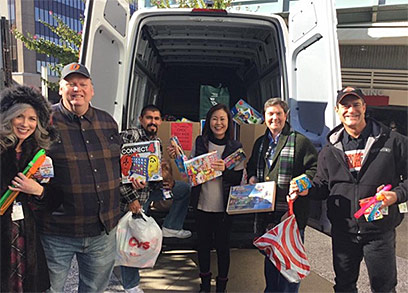 Announcements



Superior Court of California County of Orange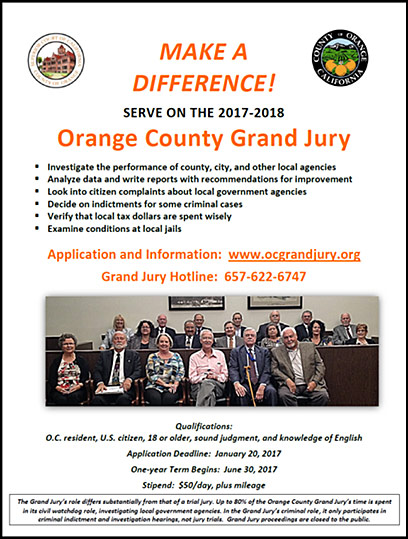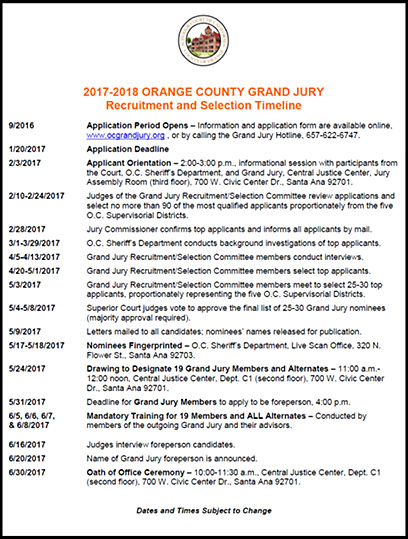 Volunteer Income Tax Assistance Program (VITA)

Is a tax preparation assistance program available to those individuals with an annual income of less than $57,000.

The program is currently looking for volunteers until the end of January to help with this tax preparation. If you are interested and wish to learn more or are would like to get involved you can visit their website at:
https://www.unitedwayoc.org/changing-lives/income/free-tax-preparation/

OC Alert


AlertOC is a mass notification system designed to keep Orange County residents and businesses informed of emergencies and certain community events. By registering with AlertOC, time-sensitive voice messages from the County or City in which you live or work may be sent to your home, cell or business phone. Text messages may also be sent to cell phones, e-mail accounts and hearing impaired receiving devices.

For more information or to learn if your city is a participating member visit http://bos.ocgov.com/alertoc/alertoc.asp

OC Animal Care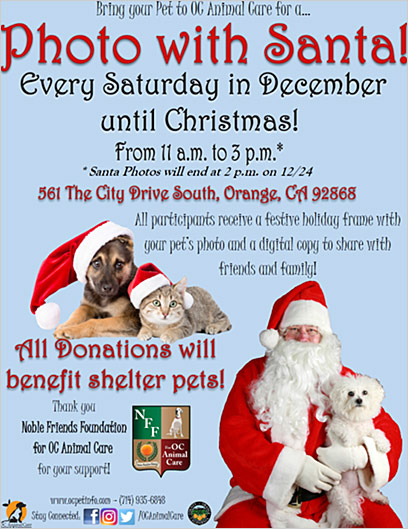 Click on the image above to view a larger version.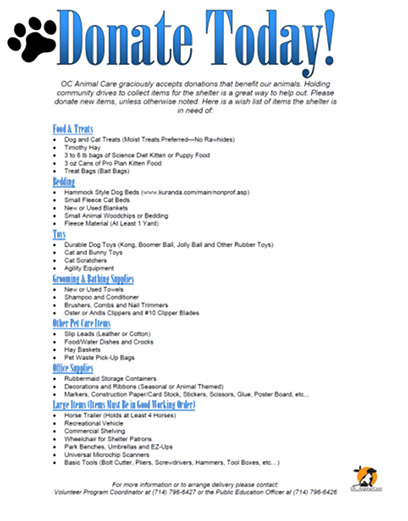 Click on the image above to view a larger version.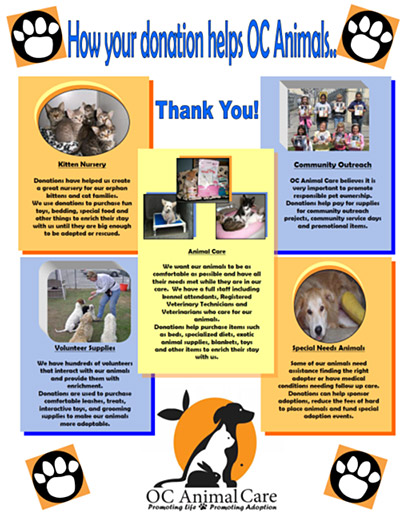 Click on the image above to view a larger version.

OC Waste & Recycling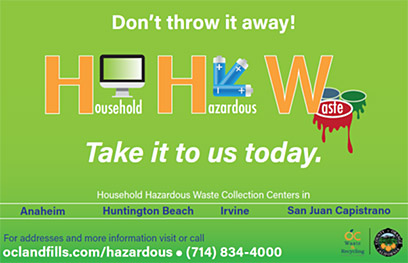 OC Waste & Recycling Wants You to Know About Hazardous Household Waste

Knowing about proper disposal of household hazardous waste is important, both for the potential effects on our environment and the health and safety of your family. Examples of household hazardous materials that we no longer need include everyday products for our homes, yards and autos, such as drain cleaners, oil paint, motor oil, antifreeze, fuel, poisons, pesticides, herbicides and rodenticides and some types of cleaning chemicals. Also, items such as batteries, fluorescent lamps, lamp ballasts, smoke detectors and consumer electronics, including televisions, computers and cell phones are classified as hazardous household waste.

Today there are multiple avenues for proper disposal of household hazardous waste. Through our OC Waste & Recycling department, the County provides four free Household Hazardous Waste Collection Centers. In the Second District, the closest location is in Huntington Beach at 17121 Nichols Street, Gate 6. When you visit, be sure to ask for a free battery bucket! If the County center is not convenient, many retailers now take back such items as paint, batteries, fluorescent tubes, halogen bulbs, cell phones and more.

Whether you use an OC Waste & Recycling facility or a retailer, I encourage you to become knowledgeable about hazardous household waste and do your part to keep it out of the landfills through proper disposal. Please call OC Waste & Recycling at 714-834-4000 for more information or if you have questions.

OC Parks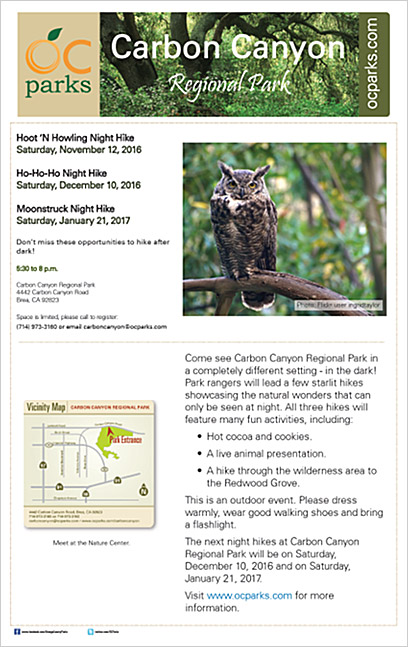 Click on the image above to view a larger version.

OC Social Services Agency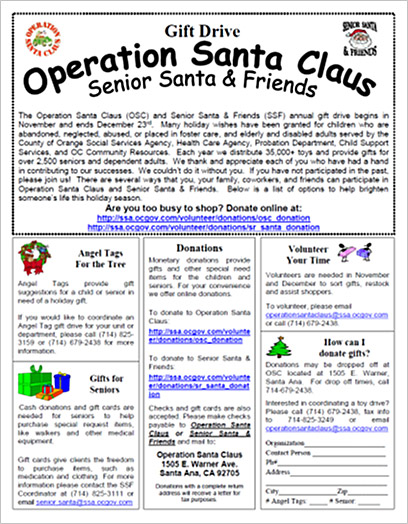 Orange County Public Libraries

Take part in in the many events and activities offered by our Orange County Public Libraries! Besides the multiple story times for different ages, local branches also offer workshops, academic help, and adult activities.

A few upcoming events and workshops for the months of December and January:

**All branches will be closed December 25th & 26th as well as January 1st & 2nd in** observance of the holidays

Thursday, December 22nd

Stanton Public Library: Coloring for Adults 10:00am-12:00pm

Seal Beach Mary Wilson Public Library: Book Club for Adults 10:00-11:00am

Costa Mesa Technology Library: Basic Computer Skills 10:00-11:00am

Los Alamitos-Rossmoor Public Library: Gingerbread Decorating 11:00am-1:00pm

Tuesday, December 27th

Cost Mesa Donald Dungan Public Library: Lego and Duplo Time! 2:00-4:00pm

Fountain Valley Public Library: Let's LEGO! 4:30-6:30pm

Wednesday, December 28th

La Palma Public Library: Teen TAB Meeting 3:00-3:15pm

Thursday, December 29th

Costa Mesa Donald Dungan Public Library: Children's Movie Club 3:30pm

Costa Mesa-Mesa Verde Public Library: New Year's Eve Fun 3:30-4:30pm

Saturday, December 31st

Costa Mesa Donald Dungan: OC Writers Guild Prompt Group 10:30am-12:00pm

Cypress Public Library: Noon Year's Eve Party 11:30am-12:30pm

Tuesday, January 3rd

Seal Beach Mary Wilson Public Library: Stuffed Animal Sleepover (drop-off)

Stanton Public Library: Pajama Family Storytime 6:00-6:45pm




Arie Dana
Chief of Staff

Michelle Cook
Communications Director

Francis Hur
Community Outreach Director

Patrik Kim
Policy Advisor

Natalie Medvedev
Policy Advisor

Tim Whitacre
District Representative

Tiffany Kim
Special Assistant



Stay Connected!