Board of Supervisors

Orange County Hiring Fair Coming In May

Dear Friends,

I am pleased to announce I will be hosting, along with the Hiringfair Foundation, the Orange County Hiring Fair this May. As you know, I am deeply committed to helping create a better quality of life for all residents of Orange County. A large part of this commitment is creating a better opportunity for our highly skilled workforce and educated youth to find positions with some of our great local companies.

While we are currently working together at the county to create a better environment for businesses to flourish, helping our local workforce to make the connection is just as important. As Chairwoman, I will continue to support opportunities, like the Hiring Fair, in an effort to help Orange County reach its great potential to become a prosperous area for business and academics.

If you are interested in participating in this event please contact Francis Hur at Francis.Hur@ocgov.com

Warmest Wishes,
Michelle Steel

In the Community

February 17, 2017

In February I welcomed members the Children and Families Commission, Orange County Department of Education, and non-profits to the second district's "Conditions of Children Forum". The forum discussed the results of the 22nd annual Conditions of Children in Orange County report and focused on the importance of early childhood and community organization engagement. Thank you to all who attended!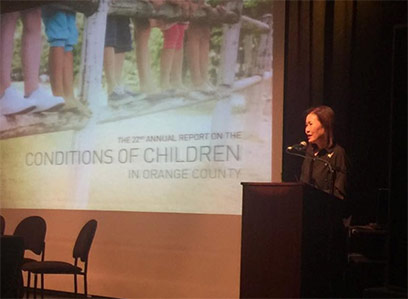 March 11, 2017

I had the pleasure of participating in the Groundbreaking Ceremony of Costa Mesa Fire Station No. 1 earlier this month.

The existing Station is over fifty years old and will be torn down to make room for a new, state-of-the-art facility that will serve the residents of Costa Mesa for another five decades.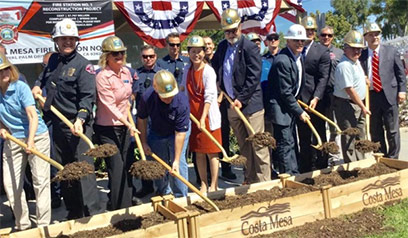 March 16, 2017

The Orange County Public Affairs Association invited me as the keynote speaker for the 2017 State of the County address. I was very happy to be joined by our County CFO,Michelle Aguirre, and John Wayne Airport Assistant Director, Courtney Wiercioch, to provide updates on some of the issues we are currently facing as a county.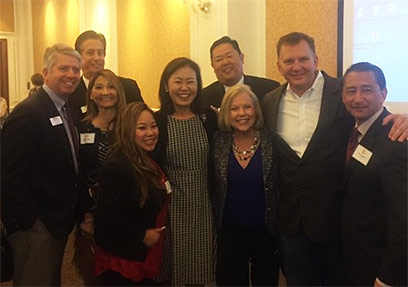 March 16, 2017

On March 16th, Women in Newport Networking (WiNN) invited me to be their guest speaker for their 2nd annual Community Service Seminar. It was a pleasure sharing my own story on how I became involved in politics and hopefully inspired other women to do the same.

I also had the honor of recognizing Dorthy "Dotty" McDonald, who at 88 years young is setting the standard for community service in Newport Beach.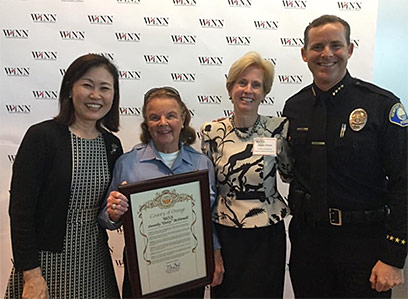 March 17, 2017

Recently, I co-sponsored a Senior Scam Stopper Seminar at Leisure World in Seal Beach with the Contractors State License Board. The residents received some great information and were very engaged in the Q & A.

Thank you to Behavioral Health, Public Health, Senior Social Services, and the Office on Aging who were present to provide one-on-one assistance to the residents. As well as Representatives from the Council on Aging and CalOptima.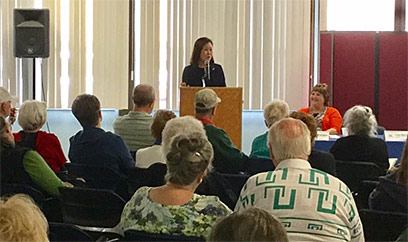 March 23, 2017

The Orange County Sheriff's Department held their 29th Annual Medal of Valor Luncheon on March 23rd at the Anaheim Hilton.

The main ballroom was packed to witness the honoring of forty-five Deputies and Department Personnel who were awarded one (or more) of seven medal categories. It was a pleasure to recognize those men and women with certificates of recognition from the entire Board of Supervisors.


Announcements

The Hiring Fair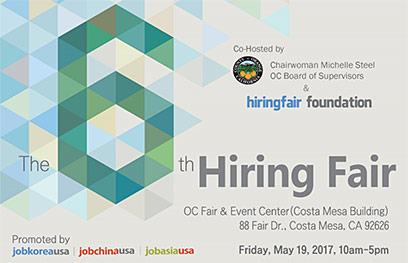 OC Alert


AlertOC is a mass notification system designed to keep Orange County residents and businesses informed of emergencies and certain community events. By registering with AlertOC, time-sensitive voice messages from the County or City in which you live or work may be sent to your home, cell or business phone. Text messages may also be sent to cell phones, e-mail accounts and hearing impaired receiving devices.

For more information or to learn if your city is a participating member visit http://bos.ocgov.com/alertoc/alertoc.asp

OC Animal Care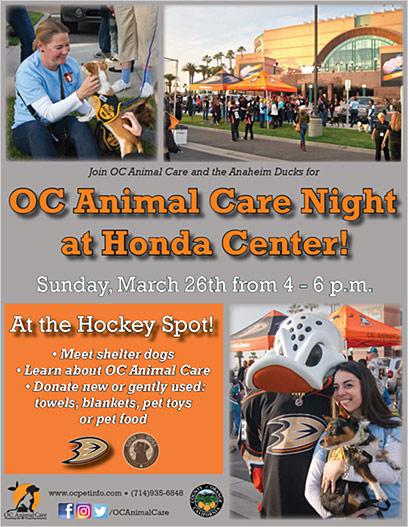 Click on the image above to view a larger version.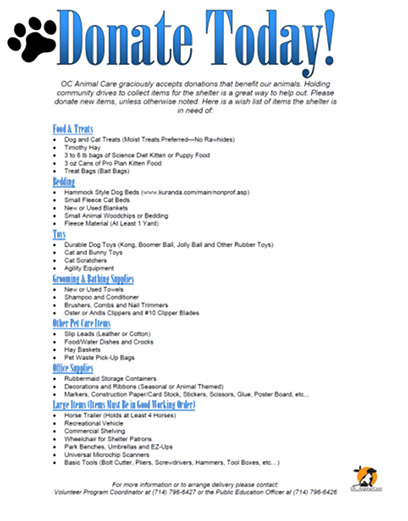 Click on the image above to view a larger version.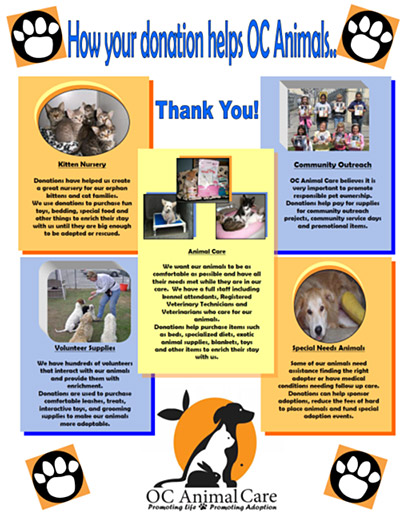 Click on the image above to view a larger version.

OC Waste & Recycling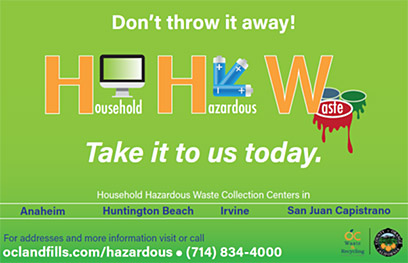 OC Waste & Recycling Wants You to Know About Hazardous Household Waste

Knowing about proper disposal of household hazardous waste is important, both for the potential effects on our environment and the health and safety of your family. Examples of household hazardous materials that we no longer need include everyday products for our homes, yards and autos, such as drain cleaners, oil paint, motor oil, antifreeze, fuel, poisons, pesticides, herbicides and rodenticides and some types of cleaning chemicals. Also, items such as batteries, fluorescent lamps, lamp ballasts, smoke detectors and consumer electronics, including televisions, computers and cell phones are classified as hazardous household waste.

Today there are multiple avenues for proper disposal of household hazardous waste. Through our OC Waste & Recycling department, the County provides four free Household Hazardous Waste Collection Centers. In the Second District, the closest location is in Huntington Beach at 17121 Nichols Street, Gate 6. When you visit, be sure to ask for a free battery bucket! If the County center is not convenient, many retailers now take back such items as paint, batteries, fluorescent tubes, halogen bulbs, cell phones and more.

Whether you use an OC Waste & Recycling facility or a retailer, I encourage you to become knowledgeable about hazardous household waste and do your part to keep it out of the landfills through proper disposal. Please call OC Waste & Recycling at 714-834-4000 for more information or if you have questions.

OC Parks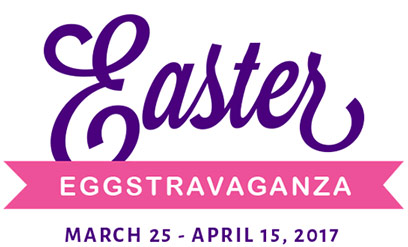 OPEN 7 DAYS A WEEK (weather permitting)
Weekdays 10:00 am – 4:00 pm
Weekends 10:00 am – 6:00 pm

ENTRANCE TO THE EASTER EGGSTRAVAGANZA IS FREE
Activity tickets are $5.00 each
Book of 15 tickets are $60.00 each ($15.00 savings)

IRVINE REGIONAL PARK ENTRANCE FEE
Weekdays $3.00 per vehicle
Weekends $5.00 per vehicle
Holidays $7.00 per vehicle
Please see Event Parking for details

IMPORTANT NOTE: Easter egg hunts may sell out; plan to arrive early and exchange your ticket for a wristband for a specific time.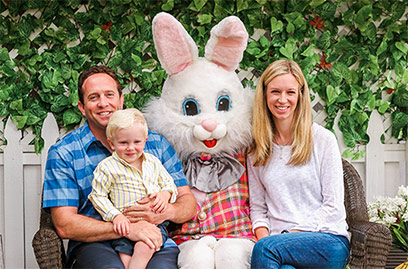 MEET THE EASTER BUNNY
$10.00 per visit

Weekday 10:00 am – 2:00 pm
Weekend 10:00 am – 4:00 pm

For the cost of $10.00, children can meet and have their photo taken with the Easter Bunny. This includes one complimentary Irvine Park Railroad photo. Each additional print of the same photo is $6.00. Photos will be printed in a few, short minutes.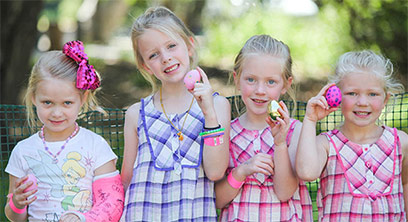 Easter Egg Hunt
2 Tickets per child

Weekday Times
2 – 4 years: 10:00, 11:00, 12:00, 1:00, 2:00 and 3:00
2 – 7 years: 10:30, 12:30 and 2:30
2 – 12 years: 11:30, 1:30 and 3:30

Weekend Times
2 – 4 years: 10:00, 11:00, 12:00, 1:00, 2:00, 3:00, 4:00 and 5:00
2 – 7 years: 10:30, 12:30, 2:30 and 4:30
2 – 12 years: 11:30, 1:30, 3:30 and 5:30

This exciting egg hunt will include eggs filled with a variety of treats or prizes. Each egg hunt is limited to a certain number of children. Children may bring their own basket or purchase one from Irvine Park Railroad.

Important Note: Easter egg hunts may sell out… plan to arrive early to exchange your ticket for a wristband to a specific hunt.


Extended Park Hours:

Daylight saving time brings longer spring-summer operating hours to Regional and Wilderness parks.

The clocks spring forward early March 12, marking the beginning of daylight saving time and OC Parks' spring-summer operating schedule. Most regional parks close at 9 p.m. for the spring and summer, and wilderness parks close at sunset.

Spring-summer hours for the following regional parks are 7 a.m. to 9 p.m.:

Carbon Canyon Regional Park
Clark Regional Park
Craig Regional Park
Laguna Niguel Regional Park
Mason Regional Park
Mile Square Regional Park
Tri-City Regional Park
Yorba Regional Park
Irvine Regional Park (opens at 6 a.m.)
Wilderness parks and the following regional parks are open at 7 a.m. and close at sunset year round:

O'Neill Regional Park
Peters Canyon Regional Park
Santiago Oaks Regional Park
Aliso and Wood Canyons Wilderness Park
Caspers Wilderness Park
Laguna Coast Wilderness Park
Riley Wilderness Park
Talbert Regional Park
Whiting Ranch Wilderness Park
Wieder Regional Park
Upper Newport Bay Nature Preserve
Hours for OC Parks' beaches vary, but are generally between 6 a.m. and 10 p.m. Salt Creek Beach opens at 5 a.m. and will close at 12 a.m. Thousand Steps Beach opens at 6 a.m. and will close at 9 p.m.

OC Parks facilities will remain on these operating hours until daylight saving time ends and will return to fall-winter hours Nov. 5, 2017.

Orange County Public Libraries

Take part in in the many events and activities offered by our Orange County Public Libraries! Besides the multiple story times for different ages, local branches also offer workshops, academic help, and adult activities.

A few upcoming events and workshops for the months of March and April:

Monday, March 27th
Costa Mesa Technology: Spring Reading Program
Seal Beach- Seal Beach Mary Wilson Public Library: Live Auction 10:00-10:15am
Los Alamitos-Rossmoor Public Library: Kids Yoga 5:00- 6:00pm

Wednesday, March 29th
Cypress Public Library: Baby Lapsit Storytime 10:00-10:30pm
Fountain Valley Public Library: Puppet Show by Franklin Haynes 10:30-12:00pm
La Palma Public Library: Family Movie 3:00-5:00pm

Sunday, April 2nd
Cypress Public Library: Tech Open House 9:30- 10:30am
Costa Mesa- Donald Dungan Public Library: Writers Guild Prompt Group 10:30-12:00pm
Cypress Public Library: Tabletop Games Day 2:00-4:00pm

Tuesday, April 4th
Seal Beach- Seal Beach Mary Wilson Public Library: Game Day for Adults 2:00-4:00pm
Costa Mesa- Donald Dungan Public Library: Lego & Duplo Time 2:00- 4:00pm
La Palma Public Library: Scratch Workshop 3:00-4:00pm

Thursday, April 6th
Costa Mesa- Mesa Verde Library Public Library: Toddler Playdate at the Library 11:15- 12:00pm
Fountain Valley Public Library: Adult Papercrafts Workshop 1:00-4:00pm
Stanton Public Library: K-2 Crazy 8s Math Club 4:00-5:00pm



Op-ed Published in the Orange County Register
Bring Upward Mobility Back to Orange County
When most people think of Orange County they think of beautiful beaches, luxury homes, and Disneyland. For those of us living here the image of the county is less ideal. While we still enjoy a nearly perfect climate and location, we are also facing a rapidly aging population and an ever increasing cost of living.

Not to say that Orange County hasn't been successful. In fact, our employment rate as of April 2016 was 3.9 percent — below both the state and national rates of 5.8 percent and 4.8 percent, respectively. We continue to have strong job growth in the areas of construction, arts, entertainment and recreation. And our education and health services have grown considerably over the last five years.

These industries, along with our steady hold on tech manufacturing, have allowed Orange County to maintain an economy that on the outside appears to be doing better than most. Let's face it, Orange County should be among the first locations on the list for a business headquarters. So why isn't it?

Since the recession hit in 2007, Orange County has been hemorrhaging high-paying information jobs; nearly 20 percent in fact. In place of these high-paying jobs, the county has increased the number of lower-wage jobs in our hospitality, tourism and services. While these jobs are an important part of our economy, they are jobs not careers and one in which there is no room for upward mobility. This is a dangerous trend that is forcing our economy to become dependent on these sectors with low growth potential causing the county to be too pricey to maintain a decent quality of life.

However, while many of the tech businesses may have been conceptualized in Orange County and we might be home to CEOs and business leaders, we seem to have a hard time making O.C. home to their headquarters. It is my hope that we can find a way to correct that disconnect.

A higher cost of living is not as troublesome if the economy supports a growing job market with business sectors that allow for mobility. Silicon Valley is a prime example of a similar economy that experiences a high cost of living. However, they are able to compensate for this by attracting jobs that allow their residents to earn greater salaries. An area in which Orange County is currently falling short.

A side effect of this high-wage job loss and lagging job growth is that our well-trained, well-educated work force is leaving. Our youth is fleeing California in favor of states like Texas that have a lower cost of living and growing job market.

As a result we have a quickly aging county in which most individuals in the labor force cannot afford to live. In order to improve our quality of life here, we must start attracting existing businesses who compete with other growing markets for high-wage jobs. Attracting these businesses will not only help to counteract our high cost of living, but also encourage young Orange County residents to build their families here.

There are many reasons, including government regulations and oppressive state polices that lead to stifled growth; special interest groups have also added fuel to the fire. In favor of temporary gains, these groups have favored short-sighted government tax credit schemes that distort our economy instead of advocating long-term solutions. We can see from our current situation that these opportunist solutions are about as effective as a Band-Aid on a gunshot wound.

As the new chairwoman for the Board of Supervisors I am committed to addressing this issue. In the past two years that I have sat on the Board of Supervisors we have worked diligently to create a better quality of life for all of us here in the county. I have already begun working within the county and with our local leaders to help Orange County reach its full potential.

We are all blessed to be living and working in such an ideal climate. It is my hope that we can also become home to leaders in both business and academics. At the county level we will continue to look for opportunities in which the government can incorporate such changes within our discretion and help others to do the same. I look forward to getting to work creating a program that highlights our unique strengths here and bring together the private sector with our county's skilled workforce to improve the lives for all residents.


Arie Dana
Chief of Staff

Michelle Cook
Communications Director

Francis Hur
Community Outreach Director

Patrik Kim
Policy Advisor

Natalie Medvedev
Policy Advisor

Tim Whitacre
District Representative

Tiffany Kim
Special Assistant



Stay Connected!