Board of Supervisors

Welcome to 2nd District Updates!

Dear Friends,

I am pleased to announce I will be co-hosting the Orange County Hiring Fair next month, May 19th. As you know, I am deeply committed to helping create a better quality of life for all residents of Orange County. A large part of this commitment is creating a better opportunity for our highly skilled workforce and educated youth to find positions with some of our great local companies.

While we are currently working together at the county to create a better environment for businesses to flourish, helping our local workforce to make the connection is just as important. As Chairwoman, I will continue to support opportunities, like the Hiring Fair, in an effort to help Orange County reach its great potential to become a prosperous area for business and academics.

If you are interested in participating in this event please contact Francis Hur at Francis.Hur@ocgov.com

Warmest Wishes,
Michelle Steel

In the Community

March 29, 2017

Last month, the Newport Beach Police Department held their 46th Annual Police Appreciation Breakfast. I was happy to show my support by honoring eighteen exceptional officers and non-sworn personnel with certificates of recognition.

The ballroom at the Hyatt was jam-packed, Newport Beach Chamber of Commerce did a fantastic job hosting the event.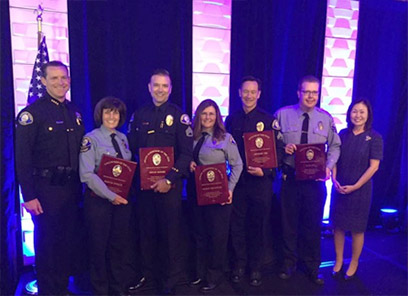 April 5, 2017

Earlier this month I presented a resolution on behalf of the Board of Supervisors proclaiming April as Child Abuse Prevention Month.

It was a pleasure to be among a group of people whose key focus is to ensure the safety of Orange County's children. Thank you to The Raise Foundation, Orange County's Child Abuse Prevention Council, and its Blue Ribbon Task Force that planned the event.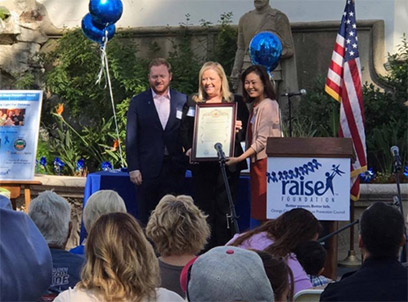 April 11, 2017

I had the honor of recognizing the 102nd anniversary of the Armenian Genocide that took the lives of one and a half million Armenians.

My fellow Supervisors and I were joined by representatives of the Orange County Armenian community in remembrance of the many Armenians that lost their lives and had their historic homeland and property stolen from them.

This will be the second year that the County of Orange will officially recognize the Armenian Genocide and commemorate April 24th as Armenian Genocide Remembrance Day.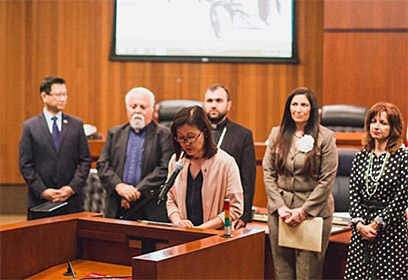 April 22, 2017

It was a great night with good friends and great company at our table this past Saturday night at the annual Indigo Ball supporting our local OC LGBT Center.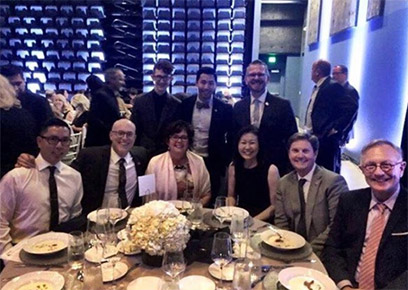 April 25, 2017

Next week, April 30th, will mark the 42nd Anniversary of the Fall of Saigon-- a very difficult day for many of our residents here in Orange County.

The Vietnamese community plays a great role here in Orange County and there are countless individuals who have contributed to this success through their personal accomplishments and charitable contributions. I was honored to recognize six individuals who have excelled in their chosen professions and have showed exemplary dedication to our county.

Thank you Linh Kochan, Chief Timothy Vu, Dr. Chuck Le, Dr. Duke Nguyen, Dr. Luna Nguyen, and Dr. Thai-Van Nguyen for your outstanding leadership and contributions to our community.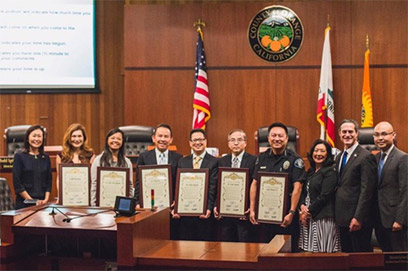 Announcements

The Hiring Fair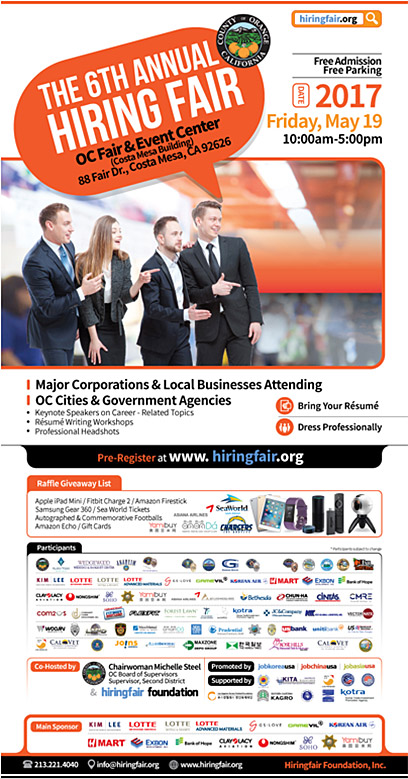 U.S. Service Academy Night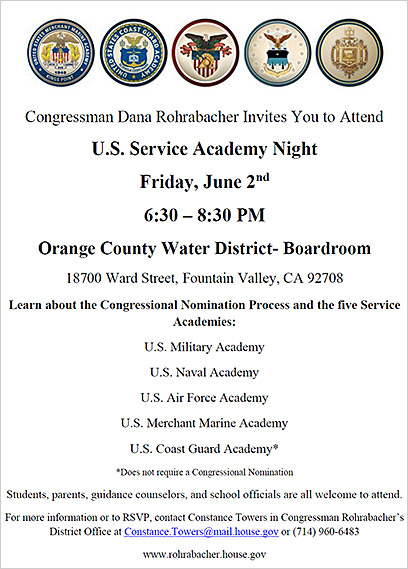 Orange County Transportation Authority


What's your vision of transit in your city and throughout Orange County? Do you want trains, buses, shuttles, or something different? The Orange County Transportation Authority is asking for your help in shaping the future of transit. You can design your own transit system with the fun and interactive Build Your Own System survey that allows you to select from various transit features that could enhance transit in Orange County. These features include stops, stations, vehicle types, and service. As you develop your transit system, you can see the benefits – such as enhanced ridership, travel time, accessibility, or passenger experience – change in real-time. Check it out at https://octransitvision.com/. For more information, visit www.octa.net/octransitvision.

OC Alert


AlertOC is a mass notification system designed to keep Orange County residents and businesses informed of emergencies and certain community events. By registering with AlertOC, time-sensitive voice messages from the County or City in which you live or work may be sent to your home, cell or business phone. Text messages may also be sent to cell phones, e-mail accounts and hearing impaired receiving devices.

For more information or to learn if your city is a participating member visit http://bos.ocgov.com/alertoc/alertoc.asp

OC Animal Care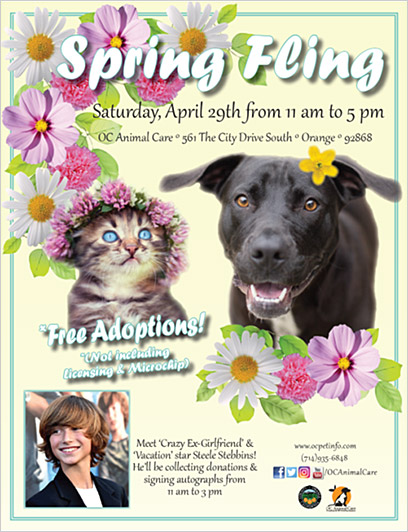 Click on the image above to view a larger version.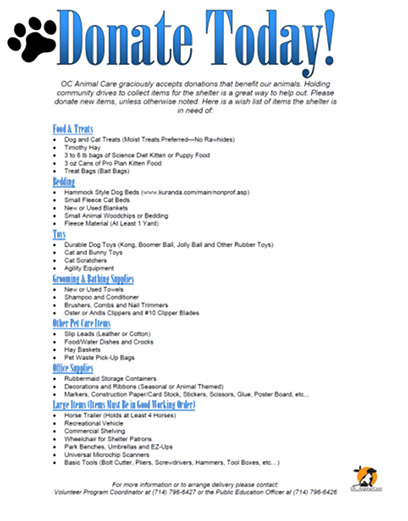 Click on the image above to view a larger version.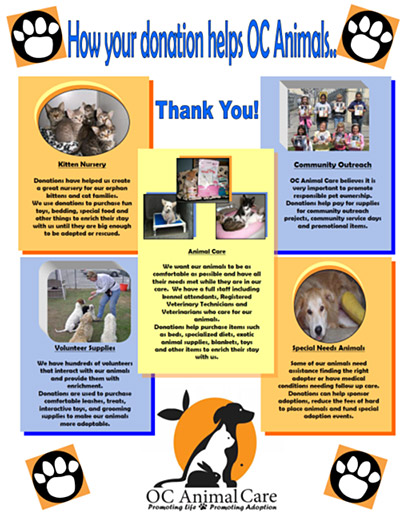 Click on the image above to view a larger version.

OC Waste & Recycling

THE 2017 ECO CHALLENGE POSTER CONTEST IS ON!

For the fifth consecutive year, OC Waste & Recycling invites young artists to show their talent and their commitment to a greener planet. Youths aged eight to 14 may compete to win the Angels Baseball Bat Kid experience by creating a poster that shows how they personally "Take the Eco Challenge." The deadline for submitting posters is Friday, June 30, 2017.

The 2017 contest theme is organics. Contest entrants are encouraged to use their creativity to show how they would keep organic materials out of the landfills. The poster should show what could be done at school, at home or it the community to recycle green waste and/or food waste. The artwork must be original and may not be computer generated.

One winner in each Orange County Supervisorial District will be selected be an Honorary Bat Kid for one regular-season Angels home game in August or September. Each of the five winners also will receive four tickets to a predetermined Angels home game, complimentary parking, one Bat Kid uniform, one official baseball, one on-field credential for dugout access, and one professional field photo.

OC Waste & Recycling and its partners, Discovery Cube and Angels Baseball are pleased to offer the opportunity for young artists to engage in learning about environmental stewardship and demonstrate their knowledge through their artistic creativity.

For more information and contest rules visit 2017 Bat Kid Poster Contest.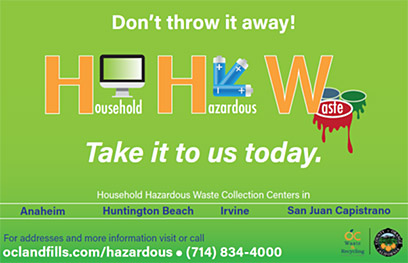 OC Waste & Recycling Wants You to Know About Hazardous Household Waste

Knowing about proper disposal of household hazardous waste is important, both for the potential effects on our environment and the health and safety of your family. Examples of household hazardous materials that we no longer need include everyday products for our homes, yards and autos, such as drain cleaners, oil paint, motor oil, antifreeze, fuel, poisons, pesticides, herbicides and rodenticides and some types of cleaning chemicals. Also, items such as batteries, fluorescent lamps, lamp ballasts, smoke detectors and consumer electronics, including televisions, computers and cell phones are classified as hazardous household waste.

Today there are multiple avenues for proper disposal of household hazardous waste. Through our OC Waste & Recycling department, the County provides four free Household Hazardous Waste Collection Centers. In the Second District, the closest location is in Huntington Beach at 17121 Nichols Street, Gate 6. When you visit, be sure to ask for a free battery bucket! If the County center is not convenient, many retailers now take back such items as paint, batteries, fluorescent tubes, halogen bulbs, cell phones and more.

Whether you use an OC Waste & Recycling facility or a retailer, I encourage you to become knowledgeable about hazardous household waste and do your part to keep it out of the landfills through proper disposal. Please call OC Waste & Recycling at 714-834-4000 for more information or if you have questions.

OC Parks

Extended Park Hours:
Daylight saving time brings longer spring-summer operating hours to Regional and Wilderness parks.

The clocks spring forward early March 12, marking the beginning of daylight saving time and OC Parks' spring-summer operating schedule. Most regional parks close at 9 p.m. for the spring and summer, and wilderness parks close at sunset.

Spring-summer hours for the following regional parks are 7 a.m. to 9 p.m.:

Carbon Canyon Regional Park
Clark Regional Park
Craig Regional Park
Laguna Niguel Regional Park
Mason Regional Park
Mile Square Regional Park
Tri-City Regional Park
Yorba Regional Park
Irvine Regional Park (opens at 6 a.m.)
Wilderness parks and the following regional parks are open at 7 a.m. and close at sunset year round:

O'Neill Regional Park
Peters Canyon Regional Park
Santiago Oaks Regional Park
Aliso and Wood Canyons Wilderness Park
Caspers Wilderness Park
Laguna Coast Wilderness Park
Riley Wilderness Park
Talbert Regional Park
Whiting Ranch Wilderness Park
Wieder Regional Park
Upper Newport Bay Nature Preserve
Hours for OC Parks' beaches vary, but are generally between 6 a.m. and 10 p.m. Salt Creek Beach opens at 5 a.m. and will close at 12 a.m. Thousand Steps Beach opens at 6 a.m. and will close at 9 p.m.

OC Parks facilities will remain on these operating hours until daylight saving time ends and will return to fall-winter hours Nov. 5, 2017.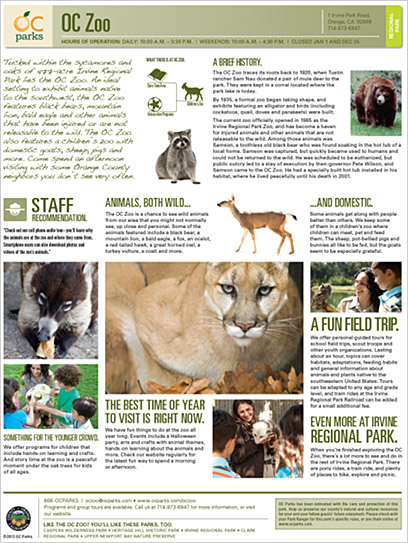 Click on the image above to view a larger version.

Orange County Public Libraries

Take part in in the many events and activities offered by our Orange County Public Libraries! Besides the multiple story times for different ages, local branches also offer workshops, academic help, and adult activities.

A few upcoming events for the month of May: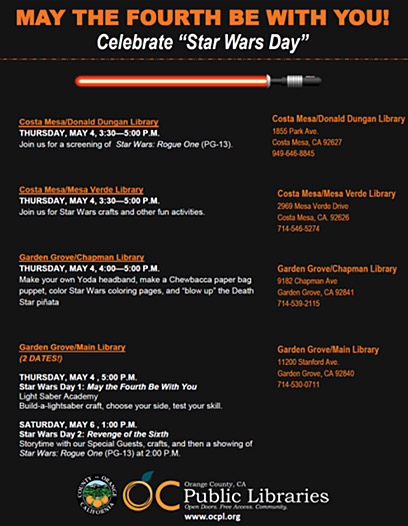 Click on the image above to view a larger version.

Magical World of Butterflies
CYPRESS LIBRARY

Tuesday, May 9, 2017 - 10 a.m.
Butterfly Release: We will release the butterflies from our butterfly habitat.

Saturday, May 13, 2017 - 10:30 a.m.

Family Storytime: For Families of All Ages! Join us monthly for a unique storytime that will include a variety of stories, music, crafts and more! Followed by very special, bilingual Spanish "mariposa" stories.

EL TORO LIBRARY

Stop by the El Toro Library and see the now-cocooned caterpillars in the butterfly habitat. Pick up a butterfly coloring sheet to hang in our library.

GARDEN GROVE/MAIN LIBRARY

Tuesday, May 9, 2017 - 11a.m.

Butterfly Storytime and Party: Join us for a special Butterfly Storytime for all ages. Stories, songs and rhymes followed by butterfly crafts and activities. We will release the butterflies from our butterfly habitat. The butterfly habitat is available for viewing from April 18th – May 9th at the Children's Desk.

IRVINE/KATIE WHEELER LIBRARY

Wednesday, April 19, 2017 - 4 p.m.
Nature Journal: Create a journal with paper, ribbon and other found objects. Observe butterfly aquarium garden. The butterflies will be released in the first week of May.

Wednesday, April 26, 2017 - 4 p.m.

Craft: Create tissue paper and origami butterflies. Check in on the butterfly aquarium garden.

Wednesday, May 3, 2017 - 4 p.m.

Plant Milkweed & Craft: Plant milkweed to attract butterflies to your home and make a butterfly ground marker. Check to see if there are butterflies in the butterfly aquarium garden.





Programs are intended for children who can work independently. Suggested ages are 6 and up.

Registration required. Please call 714-669-8753 or register in person at the Children's Information Desk. All materials will be provided by the library.

LA HABRA LIBRARY

The caterpillars are in the chrysalis stage inside the butterfly habitat as of April 23.
We expect them to emerge in the next 7 days or so and hope to release them on Monday afternoon, May 1.

LA PALMA LIBRARY

April 18, 2017 - 3 p.m.

Paper Caterpillar Craft and Claim a Caterpillar Activity: Kids put caterpillars in individual cups and name them

April 24, 2017 - 10 a.m.

Bugs & Caterpillars Storytime for Preschoolers

May 4, 2017 - 3:30 p.m.

Craft: Tissue paper flowers craft for kids of all ages.

May 9, 2017 - 10:30 a.m.

Release Day: Butterfly release viewing party with snacks for children and families.

LADERA RANCH LIBRARY

May 9, 2017 - 3:15 pm

Big Butterfly Bash: Celebrate as we release out butterflies. Take home a milkweed plant, a favorite of butterflies, courtesy of the Friends of the Ladera Ranch Library. Capture the enchantment of the mariposa by creating a glitter globe. Enjoy refreshments and the release of the winged miracles. Please RSVP.

SEAL BEACH/MARY WILSON LIBRARY

April 12 to May 9, 2017

Magical World of Butterflies Display
Visit the library to see the caterpillar/butterfly lifecycle in action. Decorate a paper butterfly to add to our display.

Monday, May 8, 2017 - 10:30 a.m. and 11:15 a.m.

Magical World of Butterflies Storytimes
Join us for special butterfly themed storytimes at 10:30am and again at 11:15am. Between storytimes, at 11am, we will take a short walk outside to release the butterflies.

Tuesday, May 9, 2017 - 10:30 a.m. and 11:15 a.m.

Magical World of Butterflies Storytimes
Join us for special butterfly themed storytimes at 10:30 a.m. and again at 11:15 a.m. Between storytimes, at 11:00 a.m., we will take a short walk outside to release the butterflies.

WESTMINSTER LIBRARY

Magical World of Butterflies: Westminster Library will be hosting 30 little caterpillars so they can grow into beautiful butterflies and we can release them back into the wild.

Start Date: April 18, 2017 - 3p.m.

End Date: May 9, 2017 - 4 p.m.


Arie Dana
Chief of Staff

Michelle Cook
Communications Director

Francis Hur
Community Outreach Director

Patrik Kim
Policy Advisor

Natalie Medvedev
Policy Advisor

Tim Whitacre
District Representative

Tiffany Kim
Special Assistant



Stay Connected!