Board of Supervisors

Welcome to 2nd District Updates!

Dear Friends,

On Friday, May 19th, 2017, I hosted Orange County's first Annual Hiring Fair at the Orange County Fairgrounds. The Hiring Fair focused on providing job opportunities to our highly skilled workforce and educated youth to find positions with some of our great local companies in Southern California.

Nearly 150 companies from different industries around the county were present and an estimated 4,000 individuals participated. It was a great success and I hope all those who attended were able to make lasting connections. As Chairwoman, I am deeply committed to helping create a better quality of life for all residents of Orange County and will continue to support opportunities to help the county reach its great potential to become a prosperous area for business and academics.

Thank you to all of those who lent their support for this great event!

Warmest Wishes,
Michelle Steel

In The Community

June 10, 2017
I recently attended Bolsa Chica Conservancy's 6th Annual Barefoot Ball held at Alicia Whitney's SeaLegs at the Beach.

The silent auction, live band, dinner, and live auction were all very festive. The Who's who of community leaders and elected officials from surrounding cities were on hand to help make this a successful fundraising event for the Conservancy. I recognized the 2017 Conservator of the Year as well as the major sponsors for their generosity and support.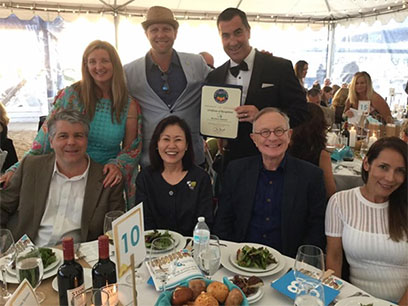 June 10, 2017

The Annual Newport Beach Wooden Boat Festival took place this past weekend at the Balboa Yacht Club. I was pleased to announce to the crowd that I had The Board of Supervisors had, at my request, voted unanimously to officially proclaim the second weekend in June as Newport Beach Wooden Boat Festival.

It was a pleasure to re-present the proclamation I issued at our June 6th Board Meeting to Commodore Tom Mooers and Chairman David LaMontagne.

The rich history of the craftsmanship and care it takes to build and maintain a beautiful wooden vessel was on full display. This annual event is open to the public.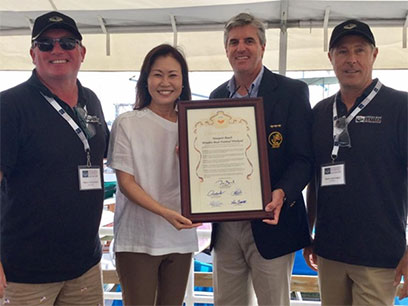 June 7, 2017

I joined Orange County Treasurer Shari Freidenrich in welcoming County Treasurers from all over the state for their annual California Association of County Treasurers and Tax Collectors (CACTTC) conference in Anaheim earlier this month.

The CACTTC promotes the general interests of the active members and the respective counties they represent; to strive for high professional standards and, through the exchange of information and ideas, stimulate a friendly and cooperative spirit among the membership. It is comprised of 58 counties throughout California.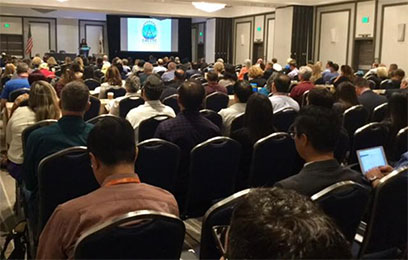 June 6, 2017

I was honored to recognize our local hero, John Wayne. One of Orange County's own, John Wayne was not just a world-renowned movie star, but a genuine American who showed courage, endurance and spirit — true grit. Such a great icon for us here that our local airport was named after Wayne.

Not only was John Wayne a philanthropist during his life, especially concerning our troops, but even years after he has passed he continues to make a lasting impact. Prior to dying from stomach cancer, Wayne had already beaten lung cancer 15 years prior. His own battle gave him a new passion for helping others who were fighting this terrible disease.

For his contribution to healthcare, The Wayne Foundation has made a great impact in the field of cancer studies. The foundation helped to create The John Wayne Cancer Institute at Saint John's Health Center in Santa

In honor of his legacy, I recently submitted an agenda item, which the board unanimously passed, to forever recognize May 26th as John Wayne Day in the County of Orange.

Thank you to John Wayne's son, Ethan Wayne, who was there to accept the resolution on his father's behalf.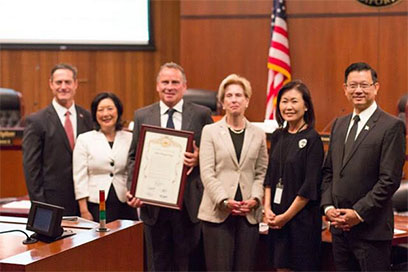 June 4, 2017

I was happy to have participated in the 24th Annual Balboa Island Parade which was held the first weekend of June. The weather was perfect for this year's event and you can tell by the crowd it's a local favorite.

A BIG "Thank you, and job well-done" to the volunteers on the parade committee for Keeping America Great in Newport Beach!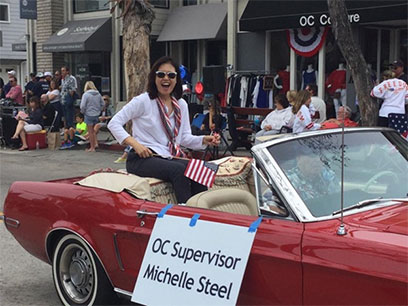 Announcements

Orange County Transportation Authority


What's your vision of transit in your city and throughout Orange County? Do you want trains, buses, shuttles, or something different? The Orange County Transportation Authority is asking for your help in shaping the future of transit. You can design your own transit system with the fun and interactive Build Your Own System survey that allows you to select from various transit features that could enhance transit in Orange County. These features include stops, stations, vehicle types, and service. As you develop your transit system, you can see the benefits – such as enhanced ridership, travel time, accessibility, or passenger experience – change in real-time. Check it out at https://octransitvision.com/. For more information, visit www.octa.net/octransitvision.

OC Alert


AlertOC is a mass notification system designed to keep Orange County residents and businesses informed of emergencies and certain community events. By registering with AlertOC, time-sensitive voice messages from the County or City in which you live or work may be sent to your home, cell or business phone. Text messages may also be sent to cell phones, e-mail accounts and hearing impaired receiving devices.

For more information or to learn if your city is a participating member visit http://bos.ocgov.com/alertoc/alertoc.asp

OC Animal Care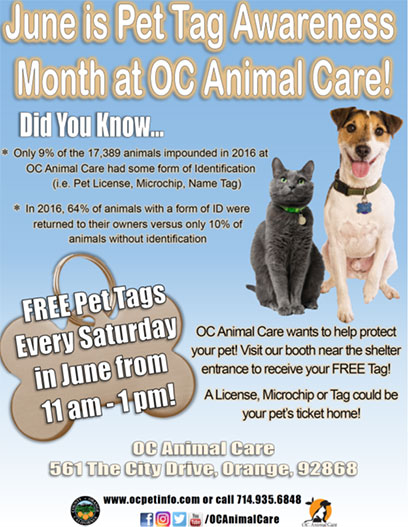 Click on the image above to view a larger version.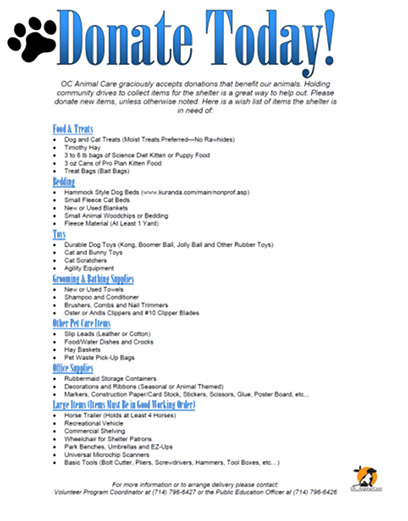 Click on the image above to view a larger version.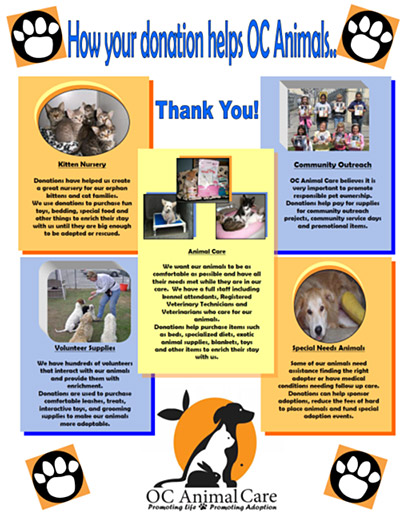 Click on the image above to view a larger version.

OC Waste & Recycling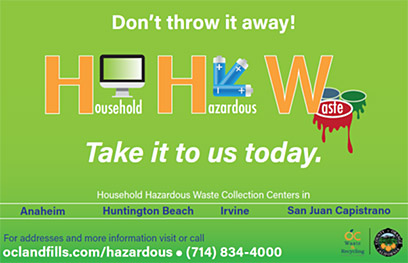 OC Waste & Recycling Wants You to Know About Hazardous Household Waste

Knowing about proper disposal of household hazardous waste is important, both for the potential effects on our environment and the health and safety of your family. Examples of household hazardous materials that we no longer need include everyday products for our homes, yards and autos, such as drain cleaners, oil paint, motor oil, antifreeze, fuel, poisons, pesticides, herbicides and rodenticides and some types of cleaning chemicals. Also, items such as batteries, fluorescent lamps, lamp ballasts, smoke detectors and consumer electronics, including televisions, computers and cell phones are classified as hazardous household waste.

Today there are multiple avenues for proper disposal of household hazardous waste. Through our OC Waste & Recycling department, the County provides four free Household Hazardous Waste Collection Centers. In the Second District, the closest location is in Huntington Beach at 17121 Nichols Street, Gate 6. When you visit, be sure to ask for a free battery bucket! If the County center is not convenient, many retailers now take back such items as paint, batteries, fluorescent tubes, halogen bulbs, cell phones and more.

Whether you use an OC Waste & Recycling facility or a retailer, I encourage you to become knowledgeable about hazardous household waste and do your part to keep it out of the landfills through proper disposal. Please call OC Waste & Recycling at 714-834-4000 for more information or if you have questions.

OC Parks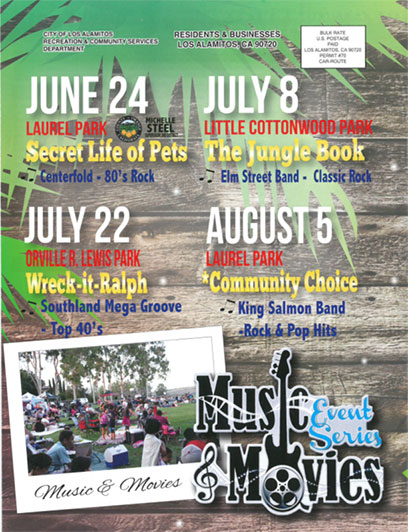 Click on the image above to view more information.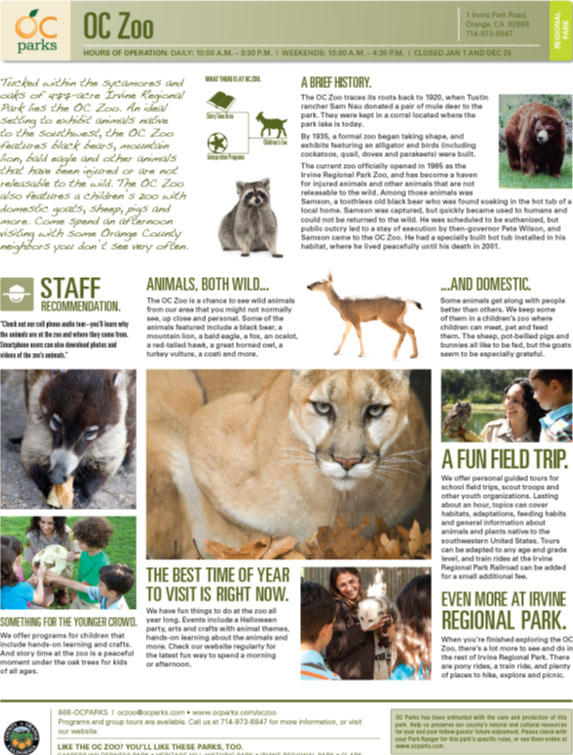 Click on the image above to view a larger version.

Orange County Public Libraries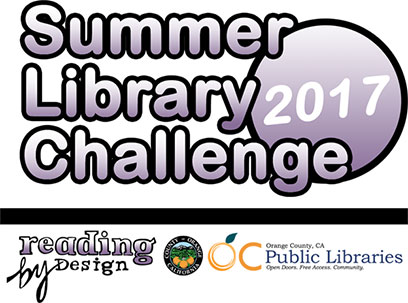 Welcome to OC Public Libraries' SUMMER LIBRARY CHALLENGE!
June 19 – July 31, 2017

Read with us online, in person at your library, or both! Register online to track your reading minutes and activities, or visit your library for a paper log, plus weekly prizes for Youth, chances to win, and fun events.

How it works:
Families can create a single account and add profile for each reader in the family.
Each minute that kids and teens (Youth) read and log add up to earn Hourly badges – can you read for 10 hours before July 31?
Adults – earn a badge for each book you read.
You can also earn special online badges by reading new genres, visiting a new library, or tackling a fun activity.
Prizes vary by library and are available while supplies last. http://ocpl.readingbydesign.org/

Op-ed

Daily Pilot
Mutual trust will help ensure freedom in the Pacific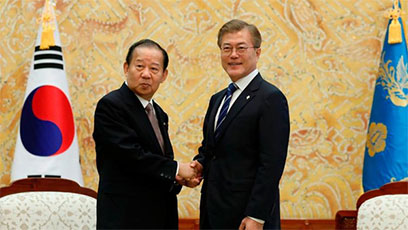 June 12, 2017

I am an immigrant to the United States born in South Korea. My parents fled the North to escape communism. I understand the important relationship that exists between the United States and Korea. It is a history that is forged in blood and sacrifice.

During the Korean War, about 140,000 South Koreans and more than 35,000 Americans gave their lives to stop the spread of communism and bring freedom to all Koreans.

After the war, the United States continued to aid Korea with financial and military assistance that helped with Korea's post-war recovery. The U.S. continues to support Korea to this day. Nearly 30,000 Americans are stationed in South Korea, risking their lives every day to defend freedom on the peninsula.

North Korea's unstable communist dictator, Kim Jong-un, continues to test ballistic missiles, increasing the threat to the Republic of Korea and freedom in the Pacific.

Of course the previous American presidential administration's laissez-faire attitude toward North Korea's belligerence are in part to blame for making us more vulnerable to its increasing threats.

The constant threat of North Korea, not only to the U.S. national security but to our allies in the Pacific, is becoming more concerning. North Korea poses a physical threat to our allies, Japan and the Republic of Korea.

Dealing with an unhinged oppressive leader is not something unfamiliar to the United States. However, the previous administrations diminishing of the number of troops and military funding, increasingly aggressive actions and changes in leadership there are cause to be anxious. The scandal and impeachment of President Park Geun-hye and recent election of President Moon Jae-in in the South have created an even greater concern with the instability of the region. The change in leadership in the South and the reckless aggression in the North is a dangerous combination for our regional allies.

Therefore, it is now more important than ever to ensure our alliances in the area continue to be strong. We can't afford to allow either Japan or the Republic of Korea to be threatened by such unpredictable power in the region.

The United States is resolved to remain loyal to its longtime allies. It is even more important for Koreans to understand what is on the table and to trust the United States. We understand the importance and the great mutual advantages of our alliance.

Ranked as the 11th largest economy in the world, the Republic of Korea has continued to grow as a global power. Once a recipient of U.S. aid, in 2010 the Republic of Korea became a member of the Development Assistance Committee and officially moved from an aid recipient to a donor; managing to become an official democracy and global power in only a few short decades.

Now is not the time to create greater turmoil with South Korea, which is still unstable from its latest election. However, it is important the new leaders understand the people of the United States will not be patient and complacent when it comes to matters of security. If forced, the United States could be put in the position to take preemptive action against the North.

Both Secretary of State Rex Tillerson and Vice President Mike Pence have shared after their visits to Korea the continual use and testing of ballistic missiles by the North is unacceptable, and the new leadership in the South should understand the United States wants to see immediate change concerning the North.

As Pence stated during his trip to the Demilitarized Zone, the alliance between the Republic of Korea and the United States is "ironclad." Our loyalties will always remain with our allies in the Pacific. In return, it is their loyalty we will need in order to ensure our mutual protection, safety and continued freedom.

http://www.latimes.com/socal/daily-pilot/opinion/tn-dpt-me-commentary-sunday-20170612-story.html


Arie Dana
Chief of Staff

Michelle Cook
Communications Director

Francis Hur
Community Outreach Director

Patrik Kim
Policy Advisor

Natalie Medvedev
Policy Advisor

Tim Whitacre
District Representative

Tiffany Kim
Special Assistant



Stay Connected!