Updates

Ensuring Healthcare Oversight for Orange County

Earlier this month, a majority of the Board of Supervisors voted to support a proposal to increase elected official's oversight of billions of taxpayer dollars. The proposal that I introduced along with Supervisor Andrew Do, will add all five Orange County Supervisors to the board of CalOptima, the County organized health system that adiminsters health insurance for low-income children, adults, seniors and for people with disabilities. Today, only two elected Supervisors sit on the CalOptima Board, while the population served spreads across every Supervisorial District. The Second District, which I am honored to represent is home to 20% of all CalOptima members. We believe that it is important for public funds to be overseen by public servants elected by the people to see that these funds are administered in the taxpayer's and the beneficiaries' interests.

I believe it is crucial that the people of Orange County, those who know what they need best, have a say in their healthcare by electing representatives who can be voted out of office if they fail to serve the people. This is why I feel that it is necessary for all five Supervisors to oversee an agency critical to Orange County and its citizens. I have a duty to serve the people of Orange County, and I want to be able to do everything in my power to fight for their interests and their healthcare needs.

The Board of Supervisors is scheduled to take the final vote on our proposal this coming Tuesday, August 8. I hope we will continue to stand for local control and representative oversight of taxpayer-funded programs.

Sincerely,
Michelle Steel

In the Community

July 30th, 2017 LA Chargers Opening Day

I was the guest of Mr. Dean Spanos and the Los Angeles Chargers for their Opening Day of Training Camp here in my District, in the City of Costa Mesa.

Future Hall of Fame Inductee (in two weeks), Charger Running Back, LaDainian Tomlinson, greeted the packed stands and got the fired-up fans even more motivated before practice officially started.

I'm very excited for Orange County that we have an NFL Franchise based here and am looking forward to cheering for our Chargers at their home games!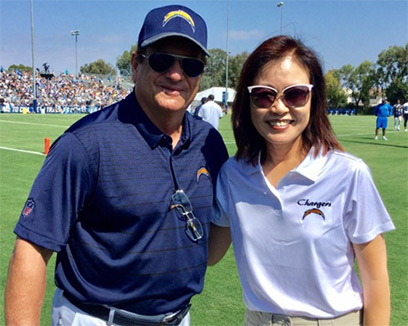 July 28th Lions Park Groundbreaking

I celebrated the Groundbreaking Ceremony of Lions Park Projects with the City of Costa Mesa and was pleased to present Mayor Foley with a Certificate of Recognition for this monumental event.

A culmination of years worth of effort by previous and current City Council Members, as well as staff, will result in a beautiful and much needed State-of-the-art facility that includes a new Library, Neighborhood Community Center, and an acre of programmed open space to better serve the residents for decades to come. Great job Costa Mesa!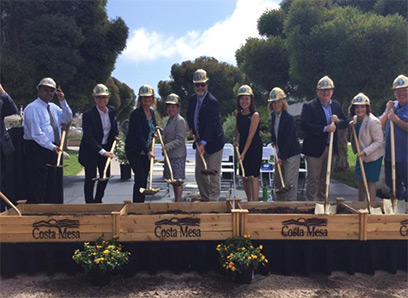 June 24th , Southwest Chapter of the American Association of Airport Executives

I was honored to represent the Orange County Board of Supervisors at the Southwest Chapter of the American Association of Airport Executives 71st Annual Summer Conference, "Waves of Changes, Oceans of Opportunity".

I was happy to welcome all of the attendees to our wonderful county before they engaged in sessions focusing on safety and security, airport advocacy, providing a superior guest experience, and other important issues.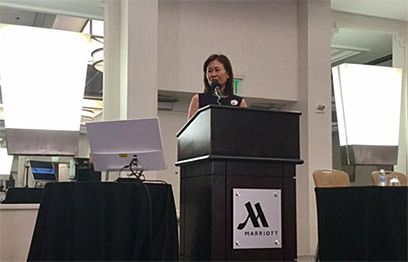 July 22nd, 2017 Wetlands Clean-up Day

Recently, I hosted the first annual PAVA (Pacific American Volunteer Association) Wetlands Clean Up Day at the Bolsa Chica Conservancy in Huntington Beach.

This was the largest single-group ever (almost 300) to help clean up vital habitat at the Conservancy. I presented President Myung a special certificate of recognition for PAVA's efforts. I also invited Mayor Barbara Delgleize to do the same. Along with the Mayor, Council Members Patrick Brenden and Billy O'Connell thanked the group, as well as Michael Grant on behalf of the Huntington Beach Chamber of Commerce.

A big THANK YOU to Orange County Association of Realtors for helping with the food & drink, and to the Conservancy Staff and members of the Board of Directors who helped the event be a resounding success.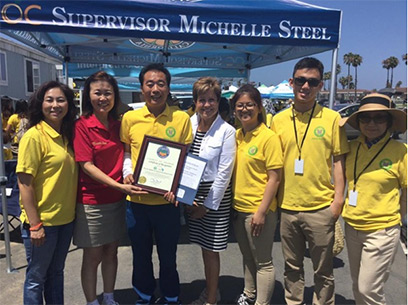 July 4, 2017 Sister City 35th Anniversary

The Sister City Association of Huntington Beach celebrated the 35th Anniversary of its relationship with Anjo, Japan, after the 4th of July Parade. The Anjo delegation was treated to their own position in the Parade in the morning which is something I'm sure they will never forget!

There's nothing better for building international goodwill than having a Sister City. It was a privilege to make some remarks in English and Japanese as I recognized the Mayor and Vice Chairman of Anjo City Council.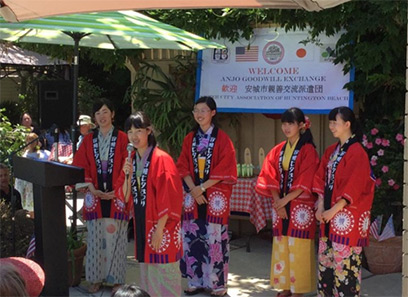 Internship Tours

This summer we were fortunate to have students interning with us who are completing various degrees across the United States. During their time here they have helped with various tasks around the office and have received hands on experience resolving issues for constituents, policy analysis, and accompanied staff members to different meetings around the county. The most important concern for our interns during their time with us is to gain a working knowledge of local government and to educate them on the many different departments and responsibilities. Over the summer we arranged for our interns to see some of the departments throughout the county to let them learn from the many public officials around the county and to witness the great work they do!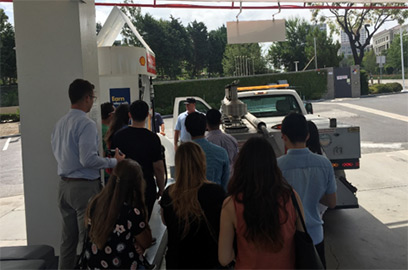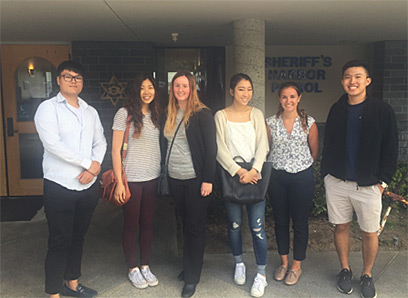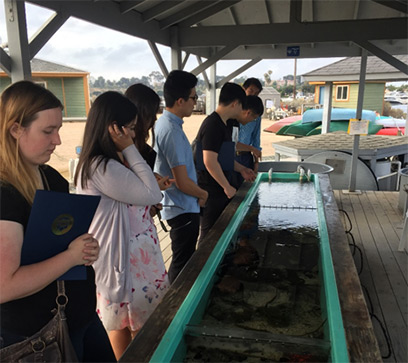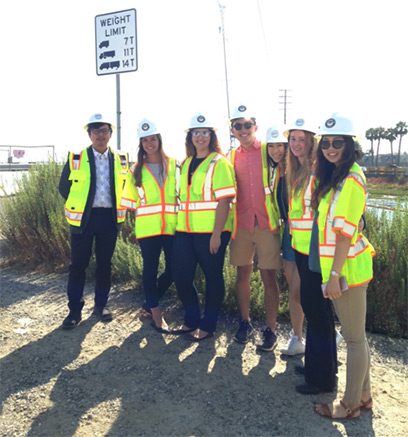 Announcements

Orange County Transportation Authority



What's your vision of transit in your city and throughout Orange County? Do you want trains, buses, shuttles, or something different? The Orange County Transportation Authority is asking for your help in shaping the future of transit. You can design your own transit system with the fun and interactive Build Your Own System survey that allows you to select from various transit features that could enhance transit in Orange County. These features include stops, stations, vehicle types, and service. As you develop your transit system, you can see the benefits – such as enhanced ridership, travel time, accessibility, or passenger experience – change in real-time. Check it out at https://octransitvision.com/. For more information, visit www.octa.net/octransitvision.

OC Alert


AlertOC is a mass notification system designed to keep Orange County residents and businesses informed of emergencies and certain community events. By registering with AlertOC, time-sensitive voice messages from the County or City in which you live or work may be sent to your home, cell or business phone. Text messages may also be sent to cell phones, e-mail accounts and hearing impaired receiving devices.

For more information or to learn if your city is a participating member visit http://bos.ocgov.com/alertoc/alertoc.asp

OC Animal Care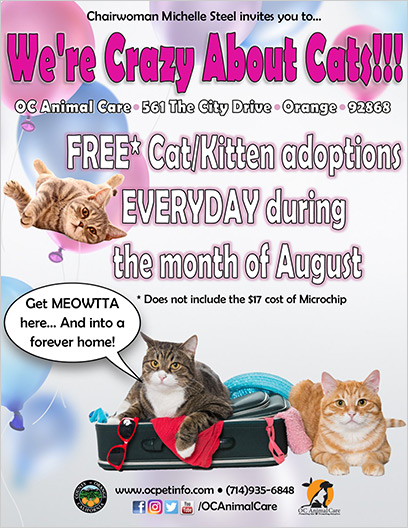 Click on the image above to view a larger version.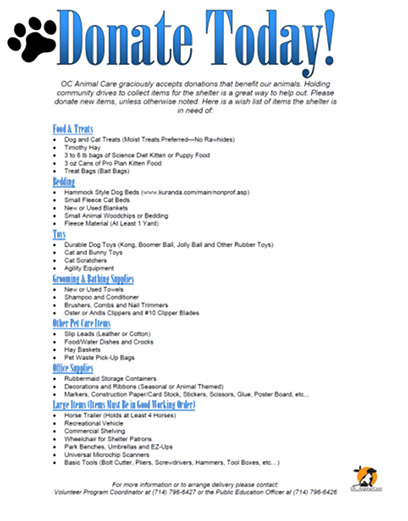 Click on the image above to view a larger version.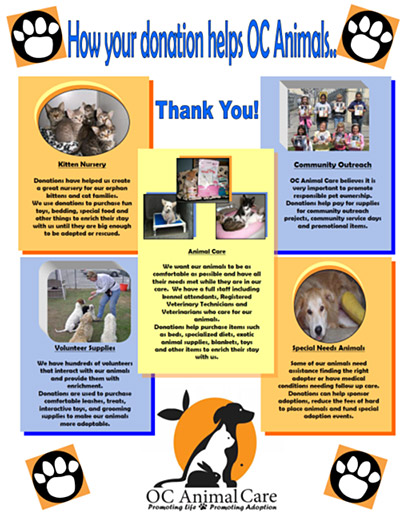 Click on the image above to view a larger version.

OC Waste & Recycling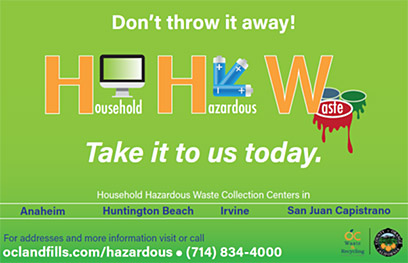 OC Waste & Recycling Wants You to Know About Hazardous Household Waste

Knowing about proper disposal of household hazardous waste is important, both for the potential effects on our environment and the health and safety of your family. Examples of household hazardous materials that we no longer need include everyday products for our homes, yards and autos, such as drain cleaners, oil paint, motor oil, antifreeze, fuel, poisons, pesticides, herbicides and rodenticides and some types of cleaning chemicals. Also, items such as batteries, fluorescent lamps, lamp ballasts, smoke detectors and consumer electronics, including televisions, computers and cell phones are classified as hazardous household waste.

Today there are multiple avenues for proper disposal of household hazardous waste. Through our OC Waste & Recycling department, the County provides four free Household Hazardous Waste Collection Centers. In the Second District, the closest location is in Huntington Beach at 17121 Nichols Street, Gate 6. When you visit, be sure to ask for a free battery bucket! If the County center is not convenient, many retailers now take back such items as paint, batteries, fluorescent tubes, halogen bulbs, cell phones and more.

Whether you use an OC Waste & Recycling facility or a retailer, I encourage you to become knowledgeable about hazardous household waste and do your part to keep it out of the landfills through proper disposal. Please call OC Waste & Recycling at 714-834-4000 for more information or if you have questions.

OC Parks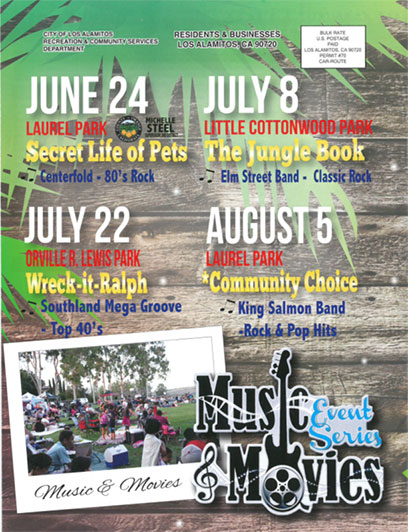 Click on the image above to view more information.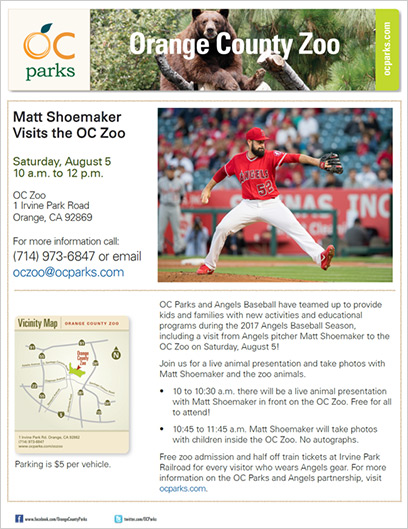 Click on the image above to view more information.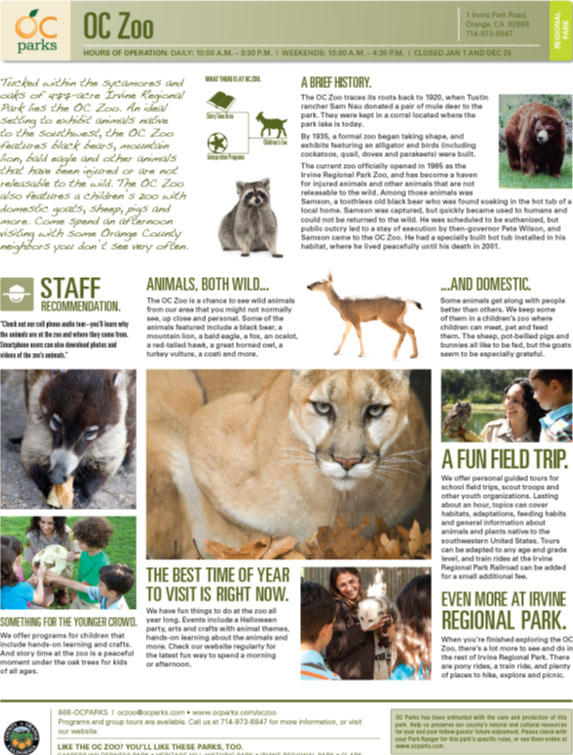 Click on the image above to view a larger version.

Op-ed

OC Register
Reaching Deeper into Taxpayer's Wallets No Solution for High Cost of Housing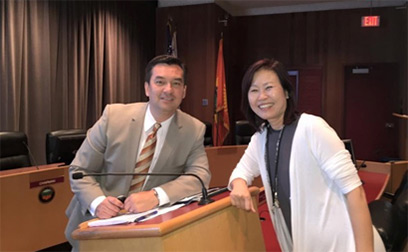 By: Michelle Steel and Hugh Nguyen

The lack of affordable housing is an ever-increasing problem for us here in California. Unfortunately, this problem will only be made worse by Senator Atkins and others in Sacramento who have chosen to reach further into hardworking taxpayer's wallets instead of addressing the real cause of the high cost of housing.

Senate Bill 2 will require County Recorders to collect a $75 fee-- with a few exceptions-- on every real estate instrument, paper, or notice required by law due and payable at the time or recording. This translates into a 930% increase in recording fees for affected documents.

To understand the effect this will have consider when a senior citizen's spouse dies, the grieving spouse must record several legal papers with the county recorder to help him or her to deal with bank accounts, trusts, ownership of their home, and other financial affairs requiring these documents to be recorded. The cost in taxes to a grieving senior before SB 2 is approximately $36. After the passage of SB 2, their costs jump to $261.

Sacramento claims to be pushing this bill forward in an effort to help those vulnerable individuals afford housing, but what about the hardworking Californian's who will now be hurt? A low-income homeowner who is looking to refinance will see his previous fee of $102 jump to $327. The homeowner working to try and avoid losing their home to foreclosure, through a modification of a loan would have previously paid $43 and now will be forced to pay $268 in an attempt to keep their home.

Why does the Legislature say they need SB 2? They claim it is to pay for the construction of affordable housing in California. The proponents of SB 2 claim the bill will increase recording fees by upwards of $700 million dollars. Achieving affordable housing for all Californians is a commendable goal. However, according to a report issued by the California Legislative Analyst's office last year- greater subsidies, such as those proposed in SB 2 - won't fix the problem.

Instead Senator Atkins and the rest of Sacramento should be looking at lasting effective reforms by overhauling the California Environmental Quality Act or reforming the tax code to incentivize residential development. Construction labor is more expensive in California metro areas than in the rest of the country by about 20 percent. Not to mention that the building codes and standards in California are some of the most comprehensive and strict in the nation demanding homeowners to pay more for the increased materials and labor requirements.

Even Governor Brown has proposed streamlining the costs of building and permitting of new affordable housing in California. SB 2 is just a quick fix for politicians to feel like they've helped to address this increasingly worrisome issue, but it will not work to resolve the greater problem of the ridiculous costs of building a house in this state. Until these issues are addressed any revenue raised from SB 2 won't even begin to properly address the issues of providing affordable housing to Californians.

Another problem that this bill doesn't address is a common theme in Sacramento—the money doesn't always end up where it should. Supporters of SB 2 argue that these new taxes are needed to replace funding that was eliminated when the Legislature abolished redevelopment agencies in 2012. But, an audit of State-administered housing fees in California last year found that the Housing and Emergency Shelter Trust Fund Acts of 2002 and 2006, which provided nearly $5 billion in bonds for financing affordable housing for low- to moderate-income Californians, were often administered without the Housing and Community Development Department (HCD) knowing if the funds were used properly or if they went to the targeted populations.

Instead of hurting hardworking taxpayers to fund a flawed system providing affordable housing, Sacramento should put in the work to address the real issue of overregulation and high construction costs.

http://www.ocregister.com/2017/07/10/reaching-deeper-into-taxpayers-wallets-no-solution-for-high-cost-of-housing/


Arie Dana
Chief of Staff

Michelle Cook
Communications Director

Francis Hur
Community Outreach Director

Patrik Kim
Policy Advisor

Natalie Medvedev
Policy Advisor

Tim Whitacre
District Representative

Tiffany Kim
Special Assistant



Stay Connected!