Traveling For the Holidays

Dear Friends,

The holiday season is finally here! During this time many of us will be traveling to see friends and loved ones.

To ensure your travel plans go smoothly, John Wayne Airport has created some tips to help you reach your destination during this busy season.

Travel Tips

*All passengers flying out of JWA are encouraged to arrive 90 minutes to two hours before the scheduled departure time for domestic flights and three hours for international flights to find parking, check luggage and go through the security screening checkpoint. Passengers who are members of TSA Pre✓™ can expedite the screening process in Terminals A, B and C.

*Passengers are allowed one small carry-on bag plus one personal item as long as the carry-on bag fits airline dimensions. Check with individual airlines for specifics. For helpful information about the 3-1-1 liquids rule for carry-on bags and other travel tips from the Transportation Security Administration (TSA) please visit the TSA website.

www.tsa.gov/travel

*"If You See Something, Say Something™" To report a suspicious object or activity in the Riley Terminal, dial "0" from a White Courtesy Phone to reach an operator, or dial 2-5000 to reach Airport Police Services, or you may notify an Airport employee or a uniformed officer. Guests may also dial 949-252-5200 from a mobile device.

For more helpful tips visit:
http://www.ocair.com/newsroom/news/?nr=nr-2017-11-15&tr=no

Safe Travels!

Happy Holidays,
Michelle Steel

In the Community

November 16th, 2017 14th Annual Thanksgiving Appreciation Lunch

I had the privilege of addressing Military Service Members and the families of 40th Infantry Division soldiers recently deployed to Afghanistan at the 14th Annual Thanksgiving Appreciation Lunch. As well as handing out "Operation Gratitude" boxes to the children. The event took place at Joint Forces Training Base, Los Alamitos.

As the holidays approach let's be especially mindful of our military families who will be spending the holidays away from their loved ones and remember to keep all those who are currently overseas defending our freedom in our prayers.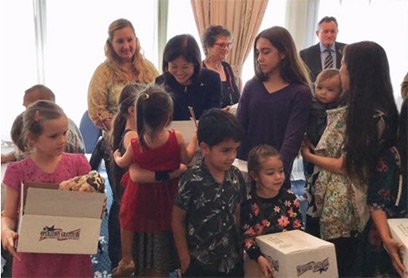 November 11th, 2017 Veterans Day

I had the privilege of honoring our Veterans at multiple ceremonies in my District on Veterans Day. It was very humbling to be around so many of the brave individuals who fought for our great nation. I am forever grateful to those individuals for their sacrifice. May God bless them and their families, and may God bless the United States of America.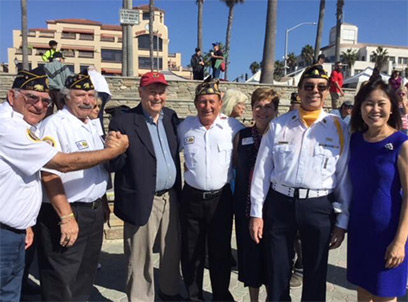 November 9th, 2017 Satellite Veterans Service Office Grand Opening

At the beginning of November I was honored and pleased to announce the Grand Opening of a County Satellite Veterans Service Office at Joint Forces Training Base, Los Alamitos.

There has been a growing need to provide Veterans, and their family members who live in northwest Orange County, easier access to our VSO staff. Previously the closest office for them was in Santa Ana - 20 Miles away.

This new Satellite Office will provide professional services to Veterans, their dependents, and survivors who are entitled to benefits from the United States Department of Veterans Affairs, the State of California, and other agencies as applicable. And, through collaborative efforts we are able to provide this new Satellite VSO at NO additional taxpayer expense.

This Grand Opening is all about serving those who have served us. I'm proud we were able to make these services in time for Veterans Day.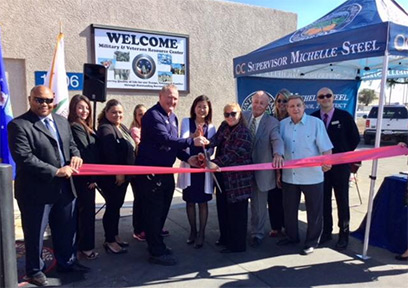 October 27th, 2017 Leadership Meeting on the Future of Orange County

In October, Vice Chair Andrew Do and I met with Congressman Royce, Congressman Correa, and Chairman of the Committee on Homeland Security and Texas Congressman Mike McCaul along with other county government agencies to discuss some of the most important issues affecting Orange County.

Thank you to all those who dedicated their time and participated in the productive discussion.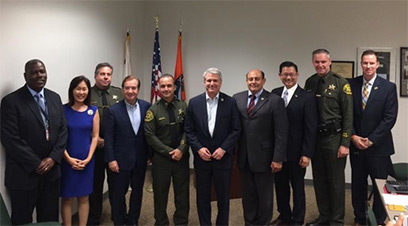 Announcements

Orange County Grand Jury Recruitment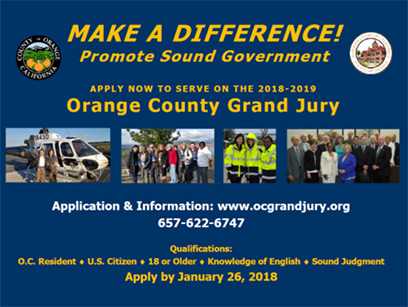 Orange County Transportation Authority


What's your vision of transit in your city and throughout Orange County? Do you want trains, buses, shuttles, or something different? The Orange County Transportation Authority is asking for your help in shaping the future of transit. You can design your own transit system with the fun and interactive Build Your Own System survey that allows you to select from various transit features that could enhance transit in Orange County. These features include stops, stations, vehicle types, and service. As you develop your transit system, you can see the benefits – such as enhanced ridership, travel time, accessibility, or passenger experience – change in real-time. Check it out at https://octransitvision.com/. For more information, visit www.octa.net/octransitvision.

OC Alert


AlertOC is a mass notification system designed to keep Orange County residents and businesses informed of emergencies and certain community events. By registering with AlertOC, time-sensitive voice messages from the County or City in which you live or work may be sent to your home, cell or business phone. Text messages may also be sent to cell phones, e-mail accounts and hearing impaired receiving devices.

For more information or to learn if your city is a participating member visit http://bos.ocgov.com/alertoc/alertoc.asp

OC Animal Care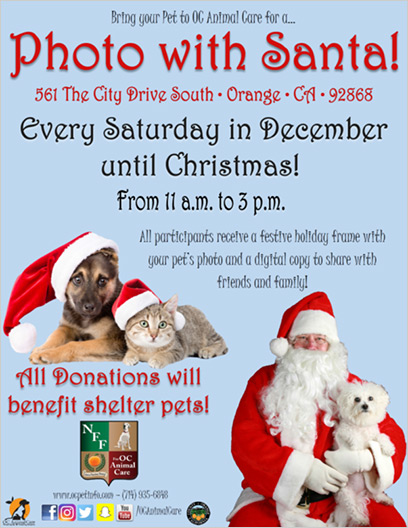 Click on the image above to view a larger version.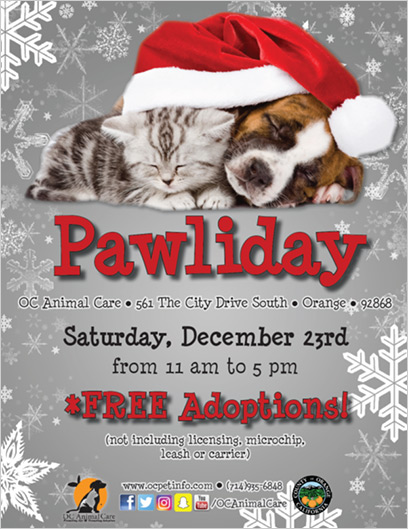 Click on the image above to view a larger version.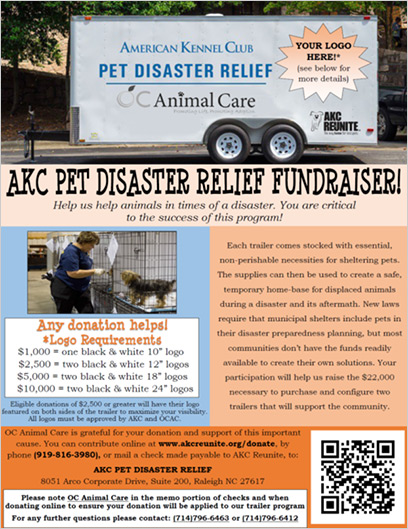 Click on the image above to view a larger version.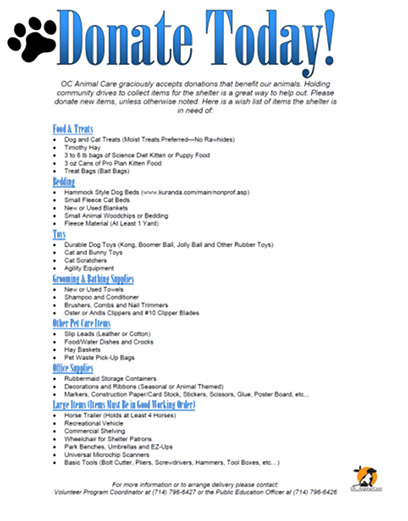 Click on the image above to view a larger version.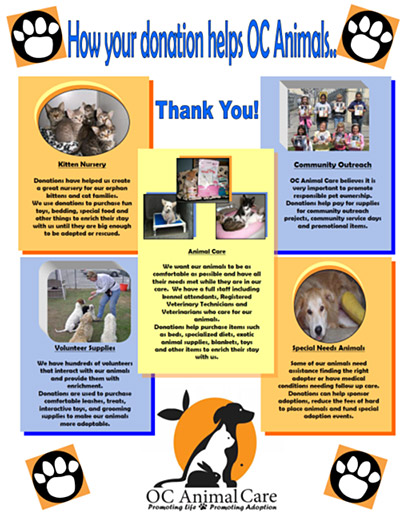 Click on the image above to view a larger version.

OC Waste & Recycling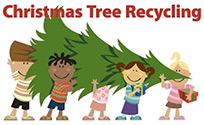 'Tis the Season to Tree-cycle

Each year about 25 – 30 million real Christmas trees sold across the U.S. during the holiday season. As important as these trees are to our holiday traditions, they play an even bigger role once the festivities are over. Real trees are a renewable, recyclable resource.

Most trees can be chipped and turned into mulch if the right steps are taken during the first weeks after the holidays. Christmas "tree-cycling" requirements are different for each city and hauler—including when the pick-up begins and how long it's available.

Here are some tips to ensure your tree is repurposed the best way possible in your area:

Check ahead with your hauler to find out their schedule for picking up Christmas trees. Missing the last pick-up day means finding another alternative. It is often done on the same as the weekly curbside trash pick-up. You can find OC waste hauler information here.


Find out any special requirements from your waste hauler. Sometimes taller trees must be cut in half before pick-up or even cut into pieces and placed in the greenwaste bin.


Only the tree is recyclable. Remove all decorations, including lights, tinsel, garland, tree stands and ornaments.


Flocked trees cannot be recycled. They may be cut down and placed in your regular trash bin.


If you miss the tree recycling dates of your hauler, check with your city Recycling Coordinator for other options.


If you have Christmas lights or other e-waste to dispose of after the holidays, take it to one of Orange County's four Household Hazardous Waste Collection Centers. They're open Tuesday through Saturday, 9 a.m. to 3 p.m. Find locations and other information here.
More information is available at oclandfills.com or 714-834-4000.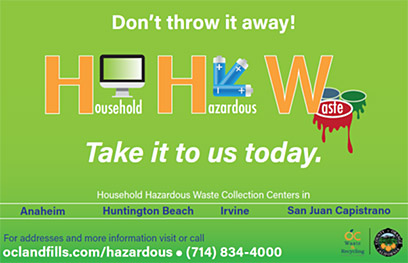 OC Waste & Recycling Wants You to Know About Hazardous Household Waste

Knowing about proper disposal of household hazardous waste is important, both for the potential effects on our environment and the health and safety of your family. Examples of household hazardous materials that we no longer need include everyday products for our homes, yards and autos, such as drain cleaners, oil paint, motor oil, antifreeze, fuel, poisons, pesticides, herbicides and rodenticides and some types of cleaning chemicals. Also, items such as batteries, fluorescent lamps, lamp ballasts, smoke detectors and consumer electronics, including televisions, computers and cell phones are classified as hazardous household waste.

Today there are multiple avenues for proper disposal of household hazardous waste. Through our OC Waste & Recycling department, the County provides four free Household Hazardous Waste Collection Centers. In the Second District, the closest location is in Huntington Beach at 17121 Nichols Street, Gate 6. When you visit, be sure to ask for a free battery bucket! If the County center is not convenient, many retailers now take back such items as paint, batteries, fluorescent tubes, halogen bulbs, cell phones and more.

Whether you use an OC Waste & Recycling facility or a retailer, I encourage you to become knowledgeable about hazardous household waste and do your part to keep it out of the landfills through proper disposal. Please call OC Waste & Recycling at 714-834-4000 for more information or if you have questions.

OC Parks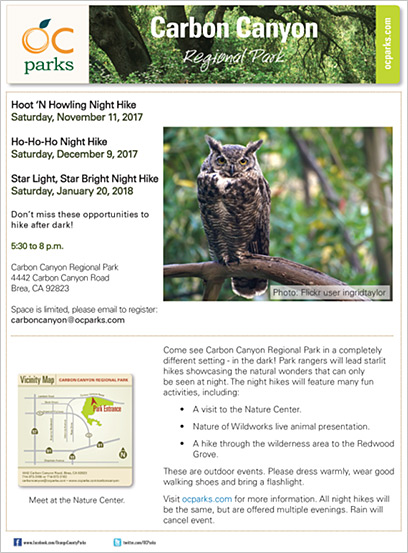 Click on the image above to view a larger version.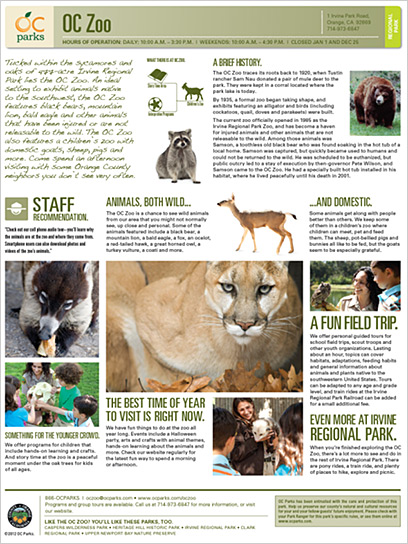 Click on the image above to view a larger version.

OC Public Works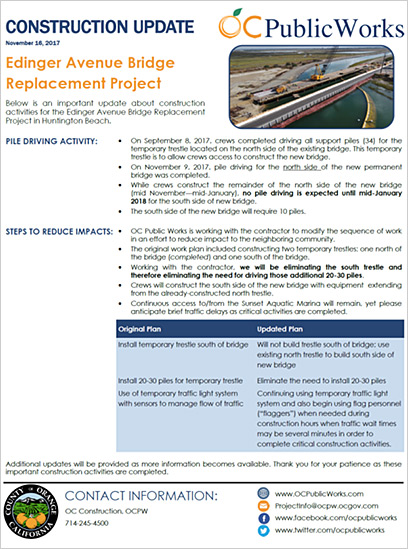 Arie Dana
Chief of Staff

Michelle Cook
Communications Director

Francis Hur
Community Outreach Director

Patrik Kim
Policy Advisor

Natalie Medvedev
Policy Advisor

Tim Whitacre
District Representative

Tiffany Kim
Special Assistant



Stay Connected!



The Cities of the second district: Huntington Beach, Fountain Valley, Cypress, Buena Park, Newport Beach, Los Alamitos, Seal Beach and La Palma held their reorganizational meetings this month. My office was present to thank and recognize former 2017 Mayors Barbara Delgleize, John Collins, Paulo Morales, Sandra Massa-Lavitt, Elizabeth Swift, Kevin Muldoon, Shelley Hasselbrink, and Michele Steggell for their leadership and service.

Congratulations to new Huntington Beach Mayor Mike Posey, Fountain Valley Mayor Michael Vo, Cypress Mayor Jon Peat, Seal Beach Mayor Mike Varipapa, Buena Park Mayor Virginia Vaughn, Newport Beach Mayor Duffy Duffield, Los Alamitos Mayor Troy Edgar, and La Palma Mayor Gerald Goedhart for being elected by your peers. I look forward to continuing a close working relationship with you, your City Council Members and City Staff in 2018.