Board of Supervisors

Happy Lunar New Year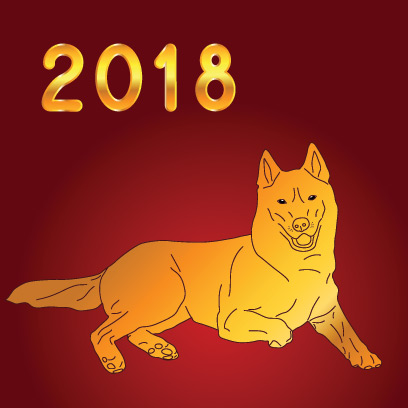 A Busy Year

Dear Friends, I was extremely grateful to serve as Chairwoman this past year for the Orange County Board of Supervisors and I look forward to continue representing the residents of the second district as their supervisor.

There are many different issues that we currently face here in Orange County. At the local level, we have been working to tackle issues including, allocating more funding to housing and behavioral health services, opening a new shelter, Bridges at Kramer, in Anaheim, and continuing to improve the Santa Ana Transit Terminal, our temporary transitional shelter, to help deal with our counties ongoing homeless problem. As well as undergoing a $100 million general aviation improvement project at John Wayne that will provide a series of safety, comfort, and convenience for travelers. And achieving a significant victory for residents with a new FAA Settlement Agreement that ensures a more thorough, transparent and inclusive process that requires full environmental review for any future proposed changes to historical flight paths.

While we have made improvements over the last year, there is still a lot of work to be done and I look forward to continue to work on behalf of the residents of Orange County.

Best,
Michelle Steel

In the Community

January 27, 2018 Community Coffee Event

Thank you to everyone that attended our first Community Coffee Event of the year! I enjoyed seeing you all there and speaking with you about your concerns and questions about county issues!

And a very special thank you to the Ramos family for graciously hosting this event and District Attorney Tony Rackauckas for joining me!

For those who were unable to attend, I will be having more of these events to come in the future and you can continue to check Facebook or register for my newsletter for future dates.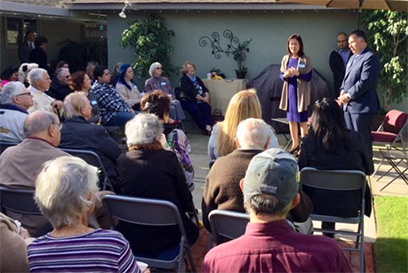 January 24, 2018 OC Forum: State of the County

I had the privilege of giving the address at the State of the County hosted by OC Forum and CWLA! I enjoyed sharing all of the work and progress we have made over the last year during my chairmanship. And a special thank you to Marshall Toplansky for joining me to help provide information on the current status of the county and the changes we need to make to ensure a successful future for Orange County!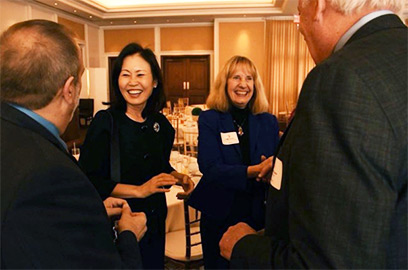 January 11, 2018 Newport Balboa Rotary Club

Thank you to the Newport Balboa Rotary Club for having me speak at their meeting this month! I enjoyed speaking with you all about the issues facing our county and listening to your concerns. Thank you again for having me and for the great work your club does for our local community!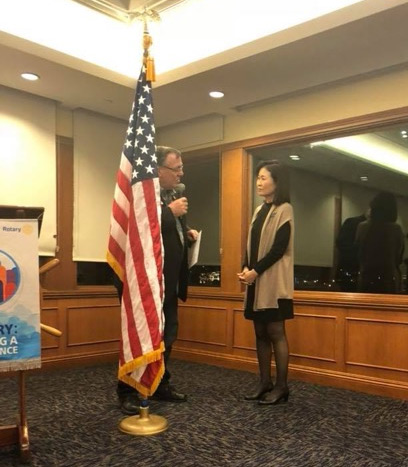 January 9, 2018 Korean American Day

At my last meeting as Chairwoman, I was honored to recognize many of our Korean American leaders and the benefits the Korean American community has made to Orange County. The commitment to family, hard work, education, and mutual support is a unique part of the Korean American culture. It is this commitment that has brought success to country since those first 102 Korean immigrants landed in Honolulu, Hawaii on January 13th, 1903.

Thank you to all who helped celebrate in recognition of Korean American Day!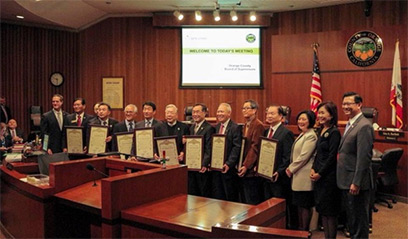 Announcements

Orange County Grand Jury Recruitment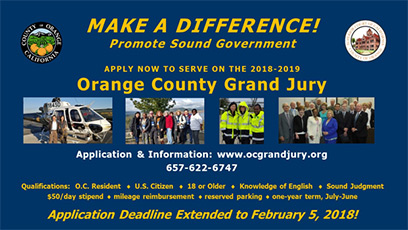 Orange County Transportation Authority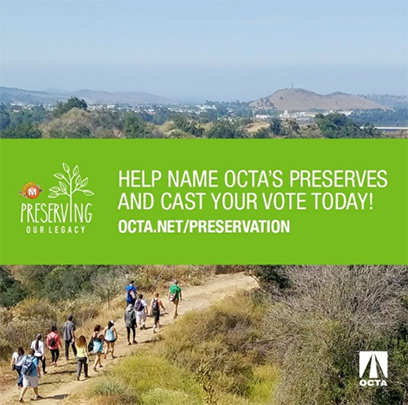 The Orange County Transportation Authority (OCTA) needs help renaming seven wilderness preserves throughout the county to highlight the regional and environmental significances of each preserve. OCTA has successfully purchased seven properties that are permanently preserved as natural open space and totals more than 1,300 acres of land. Five preserves are in the Trabuco and Silverado Canyon area, one in Laguna Beach and one in Brea.

Pick your favorite names at octa.net/preservation and join OCTA at the next hike on Saturday, Feb. 24 at O'Neill Oaks in Trabuco Canyon to witness the unveiling of the new preserve names. Register here. The survey closes on February 16, 2018.

OCTA allocates funds to acquire land and fund habitat restoration projects in exchange for streamlined project approvals for the 13 Measure M2 freeway improvement projects. Measure M2 is Orange County's half-cent sales tax to improve transportation efforts throughout the County.

[Intro video and individual Preserve videos located here: https://www.youtube.com/playlist?list=PL7v1sYqhUbLJyN
__vj2YeT6Vn1ocvzkOo]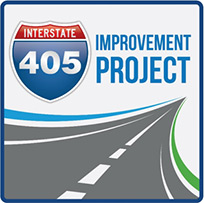 Stay Informed: With the new 405 Project App (coming soon), you will be able to stay up-to-date with project-related traffic closures and the latest photos and videos. Plus, OCTA has partnered with Waze. You'll be able to find real-time traffic and road updates on the Waze app directly from OCTA and other drivers. Until then, visit OCTA.net/405map for an interactive live schedule of the improvement project as its happening. You'll be able to check your travel routes for detours or construction-related impacts. Here are some other helpful resources:
Facebook.com/405improvement
Follow @405_Improvement on Twitter and Instagram
Email 405project@octa.net Call 888-400-8994
Visit www.octa.net/405improvement

OC TransitVision


What's your vision of transit in your city and throughout Orange County? Do you want trains, buses, shuttles, or something different? The Orange County Transportation Authority is asking for your help in shaping the future of transit. You can design your own transit system with the fun and interactive Build Your Own System survey that allows you to select from various transit features that could enhance transit in Orange County. These features include stops, stations, vehicle types, and service. As you develop your transit system, you can see the benefits – such as enhanced ridership, travel time, accessibility, or passenger experience – change in real-time. Check it out at https://octransitvision.com/. For more information, visit www.octa.net/octransitvision.

OC Public Works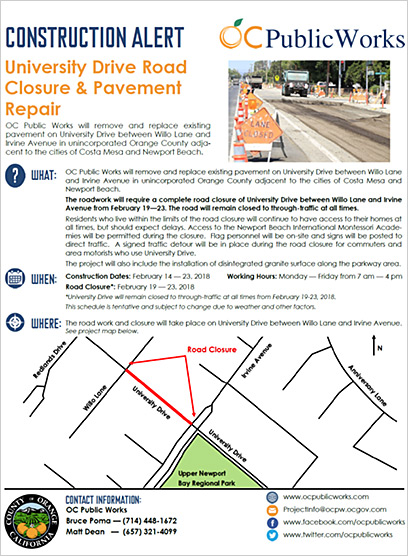 Click on the image above to view a larger version.

OC Alert


AlertOC is a mass notification system designed to keep Orange County residents and businesses informed of emergencies and certain community events. By registering with AlertOC, time-sensitive voice messages from the County or City in which you live or work may be sent to your home, cell or business phone. Text messages may also be sent to cell phones, e-mail accounts and hearing impaired receiving devices.

For more information or to learn if your city is a participating member visit http://bos.ocgov.com/alertoc/alertoc.asp

OC Animal Care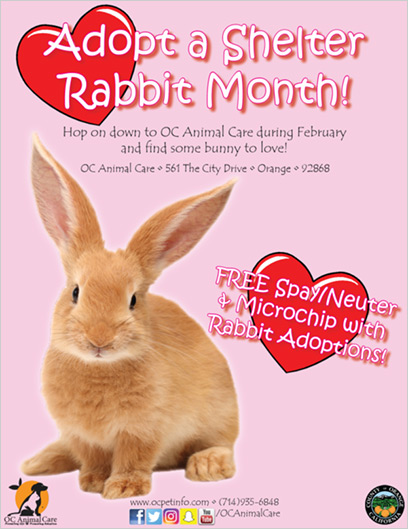 Click on the image above to view a larger version.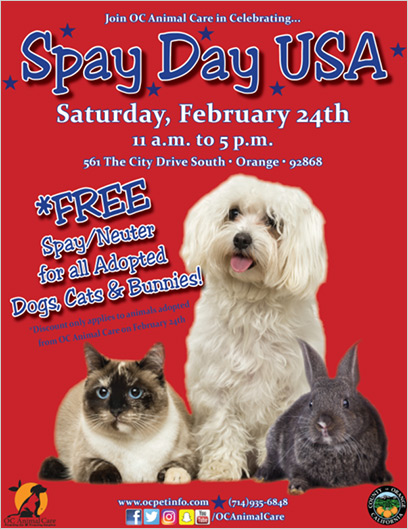 Click on the image above to view a larger version.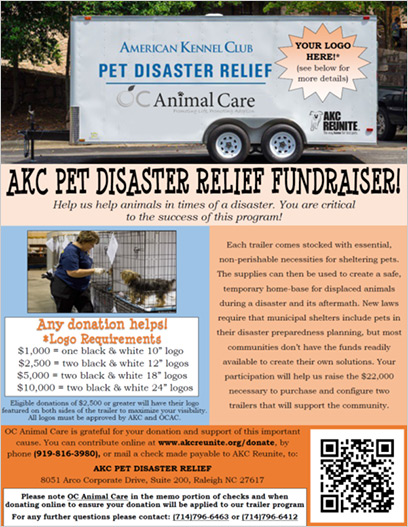 Click on the image above to view a larger version.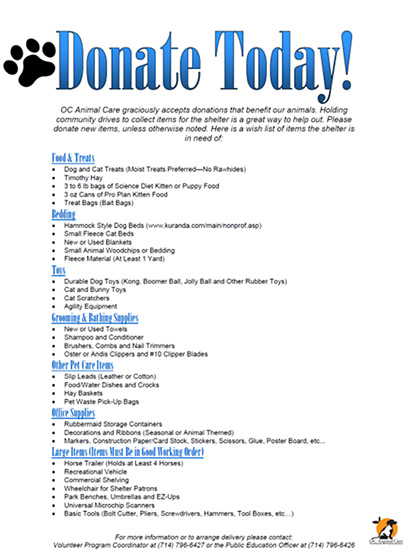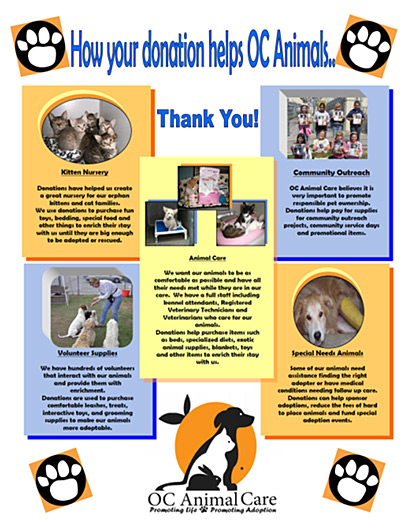 OC Waste & Recycling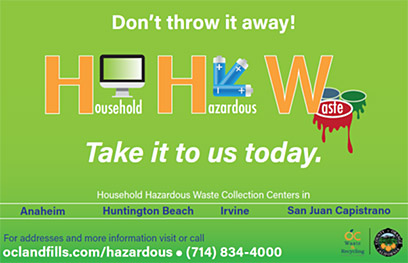 OC Waste & Recycling Wants You to Know About Hazardous Household Waste

Knowing about proper disposal of household hazardous waste is important, both for the potential effects on our environment and the health and safety of your family. Examples of household hazardous materials that we no longer need include everyday products for our homes, yards and autos, such as drain cleaners, oil paint, motor oil, antifreeze, fuel, poisons, pesticides, herbicides and rodenticides and some types of cleaning chemicals. Also, items such as batteries, fluorescent lamps, lamp ballasts, smoke detectors and consumer electronics, including televisions, computers and cell phones are classified as hazardous household waste.

Today there are multiple avenues for proper disposal of household hazardous waste. Through our OC Waste & Recycling department, the County provides four free Household Hazardous Waste Collection Centers. In the Second District, the closest location is in Huntington Beach at 17121 Nichols Street, Gate 6. When you visit, be sure to ask for a free battery bucket! If the County center is not convenient, many retailers now take back such items as paint, batteries, fluorescent tubes, halogen bulbs, cell phones and more.

Whether you use an OC Waste & Recycling facility or a retailer, I encourage you to become knowledgeable about hazardous household waste and do your part to keep it out of the landfills through proper disposal. Please call OC Waste & Recycling at 714-834-4000 for more information or if you have questions.

OC Parks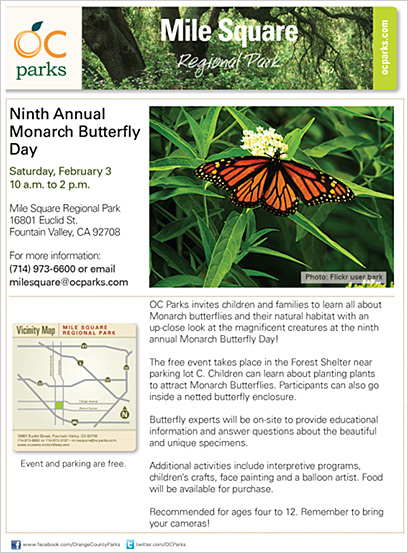 Click on the image above to view a larger version.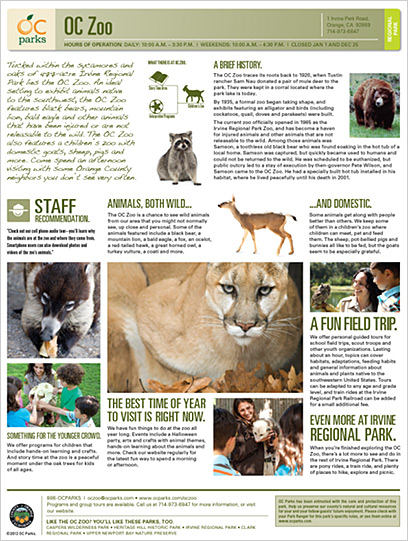 Click on the image above to view a larger version.