Board of Supervisors

Honoring Our Nation's Leaders

Dear Friends,

This month we celebrated many of our nation's greatest leaders. At the beginning of February we celebrated Ronald Reagan day and in the weeks following we also honored Lincoln and Washington, some of our most admired presidents in our country's history.

All of these presidents faced their own challenges while in office and successfully guided our country through some of our darkest times. All of these great men fought tirelessly to defend our freedoms and the core values with which this nation was founded. They staunchly protected the principles that were immortalized in our constitution.

These were all true patriots and celebrated statesman who are a shining example for our leaders today. This month let us remember these distinguished leaders and all they did to preserve our union and keep our great nation strong.

Best,
Michelle Steel

In the Community

Last week, I held my Annual District Mayors & Mayors Pro Tem Breakfast. I was happy to meet with these city leaders to discuss issues facing the Second District. This is always a very productive meeting and helps to forge mutually benefiting relationships to better serve our constituents.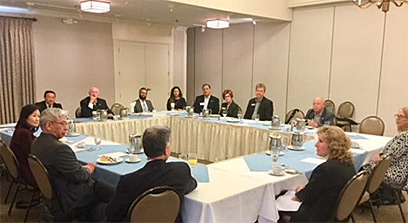 February 16, 2018 9th Annual Lunar New Year Celebration

Happy Lunar New Year of the Dog!

I literally had a blast at the 9th Annual Lunar New Year Celebration at Asian Garden Mall. There were so many fire crackers, they had to be lit in three groups and I was happy to help light the final batch. It was a beautiful first day of the New Year. The Mall was packed both inside and out for this much-anticipated annual event.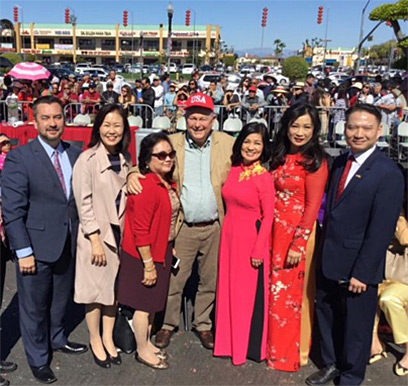 February 17, 2018 Tết Festival at Mile Square Park

It was wonderful celebrating the third annual Tet Festival at Mile Square Park! Thousands of community members showed up to this free event to enjoy all of the amazing entertainment and help ring in the year of the dog.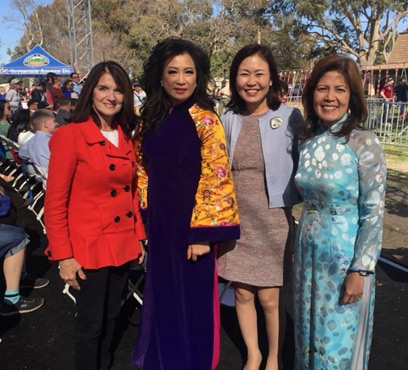 Announcements

Orange County Transportation Authority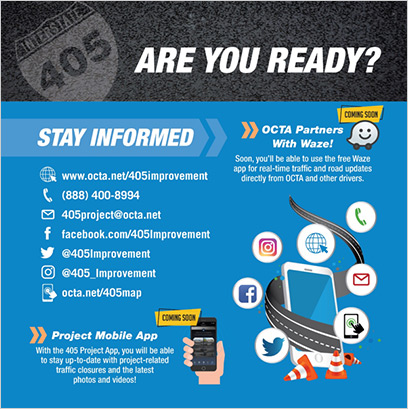 Stay Informed: With the new 405 Project App, you will be able to stay up-to-date with project-related traffic closures and the latest photos and videos. Plus, OCTA has partnered with Waze. You'll be able to find real-time traffic and road updates on the Waze app directly from OCTA and other drivers. You can also, visit OCTA.net/405map for an interactive live schedule of the improvement project as its happening. You'll be able to check your travel routes for detours or construction-related impacts. Here are some other helpful resources:
Facebook.com/405improvement
Follow @405_Improvement on Twitter and Instagram
Email 405project@octa.net
Call 888-400-8994
Visit www.octa.net/405improvement

OC TransitVision


What's your vision of transit in your city and throughout Orange County? Do you want trains, buses, shuttles, or something different? The Orange County Transportation Authority is asking for your help in shaping the future of transit. You can design your own transit system with the fun and interactive Build Your Own System survey that allows you to select from various transit features that could enhance transit in Orange County. These features include stops, stations, vehicle types, and service. As you develop your transit system, you can see the benefits – such as enhanced ridership, travel time, accessibility, or passenger experience – change in real-time. Check it out at https://octransitvision.com/. For more information, visit www.octa.net/octransitvision.

OC Public Works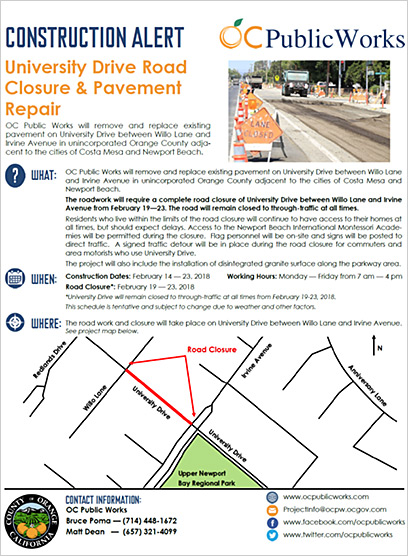 Click on the image above to view a larger version.

Orange County Water District
Congratulations to the Orange County Water District (OCWD) and the Orange County Sanitation District (OCSD) for setting a new Guinness World Record for the "most wastewater recycled to drinking water in 24 hours" on February 16, 2018. This spectacular achievement also commemorates the 10th anniversary of the Groundwater Replenishment System, a collaborative facility between the two districts. The occasion was marked by a winter-wonderland event, featuring a snow slide and snow play area, a life-size snow globe, music, tours, and food. Kuddos to OCWD President Denis Bilodeau and OCSD Board Chairman Greg Sebourn for the accomplishment and milestone. We look forward to the next ten years, and cheers to the next Guinness World Record!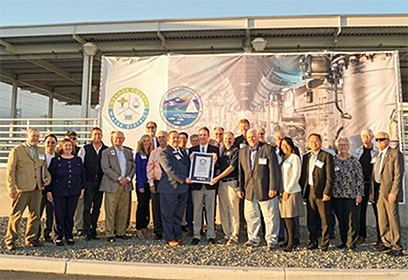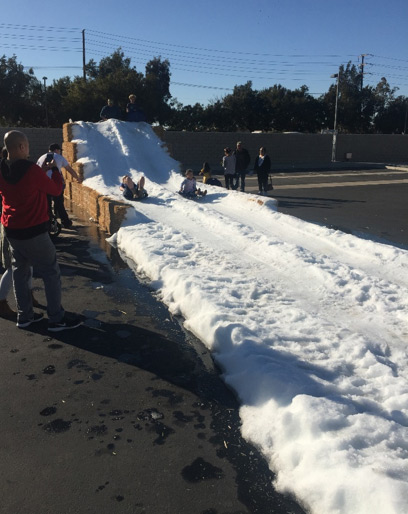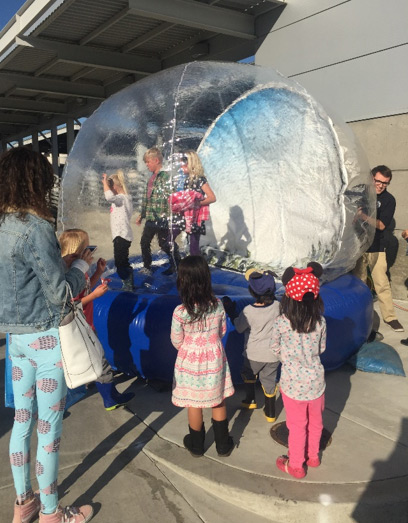 OC Alert


AlertOC is a mass notification system designed to keep Orange County residents and businesses informed of emergencies and certain community events. By registering with AlertOC, time-sensitive voice messages from the County or City in which you live or work may be sent to your home, cell or business phone. Text messages may also be sent to cell phones, e-mail accounts and hearing impaired receiving devices.

For more information or to learn if your city is a participating member visit http://bos.ocgov.com/alertoc/alertoc.asp

OC Animal Care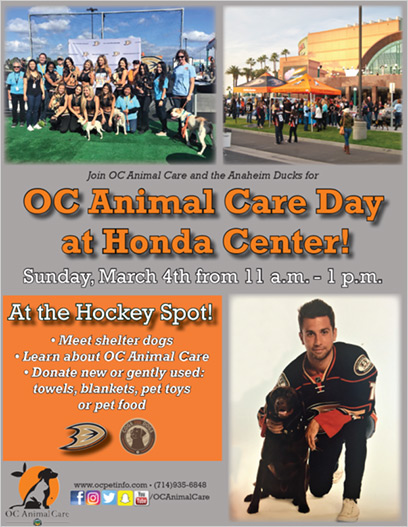 Click on the image above to view a larger version.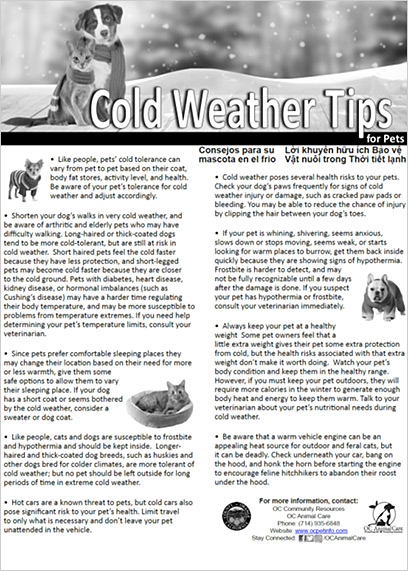 Click on the image above to view a larger version.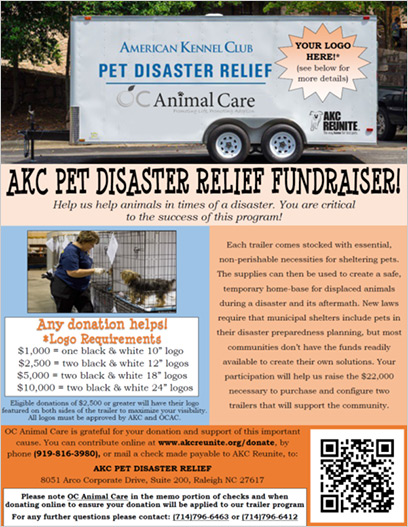 Click on the image above to view a larger version.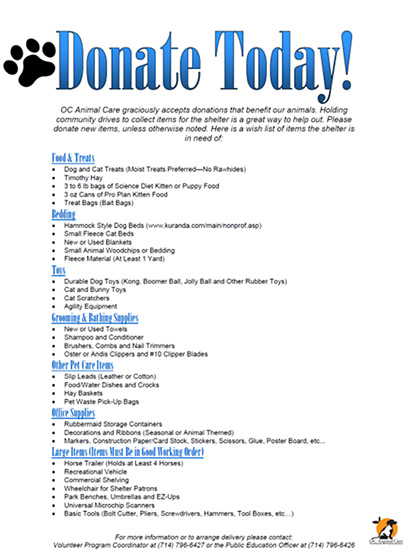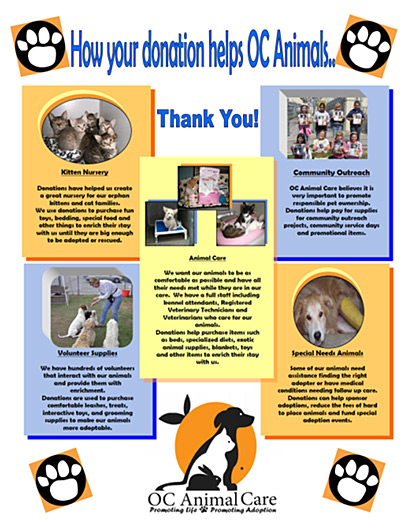 OC Waste & Recycling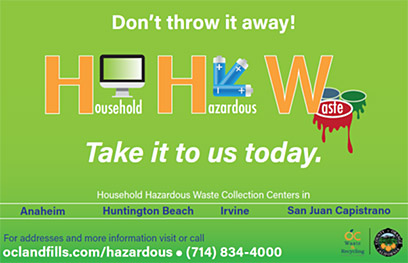 OC Waste & Recycling Wants You to Know About Hazardous Household Waste

Knowing about proper disposal of household hazardous waste is important, both for the potential effects on our environment and the health and safety of your family. Examples of household hazardous materials that we no longer need include everyday products for our homes, yards and autos, such as drain cleaners, oil paint, motor oil, antifreeze, fuel, poisons, pesticides, herbicides and rodenticides and some types of cleaning chemicals. Also, items such as batteries, fluorescent lamps, lamp ballasts, smoke detectors and consumer electronics, including televisions, computers and cell phones are classified as hazardous household waste.

Today there are multiple avenues for proper disposal of household hazardous waste. Through our OC Waste & Recycling department, the County provides four free Household Hazardous Waste Collection Centers. In the Second District, the closest location is in Huntington Beach at 17121 Nichols Street, Gate 6. When you visit, be sure to ask for a free battery bucket! If the County center is not convenient, many retailers now take back such items as paint, batteries, fluorescent tubes, halogen bulbs, cell phones and more.

Whether you use an OC Waste & Recycling facility or a retailer, I encourage you to become knowledgeable about hazardous household waste and do your part to keep it out of the landfills through proper disposal. Please call OC Waste & Recycling at 714-834-4000 for more information or if you have questions.

OC Parks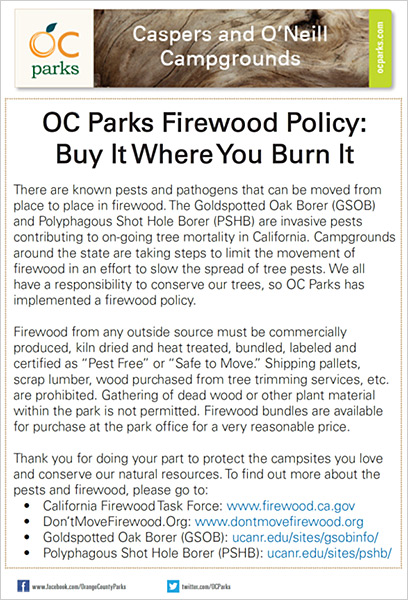 Click on the image above to view a larger version.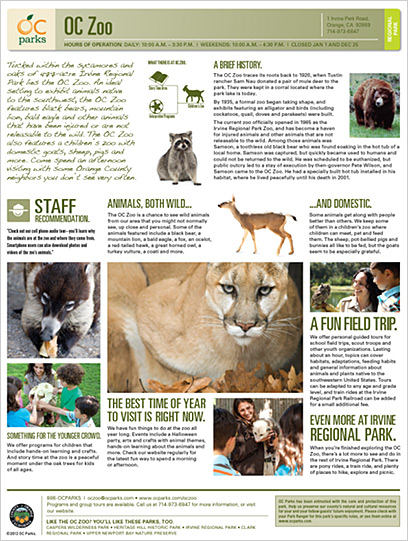 Click on the image above to view a larger version.

Orange County Public Libraries


GIVE YOUR CHILD A HEAD START AND READ 1000 BOOKS BEFORE KINDERGARTEN!

Get ready, be prepared for Kindergarten by reading 1000 Books Before Kindergarten. Read to Succeed. Sign-up today.

http://www.ocpl.org/libloc/1000books