Board of Supervisors

Continuing to Serve

Dear Friends,

Last month I was honored to be re-elected to serve as the Second District representative of the Orange County Board of Supervisors.

While our county faces many issues including homelessness, high cost of living, and an ever-increasing aging population, I look forward to the challenge of working to ensure that all residents of Orange County enjoy the highest quality of life.

It has been a privilege to serve you all over the last four years as an Orange County Supervisor, and I look forward to continuing to work for you and all the residents of Orange County in the coming years.

Sincerely,
Michelle Steel

OC Register

Orange County Housing Finance Trust unnecessary at best
https://www.ocregister.com/2018/07/07/orange-county-housing-finance-trust-unnecessary-at-best/

While many local leaders have stepped forward with the good intention of solving the homeless issue, some of the proposed solutions come with heavy consequences that would only make the problem worse. Your local state representatives have proposed legislation that will take away local control, and grow the size of government, to build large scale homeless and subsidized government housing in your backyard with your hard-earned dollars.

Assembly Bill 448, introduced by Assemblymembers Tom Daly, D-Anaheim, and Sharon Quirk-Silva, D-Fullerton, and co-authored by State Sen. Pat Bates, R-Laguna Niguel, John Moorlach, R-Costa Mesa, and Janet Nguyen, R-Garden Grove, authorizes the creation of the Orange County Housing Finance Trust, a new government agency that would fund housing for the homeless and low income in Orange County.

The governing members of this Orange County Housing Finance Trust would not only be made up of local city and county officials, but community "stakeholders" such as the developers working with local representatives on this bill who would benefit financially from such housing projects. The funding for such a large financial project would be taken from tax revenues.

Worst of all, AB448 doesn't actually do anything. Local governments already have the authority to make a Joint Powers Authority that would act as a housing trust, and to accept both private and public funds, without this additional new legislation. AB448 is a public relations ploy that does nothing of substance except remove local control in favor of allowing those in Sacramento to call the shots.

Besides removing local control, this proposal increases the cost of market rate housing by designating land that could build more homes for government subsidized "affordable housing." AB448 won't make housing more affordable, it will create new government debt and a greater financial burden for the residents forced to pay for it.

According to the U.S. Census Bureau, 29 percent of Orange County Households are borderline poor — just over the poverty threshold. And 87 percent of residents are facing financial risk by purchasing our high-priced homes according to a survey by the National Association of Homebuilders. This bill will financially punish those individuals for trying to create a nice life for themselves by prioritizing housing in their budget.

Hardworking Orange County residents will now be forced to foot the bill for a new government agency in addition to already spending nearly $1 billion dollars on current government agencies designed to service low income and homeless individuals — including over $164 million on permanent and supportive housing alone.

We should be looking at both lasting and effective reforms that would benefit all of our residents instead of forcing one population to pay for another. We need to overhaul the California Environmental Quality Act and our current tax system to make it easier for individuals to find truly affordable housing.

Through the CEQA process, projects ranging from housing, parks, and even traffic reduction, are faced with paying thousands of dollars on complex studies, hearings, and then burdened with litigation costs that kill most projects before they've even begun. Even Gov. Brown has recognized this problem, but has only proposed streamlining for politically favored projects.

Assembly Bill 448 will not work to resolve the greater problem of the ridiculous costs of building a house in this state. In fact, it won't do anything but approve an authority local governments already possess, and give control of the process to Sacramento. I would encourage all of our local leaders to work to effect real change in creating affordable housing for Californians instead of choosing a "solution" that would only grow government and saddle us with another financial burden we can't afford.

In the Community

Surfside-Sunset Beach Nourishment Project

Recently, I have been working with congressional, state, and local officials to advocate for the prioritizing of the Surfside-Sunset Beach Nourishment Project in the federal budget to ensure our beautiful beaches are maintained through beach replenishment. Due to the erosive processes that impact our local beaches, it is imperative that we continue to replenish and maintain our beaches to reduce exposure form storm damages to coastal properties and infrastructure. As well as ensure that one of our most valuable assets remain in-tact for tourists and locals to enjoy.

July 4, 2018 Fourth of July Parade

It was a picture-perfect Surf City morning for the annual Huntington Beach Independence Day Parade! The route was festive and packed with families and their friends from all over.

Happy 242nd Birthday, America!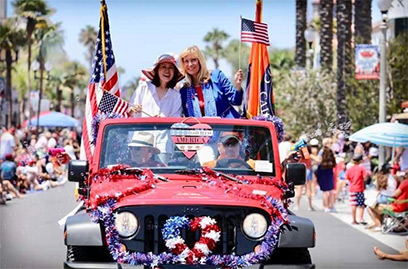 July 4, 2018 Fourth of July Celebration

I was proud to be a Superstar Sponsor of the 31st Annual Fireworks Spectacular at Joint Forces Training Base Los Alamitos. My District cities of Cypress, Los Alamitos, Seal Beach, and the unincorporated area of Rossmoor worked together with the Base to put on this event every year. There were upwards of 15,000 spectators who were treated to live music, static displays, and the longest, choreographed fireworks display of its kind in the area.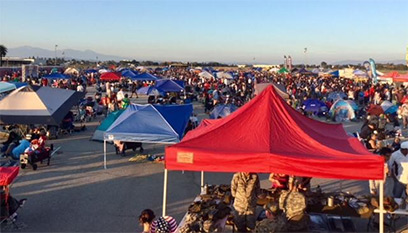 July 11, 2018 Swearing In

It was an honor and a pleasure to swear-in the Honorable Mari Barke to the Orange County Board of Education, as well as witness the swearing-in of the Honorable Lisa Sparks to their first terms. Congratulations to you both as well as all of our newly elected individuals!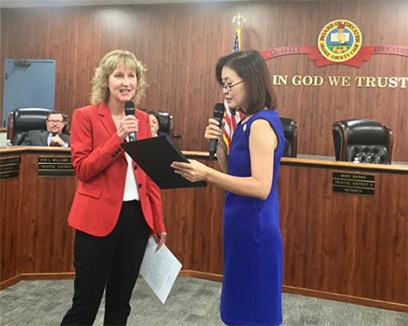 Announcements

Orange County Transportation Authority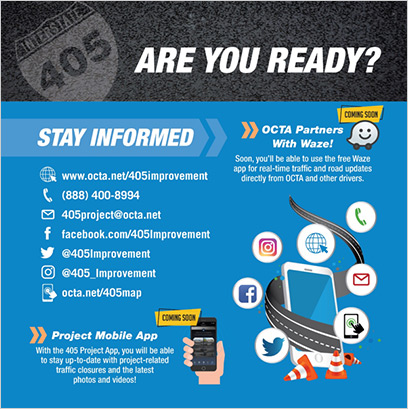 Stay Informed: With the new 405 Project App, you will be able to stay up-to-date with project-related traffic closures and the latest photos and videos. Plus, OCTA has partnered with Waze. You'll be able to find real-time traffic and road updates on the Waze app directly from OCTA and other drivers. You can also, visit OCTA.net/405map for an interactive live schedule of the improvement project as its happening. You'll be able to check your travel routes for detours or construction-related impacts. Here are some other helpful resources:

Facebook.com/405improvement
Follow @405_Improvement on Twitter and Instagram
Email 405project@octa.net
Call 888-400-8994
Visit www.octa.net/405improvement

OC TransitVision


What's your vision of transit in your city and throughout Orange County? Do you want trains, buses, shuttles, or something different? The Orange County Transportation Authority is asking for your help in shaping the future of transit. You can design your own transit system with the fun and interactive Build Your Own System survey that allows you to select from various transit features that could enhance transit in Orange County. These features include stops, stations, vehicle types, and service. As you develop your transit system, you can see the benefits – such as enhanced ridership, travel time, accessibility, or passenger experience – change in real-time. Check it out at https://octransitvision.com/. For more information, visit www.octa.net/octransitvision.

OC Public Works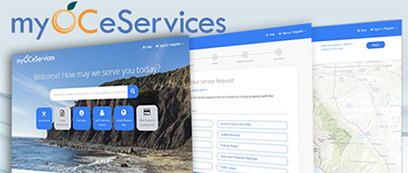 Introducing a new online service request system- myOC eServices! The new site gives you the ability to request services provided by OC Public Works and track the status of existing service requests.

OC Alert


AlertOC is a mass notification system designed to keep Orange County residents and businesses informed of emergencies and certain community events. By registering with AlertOC, time-sensitive voice messages from the County or City in which you live or work may be sent to your home, cell or business phone. Text messages may also be sent to cell phones, e-mail accounts and hearing impaired receiving devices.

For more information or to learn if your city is a participating member visit http://bos.ocgov.com/alertoc/alertoc.asp

OC Animal Care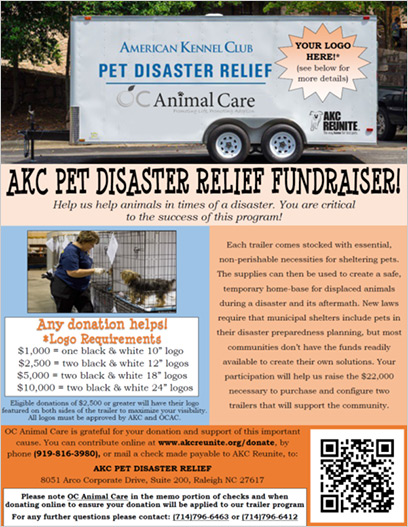 Click on the image above to view a larger version.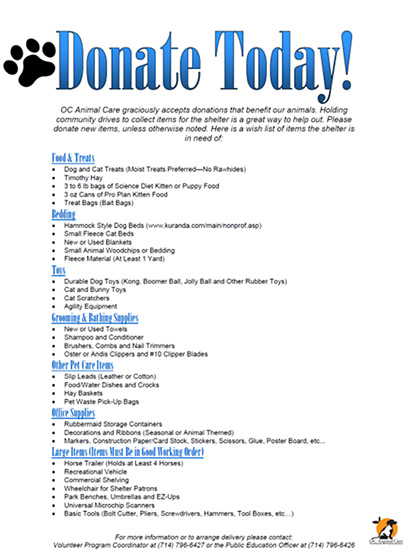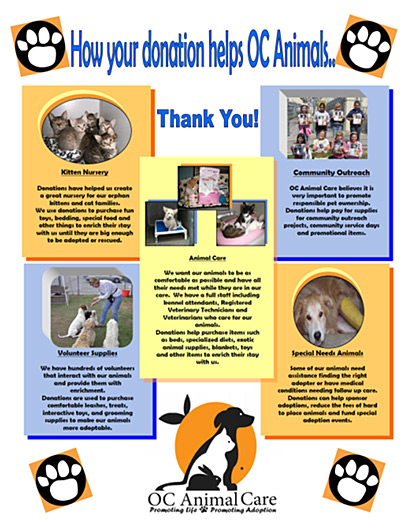 OC Waste & Recycling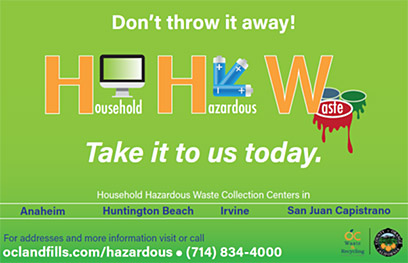 OC Waste & Recycling Wants You to Know About Hazardous Household Waste

Knowing about proper disposal of household hazardous waste is important, both for the potential effects on our environment and the health and safety of your family. Examples of household hazardous materials that we no longer need include everyday products for our homes, yards and autos, such as drain cleaners, oil paint, motor oil, antifreeze, fuel, poisons, pesticides, herbicides and rodenticides and some types of cleaning chemicals. Also, items such as batteries, fluorescent lamps, lamp ballasts, smoke detectors and consumer electronics, including televisions, computers and cell phones are classified as hazardous household waste.

Today there are multiple avenues for proper disposal of household hazardous waste. Through our OC Waste & Recycling department, the County provides four free Household Hazardous Waste Collection Centers. In the Second District, the closest location is in Huntington Beach at 17121 Nichols Street, Gate 6. When you visit, be sure to ask for a free battery bucket! If the County center is not convenient, many retailers now take back such items as paint, batteries, fluorescent tubes, halogen bulbs, cell phones and more.

Whether you use an OC Waste & Recycling facility or a retailer, I encourage you to become knowledgeable about hazardous household waste and do your part to keep it out of the landfills through proper disposal. Please call OC Waste & Recycling at 714-834-4000 for more information or if you have questions.

OC Parks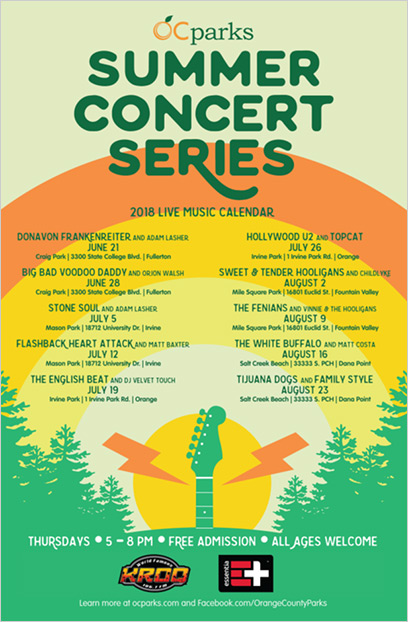 Click on the image above to view a larger version.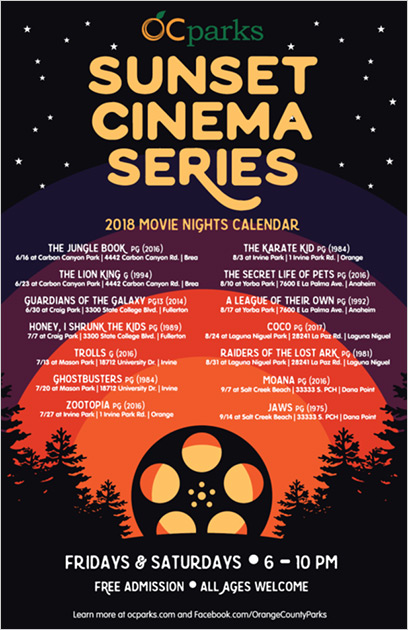 Click on the image above to view a larger version.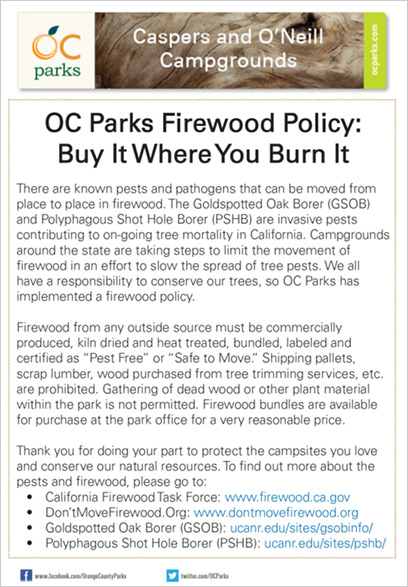 Click on the image above to view a larger version.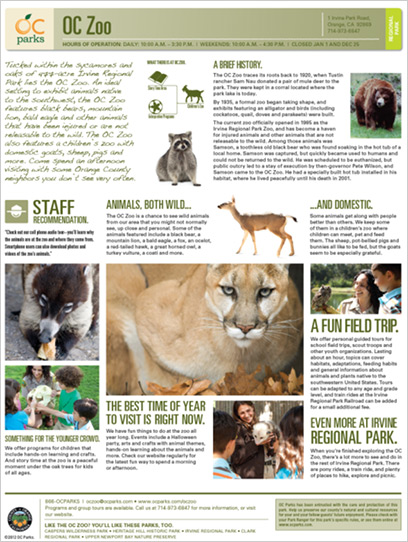 Click on the image above to view a larger version.

Orange County Public Libraries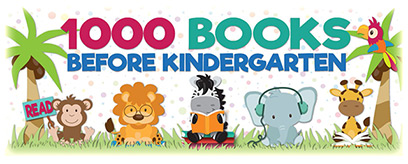 GIVE YOUR CHILD A HEAD START AND READ 1000 BOOKS BEFORE KINDERGARTEN!

Get ready, be prepared for Kindergarten by reading 1000 Books Before Kindergarten. Read to Succeed. Sign-up today.

http://www.ocpl.org/libloc/1000books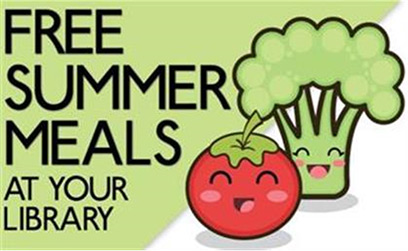 http://www.ocpl.org/libloc/lunch


Arie Dana
Chief of Staff

Michelle Cook
Communications Director

Francis Hur
Community Outreach Director

Patrik Kim
Policy Advisor

Natalie Medvedev
Policy Advisor

Tim Whitacre
District Representative

Tiffany Kim
Special Assistant



Stay Connected!