Board of Supervisors

Public Safety Victory

Dear Friends,

This past week we celebrated a victory in the fight for public safety for not only Orange County, but for all Californians.

On Thursday, Orange County Superior Judge James L. Crandall ruled California's "sanctuary" law that restricts cooperation between local law enforcement and federal immigration authorities violates the state constitution and cannot be enforced against the state's 121 charter cities.

Orange County is home to nine of those 121 charter cities and this ruling is a step forward to gaining back local control over the safety of our communities.

Senate Bill 54 is an unconstitutional attack on the rights of our local cities to create and follow their own local ordinances and charters that are created to best meet the needs of their communities. It poses a real threat to our families and neighbors and it is important for us to continue to take a stand against this dangerous legislation that allows criminals to be released into our neighborhoods.

Best Regards,
Michelle Steel

In the Community

September 29, 2018 Newport-Mesa Public Safety Forum

This past Saturday I Co-hosted a Public Safety Forum with Newport Beach Mayor Pro Tem Will O'Neill at the Civic Center in Newport Beach.

Thank you to the residents who joined us and especially to Orange County Assistant Sheriff Peterson, Newport Beach Police Department, OC Director of Care Coordination Susan Price, OC Public Works Assistant Director Khalid Bazmi, who were on hand to make presentations and answer questions.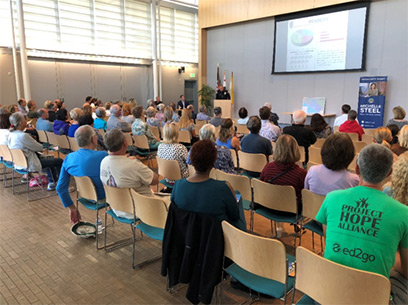 September 26, 2018 Orange County District Attorney Press Conference

Last week, I joined District Attorney Tony Rackauckas and fellow supervisor, Lisa Bartlett for a press conference regarding the important issue of sober living homes and illegal medical practices and treatments.

In my district, in the City of Costa Mesa and what is commonly known as the "Rehab Riviera," the safety of the public is threatened by the existence of unregulated sober living homes.

We need to create better laws that allow for local oversight to protect both recovering users and their neighbors. There are no minimum standards, no regulation, and no real oversight to determine the good operators from the bad.

Allowing these facilities to carry-on without any oversight or regulation only hurts our residents and our most vulnerable individuals who are fighting their addictions.

These rehab homes are also adding to our homeless problem. After insurance runs out and the operators have extracted what money they can, many individuals are kicked out onto our streets; only to become members of our homeless population.

Many of these homes have become unsafe, overcrowded properties with illegal activity that threatens both those seeking treatment and the rest of their communities.

By allowing people to exploit these vulnerable individuals we aren't helping them, we're hurting them. We must ensure that we only allow those validated facilities to continue operating and ensure we don't allow those bad facilities to operate in our communities.

We need local control and stronger regulations in place to protect our neighborhoods from those who are abusing the industry.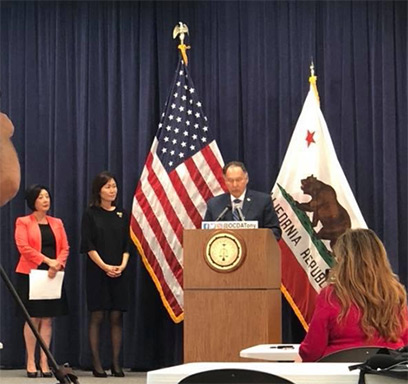 September 15, 2018 Huntington Beach Police Department Air Support Unit's 50th Anniversary

The Huntington Beach Police Department Air Support Unit celebrated its 50th Anniversary in service to the public in September. The Gala was held in their Hangar at the Heliport.

I was proud to have my staff present a resolution honoring the Air Support Unit's 50th Anniversary as well as their recent milestone of 75,000 Accident-free flight hours!

Did you know Huntington Beach Police Department Air Support Unit was the first in Orange County and fifth in the nation?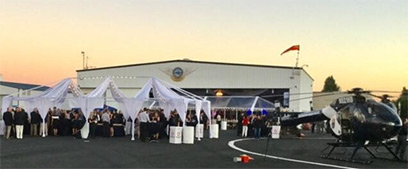 Announcements

Free Food Safety Seminar October 10th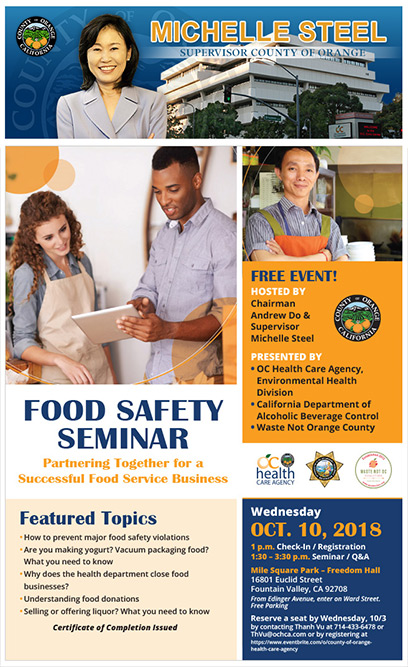 Click on the image above to view a larger version.

Stanton/ Garden Grove Community Clean-up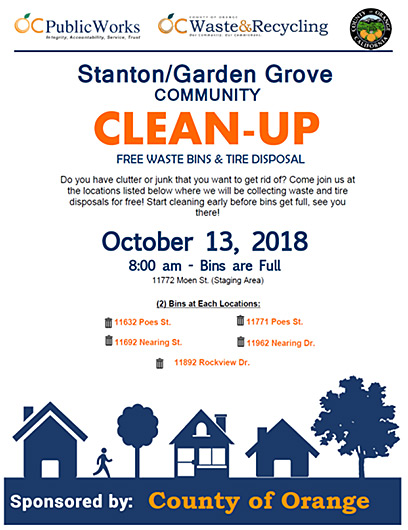 Fountain Valley Chamber of Commerce Fall Festival & Chili Cook-off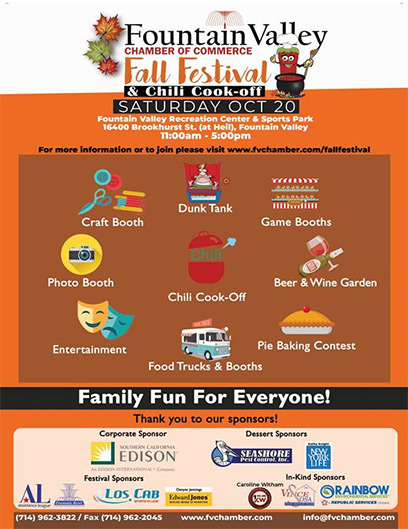 Orange County Transportation Authority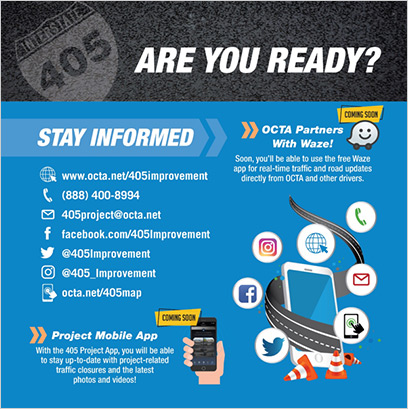 Stay Informed: With the new 405 Project App, you will be able to stay up-to-date with project-related traffic closures and the latest photos and videos. Plus, OCTA has partnered with Waze. You'll be able to find real-time traffic and road updates on the Waze app directly from OCTA and other drivers. You can also, visit OCTA.net/405map for an interactive live schedule of the improvement project as its happening. You'll be able to check your travel routes for detours or construction-related impacts. Here are some other helpful resources:

Facebook.com/405improvement
Follow @405_Improvement on Twitter and Instagram
Email 405project@octa.net
Call 888-400-8994
Visit www.octa.net/405improvement

OC TransitVision


What's your vision of transit in your city and throughout Orange County? Do you want trains, buses, shuttles, or something different? The Orange County Transportation Authority is asking for your help in shaping the future of transit. You can design your own transit system with the fun and interactive Build Your Own System survey that allows you to select from various transit features that could enhance transit in Orange County. These features include stops, stations, vehicle types, and service. As you develop your transit system, you can see the benefits – such as enhanced ridership, travel time, accessibility, or passenger experience – change in real-time. Check it out at https://octransitvision.com/. For more information, visit www.octa.net/octransitvision.

OC Public Works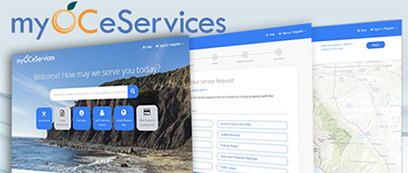 Introducing a new online service request system- myOC eServices! The new site gives you the ability to request services provided by OC Public Works and track the status of existing service requests.

OC Alert


AlertOC is a mass notification system designed to keep Orange County residents and businesses informed of emergencies and certain community events. By registering with AlertOC, time-sensitive voice messages from the County or City in which you live or work may be sent to your home, cell or business phone. Text messages may also be sent to cell phones, e-mail accounts and hearing impaired receiving devices.

For more information or to learn if your city is a participating member visit http://bos.ocgov.com/alertoc/alertoc.asp

OC Animal Care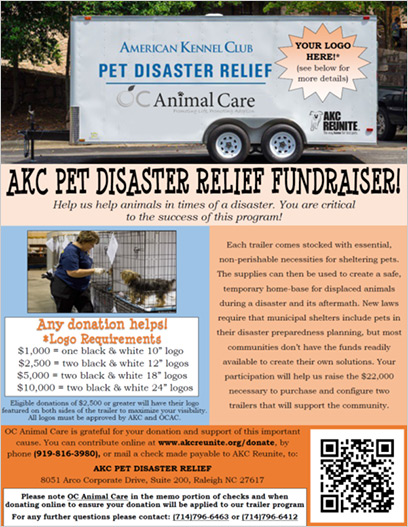 Click on the image above to view a larger version.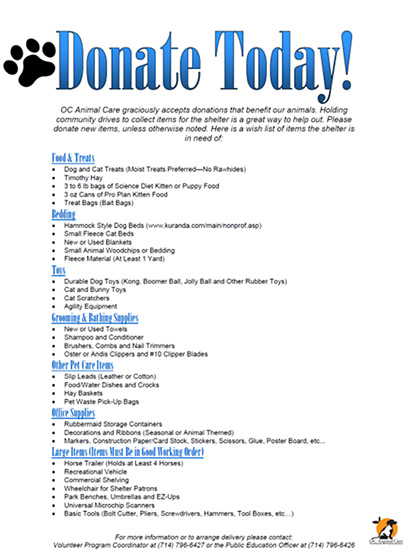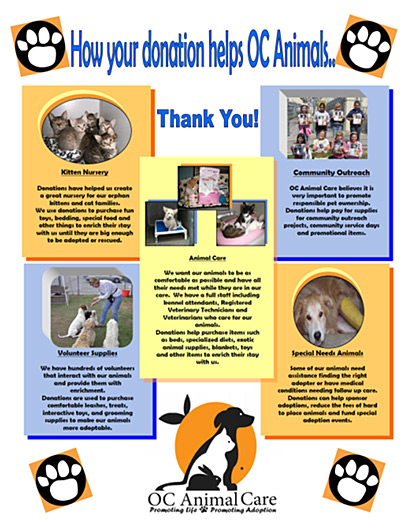 OC Waste & Recycling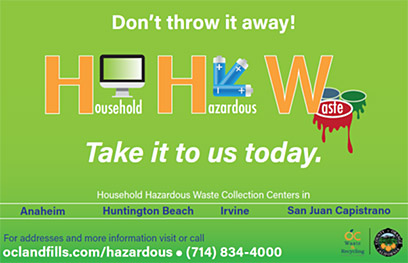 OC Waste & Recycling Wants You to Know About Hazardous Household Waste

Knowing about proper disposal of household hazardous waste is important, both for the potential effects on our environment and the health and safety of your family. Examples of household hazardous materials that we no longer need include everyday products for our homes, yards and autos, such as drain cleaners, oil paint, motor oil, antifreeze, fuel, poisons, pesticides, herbicides and rodenticides and some types of cleaning chemicals. Also, items such as batteries, fluorescent lamps, lamp ballasts, smoke detectors and consumer electronics, including televisions, computers and cell phones are classified as hazardous household waste.

Today there are multiple avenues for proper disposal of household hazardous waste. Through our OC Waste & Recycling department, the County provides four free Household Hazardous Waste Collection Centers. In the Second District, the closest location is in Huntington Beach at 17121 Nichols Street, Gate 6. When you visit, be sure to ask for a free battery bucket! If the County center is not convenient, many retailers now take back such items as paint, batteries, fluorescent tubes, halogen bulbs, cell phones and more.

Whether you use an OC Waste & Recycling facility or a retailer, I encourage you to become knowledgeable about hazardous household waste and do your part to keep it out of the landfills through proper disposal. Please call OC Waste & Recycling at 714-834-4000 for more information or if you have questions.

OC Parks
Irvine Park Railroad's Pumpkin Patch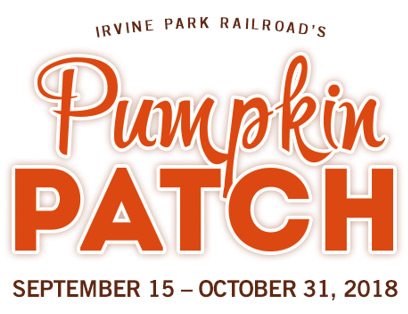 Irvine Park Railroad's Pumpkin Patch in Orange County is fun for the entire family. Come out and enjoy the many activities for kids of all ages. The Pumpkin Patch is located just behind the train station and admission is FREE. Please note that a gate entrance fee will be charged by the County of Orange for each vehicle that enters Irvine Regional Park.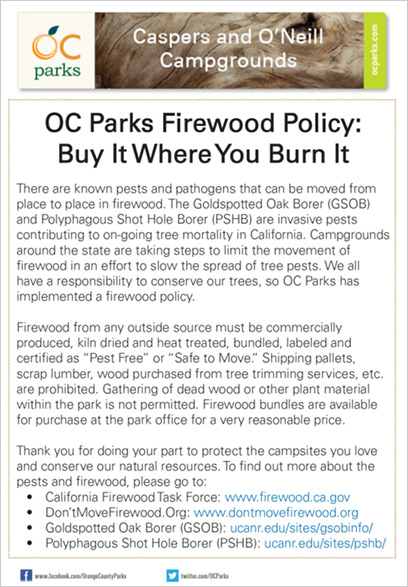 Click on the image above to view a larger version.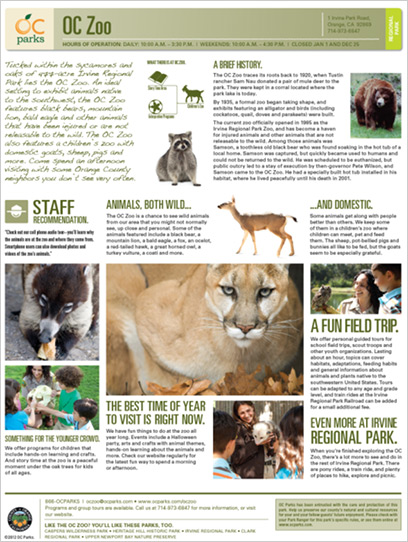 Click on the image above to view a larger version.

Orange County Public Libraries

Holiday Closure

All library locations will be closed in observance of Columbus Day, Monday, October 8th.

GIVE YOUR CHILD A HEAD START AND READ 1000 BOOKS BEFORE KINDERGARTEN!

Get ready, be prepared for Kindergarten by reading 1000 Books Before Kindergarten. Read to Succeed. Sign-up today.

http://www.ocpl.org/libloc/1000books