Reform Needed For Affordable Housing

Welcome to 2nd District Updates!

Dear Friends,

As Chair of the Orange County Board of Supervisors in 2017, I partnered with Joel Kotkin of Chapman University to create a common vision for Orange County's future growth.

That study found a tremendous need for housing in Orange County, but said that "a concerted attempt to densify it into a more traditional urban form … could weaken the very appeal of the area." Yet that's what Gov. Newsom's lawsuit against the City of Huntington Beach will do.

Singling out one city for a lawsuit in a state where dozens of cities are short on housing will not solve our statewide housing problem. I urge Governor Newsom to drop his lawsuit against Huntington Beach and work together with cities and counties to reform state rules, such as CEQA, that make it too expensive to build affordable homes.

A recent column by Susan Shelley in the Orange County Register, which you can find below, helps explain the issues involved in the state's lawsuit against Huntington Beach.

Best Regards,
Michelle Steel
The Orange County Register
Opinion

Newsom's misguided fight for control of local housing development decisions

By Susan Shelley
In one of his first acts as governor, Gavin Newsom filed a lawsuit against the Orange County city of Huntington Beach for failing to meet state-mandated housing goals.

Some observers wondered why Surf City was singled out for this action, when more than 50 local governments similarly fail to build enough housing to comply with the requirements of state law.

It may have something to do with a lawsuit Huntington Beach filed against Newsom and the state on Jan. 17. The city is challenging the constitutionality of Senate Bill 35, a 2017 law authored by Sen. Scott Wiener, D-San Francisco. "SB35 seeks to create a system where the state controls how, where and when housing is built in every city in California," the lawsuit charges, arguing that the state may not "commandeer cities' discretionary land use authority over where and how the construction of housing can take place in a city."

In 1967, California passed a law telling all local governments to "adequately plan to meet the housing needs of everyone in the community." As the Department of Housing and Community Development explains, "California's local governments meet this requirement by adopting housing plans as part of their 'general plan' (also required by the state)."

A local government's general plan includes seven elements: land use, transportation, conservation, noise, open space, safety and housing.

The question is, who's in charge of approving new housing developments in your community? Your local elected officials or the state government?

Huntington Beach's lawsuit cites Section 5(a) of Article XI of the California Constitution, which provides that "a Charter City shall not be governed by State law in respect to 'Municipal Affairs.'" It cites a 1994 state court ruling in City of Irvine v. Irvine Citizens Against Overdevelopment, which held that "regulation of local land use and local zoning are vital and core functions of local government, and are therefore 'Municipal Affairs' of a Charter City."

Under state law, cities can be organized under the general laws of the state, or under their own charters adopted by local voters. Charter cities have more local control. There are over 400 incorporated cities and towns in California, and while only 121 are charter cities such as Huntington Beach, you've probably heard of some of them — Los Angeles, Sacramento, Modesto, Fresno, Pasadena, Long Beach, San Bernardino, Riverside, Redondo Beach, Irvine and Cerritos, as well as Newport Beach, Placentia, Burbank, Glendale, Lancaster, Torrance, Whittier, Seal Beach, San Francisco, San Jose, Oakland and San Diego.

Gov. Newsom's fight for control of local housing development decisions turns out to be a fight against most of the voters in California. It's an interesting political choice.

Meanwhile, the California Building Industry Association is negotiating with the State Building & Construction Trades Council over what may become a new state law, if they can get it past the environmental lobbyists. You probably thought elected officials made laws in California. Well, we all made that mistake once.

The developers and the union leaders are working on a deal that would give certain housing projects a waiver from certain headaches under the California Environmental Quality Act in exchange for a guarantee that the construction workers hired to build them would be paid the prevailing wage, a union-directed rate that far exceed pay rates for non-union workers.

Environmental groups are worried that this deal, if it happens, would liberate developers to build single-family housing tracts in outlying areas instead of stacked apartments near transit stations, and that will diminish California's "leadership" on climate change.

So if the final deal includes mandates from the green wish-list, like electric water heaters or bike lanes, you'll know why.

Newsom will probably lose his fight to control Huntington Beach. In a 1974 case involving Merced, an appeals court ruling stated: "regulation of land use, particularly in relation to multi-unit housing which results in population saturation, vehicular congestion and elimination of open space for park and recreation areas, is of vital concern to a municipality."

People have every right to be concerned about negative impacts from new housing developments on traffic, parking, infrastructure and the value of their property. Local politicians certainly know that, even if state politicians have forgotten it.

Susan Shelley is an editorial writer and columnist for the Southern California News Group.

https://www.ocregister.com/2019/01/29/newsoms-misguided-fight-for-control-of-local-housing-development-decisions/

Opinion

The Washington Times

Why Vietnamese refugees also need the First Step
By Michelle Park Steel

Published Friday Dec 21, 2018
For over a year now, the Trump administration has been back and forth regarding a 2008 policy that protects pre-1995 Vietnamese refugees from deportation. Most recently, the U.S. Embassy in Hanoi spokesperson James Thrower announced that the administration is planning to deport thousands of Vietnamese refugees who have committed crimes while living in the United States.

As an Orange County supervisor, I understand and prioritize public safety. We've seen the deadly effect of criminal illegal aliens being released to wander our streets due to California's "sanctuary" laws. However, deporting Vietnamese refugees who have committed crimes is not in the same category, nor does it call for the same arguments for deporting criminal illegals.

In a timely move, President Trump has marshalled the most sweeping criminal reform bill in decades through the Senate, and it is expected to pass through the House. Aptly named the First Step Act, this historic legislation would allow nonviolent offenders more leniency.

This can directly be applied to the small number of Vietnamese refugees who are being threatened with deportation.

I came to the United States as a young immigrant firmly believing that America is a beacon of freedom, especially for those around the world escaping tyranny. Decades later, as a proud Asian American mother, businesswoman, and elected official, I continue to believe in our nation's founding principles.

During and after the Vietnam War, thousands of South Vietnamese risked their lives to seek refuge within the United States — to escape political persecution or to create a better life.

The majority of those refugees landed in California, and the area I represent — Orange County — is home to more than 200,000 Vietnamese Americans, most of whom are law-abiding, hard-working contributors to our community. They are our friends and neighbors. They have built families and businesses here. Their culture has become our shared culture.

As with any group of people, there were some bad eggs. Deporting them is not the answer.

A very small population were convicted of criminal acts, paid the penalty, and the great majority are good, contributing residents for decades.

To this day human rights oppressing communists control Vietnam. As my Vietnamese-American friends and colleagues Chairman Andrew Do of the Orange County Board of Supervisors and Assemblyman Tyler Diep wrote in a letter to President Trump, "These refugees would be blacklisted and denied basic human rights. This is not a perceived threat; it is, in fact, a national policy of the government of Vietnam."

Deporting Vietnamese refugees is the equivalent of sentencing them to an undeserved, long-suffering life under the thumb of a tyrannical government they fled a generation ago.

I understand the pressures that Mr. Trump is facing regarding immigration. Here in Southern California, we are very familiar with what is going on at our southern border.

However, the Vietnamese American community faces fundamentally different circumstances in their country of origin than do most other immigrants. Refugees deported to Vietnam will be treated as traitors for having left the country in the first place. It's essential to account for this reality.

Currently, the United States is in the midst of a political shouting match. This post-midterm period is causing both parties to analyze what went wrong, what went right, and what can be improved. The left claims we are inconsistent and they seek to create a political wedge against our natural political allies.

The Vietnamese American community has been reliably conservative and pro-American. Not only is there a clear, moral, and principled reason for protecting these refugees, there is also a reason for political concern. There is never a good time to isolate and frighten a dependable percentage of one's political base. But no time could be worse than now.

This debate is only conjecture until the such a time that the United States and Vietnamese governments sit down to decide what is to happen to these Vietnamese refugees. In the meantime, I join my fellow Americans in urging President Trump to continue to stand up against oppressive communism. Vietnamese refugees should also enjoy Mr. Trump's leadership given in the First Step Act.

In the Community

January 31, 2019 Stanton Business Association

The City of Stanton and the Stanton Business Association held their 9th Annual Business Awards Luncheon last week. It was my pleasure to have staff on hand to honor the ten 'Of the Year' award recipients. I congratulate them all on their well-deserved recognition!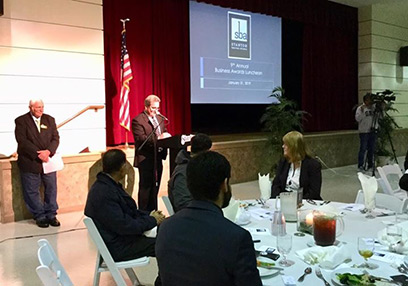 January 31, 2019 South Coast Plaza's Lunar New Year Celebration

South Coast Plaza's Lunar New Year opening night reception for "The Year of the Pig" took place in Jewel Court at South Coast Plaza. I was honored to join other dignitaries to offer remarks and participate in the Ribbon Cutting. I also enjoyed a very entertaining celebration by the Zhejiang Conservatory of Music and was able to recognize them afterward for their dynamic performance.

This annual event hosted by South Coast Plaza is the most vibrant kickoff of the Lunar New Year in Southern California. The festivities will continue throughout the month so be sure to stop by! Congratulations to Brian Chuan, Cindy Mei, and the rest of their staff for doing such a great job. Happy Lunar New Year of the Golden Pig!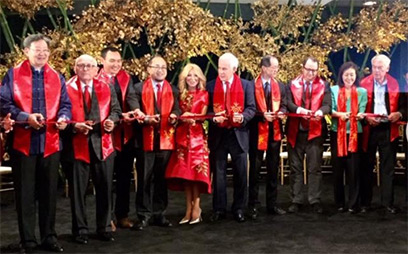 January 31, 2019 20th Anniversary of the Newport Beach Fire Department's CERT Program

Congratulations to the Newport Beach Fire Department on the 20th Anniversary celebration of their CERT Program! We were honored to present Fire Chief Chip Duncan and Program Manager Matt Brisbois with a resolution to commemorate this special day, as well as commend Fire Engineer Alan Baker for receiving the Lifetime Achievement Award and Newport Beach Volunteers for their hard work and dedication to serving the community.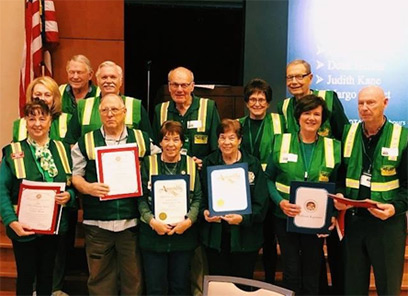 January 18, 2019 Women's Council of REALTORS Installation Reception

Recently, the Women's Council of REALTORS Coastal-West Orange County held their 2019 Installation Reception. As a staunch advocate for entrepreneurs, it was a pleasure to have staff on hand to recognize five outstanding ladies for their leadership within the Women's Council.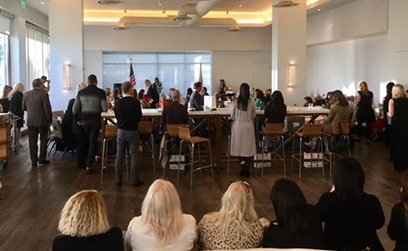 January 8, 2019 Korean American Day

In January, I had the privilege of recognizing many of our Korean American leaders in honor of the 116th anniversary of Korean American Day and the Korean immigration to the United States.

The Korean American community has made many contributions to Orange County. Their commitment to family, hard work, education, and mutual support is a unique part of the Korean American culture. It is this commitment that has brought success to our country since those first 102 Korean immigrants landed in Honolulu, Hawaii on January 13th, 1903.

Thank you to the Korean American Foundation, the Consulate General of the Republic of Korea, the Korean American Federation of Orange County, the National Unification Advisory Council, the Korean American Chamber of Commerce of Orange County, the Korean American Seniors Association of Orange County, the Council of Korean Churches in Orange County, and the Korean American Foundation of Orange County who were able to join us. As well as all of the local Korean American leaders in our community who continue to provide support for the county.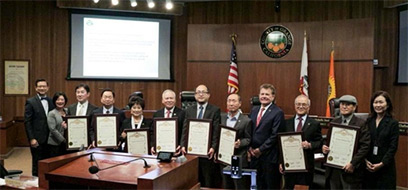 January 8, 2019 Swearing In

At the beginning of January I was sworn in to start my second term as Orange County Supervisor for the Second District and chosen to serve as the Vice Chair for 2019.

I was extremely grateful to be re-elected this past year to continue to serve all of the residents of the second district.

Thank you to Mayor Diane Dixon of Newport Beach for swearing me in, my husband Shawn Steel, and everyone else who could join us. I look forward to getting back to work to ensure a higher quality of life for all of Orange County!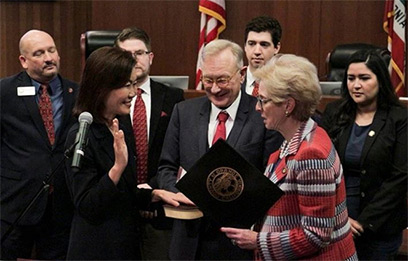 Announcements

The County of Orange Office on Aging needs your help!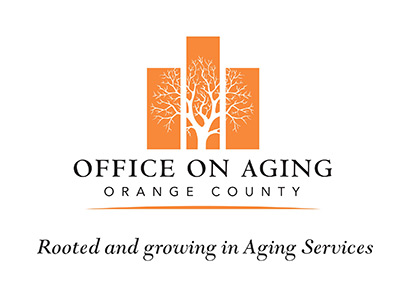 The Office on Aging (OoA) is requesting your assistance in completing this 10-minute needs assessment survey to identify new and current needs within Orange County's older adult population.

The focus of this assessment is to evaluate issues and perceived needs of older adults. You do not need to be a senior to participate, knowing or caring for a senior is sufficient for participation.

With your help, the Office on Aging will continue to employ collaborative partnerships and innovative programming to maximize limited resources and improve the older adult service delivery system in Orange County.

To learn more about our needs assessment and see past results please visit our webpage at: http://www.officeonaging.ocgov.com/resources/seniorlivingnneedssurvey

Thank you for helping us ensure our seniors live a thriving life in Orange County.

OC Landfills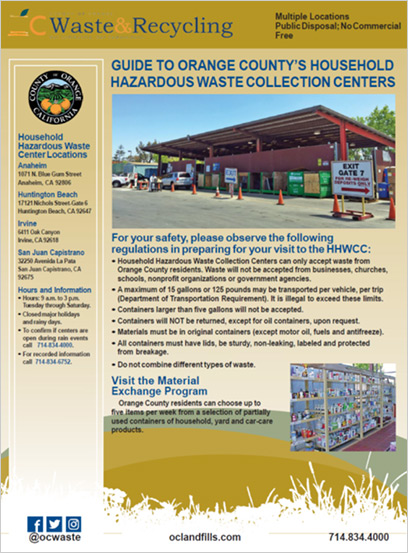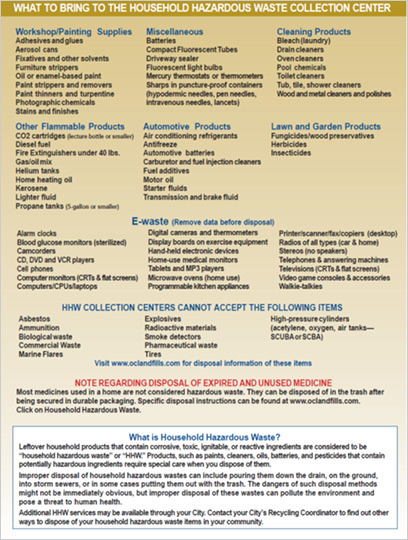 Click on the image above to view a larger version.
Orange County Transportation Authority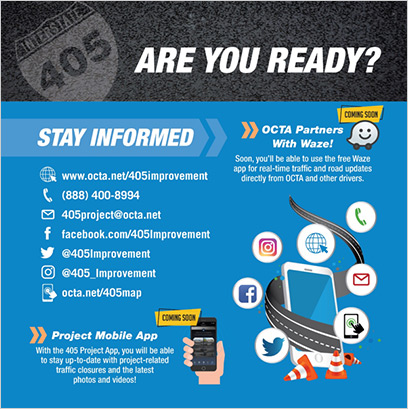 Stay Informed: With the new 405 Project App, you will be able to stay up-to-date with project-related traffic closures and the latest photos and videos. Plus, OCTA has partnered with Waze. You'll be able to find real-time traffic and road updates on the Waze app directly from OCTA and other drivers. You can also, visit OCTA.net/405map for an interactive live schedule of the improvement project as its happening. You'll be able to check your travel routes for detours or construction-related impacts. Here are some other helpful resources:

Facebook.com/405improvement
Follow @405_Improvement on Twitter and Instagram
Email 405project@octa.net
Call 888-400-8994
Visit www.octa.net/405improvement

OC TransitVision


What's your vision of transit in your city and throughout Orange County? Do you want trains, buses, shuttles, or something different? The Orange County Transportation Authority is asking for your help in shaping the future of transit. You can design your own transit system with the fun and interactive Build Your Own System survey that allows you to select from various transit features that could enhance transit in Orange County. These features include stops, stations, vehicle types, and service. As you develop your transit system, you can see the benefits – such as enhanced ridership, travel time, accessibility, or passenger experience – change in real-time. Check it out at https://octransitvision.com/. For more information, visit www.octa.net/octransitvision.

OC Public Works

Recently, County of Orange staff provided meeting attendees with an overview of the project and presented four park design concepts. Following the presentation, the group asked questions and provided insight for the project team to consider. All attendees then voted on their preferred design option via display boards.

To view the PowerPoint presentation and display boards from the community meeting, visit the project webpage at ocpublicworks.com/universitydrivepark.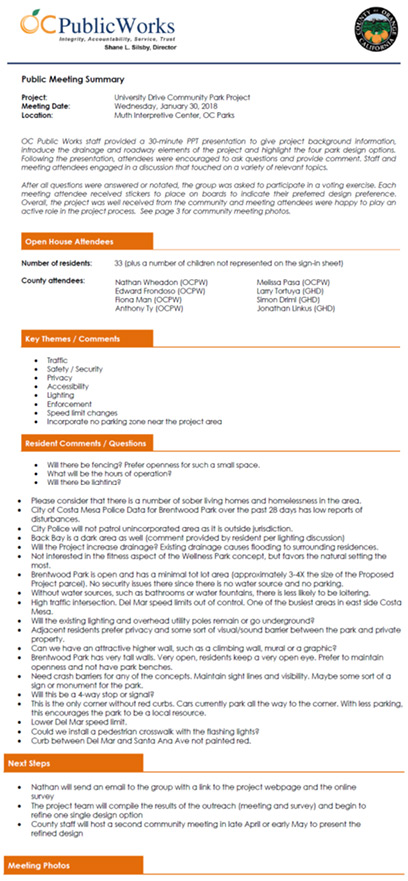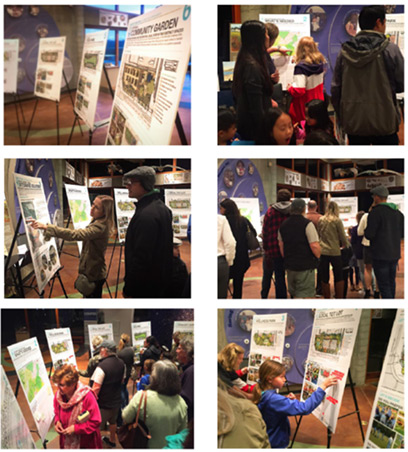 Click on the image above to view a larger version.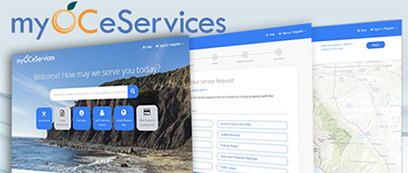 Introducing a new online service request system- myOC eServices! The new site gives you the ability to request services provided by OC Public Works and track the status of existing service requests.

OC Alert


AlertOC is a mass notification system designed to keep Orange County residents and businesses informed of emergencies and certain community events. By registering with AlertOC, time-sensitive voice messages from the County or City in which you live or work may be sent to your home, cell or business phone. Text messages may also be sent to cell phones, e-mail accounts and hearing impaired receiving devices.

For more information or to learn if your city is a participating member visit http://bos.ocgov.com/alertoc/alertoc.asp

OC Animal Care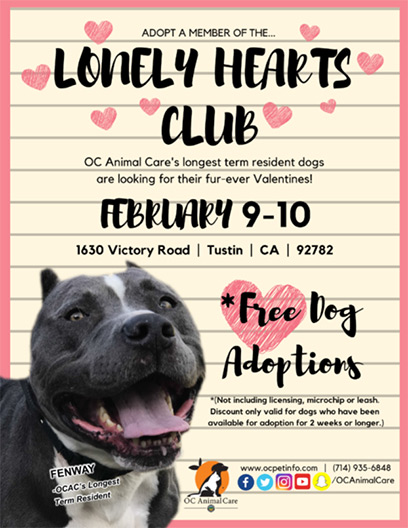 Click on the image above to view a larger version.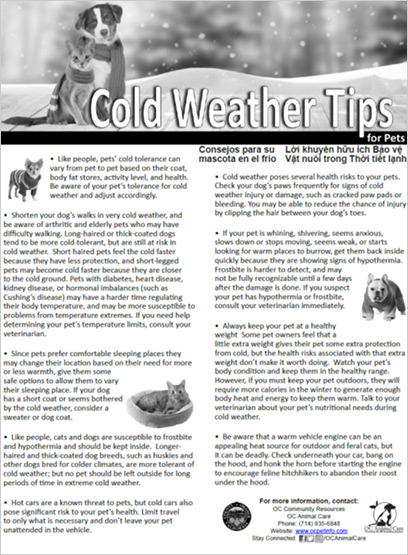 Click on the image above to view a larger version.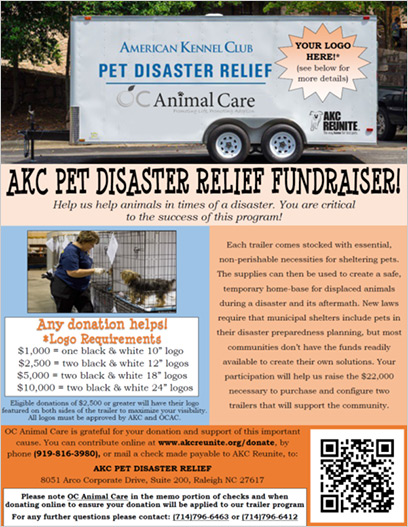 Click on the image above to view a larger version.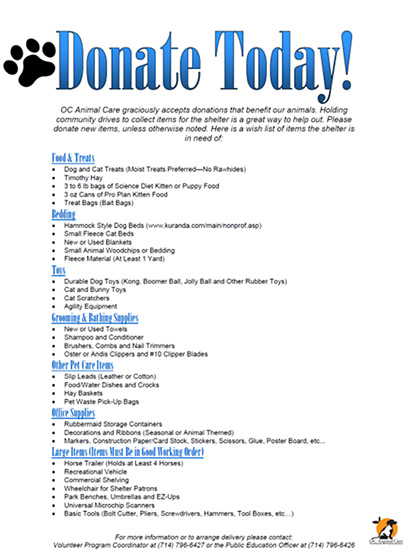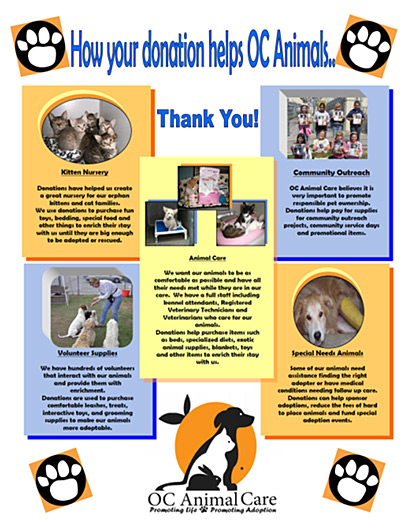 OC Waste & Recycling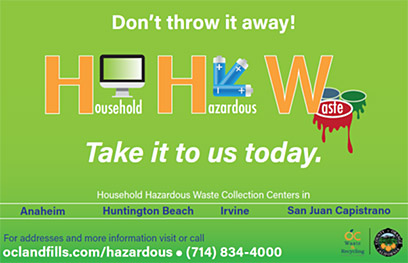 OC Waste & Recycling Wants You to Know About Hazardous Household Waste

Knowing about proper disposal of household hazardous waste is important, both for the potential effects on our environment and the health and safety of your family. Examples of household hazardous materials that we no longer need include everyday products for our homes, yards and autos, such as drain cleaners, oil paint, motor oil, antifreeze, fuel, poisons, pesticides, herbicides and rodenticides and some types of cleaning chemicals. Also, items such as batteries, fluorescent lamps, lamp ballasts, smoke detectors and consumer electronics, including televisions, computers and cell phones are classified as hazardous household waste.

Today there are multiple avenues for proper disposal of household hazardous waste. Through our OC Waste & Recycling department, the County provides four free Household Hazardous Waste Collection Centers. In the Second District, the closest location is in Huntington Beach at 17121 Nichols Street, Gate 6. When you visit, be sure to ask for a free battery bucket! If the County center is not convenient, many retailers now take back such items as paint, batteries, fluorescent tubes, halogen bulbs, cell phones and more.

Whether you use an OC Waste & Recycling facility or a retailer, I encourage you to become knowledgeable about hazardous household waste and do your part to keep it out of the landfills through proper disposal. Please call OC Waste & Recycling at 714-834-4000 for more information or if you have questions.

OC Parks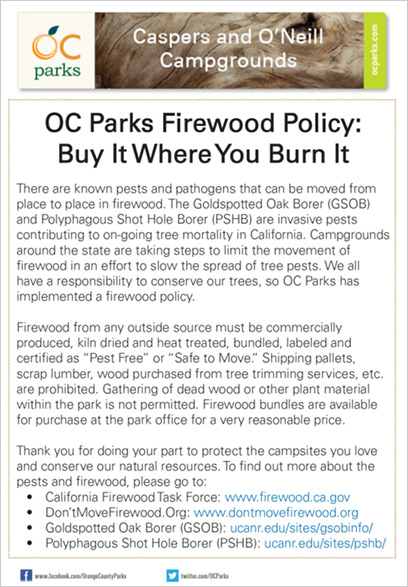 Click on the image above to view a larger version.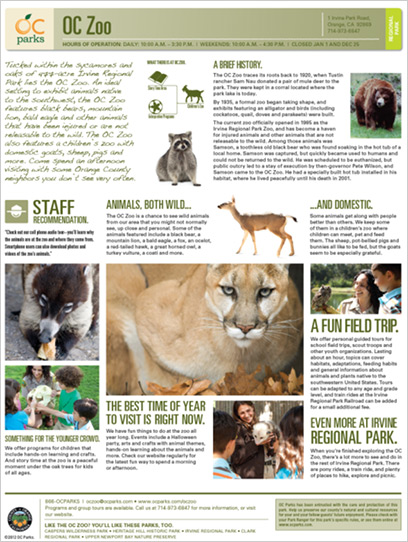 Click on the image above to view a larger version.

Orange County Public Libraries

Holiday Closure

All locations will be closed Tuesday, February 12th and Monday, February 18th in observance of the holidays.

GIVE YOUR CHILD A HEAD START AND READ 1000 BOOKS BEFORE KINDERGARTEN!

Get ready, be prepared for Kindergarten by reading 1000 Books Before Kindergarten. Read to Succeed. Sign-up today.

http://www.ocpl.org/libloc/1000books



Arie Dana
Chief of Staff

Michelle Cook
Communications Director

Francis Hur
Community Outreach Director

Patrik Kim
Policy Advisor

Natalie Medvedev
Policy Advisor

Tim Whitacre
District Representative

Tiffany Kim
Special Assistant



Stay Connected!