In the Community

February 26, 2019 Fountain Valley Business & Leadership Awards

The Fountain Chamber of Commerce held their annual Business & Leadership Awards Dinner at Mile Square Golf Course this week. It was a pleasure to have staff recognize the Award Winners on my behalf.

Congratulations to the Awardees. And congratulations to Chamber staff & volunteers for a job well-done!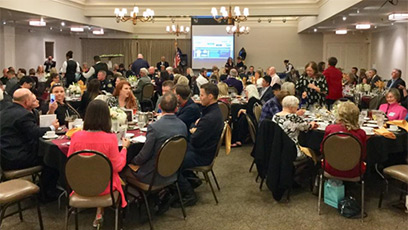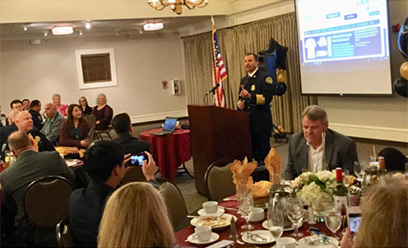 February 26, 2019 100th Anniversary of the Korean Independence Movement

This year marks the 100th anniversary of the Korean Independence Movement, also known as the Samil Movement—a series of demonstrations for Korean National independence from Japan that began on March 1, 1919 in Seoul and soon spread throughout Korea. In April of 1919, the Korean Provisional Government was formed in Shanghai and after nearly 30 years and the Japanese surrender during World War II, Koreans finally achieved their independence.

At the Board of Supervisors meeting we commemorated the 100th anniversary of the March 1st Korean Independence Movement and celebrated the valuable contributions Korean Americans have made to the County of Orange and our nation as a whole.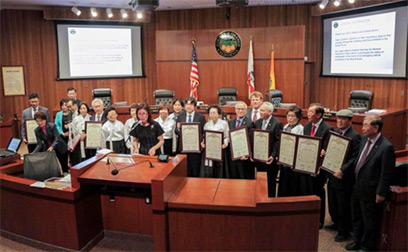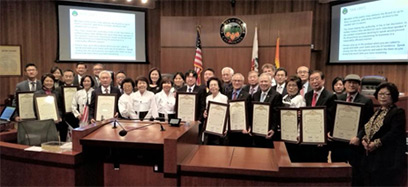 February 26, 2019 Dr. Duck Jin Choi

At our board meeting this week, we honored the service of Dr. Duck Jin Choi who will be returning to Korea after five years in the U.S.

Dr. Choi has been with Korean Air for over 28 years and is now the managing Vice President in charge of the Human Resources department at their regional headquarters in the U.S.

He is also managed and oversaw the construction of the Intercontinental Hotel in Los Angeles, the tallest building west of the Mississippi. He also devoted his time serving different community organizations such as the Olympic Booster Association and Rotary Club.

Thank you Dr. Choi for your countless contributions and years of dedicated service benefitting the community as a whole.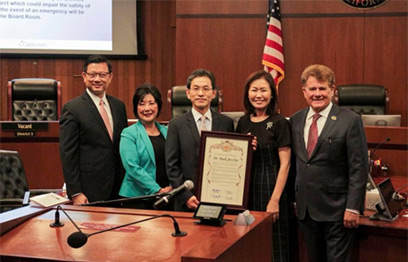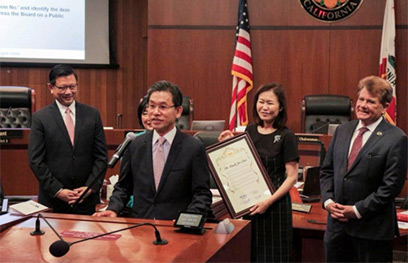 February 25, 2019 City of Seal Beach Reorganization Meeting

This week I was at the City of Seal Beach City Council meeting to honor Councilwoman Ellery Deaton at her last meeting. Ellery served the city for sixteen years - eight of those on City Council which included two terms as Mayor. It also happened to be her birthday so I brought her a cake and led the audience in singing Happy Birthday!

Additionally, I honored Councilman Mike Varipapa for his leadership as Mayor for 2018, and observed the swearing-in of new Councilman Joe Kalmick, who recently won a special election to fill the District 1 seat.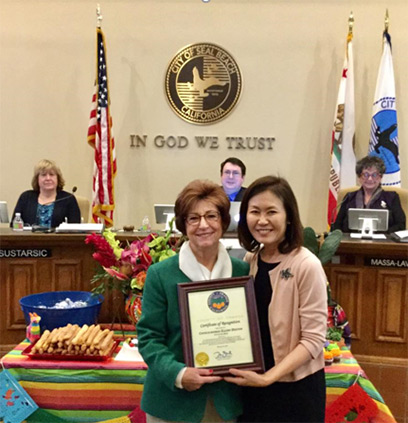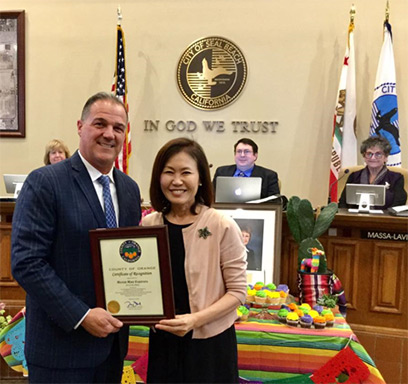 February 24, 2019 Retirement

It was a pleasure to honor Huntington Beach resident, Jeff Morin, on the occasion of his retirement from AT&T after forty years of faithful service.

Staff was on hand to offer remarks and present Jeff with a resolution at the Offshore 9 Rooftop Lounge at The Waterfront Beach Resort, a Hilton Hotel.

I wish Jeff and his lovely wife Linda, Godspeed as they enter a new chapter together. Thankfully, they are going to remain in Huntington Beach and continue their volunteer service to the community. Congratulations Jeff & Linda!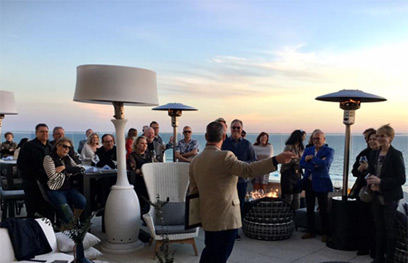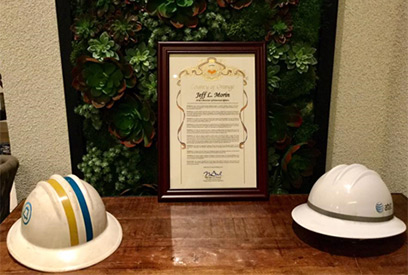 February 23, 2019 44th Annual Americana Awards

Cypress College Foundation held their 44th Annual Americana Awards in the Grand Ballroom of the Disneyland Hotel.

It was an honor to have staff on hand to recognize eight cities 'Citizens of the Year,' the 'Woman of the Year,' and two 'Cypress College Foundation Special Service Award' recipients.

Congratulations to all of the well-deserving Awardees who have done so much in their local communities, as well as for Cypress College!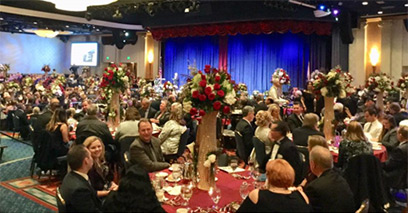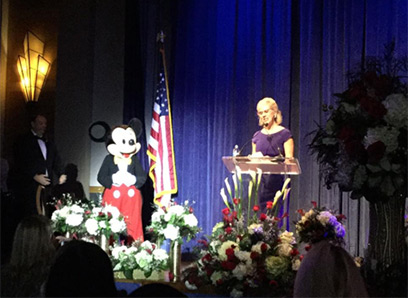 February 22, 2019 11th Annual Best and Bravest Awards Dinner

Recently, the Orange County Fire Authority held their 11th Annual Best and Bravest Awards Dinner. It was an honor to help recognize the Firefighters - chosen from their peers as Award Recipients - with certificates signed by the Board of Supervisors.

Congratulations to all the Awardees, as well as to the OCFA staff who worked hard to present such a fine event!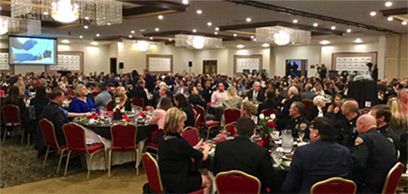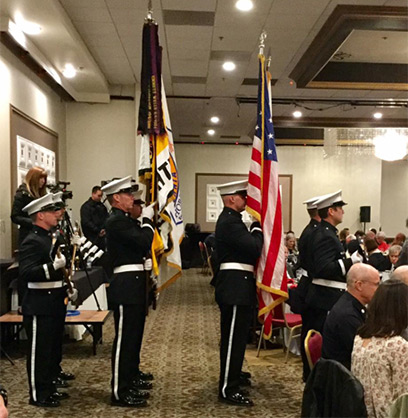 February 9, 2019 Tet Parade

Chúc mừng năm mới! I was honored to take part in the annual Tet Parade In Westminster this year. Despite some early morning downpours and a two and a half delay, the clouds gave way to sunshine and it was a beautiful day to celebrate the Lunar New Year with the Vietnamese Community.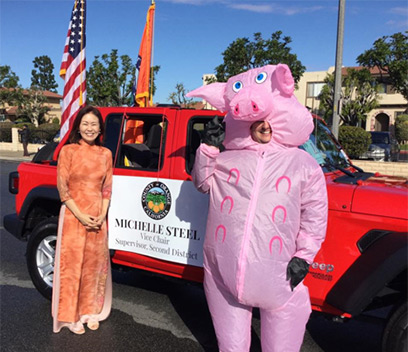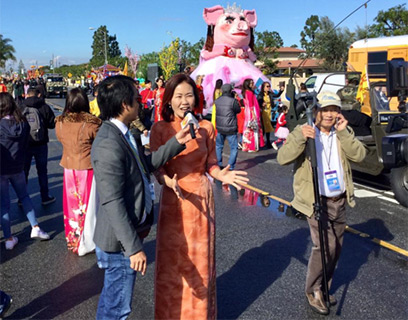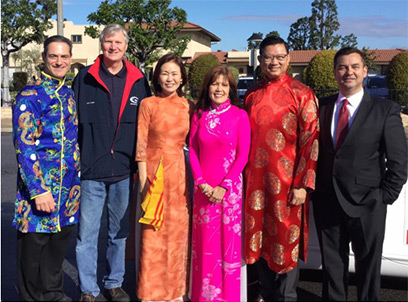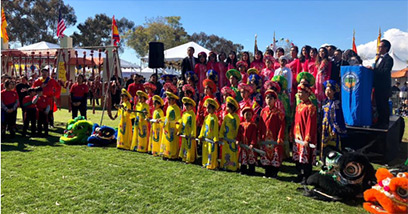 February 7, 2019 38th Annual Mayor's Dinner

Speak Up Newport held their 38th Annual Mayor's Dinner at the Newport Beach Marriott Hotel & Spa. A jammed-pack room was on hand to listen to Mayor Diane Dixon update everyone on the status of the City.

The entire City Council, along with the City Manager, Fire Chief, and Police Chief, participated in a fun, informative video. All of the former Mayors assembled on stage for a group photo and were recognized for their service. Speak Up Newport Board of Directors did an amazing job organizing and presenting the event!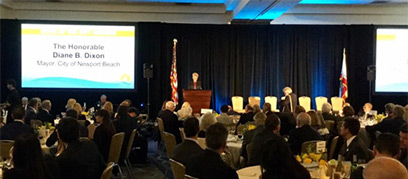 February 6, 2019 Buena Park State of the City Luncheon

The City of Buena Park held their annual State of the City Luncheon this past month at the Knott's Berry Farm Hotel. Mayor Art Brown, City Council Members, and Staff did a fine job in their presentations. There are quite a number of exciting projects taking place that will only improve the City's reputation as a go-to destination!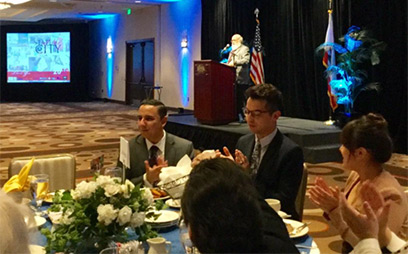 Announcements

The County of Orange Office on Aging needs your help!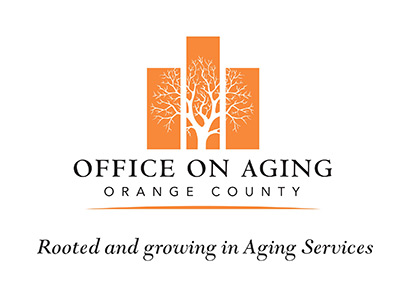 The Office on Aging (OoA) is requesting your assistance in completing this 10-minute needs assessment survey to identify new and current needs within Orange County's older adult population.

The focus of this assessment is to evaluate issues and perceived needs of older adults. You do not need to be a senior to participate, knowing or caring for a senior is sufficient for participation.

With your help, the Office on Aging will continue to employ collaborative partnerships and innovative programming to maximize limited resources and improve the older adult service delivery system in Orange County.

To learn more about our needs assessment and see past results please visit our webpage at: http://www.officeonaging.ocgov.com/resources/seniorlivingnneedssurvey

Thank you for helping us ensure our seniors live a thriving life in Orange County.

OC Landfills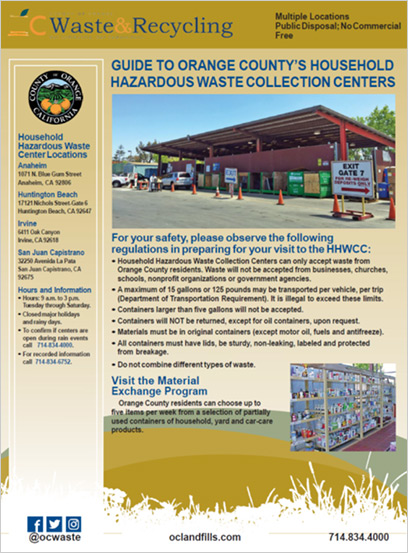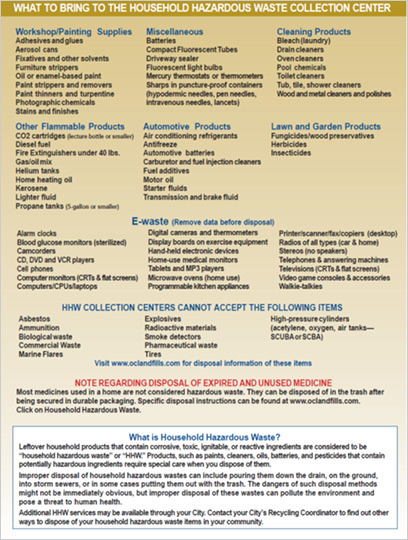 Click on the image above to view a larger version.
Orange County Transportation Authority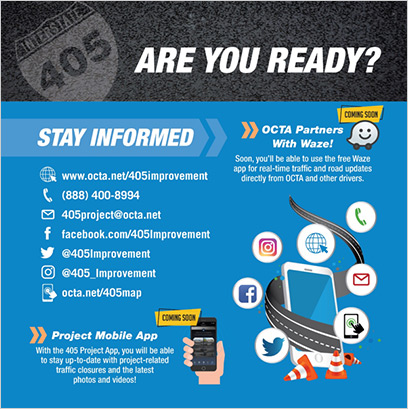 Stay Informed: With the new 405 Project App, you will be able to stay up-to-date with project-related traffic closures and the latest photos and videos. Plus, OCTA has partnered with Waze. You'll be able to find real-time traffic and road updates on the Waze app directly from OCTA and other drivers. You can also, visit OCTA.net/405map for an interactive live schedule of the improvement project as its happening. You'll be able to check your travel routes for detours or construction-related impacts. Here are some other helpful resources:

Facebook.com/405improvement
Follow @405_Improvement on Twitter and Instagram
Email 405project@octa.net
Call 888-400-8994
Visit www.octa.net/405improvement

OC TransitVision


What's your vision of transit in your city and throughout Orange County? Do you want trains, buses, shuttles, or something different? The Orange County Transportation Authority is asking for your help in shaping the future of transit. You can design your own transit system with the fun and interactive Build Your Own System survey that allows you to select from various transit features that could enhance transit in Orange County. These features include stops, stations, vehicle types, and service. As you develop your transit system, you can see the benefits – such as enhanced ridership, travel time, accessibility, or passenger experience – change in real-time. Check it out at https://octransitvision.com/. For more information, visit www.octa.net/octransitvision.

OC Public Works

Edinger Bridge Project Update

My office has learned that the contractor placed concrete on the final portion of the bridge deck last week. If the weather holds up, it looks like the bridge could open in its ultimate configuration by the end of April!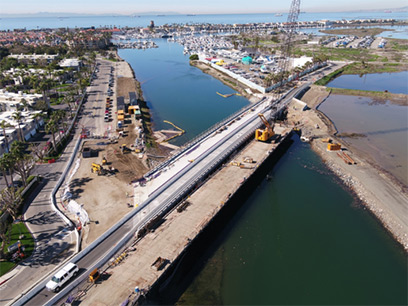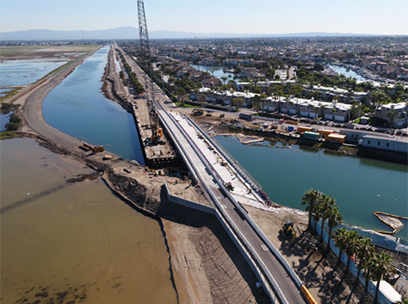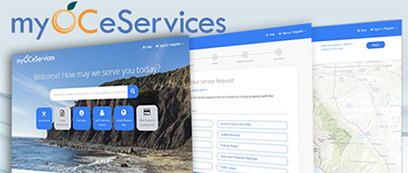 Introducing a new online service request system- myOC eServices! The new site gives you the ability to request services provided by OC Public Works and track the status of existing service requests.

Orange County Transportation Authority

While the I-405 was scheduled to be closed in both directions at Fairview Road, for the demolition of the Fairview Bridge, due to inclement weather forecasted this weekend, the full freeway closure for March 2nd has been canceled. However, the full freeway closure for March 9th is scheduled to move forward. The freeway will be closed from 11 p.m. to 9 a.m. on March 3rd.

For more information, visit: https://www.octa.net/Projects-and-Programs/Under-Construction/I-405-Improvement-Project/?frm=7135#!Construction.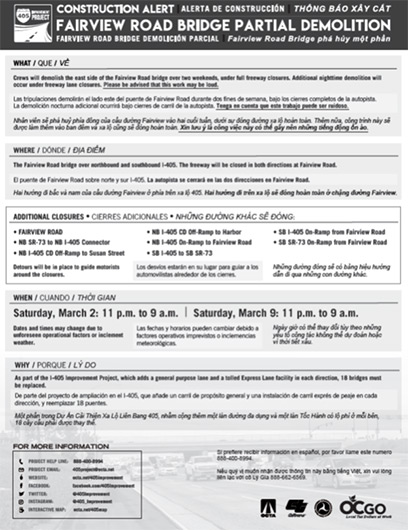 OC Alert


AlertOC is a mass notification system designed to keep Orange County residents and businesses informed of emergencies and certain community events. By registering with AlertOC, time-sensitive voice messages from the County or City in which you live or work may be sent to your home, cell or business phone. Text messages may also be sent to cell phones, e-mail accounts and hearing impaired receiving devices.

For more information or to learn if your city is a participating member visit http://bos.ocgov.com/alertoc/alertoc.asp

OC Animal Care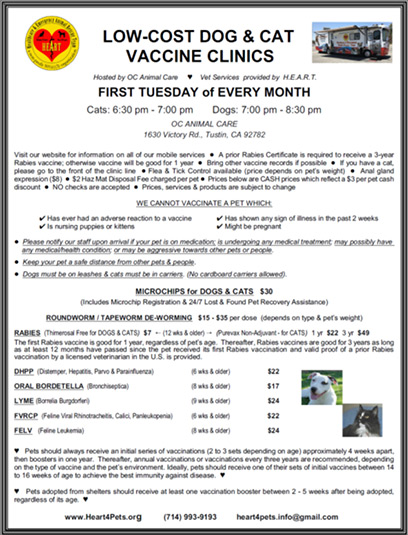 Click on the image above to view a larger version.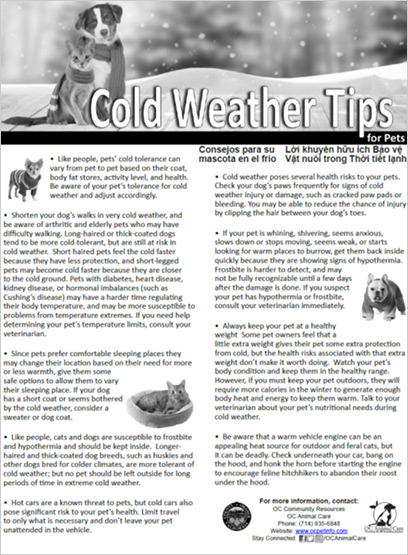 Click on the image above to view a larger version.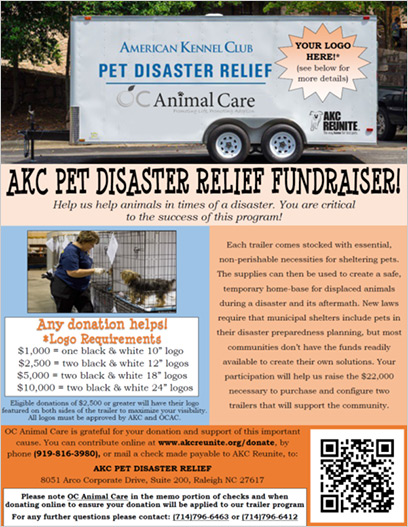 Click on the image above to view a larger version.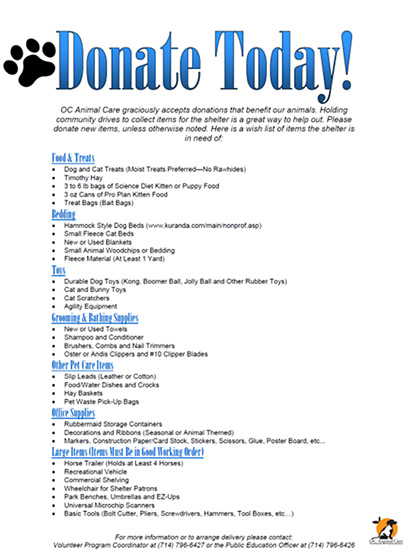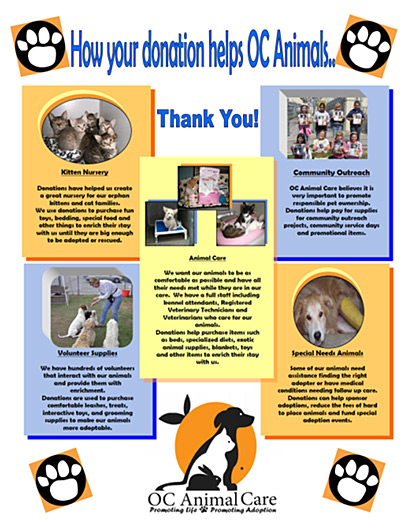 OC Waste & Recycling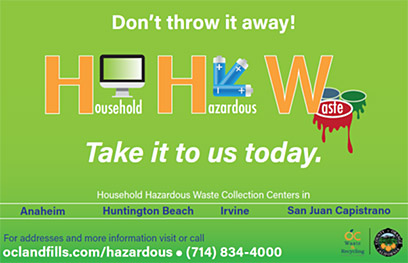 OC Waste & Recycling Wants You to Know About Hazardous Household Waste

Knowing about proper disposal of household hazardous waste is important, both for the potential effects on our environment and the health and safety of your family. Examples of household hazardous materials that we no longer need include everyday products for our homes, yards and autos, such as drain cleaners, oil paint, motor oil, antifreeze, fuel, poisons, pesticides, herbicides and rodenticides and some types of cleaning chemicals. Also, items such as batteries, fluorescent lamps, lamp ballasts, smoke detectors and consumer electronics, including televisions, computers and cell phones are classified as hazardous household waste.

Today there are multiple avenues for proper disposal of household hazardous waste. Through our OC Waste & Recycling department, the County provides four free Household Hazardous Waste Collection Centers. In the Second District, the closest location is in Huntington Beach at 17121 Nichols Street, Gate 6. When you visit, be sure to ask for a free battery bucket! If the County center is not convenient, many retailers now take back such items as paint, batteries, fluorescent tubes, halogen bulbs, cell phones and more.

Whether you use an OC Waste & Recycling facility or a retailer, I encourage you to become knowledgeable about hazardous household waste and do your part to keep it out of the landfills through proper disposal. Please call OC Waste & Recycling at 714-834-4000 for more information or if you have questions.

OC Parks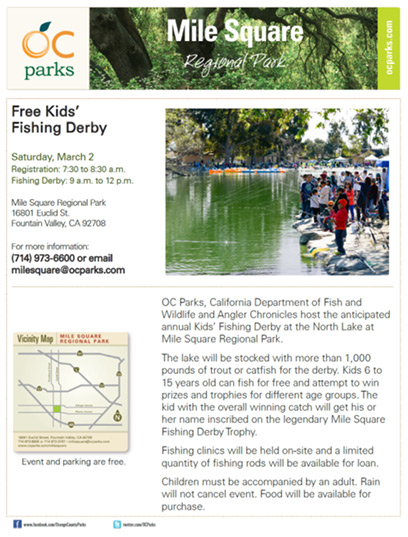 Click on the image above to view a larger version.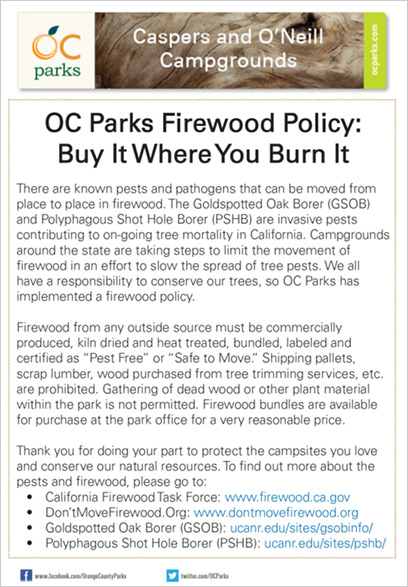 Click on the image above to view a larger version.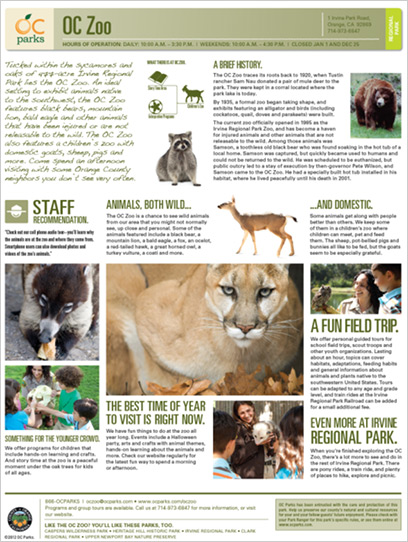 Click on the image above to view a larger version.

Orange County Public Libraries



GIVE YOUR CHILD A HEAD START AND READ 1000 BOOKS BEFORE KINDERGARTEN!

Get ready, be prepared for Kindergarten by reading 1000 Books Before Kindergarten. Read to Succeed. Sign-up today.

http://www.ocpl.org/libloc/1000books