Coronavirus Updates

Chairwoman Michelle Steel and Supervisor Don Wagner Release Business Guidelines for Orange County

At the April 28th Orange County Board of Supervisors meeting, myself and Supervisor Don Wagner brought forth best practices for businesses and the public to follow. The guidelines unanimously approved by the board will act as a model for Orange County to transition back to a normal state of activity. All recommendations follow the Orange County Health Care Agency and do not supersede any conflicting or more restrictive orders issued by local governments, the State of California, or the Federal Government.
As we transition back to business as usual, we must do so in a manner that is conscious of the public health but also addressing the needs of businesses and their employees who need to put food on the table. When we talk about the business impact of COVID-19, we're not just talking about money, we're talking about people and their ability to provide for themselves and their families. These guidelines were put together over many long meetings to ensure that all industry representatives, medical professionals, and our legal counsel had input in order to best reflect business needs while simultaneously keeping in line with public health recommendations.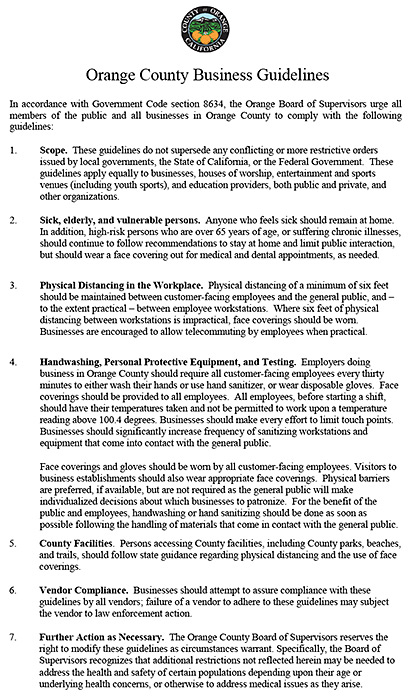 Michelle Steel Strongly Opposes Newsom's Orange County Beach Closures

Governor Newsom's memo directing the closure of Orange County beaches is a clear example of unnecessary government overreach. Orange County has been successful in flattening the curve. We are regularly increasing the number of available tests, and hospitalizations remain stable. Our highest priority is public health and public safety, and I've maintained that a large part of that includes our mental and physical well-being, which includes getting fresh air and exercise.
Police Departments in both Newport Beach and Huntington Beach have made public statements saying that the overwhelming majority of beachgoers this past weekend were in fact social distancing and following proper health and safety guidelines. The few that were not were told to disperse and immediately complied. I trust our Orange County residents to make good choices - wearing face masks, staying six feet apart, and staying home when they don't feel well. We have here an opportunity to embrace personal responsibility while also taking care of our neighbors. Governor Newsom clearly doesn't share that faith, and I will be looking into an appropriate response to the Governor's overreaction and abuse of power.


Statement of Supervisors Michelle Steel and Don Wagner Supporting Nomads Canteen

Please read the following statement from Supervisor Wagner and I regarding Nomad's Canteen in San Clemente:
Over the weekend of May 2nd and 3rd, media reports stated that Orange County's Health Care Agency contacted the owner of Nomads Canteen in San Clemente regarding the restaurant's efforts at reopening. HCA threatened the owner with permit suspension, in complete contradiction to the Board of Supervisors' Guidelines passed unanimously last week. We have worked with HCA leadership about this unfortunate unilateral department action. We understand that HCA will be promptly rescinding all threats and will take no enforcement action against Nomads as long as it continues to comply with Orange County's Guidelines. Further enforcement action pursuant to state or local orders will be up to the appropriate state or local law enforcement officials.


April 28th Board Meeting

Please take a look at the April 28th Board Meeting:
Part 1: https://ocgov.granicus.com/player/clip/3683?view_id=8
Part 2: https://ocgov.granicus.com/player/clip/3686?view_id=8


May 5th Board Meeting

Please take a look at the May 5th Board Meeting:
https://ocgov.granicus.com/player/clip/3692?view_id=8

Announcements from Our County Agency Partners

Mortgage Relief During COVID-19

Having problems paying your mortgage due to COVID-19? A new law for federally-backed loans allows a two or six-month suspension through the FHA. Loans backed by the VA and USDA may also be eligible for relief. In addition, the State of California has reached an agreement with 200 lenders who have agreed to work with homeowners who are having problems paying their mortgages because of impacts by COVID-19.

Holidays and Days of Remembrance

45th Anniversary of the Fall of Saigon

On April 30th, I joined with numerous freedom loving people around the world in commemorating the 45th anniversary of the fall of Saigon
As a first generation immigrant from a country that is divided by Communism, I empathize with my Vietnamese-American constituents and know that we must always be vigilant against the threat of tyranny.


75th Anniversary of VE Day

Friday, May 8th is the 75th anniversary of the defeat of Nazi Germany. The allied effort to take down this tyrannical regime hell bent on world domination and the oppression of free people was a hard fought struggle that saw the sacrifice of millions of people to ensure that the world was not taken over by a merciless tyrant. We commemorate this day to the brave men in uniform that took down the Nazi regime, ending the Second World War in Europe.


National Nurses Week

Thank you to all our Nurses! We celebrate and honor you year round and during this National Nurses Week. Nurses are always on the frontlines of health care in Orange County and are valued and needed now more than ever. Thank you for who you are and what you do!