April 27, 2023
Volume 1

Issue 1


Dear Friends and Neighbors,
It is my great honor to serve as your Supervisor for Orange County's newly created Second District.
I am very proud to say that Orange County, and specifically the Second District, has been my family's home since 1965. I am a product of the public school system, and my entire family was raised here. My career in public service began as a city commissioner, councilmember, and eventually Mayor of Santa Ana, my hometown. What I know about our community is that we are resilient, diverse, and brimming with hope and promise.
As your Supervisor, I plan to work with the leadership from the five cities in our district as well as my fellow Supervisors to address critical issues that affect our residents, including helping keep our neighborhoods safe, improving the delivery of quality public healthcare, reducing the number of people living on the street, and preserving the cultural heritage within our diverse and historic communities. We will also help increase the transparency between County departments and the community to ensure the responsible spending of our tax dollars.
If you have questions about any of the information here, please contact my office at (714) 834-3220 or visit my website at SupervisorSarmiento.com.
Thank you for the privilege of serving as your Supervisor. I am truly grateful to work with you to make our community a better place for us all.
Respectfully,

Vicente Sarmiento
Supervisor, Second District
Orange County Board of Supervisors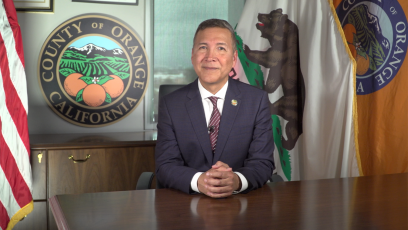 New Office of Immigrant and Refugee Affairs Coming to the County of Orange!

Earlier this week, I joined my colleagues in unanimously approving the creation of a new County office to help coordinate support for immigrants and refugees residing in Orange County, the Office of Immigration and Refugee Affairs (OIRA). The goal of this Office will be to help immigrants and refugees gain stability, become self-sufficient, and prosper financially.
This is especially significant and personal to me because when my family arrived from Bolivia to Santa Ana in 1965, it was a much different county, there were no services or support. Our county, like any other place in the country, has had some challenges with immigrants. There is still hostility out there. There is still some negativity toward immigrants.
My hope is that this Office will ensure that we are humane and civil to one another, as well as provide resources in a way that is befitting of who we are as a County.
The Office we are creating is a first step towards the larger goal. I trust that in the future OIRA will grow into an Office that serves all immigrants, documented and undocumented, as well as refugees within our County.
This new office implementation is a significant step forward in strengthening our communities and ensuring all Orange County residents are appropriately served.


Community Resources & Health Fair

My office partnered with Social Services Agency to host a Community Resources & Health Fair in response to the loss of CalFresh emergency allotments.
Residents received food and free diapers; applied for public assistance benefits such as CalFresh, Medi-Cal, General Relief, or CalWORKs; and visited with participating partners to learn more about other services and resources available to them. In total, we served over 1,000 families!
Participating partners included CalOptima Health, the City of Santa Ana, Latino Health Access, the Delhi Center, the OC Hunger Alliance, the OC Health Care Agency, the OC Office on Aging, Santa Ana Unified School District, Santa Ana College, Second Harvest Food Bank, and United Across Borders Foundation, among many others.
Orange County Social Services Agency brought its Mobile Response Vehicle and a team of eligibility professionals to assist attendees in applying for public assistance benefits or to answer questions recipients may have about their current benefits.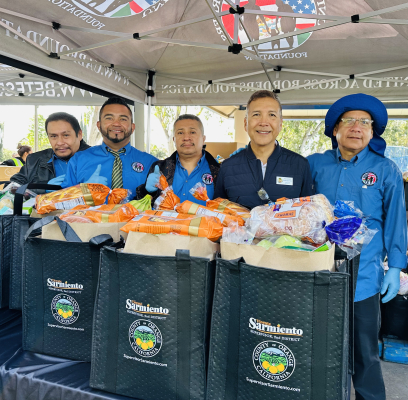 Supervisor Sarmiento and United Across Borders Foundation staff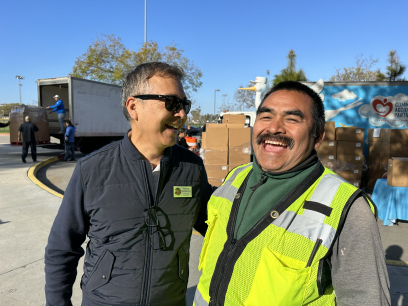 Supervisor Sarmiento greeting a volunteer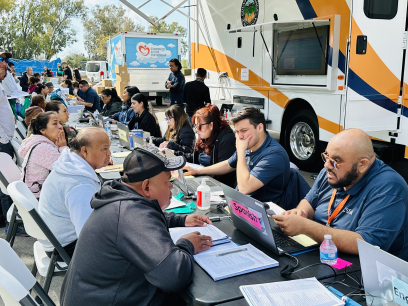 Social Services' staff assisting attendees with enrollment and benefit-related questions


Advocating for Funding in Sacramento

I met with the Orange County delegation in Sacramento to highlight the great strides the County is making around criminal justice reform. Over the span of three days, I attended several meetings to advocate for initiatives that would benefit the Second District, including sheltering the unhoused, healthcare, and justice reform. My goal was to highlight the changing face of Orange County and stress that there is a real need to provide resources and funding equitably for all Santa Ana, Garden Grove, Orange, Tustin, and Anaheim residents.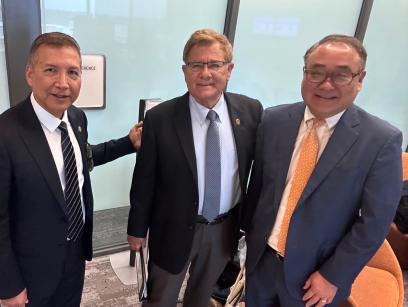 Supervisor Sarmiento on the right, Supervisor Chaffee in the middle, and CEO Frank Kim on the left, advocating for Orange County residents in Sacramento.


Opportunities to Serve on Local Boards & Commissions

The County of Orange is looking for passionate individuals to serve on a variety of County Boards, Commissions, and Committees. Anyone who is interested and meets the qualifications is encouraged to apply.
Click here to learn more and apply for one of the following vacant position on a Second District Board, Commission, or Committee.
Some have specific qualifications but, in general, all applicants must be registered to vote in Orange County and reside in the Second District, which includes the city of Santa Ana and portions of Anaheim, Orange, Tustin, and Garden Grove, as well as portions of unincorporated North Tustin.
CAMPAIGN FINANCE & ETHICS
ASSESSMENT APPEALS BOARD
EMERGENCY MEDICAL CARE COMMITTEE
ORANGE COUNTY BEHAVIORAL HEALTH ADVISORY BOARD
ORANGE COUNTY CEMETERY DISTRICT
ORANGE COUNTY IN-HOME SUPPORTIVE SERVICES (IHSS) ADVISORY COMMITTEE
ORANGE COUNTY VETERANS ADVISORY COUNCIL
ORANGE COUNTY WORKFORCE DEVELOPMENT BOARD
CALOPTIMA
ORANGE COUNTY TRANSPORTATION AUTHORITY
Thank you for your interest in serving the County of Orange! If you have any questions, please contact Manuel Escamilla at manuel.escamilla@ocgov.com


New Statewide Benefits Enrollment Portal to Launch April 24, 2023

The County of Orange Social Services Agency (SSA) will transition to BenefitsCal. Starting Monday, April 24, 2023, Orange County clients can register for a new account at www.BenefitsCal.com and submit their application for benefits or link their existing MyBCW case to their new BenefitsCal account. MyBCW will no longer be available after Thursday, April 20, 2023.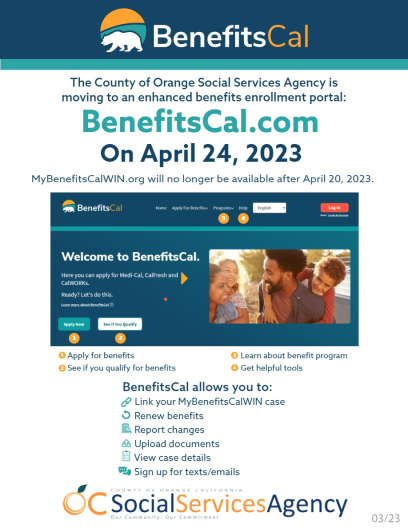 ***


Social Services Agency to Discontinue Saturday Call Center Hours

The County of Orange Social Services Agency (SSA) will discontinue its Saturday call center hours due to decreased call volumes.
Residents who want to apply for public assistance benefits or update their case information can continue to call 800-281-9799 during the Agency's extended weekday call hours, from 6:30 a.m. to 8 p.m. Monday through Friday.


Internet Assistance For Low-Income Residents

The Affordable Connectivity Program (ACP) is a U.S. government program run by the Federal Communications Commission (FCC) to help low-income households pay for internet service and connected devices like laptops or tablets.
Review the list of eligibility criteria here and submit your application if they apply to you.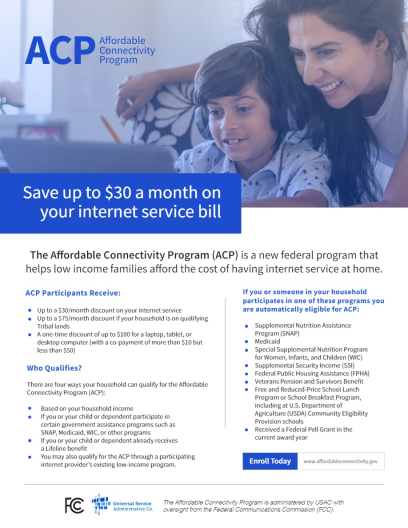 Community Town Hall - Santiago Creek Flood Control Project

My office, in partnership with the office of Congressman Correa, and Mayor Pro Tem Jessie Lopez, is hosting a community town hall to provide updates on the Santiago Creek Flood Control Project. I invite you to attend and get informed. `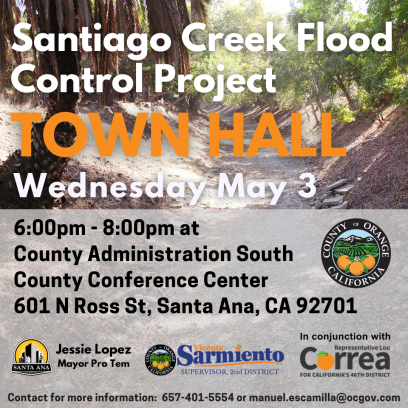 Upcoming Events

Enjoy free, family-friendly events in our district!
April 28, 2023 - Movie in the Park (Orange)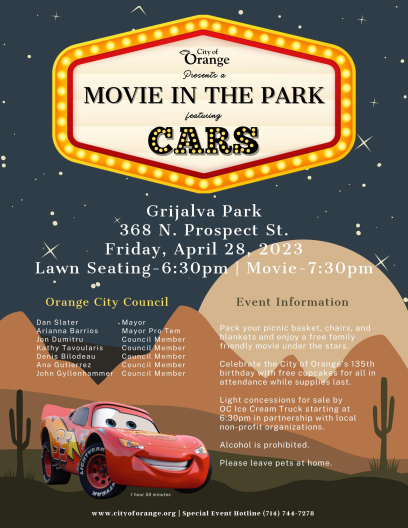 ***
April 29, 2023 - 15th Annual Día de los Niños, Día de los Libros / Children's Day, Book Day (Santa Ana)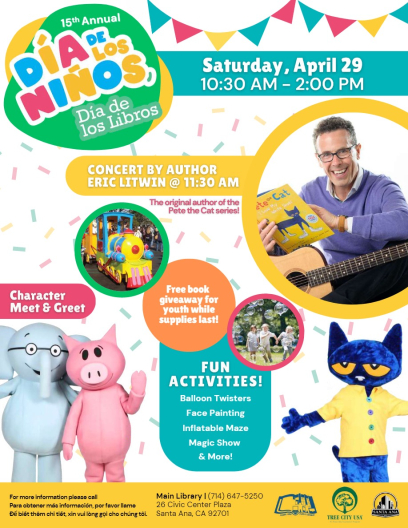 ***
May 5, 2023 - Cinco de Mayo Celebration (Tustin)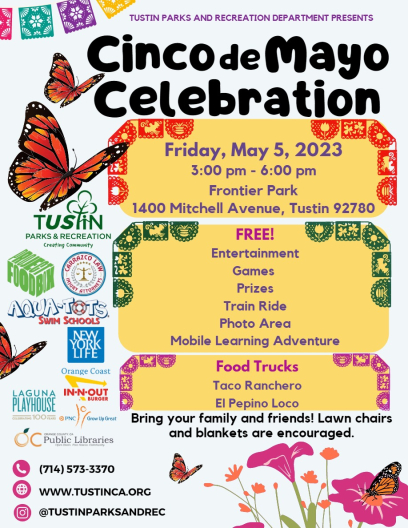 ***
May 26, 2023 - Mexico en el Corazon (Anaheim)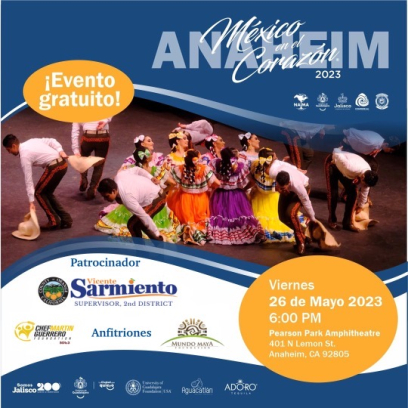 ***
May 26-29, 2023 - Strawberry Festival 2023 (Garden Grove)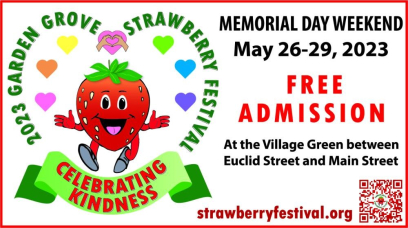 DISTRICT

STAFF
Yasie Goebel
Chief of Staff

Rosemary Contreras
Office Manager

Fernando Zamora
Communications Advisor

Manuel J. Escamilla
Senior Policy Advisor

Richard Santana
Community Outreach Manager

Carlos Valenzuela
Policy Advisor

Alejandra Colon
Policy Advisor

Damiana Armendariz
Policy Aide



Stay Updated!