March 28, 2013
Volume 1

Issue 11

Spitzer, Choi and Murray announce Safe Communities Meeting

(Irvine, CA) – In the wake of the February shootings in Orange County, dubbed "17 days of bloodshed," Third District Supervisor Todd Spitzer called for a community meeting to begin the healing process and search for solutions to the nationwide problem of violence. Irvine Mayor Steven Choi and Tustin Mayor Al Murray are set to co-host the event.




The Safe Communities Meeting will be held Wednesday, April 17 from 6:00 – 8:00 p.m. at the Lakeview Senior Center, 20 Lake Road, Irvine, near Alton and Yale Loop. The event is co-hosted by Spitzer, Irvine Mayor Steven Choi, Tustin Mayor Al Murray, the Orange County Health Care Agency and the OC Human Relations Commission.

Parents, family members, neighbors, and anyone with a stake in creating a safer community are invited to attend.

"It's so important to have this dialogue on the safety of our community in Orange County," Spitzer said. "That's why I called for this public discussion to bring healing to the victims' families and to try to answer the question of why violence happens and how we might detect early signs of that behavior."

Victims' family members – including the family of freeway shooter Ali Syed victim Melvin Edwards and Paul Wilson, whose wife Christy was killed in the Seal Beach salon shooting – will speak out at a special panel. In addition, experts in psychology, drug addiction and more will be on-hand to share the research on the causes of violent behavior.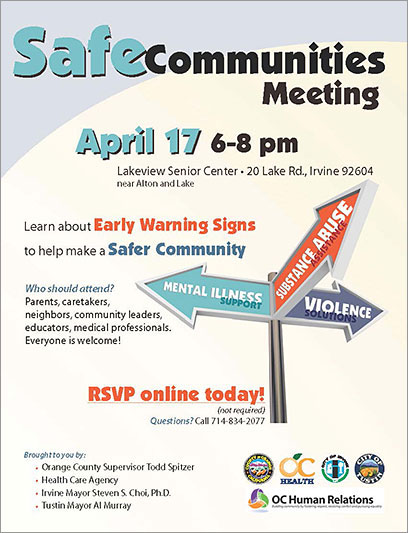 Please click here to see a larger version of this flier.

OCTA board approves new vendor for disabled services, saving $46 million over eight years

(Orange, CA) – The Orange County Transportation Authority (OCTA) on Monday approved a contract with MV Transportation to provide services to the county's disabled population at a cost savings of $46 million over eight years.


| | | |
| --- | --- | --- |
| | | "MV has experience across the nation in providing this service and offered Orange County an incredible price and contract concessions," said Supervisor Spitzer. "Even though I praise the work of Veolia, we could not ignore the cost savings – more than $46 million over eight years." |

OC Supervisor Todd Spitzer, who also serves as member of the OCTA board of directors, made the motion to approve the contract after MV agreed to several contract amendments including a guarantee not raise its price and a pledge to pay back 12 months of profit if the contract is terminated for any reason.

The bid by MV came in at $46 million less than the incumbent operator Veolia Transportation over eight years, an amount Veolia did not offer to match.

"With the cost savings, I plan to propose that we return the money to our ratepayers, those who ride our buses every day and depend on our services," Spitzer said.

Irvine PD hosts awards banquet

By Carrie O'Malley

(Irvine, CA) – On Thursday, March 14 the Irvine Police Department hosted their 42nd Annual Awards Banquet with the Exchange Club of Irvine. Many awards and recognitions were presented at this event. In particular, the 2012 Rookie of the Year, 2012 Civilian of the Year, and 2012 Police Officer of the Year were recognized. Chief of Police Dave Maggard and Deputy Chief Mike Hamel presented the awards to the recipients.

The recipients included: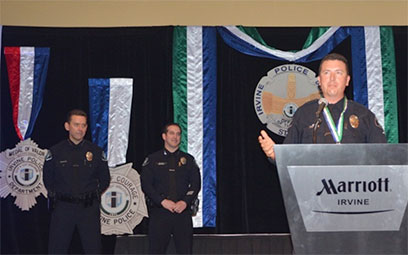 Officer Scott Crones, accepting his award for officer of the year


Officer Scott Crones, 2012 Irvine Police Officer of the Year. Officer Crones is a Commercial Enforcement Officer assigned to the Traffic Unit of the Operations Support Division. Crones's experience with the City of Irvine includes Patrol Officer and DUI Enforcement. In 2002, Officer Crones was named Employee of the Quarter and received the MADD DUI Top Arresting Officer Award. In 2006, he was awarded the Orange County Taxi Administration Program Steve Parsons Public Safety Award.

Civilian Investigator II Terrie Covarrubias, 2012 Civilian of the Year. Terrie Covarrubias focuses on Fraud Investigation in the Investigations Bureau. Terrie has been with the City of Irvine for 15 years. In 2005, Covarrubias was named Employee of the Quarter. Covarrubias was awarded the Colonel Laurence J. Stein Award in 2008. Covarrubias also was awarded a Meritorious Service Award and the International Association of Financial Crimes Investigators Law Enforcement Investigator of the Year Award in 2009.

Officer Tim Irwin, 2012 Rookie of the Year. Officer Tim Irwin is assigned to patrol in the Crossroads Area. In 2010, Officer Irwin became a Police Recruit with the City of Irvine. While attending the Orange County Sheriff's Academy, Officer Irwin broke the obstacle course record with a time of one minute 15 seconds. In 2011, Officer Irwin graduated the Academy and was assigned to patrol.

Spitzer seeks to appoint planning commissioner, others

(Santa Ana, CA) – To ensure citizen input in the governance of Orange County, the county has a number of boards, commissions and committees on which citizens can serve. While some of these allow anyone from Orange County to serve, many of them require representation from each supervisorial district. Some require special licenses and certifications while others simply require residency in Orange County.

"I encourage you to become part of the solution to complex issues and opportunities," said Supervisor Todd Spitzer.

Spitzer will appoint an interim planning commissioner, who will recommend to the Board of Supervisors adoption of plans and regulations for the future growth, development, and beautification of the county, and review and make recommendations regarding countywide planning issues including, but not limited to habitat conservation, growth management, development and regional coordination with respect to both public and private development.

As the new Supervisor for the Third District, Todd Spitzer encourages all Third District residents to apply to serve on these boards, commissions and committees. Upon nomination by Supervisor Spitzer, the five members of the Board of Supervisors then vote on confirmation of these nominees. Descriptions, responsibilities and qualifications for each board, commission or committee can be found here. Applications can be downloaded here.

Pet of the Week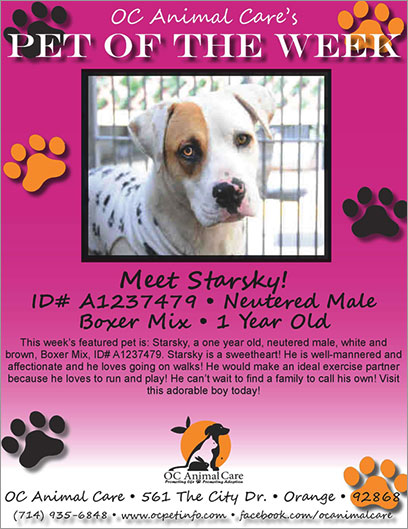 Events around the district

Orange
Memorial Day Celebration
Monday, May 27
Fairhaven Memorial Park

76th annual Flower Show, hosted by the Womens' Club of Orange
12:00 p.m., April 4
Club House. 121 S. Center St. Orange

Irvine
Easter Eggstravaganza at Irvine Park Railroad
10:00 a.m. – 5:00 p.m. through March 30
Irvine Park Railroad

Yorba Linda
Pajama-Rama at the Library
Wear your jammies and bring your favorite teddy bear for an evening of stories, songs, and puppets. Refreshments too!
7:00 p.m, Wednesday, April 3
Yorba Linda Public Library, Community Room

Canyons
Good Friday Event: The Passion of the Christ
9:00 a.m., Friday, March 29
27912 Baker Canyon Road, Silverado
For more information, please click here.

Silverado 57th Annual Firefighter's Easter Sunday Pancake Breakfast
7:00 a.m. to 12:00 p.m., Sunday, Mar 31
Silverado Community Center
27641 Silverado Canyon Road, Silverado




DISTRICT

STAFF
Mike Johnson
Chief of Staff

Justin Glover
Communications Director

Martin Gardner
Policy Advisor

Martha Ochoa-Lopez
Policy Advisor

Carrie O'Malley
Policy Advisor

Chris Nguyen
Policy Advisor


District Map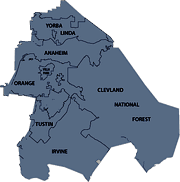 Anaheim, Irvine, Orange, Tustin, Villa Park, Yorba Linda

Stay Updated!