June 13, 2013
Volume 1

Issue 22

Highlights on the 2013-2014 Board of Supervisors Budget Meeting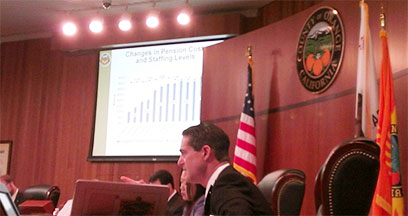 The Board of Supervisors decided on budget items for the 2013-2014 fiscal year on Tuesday, June 11.

$5.4 billion are appropriated for the following county programs for the upcoming fiscal year: 1) public protection, 2) community services,
3) infrastructure and environmental resources, 4) general government services, 5) capital improvements, 6) debt service, and 7) insurance, reserves, and miscellaneous items.

A recommended reduction plan was brought before the Board of Supervisors to take the VLF fees into account. Public protection will face the least amount of cuts with only a 3.7% reduction from base net county costs, while capital improvements will be hit the hardest with a 41.3% reduction from the same.

The following issues were also important items of discussion:

AB 109 – 3% city funding instructions to the CCP to address the $10.1 million shortfall faced in the County.
Grand Jury – Bringing the grand jury stipend back to the level required by state law.
The Public Defender fee structure
The District Attorney – The procedure of uploading DNA samples
The Board of Supervisors will vote on the final budget for the 2013-2014 fiscal year on Tuesday, June 25, 2013.

Supervisor Spitzer Welcomes Various County Agencies At The Executive Development Program Seminar: How Are You 'Building the Bench'?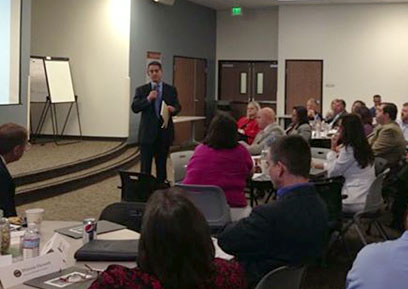 (Santa Ana, CA) – Supervisor Spitzer made the introductory remarks at the Executive Development Program Seminar: How Are You 'Building the Bench'? (Executive Development Program) on Friday, June 7, 2013. The Executive Development Program invited County department heads and executive team members to meet in order to discuss on ways to develop staff for future talent needs within individual agencies and departments countywide.

"I am excited that the County is talking about ways to develop leadership internally," Spitzer said. "The County is proud to have extremely dedicated staff. We need to give these individuals ways to continue to rise up and exercise their dedication through leadership positions."

The focus of the Executive Development Program was aimed at "succession development," defined as "the process for identifying and developing internal staff with the aim to fill key leadership positions in an organization" (Credited to The County of Orange). A succession development approach seeks to provide a greater number of staff with developmental or growth opportunities in order to prepare them for future leadership opportunities and specialized positions.

Enforcement Lights Project Complete for the 91 Express Lanes

(Santa Ana, CA) - Installation and testing has been completed on the enforcement lights project for the 91 Express Lanes. Enforcement lights are a series of lights associated with each express lane that illuminates if it is determined that a vehicle did not have a valid transponder read associated with a transaction. The completion of this project will assist law enforcement in monitoring the 91 Express Lanes and ticketing those motorists who use the toll road without a transponder.

"This will provide a valuable tool for law enforcement to stop individuals who are taking advantage of the system," Spitzer said.

The Orange County Transportation Authority (OCTA) will be providing additional California Highway patrol enforcement officers at the toll plaza to monitor traffic and the enforcement lights.



Yorba Linda High School Celebrates the Graduation of Its First Four-Year Class

(Yorba Linda, CA) - The Yorba Linda High Mustangs celebrated the graduation of its first four-year class on Tuesday June 11, 2013. The Class of 2013 is the first class of students who spent all four years at Yorba Linda High after the school opened in 2009.

"This class did an outstanding job establishing Yorba Linda High and for setting the foundation for future classes to follow," said Principal Dave Flynn about the Class of 2013.

Yorba Linda High School was named a "California Distinguished High School" in April 2013, thus recognizing Yorba Linda High as one of two hundred and eighteen (218) distinguished California schools.

The Class of 2013 is comprised of 480 students who will attend over seventy (70) universities and colleges across the country.

Get Involved: Send Your Suggestions to Name the New Orange Mascot!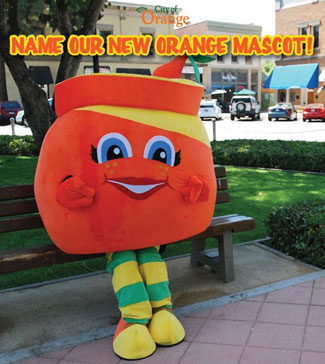 The city of Orange's new mascot just arrived for Orange's 125th birthday celebration. Get involved to help name the new Orange mascot! The deadline to submit your name idea is Monday, June 17, 2013 at 5 p.m.

Here is how you can get involved:

Send your suggestions for the new mascot's name to Erobinson@cityoforange.org. Be sure to include your name, email address, and phone number in the email. You can also find suggestion cards and fill them out for submission at the following locations: 1) Community Service Desk at 230 E. Chapman Avenue, 2) City Clerk Desk at 300 E. Chapman Ave., and 3) Orange Public Library and History Center at 407 E. Chapman Ave.

The winner of the contest will receive a $25 Starbucks gift card.

For your questions, please contact Emily Robinson at Erobinson@cityoforange.org

A Summer Concert Series for the Entire Family

Join Supervisor Spitzer at two of the Third District-based concerts. Stay tuned for the dates where he will be in attendance.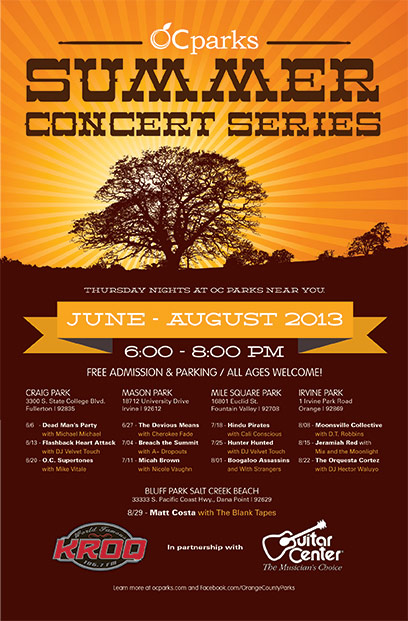 The OC Parks Presents the 2013 Summer Concert Series

For more information on these concert series, click here.

Pet of the Week

RACEY
Pet ID: A1251623
Age: 10 Months
Breed: AMER BULLDOG - MIX
Kennel: 328



Events Around The District

Anaheim
OC Job Fair & Expo: Put your best foot forward at the 2013 OC Job Fair & Expo. There will be more than 120 employers seeking candidates for thousands of jobs in Orange County.
WHEN: Wednesday, June 19, 2013
TIME: 10:00 a.m. – 3:00 p.m.
WHERE: Anaheim Convention Center @ 800 W. Katella Ave., Anaheim
COST: Free admission and event parking

Irvine
Communication Fields Day 2013: Families are invited for a picnic lunch at the Rattlesnake Reservoir where they will be able to get on air and talk with HAM radio operators around the world.
WHEN: Saturday, June 22, 2013
TIME: 11:00 a.m. – 5 p.m.
WHERE: Rattlesnake Reservoir @ Rattlesnake Reservoir, Irvine
COST: Free admission

Orange
Family Film Festival: Families are invited to enjoy a screening of "Willy Wonka and the Chocolate Factory."
WHEN: Thursday, June 20, 2013
TIME: 2:00 p.m. – 4:00 p.m.
WHERE: Orange Public Library and History Center @ 407 E. Chapman Ave. Orange, CA
COST: Free event

Tustin
The Tustin Police Department's 17th Annual Open House: Come meet the Tustin Police Department and tour the station. Refreshments and fun activities for the whole family will be provided.
WHEN: Saturday, June 15, 2013
TIME: 11:00 a.m. – 3:00 p.m.
WHERE: The Tustin Police Station @ 300 Centennial Way, Tustin
COST: Free event

Villa Park
Friends of Villa Park Library Presents "Race Day!": Families are invited to run and/or walk the 5K or 10K. It will be a great time to get out and enjoy the sun! For more information, please visit the Race Day website.
WHEN: Saturday, June 22, 2013
TIME: 6:00 a.m. – 12:00 p.m.
WHERE: Villa Park High School @ 18042 Taft Avenue, Villa Park
COST: $35.00 to participate in the run/walk

Yorba Linda
Network Connection: You are invited to this professional group where individuals have the opportunity to promote and grow their business within the Chamber of Yorba Linda community.
WHEN: Tuesday, June 18, 2013
TIME: 11:45 a.m. – 1:00 p.m.
WHERE: The Black Gold Golf Club @ 1 Black Gold Drive, Yorba Linda
COST: $13 admission fee

Modjeska Canyon
Gentle Yoga Stretch Class: Awaken your mind and body for the day ahead through yoga.
WHEN: Monday, June 24, 2013
TIME: 10:30 a.m. – 11:45 a.m.
WHERE: Modjeska Community Center @ 28890 Modjeska Canyon Rd., Silverado
COST: $12 class fee




DISTRICT

STAFF
Martha Ochoa
Chief of Staff

Cecilia J. Hong
Communications Director

Mike Johnson
Policy Advisor

Martin Gardner
Policy Advisor

Carrie O'Malley
Policy Advisor

Chris Nguyen
Policy Advisor

Christine Richters
Executive Aide



District Map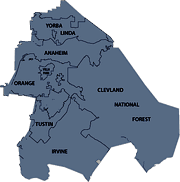 Anaheim, Irvine, Orange, Tustin, Villa Park, Yorba Linda, El Modena, North Tustin, Orange Park Acres, the Canyon Communities

Stay Updated!