August 9, 2013
Volume 1

Issue 30

Spitzer Calls for "Fool-proof" GPS Monitoring

(SANTA ANA, CA) The Orange County Probation Department terminated its contract with Sentinel Offender Services, LLC on Aug. 1 after an Orange County internal audit revealed several instances of gross negligence. At the June 25, 2013 Board of Supervisors meeting, Supervisor Todd Spitzer highlighted this public safety issue.

"If we continue to use electronic monitoring, it needs to be fool-proof," he said.

Sentinel provided Full-Case Management Supervised Electronic Confinement (SEC) and Home Detention Program Services utilizing a Global Positioning Satellite (GPS) system. The audit reviewed 143 cases and revealed more than 15 instances of gross negligence. Some cases included Sentinel failing to track several program participants for periods of up to 28 days and failing to report program participants for repeatedly failing Breath Alcohol Tests.

"The findings of that report were anything less than stellar," Spitzer said. "In fact, it was alarming. These untracked individuals posed an immediate threat to public safety, and I could not just sit back and watch."

The realignment policy in AB 109 has burdened Orange County with public safety issues - such as jail overcrowding, which then leads to such alternatives as GPS monitoring. None of the violators profiled were AB 109ers; however, AB 109 adds to the already high jail population numbers, requiring many of those inmates to be released onto electronic monitoring. Due to these demands, Spitzer urged OC Probation to increase safeguards in the process.

"These incidents show why we cannot rely on such alternatives in lieu of incarceration," Spitzer said. "We want to monitor the probationer. But we also need to monitor the monitors."

While Orange County accommodates more inmates for realignment, Spitzer remains adamant about prioritizing public safety. "The Board of Supervisors is the watchdog of the County, and we are doing our job to protect public safety," he said.

Spitzer Visits Concerts in the (Villa) Park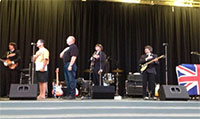 (VILLA PARK, CA) Supervisor Todd Spitzer joined about 500 Villa Park residents on Aug. 2 at Villa Park High School for a tribute to the band that started the British Invasion – The Beatles.

Tribute band Paperback Writer headlined the Concert in the (Villa) Park, performing several hits from the Fab Four. Spitzer led the Pledge of Allegiance and introduced the band.

"Because we all work 'Eight Days a Week,' we deserve to relax once in a while," Spitzer said. "This Concert in the Park is a fantastic opportunity for community, family and friends to enjoy this beautiful summer."

During his introduction, Spitzer ribbed one of the band members.

"Hey Ringo, would you pay attention, please?" Spitzer said, as the crowd cheered. "What's better than the Ultimate Beatles Experience with Paperback Writer?"

Freeway Bridge Demolition Scheduled for Aug. 17-18


(From OCTA)

Portions of the eastbound SR-22, northbound I-405 and southbound I-405 freeways will be closed for approximately 20 hours from 9 p.m. on Saturday, Aug. 17 to approximately 5 p.m. on Sunday, Aug. 18 to demolish an old connector bridge.

The southbound I-405 connector to the eastbound SR-22 freeway has been reconstructed in order to make room for the new carpool connector. With the completion of the new connector, the old connector must be demolished.

Third District residents are advised to be aware of the closure and make alternate plans. Complete details and information on alternate routes are available at: http://www.octa.net/Freeways-and-Streets/Garden-Grove-Freeway-(SR-22)/West-County-Connectors/Southbound-I-405-/-Eastbound-SR-22-Connector/.

City Treasurer of Orange Passes Away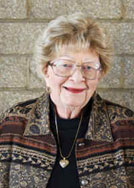 (ORANGE, CA) Helen Walker, the long-time City Treasurer in Orange, died from natural causes on Aug. 1. She was 80. Walker was appointed City Treasurer in 1994 after then-Treasurer Mark Weiss resigned.

Walker won election to her position in 1996 and every election since, including her fourth-consecutive victory in 2012.

The City of Orange website praised Walker, noting she was "a great friend to the City of Orange and an outstanding public servant. She took her role as City Treasurer very seriously, though always had a great sense of humor and positive outlook."

Dozens of Cats Adopted at "Catopia"


(ORANGE, CA) Seventy-two cats and kittens were adopted at the Catopia event held by OC Animal Care on July 27.

The four-hour event was a celebration of cats and offered free adoptions for those who wanted to adopt a cat on-the-spot.

"I'm glad so many cats found homes," Supervisor Todd Spitzer said. "As an animal-lover, I understand the bond that comes from having a pet."

Pet of the Week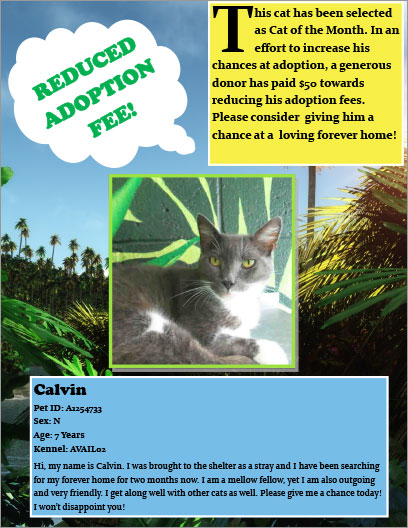 Click on the image above to view a PDF version.

Events Around The District

Anaheim
Science Themed Open Play
4-5:30 p.m. Thursday, Aug. 15
Pump it Up, 5397 E. Hunter Ave.

Irvine
Craft Day!
1-3 p.m. Sunday, Aug. 11
Irvine University Park, 4512 Sandburg Way

Orange
Women's Life and Leadership Conference
9 a.m.-5 p.m. Thursday, Aug. 15
Chapman University Bldg. 49, 571 N. Grand St.

Silverado
All Levels – Mountain Bike Ride
8:30 a.m. Saturday, Aug. 17
Silverado Community Center, 27641 Silverado Canyon Rd.

Tustin
Community Open House
8-11 a.m. Saturday, Aug. 17
Marconi Automotive Museum, 1302 Industrial Dr.

Yorba Linda
Arty Loon's Variety Show
3 and 6:30 p.m. Thursday, Aug. 15
Yorba Linda Public Library, 18181 Imperial Hwy.




DISTRICT

STAFF
Martha Ochoa
Chief of Staff

Eugene Fields
Communications Director

Martin Gardner
Policy Advisor

Carrie O'Malley
Policy Advisor

Chris Nguyen
Policy Advisor

Christine Richters
Executive Aide



District Map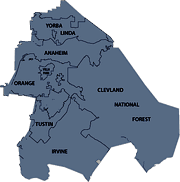 Anaheim, Irvine, Orange, Tustin, Villa Park, Yorba Linda, El Modena, North Tustin, Orange Park Acres, the Canyon Communities

Stay Updated!