August 16, 2013
Volume 1

Issue 31

AVOID THE SR-22/1-405 AREA THIS WEEKEND


(From OCTA)

Portions of the eastbound SR-22, northbound I-405 and southbound I-405 freeways will be closed for approximately 20 hours from 9 p.m. on Saturday, Aug. 17 to approximately 5 p.m., on Sunday, Aug. 18 to demolish an old connector bridge.

The southbound I-405 connector to the eastbound SR-22 freeway has been reconstructed in order to make room for the new carpool connector. With the completion of the new connector, the old connector must be demolished.

Residents are advised to be aware of the closure and make alternate plans. Complete details and information on alternate routes are available at: http://www.octa.net/Freeways-and-Streets/Garden-Grove-Freeway-(SR-22)/West-County-Connectors/Southbound-I-405-/-Eastbound-SR-22-Connector/.

County of Orange Featured in Governing Magazine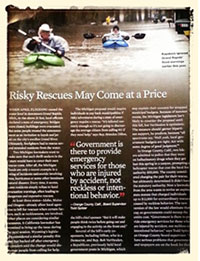 (SANTA ANA, CA) Supervisor Todd Spitzer and the County of Orange were featured in an article in the August edition of Governing magazine.

The article highlighted a rescue in April in Grand Rapids, Mich., during which firefighters rescued thrill-seekers during a flood. State officials contemplated passing legislation to make individuals pay for rescues costs in cases caused by reckless behavior.

The situation in Michigan was compared to a rescue in April in Holy Jim Canyon after two hikers went missing on Easter Sunday.

The Orange County Sheriff Department, OCFA and volunteers combed the canyons for days before eventually finding the couple.

The car the couple was using had methamphetamine in it and one of the hikers recently pled guilty to drug possession charges and was sentenced to drug diversion. But the search and rescue, which lasted four days, cost taxpayers more than $200,000 in rescue costs. Two rescuers were seriously injured, adding untold thousands in medical expenses.

Spitzer pushed for the hikers to be billed for the costs of the rescue efforts.

"These two young people caused their own peril," Spitzer said. "They also put the first rescuers and the reserve Sheriff's Deputy in harm's way."

Governing magazine said Spitzer is hoping to revive an expired state statute that charged individuals up to $12,000 for extraordinary rescues caused by reckless behavior. Assemblyman Don Wagner has agreed to carry the be in the Legislature, Spitzer said.

"Government is there to provide emergency services for those who are injured by accident, not reckless or intentional behavior," Spitzer told the magazine. "I have serious problems that government and taxpayers are on the hook for that."

To read the full article, visit: http://www.governing.com/topics/public-justice-safety/gov-states-consider-billing-reckless-rescues.html

Board Approves Recycling Plan for Jail Candy Wrappers


(SANTA ANA, CA) At its August 13 meeting, the Board of Supervisors unanimously approved a plan for the Theo Lacy Facility in Orange to recycle candy wrappers, generating about $20,000.

The funds will be sent to Carden Conservatory, a private school in Huntington Beach. According to the Orange County Register, the 3,000 inmates at Theo Lacy eat about one candy bar a day.

The wrappers will be sent to a New Jersey-based company, which will turn the wrappers into new products, such as bags, and picture frames. Candy manufacturer Mars subsidizes the wrapper recycling program.

Supervisor Todd Spitzer was surprised by the amount of wrappers generated at Theo Lacy.

"If you look at the amount of candy wrappers that we generate in our custodial facilities, it is unbelievable," Spitzer said. "The fact that we're doing something positive with these wrappers is great. I'm glad to know this isn't becoming part of the waste system."

Spitzer Makes Commission Appointments

(SANTA ANA, CA) Supervisor Todd Spitzer announced two appointments to commissions on Tuesday, Aug. 13.

Tustin resident Jim Palmer was reappointed to the Housing and Community Development Committee. Pat Welch, a North Tustin resident, was appointed to the North Tustin Advisory Committee. Palmer, a former member of the Tustin City Council, has served a County Commissioner for the Orange County Housing Commission since 1997 and has served as its Chairman four times.

He will serve a term of two years.

Welch, a member of the Foothill Communities, replaces John Secor – whom Spitzer appointed to the OC Planning Commission - for a term of three years.

"I appreciate the service these citizens are willing to give to the Third District," Spitzer said. "They bring a wealth of knowledge and experience to the table."

Woodbridge Community Park to be Named for Former Mayor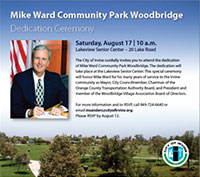 The City of Irvine is dedicating Woodbridge Community Park in honor of Mike Ward at 10 a.m. on Saturday, Aug. 17 at the Lakeview Senior Center, 20 Lake Road.

Ward is a former Mayor and City Councilman in Irvine, as well as President and member of the Woodbridge Village Association. The park will be renamed Mike Ward Community Park Woodbridge.

"It is fitting that the City of Irvine is rededicating Woodbridge Park as Mike Ward Community Park Woodbridge to reflect Mike's service to Woodbridge, Irvine and Orange County," Supverisor Todd Spitzer said. "Congratulations to Mike and the City of Irvine."

Part of Mission Viejo Annexed into Third District

(SANTA ANA, CA) Forty acres of county land the City of Mission Viejo recently annexed has moved to the Third District from the Fifth District.

Nearly 30 acres of the land - located east of El Toro Road, just north of the Upper Oso Reservoir - is tabbed to become the 84-home Skyridge housing development.

The remaining 10 acres of land will be left as open space. State law dictates that developments must allocate three acres of open space for every 1,000 residents. Standard Pacific Homes is developing the project.

Pet of the Week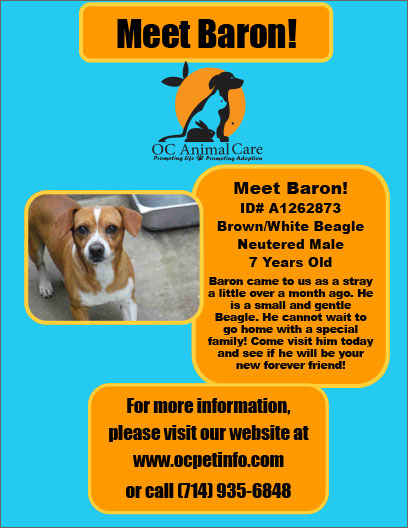 Click on the image above to view a PDF version.

Events Around The District

Anaheim
Anaheim Certified Farmers' Market & Craft Fair
noon-7 p.m. Thursday, Aug. 22
Center Street Promenade and Lemon Street

Orange
Teen Movie Madness – The Outsiders (PG)
6-8 p.m. Wednesday, Aug. 21
Orange Public Library, 407 E. Chapman Ave.

Silverado
Discover Yoga
7:30-8:30 p.m. Tuesday, Aug. 20
Modjeska Community Center, 28890 Modjeska Canyon Rd.

Tustin
Movies in the Park – Star Wars: A New Hope
7:50 p.m. Thursday, Aug. 22
Cedar Grove Park, 11385 Pioneer Road

Yorba Linda
What Your iPad Can Do for You!
10-11:30 a.m. Saturday, Aug. 24
Yorba Linda Public Library, 18181 Imperial Hwy.




DISTRICT

STAFF
Martha Ochoa
Chief of Staff

Eugene Fields
Communications Director

Martin Gardner
Policy Advisor

Carrie O'Malley
Policy Advisor

Chris Nguyen
Policy Advisor

Christine Richters
Executive Aide



District Map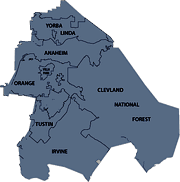 Anaheim, Irvine, Orange, Tustin, Villa Park, Yorba Linda, El Modena, North Tustin, Orange Park Acres, the Canyon Communities

Stay Updated!