August 16, 2013
Volume 1

Issue 31

AVOID THE SR-22/1-405 AREA THIS WEEKEND


(From OCTA)

Portions of the eastbound SR-22, northbound I-405 and southbound I-405 freeways will be closed for approximately 20 hours from 9 p.m. on Saturday, Aug. 17 to approximately 5 p.m., on Sunday, Aug. 18 to demolish an old connector bridge.

The southbound I-405 connector to the eastbound SR-22 freeway has been reconstructed in order to make room for the new carpool connector. With the completion of the new connector, the old connector must be demolished.

Residents are advised to be aware of the closure and make alternate plans. Complete details and information on alternate routes are available at: http://www.octa.net/Freeways-and-Streets/Garden-Grove-Freeway-(SR-22)/West-County-Connectors/Southbound-I-405-/-Eastbound-SR-22-Connector/.

County of Orange Featured in Governing Magazine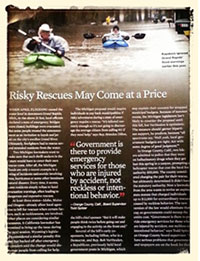 (SANTA ANA, CA) Supervisor Todd Spitzer and the County of Orange were featured in an article in the August edition of Governing magazine.

The article highlighted a rescue in April in Grand Rapids, Mich., during which firefighters rescued thrill-seekers during a flood. State officials contemplated passing legislation to make individuals pay for rescues costs in cases caused by reckless behavior.

The situation in Michigan was compared to a rescue in April in Holy Jim Canyon after two hikers went missing on Easter Sunday.

The Orange County Sheriff Department, OCFA and volunteers combed the canyons for days before eventually finding the couple.

The car the couple was using had methamphetamine in it and one of the hikers recently pled guilty to drug possession charges and was sentenced to drug diversion. But the search and rescue, which lasted four days, cost taxpayers more than $200,000 in rescue costs. Two rescuers were seriously injured, adding untold thousands in medical expenses.

Spitzer pushed for the hikers to be billed for the costs of the rescue efforts.

"These two young people caused their own peril," Spitzer said. "They also put the first rescuers and the reserve Sheriff's Deputy in harm's way."

Governing magazine said Spitzer is hoping to revive an expired state statute that charged individuals up to $12,000 for extraordinary rescues caused by reckless behavior. Assemblyman Don Wagner has agreed to carry the be in the Legislature, Spitzer said.

"Government is there to provide emergency services for those who are injured by accident, not reckless or intentional behavior," Spitzer told the magazine. "I have serious problems that government and taxpayers are on the hook for that."

To read the full article, visit: http://www.governing.com/topics/public-justice-safety/gov-states-consider-billing-reckless-rescues.html

Board Approves Recycling Plan for Jail Candy Wrappers


(SANTA ANA, CA) At its August 13 meeting, the Board of Supervisors unanimously approved a plan for the Theo Lacy Facility in Orange to recycle candy wrappers, generating about $20,000.

The funds will be sent to Carden Conservatory, a private school in Huntington Beach. According to the Orange County Register, the 3,000 inmates at Theo Lacy eat about one candy bar a day.

The wrappers will be sent to a New Jersey-based company, which will turn the wrappers into new products, such as bags, and picture frames. Candy manufacturer Mars subsidizes the wrapper recycling program.

Supervisor Todd Spitzer was surprised by the amount of wrappers generated at Theo Lacy.

"If you look at the amount of candy wrappers that we generate in our custodial facilities, it is unbelievable," Spitzer said. "The fact that we're doing something positive with these wrappers is great. I'm glad to know this isn't becoming part of the waste system."

County of Orange to Protest Sexually Violent Predator Enforcement Funding


(SANTA ANA, CA) Supervisor Todd Spitzer and the County Board of Supervisors voted to oppose during the Board's Aug. 20 meeting, the California Commision on Mandates position that would take away funding for prosecution, defense and housing of those prosecuted under Jessica's Law.

In addition to opposing the possible defunding of Jessica's Law, Supervisor Spitzer suggested that Board of Supervisors send representatives to and testify before the State Commission on Mandates.

Spitzer was a state campaign manager for the initiative, which voters passed in 2006. Jessica's Law:

Increased the penalties for sex offenders
Broadened the definition of certain sexual offenses,
Eliminated good time credits for early release of certain offenders, prohibited probation for certain crimes and extended parole for some offenses
Increased court-imposed fees on sex offenders and provided for life-long GPS monitoring of high risk sex offenders.

The law also bars convicted sex offenders from living within 2,000-feet of a school or any place where children gather.

"Jessica's Law, while passed by the Legislature, was subsequently confirmed by the voters. The issue is if the voters pass something versus the legislature, it's no longer an unfunded mandate, which would go to the Commission on Mandates. The position of the state commission now is that this is no longer a mandate," Spitzer said.

At risk is about $2 million in state funding to reimburse counties for prosecution, defense and incarceration. The three Orange County agencies that would be affected are: the Public Defender's Office for defense, the District Attorney's Office for prosecution and the Sheriff's Department for housing.

In 2006, the State Legislative Analyst's Office specifically stated the state would "reimburse counties for their costs for participation in the SVP commitment process."

"This is a very important public protection issue," Spitzer said.

"A lot of the testimony has been from staff and professional prosecutors and public defenders as opposed to elected officials," Spitzer said. "I think we have to take a full-on frontal offensive on this."

OCTA Refinances 91 Express Lanes Bonds

(From OCTA)

The Orange County Transportation Authority announced the new 91 Express Lanes Bonds, used to refinance the 2003 91 Express Lanes Bonds, have a true interest cost of 3.83%, nearly 1 percent lower than the 2003 cost.

The OCTA Board of Directors, on which Supervisor Todd Spitzer serves at the Chair of Finance and Administration, authorized the issuance of the bonds on July 22, when the 10-year AAA Municipal Market Data Interest Rates were slightly higher than 2.75%. When the bonds were priced on July 30, rates had fallen to just over 2.65%.

The bonds are rated A1, A, and A-minus respectively by Moody's Investor Services, Standard & Poor's, and Fitch Ratings.

The average debt service per year totals $10.798 million with a total debt service for 17 years of $186.616 million. The bonds have total proceeds of $135.576 million with a 10-year optional par call provision.

County of Orange Supports Fire Pit Legislation


(SANTA ANA, CA) Supervisor Todd Spitzer and the County Board of Supervisors voted to support during the Board's Aug. 20 meeting, a bill pending in the state Legislature that would preserve Orange County's fire rings.

Assembly Bill 1102 - authored by Travis Allen, R-Huntington Beach and Sharon Quirk-Silva, D-Fullerton – would prohibit the South Coast Air Quality Management District from prohibiting beach bonfires.

In July, the AQMD voted to move or remove fire pits within 700 feet of homes. Spitzer and the Board of Supervisors previously voted to oppose that proposal.

"Fire rings are part of Orange County and Californian culture. They hearken back to a simpler, more innocent time of family outings during the summer, making s'mores, roasting hot dogs and singing songs," Spitzer said.

"I wholeheartedly support AB 1102 and thank our area state legislators who have worked vigorously to protect this piece of the Orange County lifestyle."

Pet of the Week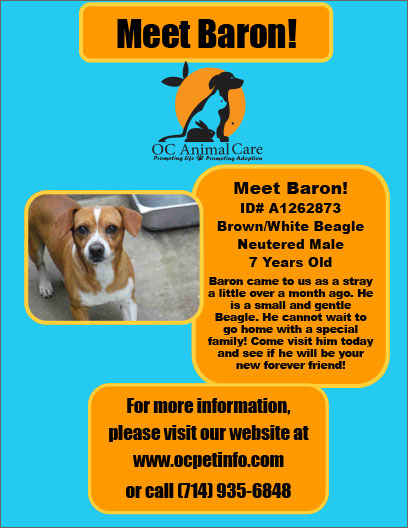 Click on the image above to view a PDF version.

Events Around The District

Anaheim
Anaheim Certified Farmers' Market & Craft Fair
noon-7 p.m. Thursday, Aug. 22
Center Street Promenade and Lemon Street

Orange
Teen Movie Madness – The Outsiders (PG)
6-8 p.m. Wednesday, Aug. 21
Orange Public Library, 407 E. Chapman Ave.

Silverado
Discover Yoga
7:30-8:30 p.m. Tuesday, Aug. 20
Modjeska Community Center, 28890 Modjeska Canyon Rd.

Tustin
Movies in the Park – Star Wars: A New Hope
7:50 p.m. Thursday, Aug. 22
Cedar Grove Park, 11385 Pioneer Road

Yorba Linda
What Your iPad Can Do for You!
10-11:30 a.m. Saturday, Aug. 24
Yorba Linda Public Library, 18181 Imperial Hwy.




DISTRICT

STAFF
Martha Ochoa
Chief of Staff

Eugene Fields
Communications Director

Martin Gardner
Policy Advisor

Carrie O'Malley
Policy Advisor

Chris Nguyen
Policy Advisor

Christine Richters
Executive Aide



District Map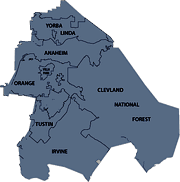 Anaheim, Irvine, Orange, Tustin, Villa Park, Yorba Linda, El Modena, North Tustin, Orange Park Acres, the Canyon Communities

Stay Updated!