October 22, 2013
Volume 1

Issue 40

Supervisors Nguyen and Spitzer Propose Board of Supervisors Pay Their Full Employee Retirement Contributions Effective Immediately Upon Vote of the Board of Supervisors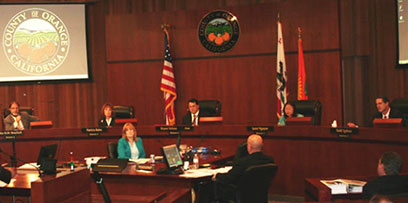 On Friday, Orange County Supervisors Janet Nguyen and Todd Spitzer proposed that the Board of Supervisors pay their full employee retirement contributions effective immediately upon ratification by the Board of Supervisors.

Supervisor Nguyen and Spitzer have also proposed a charter amendment to be placed before the voters on the June 2014 ballot to make this a permanent requirement for County elected officials. In doing so, future Boards of Supervisors cannot reverse this decision without voter approval.

"I ran on a platform promising to mandate employee contributions, making government workers pay their pension contribution costs," Spitzer said. "As elected officials, we must lead by example, so in May, we voted to require that County elected officials pay their full employee retirement contributions. This charter amendment ensures that vote can never be reversed without the consent of the people."

"We have asked County workers to pay their employee contributions for their retirement, and we need to do the same as Supervisors," Nguyen said. "We can impose this requirement on ourselves, and we should do so as quickly as possible."

Both proposals are scheduled to be considered by the Board of Supervisors at its November 5 meeting. The change to County personnel and salary rules can take effect immediately, but the charter amendment would need to be placed on the June 2014 primary election ballot.

Todd Spitzer Participates in Crime Victims Memorial Committee Meeting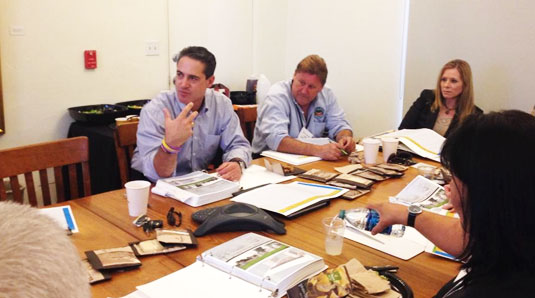 Supervisor Todd Spitzer with Fourth District Committee Member Steve Spernak and Third District Committee Member Patricia Wenskunas (Founder and CEO of Crime Survivors, Inc.)
On Wednesday evening, Supervisor Todd Spitzer participated in the OC Crime Victims Memorial Evaluation Committee meeting at OC Parks headquarters. The committee examined 58 different submissions for potential designs for the OC Crime Victims Memorial to be built at William R. Mason Regional Park in Irvine. In April 2013, the Board of Supervisors approved the creation of the memorial, the site selection, and the design competition.

"It is so gratifying to see so many entries from around the world to build such an important monument in Orange County," Spitzer said. "I thank the committee so much for its thorough discussion of each submission for the design of this vital future landmark."

The five finalists will be announced next week. Those five entries will then submit detailed design documents in plan and elevation view, logo design, and an optional materials board by January 30, 2014.

The entries will then be publicly exhibited in February and March 2014. The winning design will be announced during National Crime Victims' Rights Week in April 2014.

The 58 entries can be viewed here. A map of Mason Park is available here, with a more specific map of the site available here.

Supervisor Spitzer Judges RADD's Battle of the Bands in Honor of Red Ribbon Week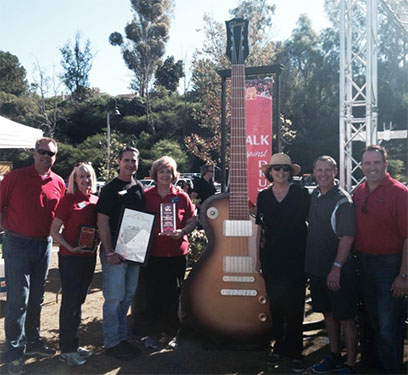 (l-r): Mission Viejo Councilman Dave Leckness, Mission Viejo Mayor Pro Tem Trish Kelley, Supervisor Todd Spitzer, Mission Viejo Mayor Rhonda Reardon, RADD President Erin Meluso, National Council on Alcoholism and Drug Dependence – Orange County CEO Phil Falcetti, and Mission Viejo Councilman Frank Ury
On Saturday, Supervisor Todd Spitzer joined RADD (formerly known as Recording Artists, Actors, and Athletes Against Drunk Driving), and the National Council on Alcoholism and Drug Dependence to take part in their Red Ribbon Week event. This event began with Supervisor Todd Spitzer and Supervisor Patricia Bates presenting a County Resolution to RADD and the NCADD to commend them for their efforts in the areas of alcohol and drug prevention and awareness.

RADD also hosted a Battle of the Bands. This contest was open to all high school students in Orange County. From the bands that entered on-line, three finalists were chosen to perform at the live event. Supervisor Spitzer served as one of the judges for the Battle of the Bands. The three finalist bands who performed were: Front Row Goons, Minus One Reality, and Sharp Turn Ahead. All of the bands were unique and talented. The final band selected as the first place winner was Sharp Turn Ahead, with Minus One Reality as the runner-up.

At the end of the event, Supervisor Spitzer was honored with RADD's "Rock 'N Road Visionary Award" for his hard work and dedication in the fight against drinking and driving.

"I have worked tirelessly in the area of DUI prevention efforts. The RADD event and the Battle of the Bands offers an innovative way to reach out to today's youth and encourage them to take part in music and other constructive outlets rather than getting involved in drugs and alcohol," Spitzer said. "Prevention efforts such as these are positive ways for teenagers to get involved in the fight against drugs and alcohol."

Supervisor Spitzer pointed out that the numbers for underage DUI Convictions for 2010 in Orange County are alarming. For instance, there were 941 misdemeanor DUI convictions in Orange County for people under age 21 alone. This number is alarming. In addition, there were a total of 150 people under age 21 in 2010 in Orange County who were drivers who had been drinking in fatal and injury collisions.

Supervisor Spitzer stated that these numbers are eye opening. Adults need to provide today's youth with alternative outlets so that they do not turn to drinking and drug abuse. RADD and the National Council on Alcoholism and Drug Dependence do just that.

"I want to commend these most worthwhile organizations that offer programs and education so that youth do not turn to drugs and alcohol," Supervisor Spitzer said praising these organizations for their commitment to the prevention of drug and alcohol abuse.

The key to prevention is to reach out to young people through education and programming efforts such as these.

Todd Spitzer Appoints Rabbi Richard Steinberg of Irvine's Shir Ha-Ma'alot Temple to OC Human Relations Commission


Supervisor Todd Spitzer has appointed Richard Steinberg to the Orange County Human Relations Commission. Steinberg is the Senior Rabbi of the Shir Ha-Ma'alot temple in Irvine. He replaces Dr. Ruben Barron of Yorba Linda who was appointed to the commission by Supervisor Spitzer's predecessor, Bill Campbell, in 2012.

"Rabbi Steinberg is a well-respected community leader as the senior rabbi of a Third District synagogue," Spitzer said. "I thank Rabbi Steinberg for his willingness to serve our community."

The Human Relations Commission works to build mutual understanding among all residents of Orange County and eliminate prejudice, intolerance, and discrimination against any individual or group because of race, religion, national origin, gender, sexual orientation, disability, ethnicity, socioeconomic status, or marital status.

"This is a wonderful opportunity to serve my community on the issues of which I am passionate," Steinberg said. "Orange County is a wonderful place to envision and then enact the kind of values and virtues we wish to celebrate as one community made up of a myriad of ethnic heritages and backgrounds."

Steinberg will serve a two-year term that expires October 7, 2015.

Who to Call if Your Neighbor's House is a Wildfire Risk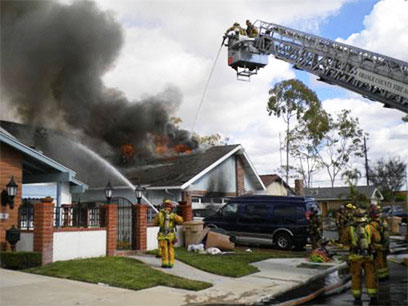 (Photo courtesy of the Orange County Fire Authority)
When it comes to wildfire safety, it is every resident's personal responsibility to make sure that their home is adequately prepared and up to fire safety code. However, residents can still be endangered if a neighbor fails to maintain a level of wildfire readiness and safety.

If you believe your neighbor's home poses a risk of spreading wildfire, please call one or more of the following numbers:

Orange County Fire Authority (covers Irvine, Tustin, Villa Park, Yorba Linda, and unincorporated areas): (714) 573-6000
Anaheim Fire Department: (714) 765-4000
Orange Fire Department: (714) 288-2541
County of Orange Code Enforcement (unincorporated areas): (866) 552-8120
Anaheim Code Enforcement: (714) 765-5158
Orange Code Enforcement: (714) 744-7200
Irvine Code Enforcement (949) 724-6326
Tustin Code Enforcement: (714) 573-3134 or (714) 573-3135
Villa Park Code Enforcement: (714) 998-1500
Yorba Linda Code Enforcement: (714) 961-7100
As a reminder once again, all Orange County residents should:

Report any suspicious activity directly to 9-1-1
Ensure any mowing or weed eating be done before 10 AM & after 6 PM (and NEVER during extremely dry or windy conditions)
Never use lawn mowers in dry vegetation
Make sure cigarette butts are properly extinguished; do not smoke near dry brush or grass, and never throw cigarette butts from car windows
Remember that spark arresters are always required in wildland areas on all portable gasoline powered equipment, and residents should think twice before using powered equipment on windy days
Park vehicles headed out for quick evacuation; do not block the street with parked vehicles or park over dry grass
Think ahead when planning outdoor activities and reconsider outdoor BBQs or other potentially hazardous activities
Check local conditions and restrictions with OC Parks and the US Forest Service before venturing into the wilderness parks and national forest
To learn more information about wildfire readiness and upcoming community events or sign up for a free home assessment, please visit www.ReadySetGoOC.org.

Todd Spitzer Joins Crime Survivors Dove Release and Hopeful Healing Day in Tustin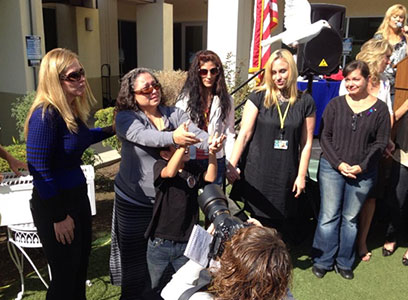 On Saturday, October 12, Supervisor Todd Spitzer joined the Crime Survivors Dove Release and Hopeful Healing Day, which was commemorated at the Orange County Rescue Mission in Tustin.

"This ceremony symbolized the hope that crime victims would begin the healing process to eventually become crime survivors," Spitzer said. "I congratulate Crime Survivors and their Founder and CEO, Patricia Wenskunas, on organizing such a beautiful ceremony."

Todd Spitzer Attends Yorba Linda Mayor's Prayer Breakfast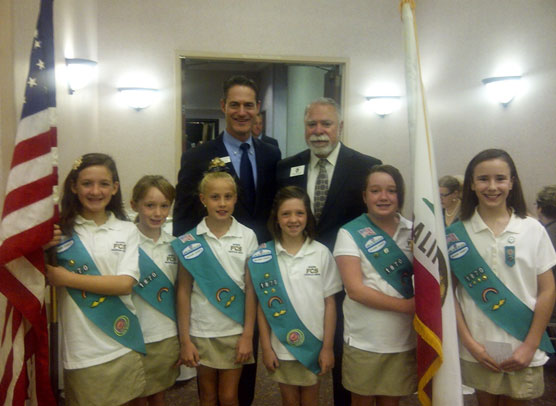 Supervisor Todd Spitzer and Yorba Linda Councilman Gene Hernandez with the Friends Christian School Colorguard at the Yorba Linda Mayor's Prayer Breakfast
On Thursday, Supervisor Todd Spitzer attended the Yorba Linda Mayor's Prayer Breakfast. Mayor Tom Lindsey invited keynote speaker Bill Shumard, CEO of the Special Olympics of Southern California.

"I was honored to attend Mayor Lindsey's prayer breakfast with so many community leaders, businesspeople, young students, and Yorba Linda residents," Spitzer said. "I was so moved by Bill Shumard's speech about success and failure and walking with Christ."

Todd Spitzer Rides in Silverado Country Fair "UnParade"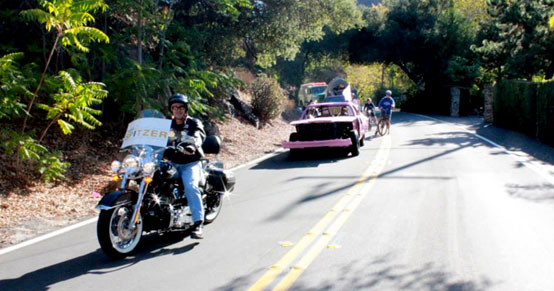 (Photo Courtesy of Chay Peterson)
The 43rd Annual Silverado Country Fair & Art Festival was held over the course of three days, from October 11-13. Residents attended exhibits by local arts and crafts merchants, a petting zoo, and numerous events, including concerts, re-enactments, a costume contest, eating contests, and the "UnParade."

"Riding my motorcycle through the natural landscapes of the canyons is one of my favorite activities," Supervisor Todd Spitzer said. "To be able to do so as part of the UnParade with so many Silverado residents was a great joy."

The UnParade took place Saturday morning, featuring canyon characters, Juaneño natives, "wagon driven-store robbin' outlaws," horseback riders, scouts, dancers and classic cars. The UnParade began at Fire Station 14 and finished at the Silverado Community Center, where the rest of the fair's festivities took place.

Todd Spitzer and OC Health Care Agency Sponsor Second Safe Communities Meeting

(Portions courtesy of the Health Care Agency)

As part of the Safe Communities series, Supervisor Todd Spitzer is partnering with the Orange County Health Care Agency and the Sheriff's Department to host a community forum focused on Anti-Bullying. The event will be held this Wednesday, October 23 from 6:00 PM to 8:00 PM at Foothill High School's Event Center.

"In April, I was proud to sponsor the first Safe Communities meeting in Irvine examining mental illness, substance abuse, and violence," Supervisor Spitzer said. "I hope you will join me in this next Safe Communities meeting in Tustin to address the important issue of bullying in our community."

Parents, students, educators and residents are encouraged to attend. The program includes an expert from the Sheriff's Department on social media trends in bullying, a local student with lived experience, and a national expert from a non-profit organization. Light refreshments will be provided, and doors open at 5:30 PM.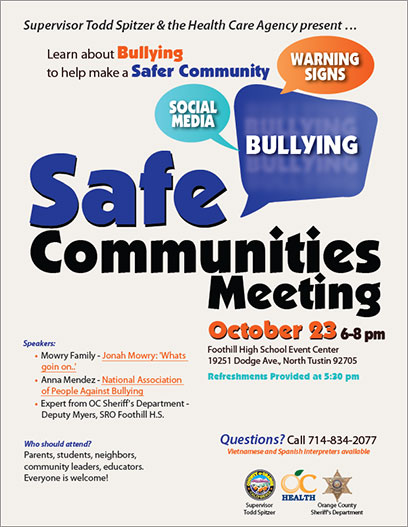 Click on the image above to view a PDF version of the Official Safe Communities Meeting Flyer.

Treats in the Streets in Orange This Thursday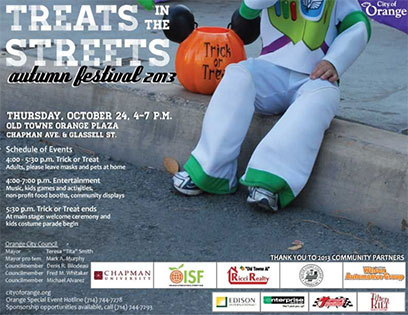 Click on the image above to view a PDF version.

Canyon Country Hike & Hoedown in Silverado This Saturday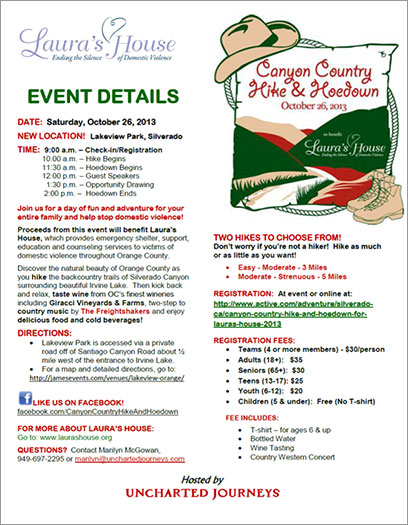 Click on the image above to view a PDF version.

Pet of the Week


Click on the image above to view a PDF version.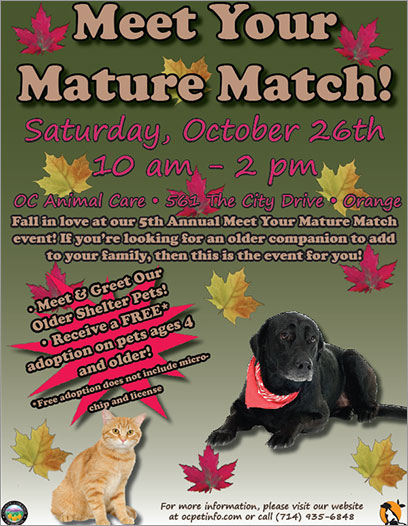 Click on the image above to view a PDF version.

Events Around the District

Anaheim
Creative Costumes with Holly Cleeland, Author of "Glue & Go Costumes for Kids"
Saturday, October 26, 2:00 PM
Canyon Hills Branch Library, 400 Scout Trail

Irvine
Great Park Pumpkin Harvest
Saturday, October 26, 9:00 AM-3:00 PM
Orange County Great Park

Tustin
Movie Matinee Thursday – "History of the World Part I"
Thursday, October 24, 2:00 PM
Orange County Public Library – Tustin Branch, 345 E. Main St.

Villa Park
Paying for College Workshop
Thursday, October 24, 4:00 PM-6:00 PM
Villa Park Community Room, 17855 Santiago Blvd.

Yorba Linda
Animal Show
Thursday, October 24, 6:30 PM-7:15 PM
Yorba Linda Public Library, 18181 Imperial Hwy.




DISTRICT

STAFF
Martha Ochoa
Chief of Staff

Martin Gardner
Policy Advisor

Carrie O'Malley
Policy Advisor

Chris Nguyen
Policy Advisor

Christine Richters
Executive Aide



District Map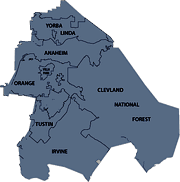 Anaheim, Irvine, Orange, Tustin, Villa Park, Yorba Linda, El Modena, North Tustin, Orange Park Acres, the Canyon Communities

Stay Updated!