October 31, 2013
Volume 1

Issue 42

Supervisor Todd Spitzer Asks Public to Help Find 25 Iconic Places and Events in the Third District to Mark OC's 125th Birthday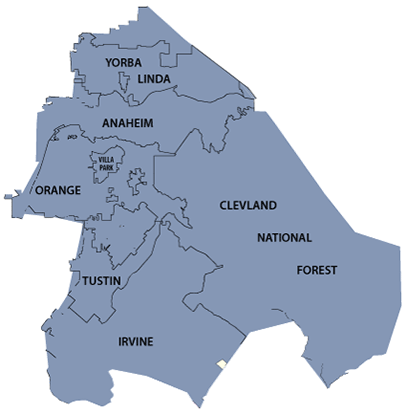 Orange County was incorporated March 11, 1889. To celebrate Orange County's 125th birthday next year, Supervisor John Moorlach is leading a subcommittee for the "OC 125" celebration. The Board of Supervisors is also identifying 125 items to celebrate OC 125. Each of the five Supervisors will submit 25 items from their district.

"The Third District is home to universities, shopping centers, historic plazas, a presidential library, and numerous other iconic sites," Supervisor Todd Spitzer said. "I am excited to hear about the Third District's places and events from residents of Anaheim Hills, Irvine, Orange, Tustin, Villa Park, Yorba Linda, El Modena, Modjeska Canyon, North Tustin, Olive, Orange Park Acres, Santiago Canyon, Silverado Canyon, and Trabuco Canyon."

Third District residents are encouraged to provide their input on iconic places and events. Supervisor Spitzer will then select the 25 suggestions most representative of the Third District. Suggestions should be emailed to todd.spitzer@ocgov.com no later than Thursday, November 7.

Press Examines Nguyen-Spitzer Proposals for Elected Officials to Pay Their Full Employee Retirement Contributions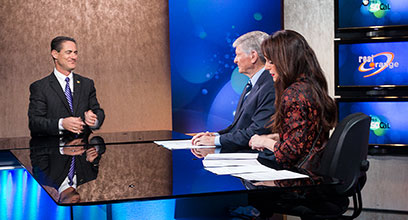 Supervisors Janet Nguyen and Todd Spitzer have proposed that the Board of Supervisors pay their full employee retirement contributions effective immediately upon ratification by the Board of Supervisors. Supervisors Nguyen and Spitzer also proposed a charter amendment to be placed before the voters on the June 2014 ballot to make this a permanent requirement for County elected officials that cannot be reversed without voter approval.

Supervisor Spitzer joined Ed Arnold and Ann Pulice on Real Orange on PBS SoCal to discuss the proposals. That interview will air tonight on Channel 50 at 5:00 PM and again at 12:30 AM. The video is also available here.

Late last week, the Orange County Register printed an editorial in support of the Nguyen-Spitzer proposals.

"Pension reform is expected back on the Board of Supervisors' agenda Nov. 5, when a proposal from Supervisors Todd Spitzer and Janet Nguyen would make permanent a plan to have the supervisors pay their full employee retirement contributions," the Register said. "The board hopefully will approve the Spitzer-Nguyen proposal for their own pensions and send the companion measure along to the voters."

"We have asked County workers to pay their employee contributions for their retirement, and we need to do the same as Supervisors," Nguyen said. "We can impose this requirement on ourselves, and we should do so as quickly as possible."

The two proposals will be considered by the Board of Supervisors at its November 5 meeting. The Clerk of the Board's office has provided the full text here of the Nguyen-Spitzer proposal to require Supervisors to pay their full employee retirement contributions immediately. The Clerk of the Board has also provided the full text of the ballot measure proposed by Supervisors Nguyen and Spitzer here.

Have a Great Halloween (and Safety Tips)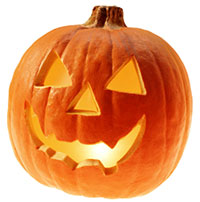 (Portions courtesy of the U.S. Centers for Disease Control)

Tonight is Halloween, so families across the country will be going from door-to-door in costume to "trick-or-treat" to obtain candy for their children.

"Halloween is a fun holiday for families to celebrate together," Supervisor Todd Spitzer said. "However, it is important for families to stay safe to make sure Halloween festivities do not become tragedies."

If any person or pet appears to have ingested anything toxic, call the toll-free California Poison Control System hotline immediately at (800) 222-1222.

Below are costume and trick-or-treat safety tips:

Swords, knives, and similar costume accessories should be short, soft, and flexible.
Avoid trick-or-treating alone. Walk in groups or with a trusted adult.
Fasten reflective tape to costumes and bags to help drivers see trick-or-treaters.
Trick-or-treaters should hold a flashlight to help see others and ensure others see them. Always WALK and do not run from house to house.
Always test make-up in a small area first. Remove it before bedtime to prevent possible skin and eye irritation.
Look both ways before crossing the street. Use established crosswalks wherever possible.
Lower the risk of serious eye injury by not wearing decorative contact lenses.
Only walk on sidewalks whenever possible, or on the far edge of the road facing traffic to stay safe.
Wear well-fitting masks, costumes, and shoes to avoid blocked vision, trips, and falls.
Enter homes only when with a trusted adult. Only visit well-lit houses. Don't stop at dark houses. Never accept rides from strangers.
Never walk near lit candles or luminaries. Be sure to wear flame-resistant costumes.

Below are Halloween food safety tips:

Trick-or-treaters should not open their candy until they return home.
Examine all treats for choking hazards and tampering before eating them.
Eat only factory-wrapped treats. Do not eat candy that has been unwrapped or opened.
Never eat fruit or other unwrapped items. Avoid eating homemade treats made by strangers.
Limit the amount of treats eaten. Prevent a stomach ache by limiting 2- 3 small pieces of candy at a time.

Pet of the Week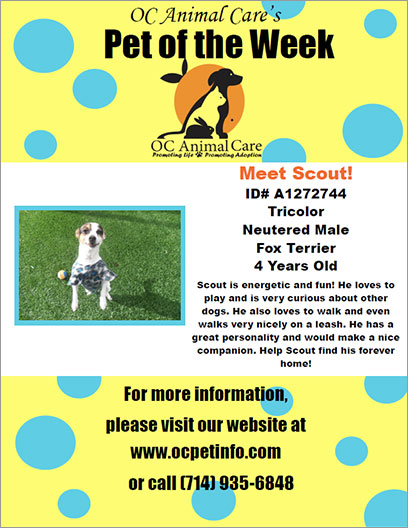 Click on the image above to view a PDF version.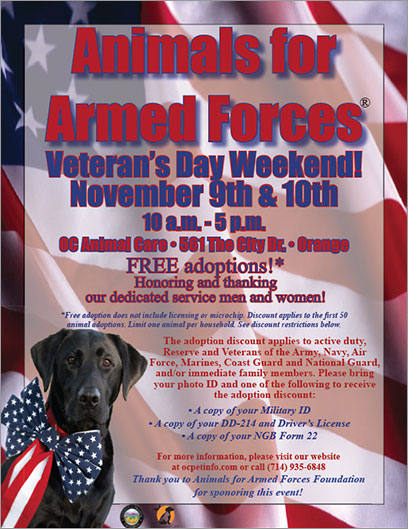 Click on the image above to view a PDF version.

Events Around the District

Anaheim
Santa Ana River Trail Marathon
Saturday, November 2, 8:00 AM
Yorba Regional Park, 7600 E. La Palma Ave.

Irvine
Art & History: A Celebration
Saturday, November 9, 10:00 AM-1:00 PM
Orange County Great Park

Orange
Intro to the Arts
Friday, November 1, 3:00 PM-4:00 PM
Orange Public Library & History Center, 407 E. Chapman Ave.

Silverado
Celebrate Cultures in Nature – Día de los Muertos
Friday, November 1, 7:00 PM-9:30 PM
Black Star Canyon Staging Area, 14654 Blackstar Canyon Rd.

Tustin
Dino Dash
Sunday, November 3, 6:15 AM-11:00 AM
The Market Place

Villa Park
SAT Testing
Saturday, November 2, 7:45 AM
Villa Park High School, 18042 E. Taft Ave.

Yorba Linda
Pacific Electric: Then & Now
Saturday, November 2, 2:00 PM
Yorba Linda Public Library, 18181 Imperial Hwy.




DISTRICT

STAFF
Martha Ochoa
Chief of Staff

Martin Gardner
Policy Advisor

Carrie O'Malley
Policy Advisor

Chris Nguyen
Policy Advisor

Christine Richters
Executive Aide



District Map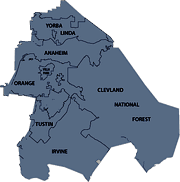 Anaheim, Irvine, Orange, Tustin, Villa Park, Yorba Linda, El Modena, North Tustin, Orange Park Acres, the Canyon Communities

Stay Updated!