November 27, 2013
Volume 1

Issue 46

Supervisor Spitzer Works at OC Zoo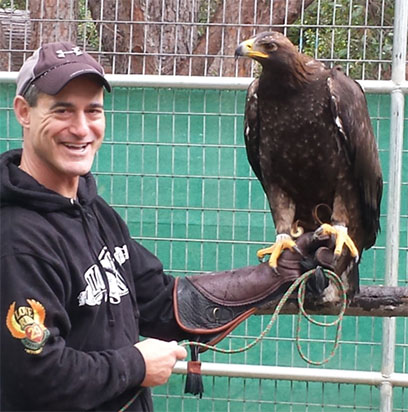 Supervisor Todd Spitzer assists in the glove training for "Tejon" the golden eagle at the OC Zoo.
(Portions courtesy of OC Parks)

On Friday, Supervisor Todd Spitzer worked with zookeepers at the OC Zoo.

"When I was sworn in as Supervisor this year, I pledged to do what front-line employees do because I need to understand what they do day in and day out if I am going to make decisions that impact their lives," Supervisor Spitzer said. "Working with the zookeepers was an enlightening experience of the day-to-day work at the OC Zoo."

During his time at the zoo, Supervisor Spitzer completed a number of duties normally carried out by zookeepers:

Cleaned up the black bear's on-exhibit area by raking and cleaning out the pond
Completed a check of the integrity of the bear exhibit fencing
Placed behavioral enrichment items such as food and toys in the exhibit
Observed the bear "YoYo" finding the enrichment items from the outside of the exhibit
Observed some of the husbandry training that the OC Zoo does with the bear and the feeding of her morning treat and fish oil tablets
Assisted in the weighing of the 21-week-old Porcupine "Wallowitz"
Moved "Wallowitz" to the on-exhibit enclosure
Cleaned the raccoon exhibit by raking the leaves and debris
Drained, bleached, and hosed out the raccoon pond
Shifted the two raccoons "Jack" and "Jill" back on exhibit
Cleaned and collected a fecal sample in the quarantine enclosure where the OC Zoo's new golden eagle "Tejon" is being housed
Observed and participated in the glove training of the golden eagle
"I appreciate the opportunity to have worked at the OC Zoo on Friday," Supervisor Spitzer said. "I thank all the OC Zoo employees for their hard work day in and day out."

Orange County adults interested in volunteering at the OC Zoo can visit http://ocparks.com/zoo/volunteer for more information. Volunteers help clean exhibits, prepare diets, assist with projects, take photos, observe animals, paint, repair . The volunteer application is available here.

"The OC Zoo is one of the treasures of Orange County," Supervisor Spitzer said. "I urge all Orange County families to visit YoYo, Wallowitz, Jack and Jill, Tejon, and the rest of the animals."

The OC Zoo is located inside Irvine Regional Park at 1 Irvine Park Road, Orange, California 92869. Its web site is http://ocparks.com/zoo/.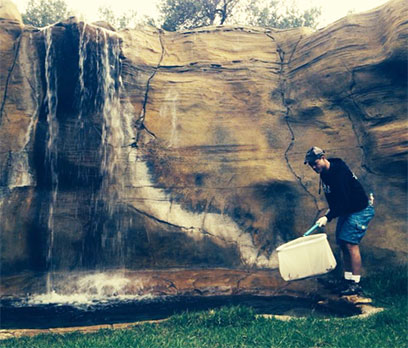 Supervisor Spitzer cleans out of the pond at the OC Zoo black bear exhibit.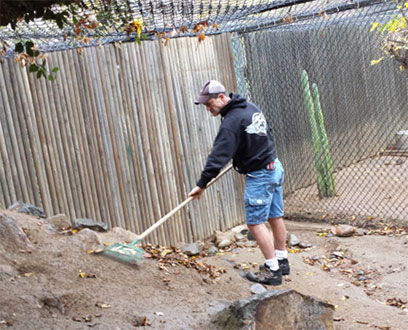 Supervisor Spitzer rakes leaves at the OC Zoo raccoon exhibit.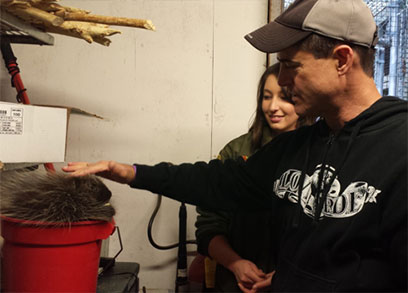 Supervisor Spitzer pets Wallowitz, a 21-week-old porcupine, on the scale before returning it to its enclosure at the OC Zoo.

John Wayne Airport Offers Thanksgiving Travel Tips

(Portions courtesy of John Wayne Airport)

In anticipation of one of the most heavily traveled holiday periods, John Wayne Airport offers travel tips to help passengers prepare for a safe and enjoyable holiday. Passengers traveling through John Wayne Airport between Friday, November 22 and Monday, December 2 will experience higher-than-normal passenger traffic due to the Thanksgiving holiday.

"The day before Thanksgiving is the busiest travel day of the year," Supervisor Todd Spitzer said. "By following these Thanksgiving travel tips, passengers will be able to get more quickly to their destinations and reduce the stress of the holiday."

KeepOCSafe is a partnership between the County of Orange, the City of Anaheim, the City of Santa Ana, and the U.S. Department of Homeland Security. The County, through KeepOCSafe and John Wayne Airport, encourages travelers to be more aware of their surroundings and to report questionable objects or activities. A Giant Red Backpack (pictured below) will be on display in the Thomas F. Riley Terminal throughout the holidays to remind passengers and visitors: "If You See Something, Say Something™."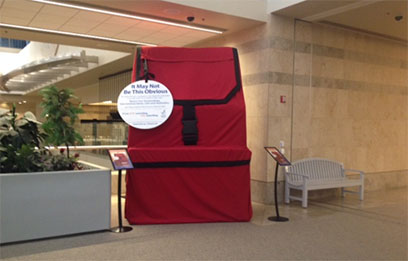 Travel Tips for Passengers and Visitors:
Arrive 90 minutes to two-hours before the flight departure time to find parking, check luggage and go through the security checkpoint. Passengers who are members of TSA Precheck can expedite the screening process in Terminals A, B (morning only) and C.
Drivers picking up passengers at the Airport are encouraged to utilize 2-hour parking spaces, located on the lower level of Parking Structures A1, B2 and C.
Passengers are allowed one small carry-on bag plus one personal item as long as the carry-on bag fits airline dimensions. Check with your individual airline for specifics.
Parking Options at JWA:
Curbside Valet Parking for $30 per day, is located on the Departure (upper) Level between Terminals A and B, or in front of Terminal C.
Parking Structures A1, A2, B2 and C are located adjacent to and directly across from the Riley Terminal at a rate of $20 per day and $2 per hour with the first 15 minutes being free for those dropping off and picking up passengers. Access to terminal parking structures is available from the Departure (upper) Level only.
Off-site Main Street Parking Lot located at 1512 Main St., Irvine for $14 per day with free shuttle service to/from the Terminal every 15 minutes.
For parking availability call 949.252.5200 or for directions to JWA, visit: http://www.ocair.com/parking/rates.aspx.
Know Before You Go from TSA and CBP:
Review Transportation Security Administration (TSA) Travel Tips to become familiar with what items are prohibited, including the 3-1-1 rule for liquids in carry-ons.
International travelers should check the U.S. Customs & Border Protection (CBP) website to ensure they have appropriate documentation for traveling to and from the United States. Visit http://cbp.gov/xp/cgov/travel/vacation/ to learn more. Note: Passengers who are members of the Global Entry Trusted Traveler Program will be able to expedite their Customs clearance into the U.S. at John Wayne Airport. Those passengers traveling to and from Canada will clear Customs in Canada before returning to the United States.

Third District Forum on Conditions of Children in Orange County Report Set for December 3 in Irvine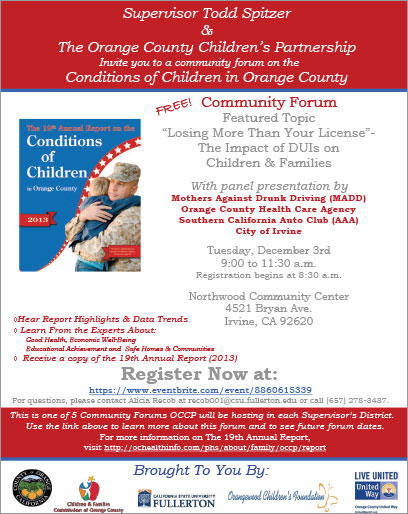 Click on the image above to view a PDF version.

Click here to register.

Meet Sheriff's Deputies at "Coffee with a Cop" in Yorba Linda on December 4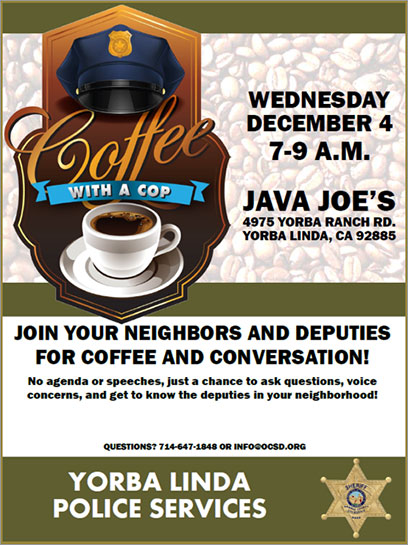 Click on the image above to view a PDF version.

Villa Park Santa Tour on December 7, Boat Parade on December 8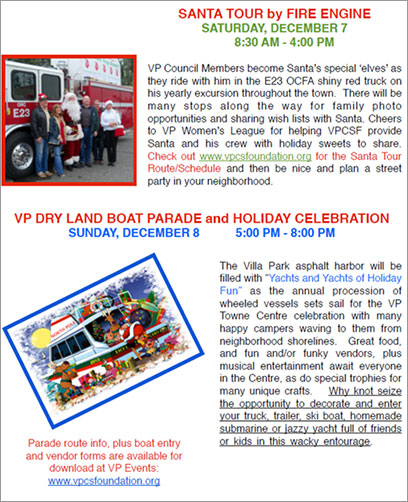 Click on the image above for more details.

Pet of the Week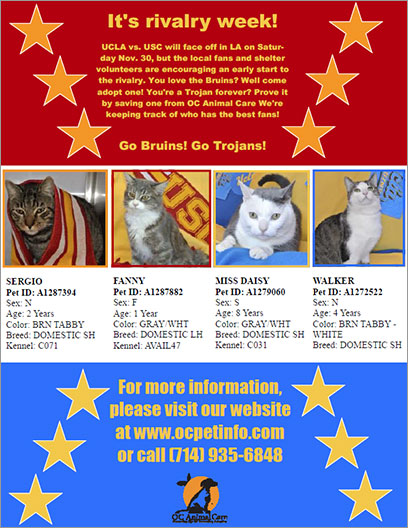 Click on the image above to view a PDF version.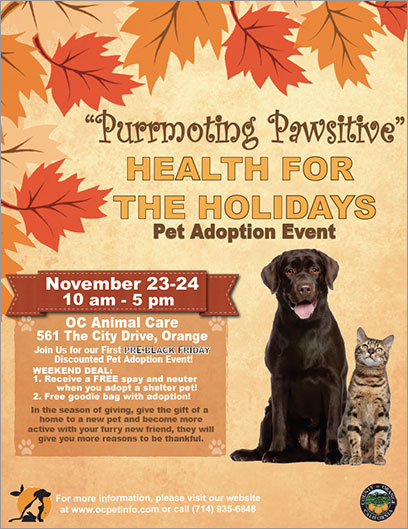 Click on the image above to view a PDF version.

Events Around the District

Anaheim
Santa Arrival Parade
Friday, November 29, 2013, 12:00 PM – 3:00 PM
Town Square, 2002 Lincoln Ave.

Irvine
Medical/Dental Clinic in the Park
Sunday, December 8, 2013, 10:00 AM – 2:00 PM
Orange County Great Park

Orange
Holiday Magic Floral Designs
Monday, December 2, 2013, 6:30 PM – 7:30 PM
Orange Public Library & History Center, 407 E. Chapman Ave.

Silverado
Toad Trek Up Black Star Canyon
Wednesday, November 27, 2013, 7:00 PM – 9:00 PM
Black Star Canyon Parking Lot, End of Black Star Canyon Rd. by Brown Metal Pipe Gate

Tustin
Christmas Tree Lighting
Friday, December 6, 2013, 6:00 PM
Tustin City Hall, 300 Centennial Way

Villa Park
Protect Yourself from Fraud
Thursday, December 5, 5:00 PM – 7:00 PM
Villa Park City Hall, 17855 Santiago Blvd.

Yorba Linda
Cake Pop Party for Tweens
Thursday, December 5, 6:30 PM – 7:30 PM
Yorba Linda Public Library, 18181 Imperial Hwy.



Happy Thanksgiving!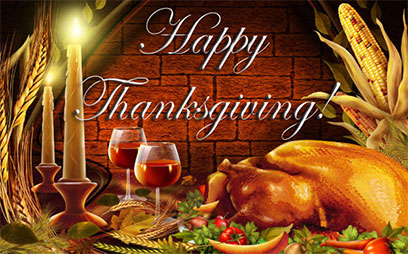 Supervisor Todd Spitzer and his staff wish
you and your family a happy Thanksgiving!


DISTRICT

STAFF
Martha Ochoa
Chief of Staff

Martin Gardner
Policy Advisor

Carrie O'Malley
Policy Advisor

Chris Nguyen
Policy Advisor

Christine Richters
Executive Aide



District Map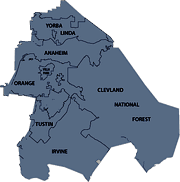 Anaheim, Irvine, Orange, Tustin, Villa Park, Yorba Linda, El Modena, North Tustin, Orange Park Acres, the Canyon Communities

Stay Updated!