December 6, 2013
Volume 1

Issue 47

Supervisor Spitzer Hosts Community Forum on Conditions of Children in Orange County Report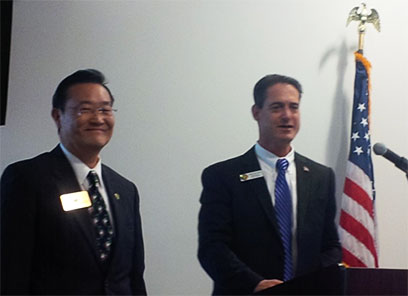 Irvine Mayor Steven Choi, Ph.D., and Supervisor Todd Spitzer welcome attendees to the Third District Community Forum on the 19th Annual Report on the Conditions of Children in Orange County
On Tuesday, Supervisor Todd Spitzer hosted the Third District forum on the 19th Annual Report on the Conditions of Children in Orange County. The forum's featured topic was "Losing More Than Your License" – The Impact of DUIs on Children and Families. The forum featured nine experts from various organizations throughout Orange County.

"Far too many reports are written and just end up on a shelf somewhere," Supervisor Todd Spitzer said. "The Annual Report on the Conditions of Children in Orange County is a living, breathing document that affects the public policymaking process."

Supervisor Spitzer had pushed for the inclusion of information on underaged drinking, underaged DUI, and their impact on youth. Working with the California Department of Motor Vehicles, this information is now included in the Report on the Conditions of Children for the first time and will be included in future annual reports going forward.

Experts who spoke at the panel on DUI were Steven Bloch of the Automobile Club of Southern California (AAA), Amy Buch of the OC Health Care Agency, Irvine Police Department Commander Matt Mahoney, and Tiffany Townson of Mothers Against Drunk Driving (MADD).

Charts on undergaed DUI from the report were available in the October 25 edition of Supervisor Spitzer's newsletter.

Experts who spoke on the general data in the report were Michelle Berelowitz of the Cal State Fullerton Center for Community Collaboration, Nancy Burgos-Johnson of the OC Department of Child Support Services, Dr. Elizabeth Gonzalez of the OC Health Care Agency, Dr. Stephanie Schneider of the OC Department of Education, and Gary Taylor of the OC Social Services Agency.

Supervisor Spitzer emceed the forum. Irvine Mayor Steven Choi, Ph.D., and Orange County Chief Deputy Probation Officer Chris Bieber also spoke at the forum.

The 19th Annual Report on the Conditions of Children in Orange County can be read here. The section on the "Impact of Driving Under the Influence on Youth and Families" is the second item under the "Safe Homes and Communities" section.

First Installment of Property Taxes Due on Tuesday


The first installment of 2013-2014 secured property taxes are due this coming Tuesday, December 10. Payments must be postmarked by December 10. Any payments postmarked after that date will be charged a 10% delinquent fee.

"Proposition 13 helps ensure that California has fair property taxes, and we are all obligated to pay these taxes in a timely fashion," Supervisor Todd Spitzer said. "These taxes help fund the core functions of government, including public safety, water, roads, and education."

More than 850,000 property tax bills totaling $5.2 billion were sent to Orange County property owners in October. The second installment of property tax payments is due on February 1, 2014 and become delinquent after April 10, 2014.

"The most cost effective way for my office to process tax payments is by eCheck," Treasurer-Tax Collector Shari Freidenrich said.

Orange County taxpayers are encouraged to pay by eCheck at ocgov.com/octaxbill, the County's secure tax payment web site. Paying by eCheck saves taxpayers the cost of postage and cuts the risk of stolen checks. Additionally, less overhead is required to process property tax payments submitted electronically than paper checks sent via mail. When less money goes to overhead, more taxpayer dollars go directly to citizen services rather than administrative expenses. According to the Treasurer-Tax Collector's office, payments by eCheck in Orange County have increased by 86% since 2011.

City of Tustin Christmas Tree Lighting Tonight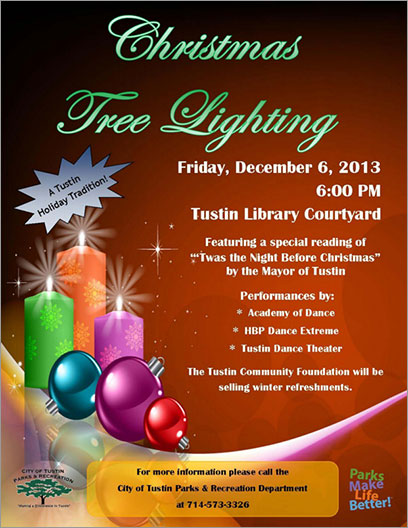 Click on the image above to view a PDF version.

Villa Park Santa Tour on Saturday, Boat Parade on Sunday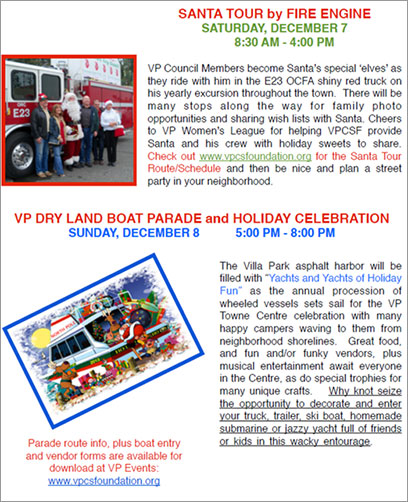 Click on the image above for more details.

City of Orange Tree Lighting Ceremony on Sunday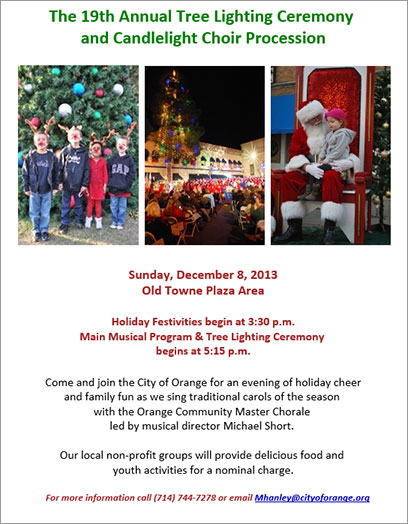 Pet of the Week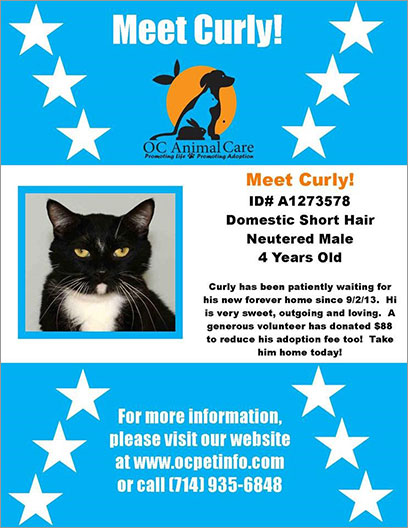 Click on the image above to view a PDF version.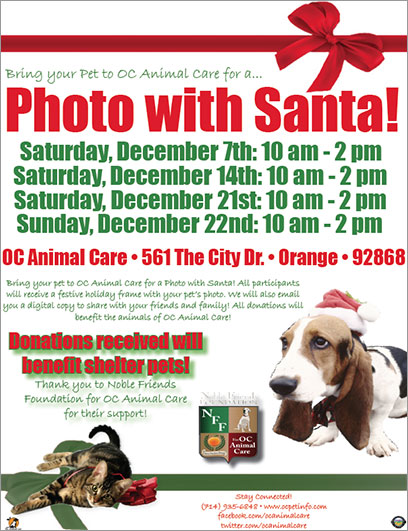 Click on the image above to view a PDF version.

Events Around the District

Anaheim
Anaheim Hills Community Council Tree Lighting Ceremony
Sunday, December 8, 2013, 4:00 PM – 8:00 PM
Influence Center, 8163 E. Kaiser Blvd. adjacent to Festival Shopping Center

Canyons
Wilderness Access Day – Limestone Canyon
Saturday, December 7, 2013, 9:00 AM – 3:00 PM
Augustine Staging Area, Santiago Canyon Rd. and Hicks Haul Rd.

Irvine
Joyful Jingles
Sunday, December 8, 2013, 3:00 PM – 5:00 PM
Barclay Theatre, 4242 Campus Dr.

Orange
Holiday Tamale Making for Kids (3rd – 6th Grade)
Friday, December 6, 2013, 3:00 PM – 5:00 PM
Orange Public Library & History Center, 407 E. Chapman Ave.

Tustin
Super Sunday Story Time
Sunday, December 8, 2013, 11:30 AM – 12:15 PM
Orange County Public Library – Tustin Branch, 345 E. Main St.

Yorba Linda
Battle of the Books
Saturday, December 7, 10:30 AM – 12:00 PM
Yorba Linda Public Library, 18181 Imperial Hwy.




DISTRICT

STAFF
Martha Ochoa
Chief of Staff

Martin Gardner
Policy Advisor

Carrie O'Malley
Policy Advisor

Chris Nguyen
Policy Advisor

Christine Richters
Executive Aide



District Map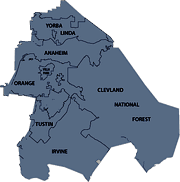 Anaheim, Irvine, Orange, Tustin, Villa Park, Yorba Linda, El Modena, North Tustin, Orange Park Acres, the Canyon Communities

Stay Updated!