May 16, 2014
Volume 2

Issue 19

Supervisors Make OC First Large California County to Implement Laura's Law


A standing room-only crowd filled the Board of Supervisors hearing room on Tuesday for the Board's consideration of implementing Laura's Law.
On Tuesday, the Board of Supervisors voted unanimously to make Orange County the first major county to implement Laura's Law. Nevada County, California, home to only 99,000 residents, is the only other county to implement Laura's Law. Yolo County and Los Angeles County have launched small pilot programs.

"We have an obligation to do whatever we can to assist those who don't know how to help themselves," Supervisor Todd Spitzer said. "You don't have liberty when you can't control your own destiny."

Spitzer's cousin, Patsy, is schizophrenic. He lived with Patsy's father while attending law school. Spitzer witnessed first-hand how not dealing with mental disease affects the person with schizophrenia, the family, and society. Patsy had episodes of violence and confrontations with strangers, leading to her arrest.

Passed in 2002 by the California State Legislature as AB 1421, Laura's Law permits individual counties to implement a system where a judge in the county's boundaries can issue a court order for assisted outpatient treatment of adults with mental illnesses. To be subject to Laura's Law, a mentally ill adult must:

Be deemed unlikely to survive safely in the community without supervision
Have a proven record of non-compliance with treatment
Be in substantially deteriorating condition
Be deemed to have assisted outpatient treatment be the least restrictive placement for that person
Additionally, to be covered by Laura's Law, a mentally ill adult must either:

Within the last 36 months, have had two psychiatric hospitalizations or placement in a correctional facility due to mental illness
Within the last 48 months, have had their mental illness cause one or more attempts or threats of serious and violent behavior to himself/herself or to other people
Nevada County implemented Laura's Law in 2008. No other county implemented Laura's Law due to the ambiguity of the funding mechanism. SB 585 was signed by the Governor in September 2013 and took effect on January 1, 2014. This legislation ensured that funds from voter-approved Proposition 63, the Mental Health Services Act of 2004, could be spent by counties on Laura's Law implementation.

Orange County's implementation of Laura's Law is expected to be in place by October. Forced medication is not part of Orange County's Laura's Law.

Spitzer Opposes Threat of Water Rate Increase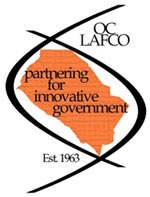 On Wednesday, the Local Agency Formation Commission (LAFCO) considered a proposal to annex portions of the City of Anaheim, the Irvine Ranch Water District, and the Yorba Linda Water District into the Orange County Water District. There were nineteen affected water providers. Eighteen water providers were satisfied with the annexation agreements having no adverse financial effects. However, one water provider, Golden State Water, objected, arguing that the annexation would result in higher water rates.

"It is generally good public policy to allow water providers to have greater access to groundwater, and I applaud the efforts of the City of Anaheim, Irvine Ranch Water District, Yorba Linda Water District, and Orange County Water District," LAFCO Commissioner Todd Spitzer said. "However, I had to oppose this particular proposal because the Golden State Water Company is attempting to use it to lay the groundwork for a water rate increase despite the fact that none of the eighteen other affected water providers had the same concerns as Golden State Water."

Golden State Water commissioned a report that deemed they would have higher costs due to this annexation. However, LAFCO staff rejected the claims of the report, determining that the annexation agreements had sufficient financial mitigation to render this annexation cost-neutral for Golden State Water and the eighteen other water providers. Prior to the inclusion of financial mitigation in the annexation agreements, several of the eighteen other water providers raised concerns about costs, but all eighteen dropped their concerns about costs after the financial mitigation was added. Golden State Water remained the lone holdout claiming that they would have higher costs.

In the Third District, Golden State Water is the water provider for most of North Tustin and small portions of Yorba Linda. Outside of the Third District, Golden State Water is also the water provider for the Orange County cities of Cypress, Los Alamitos, and Placentia, along with portions of the cities of Buena Park, Garden Grove, La Palma, and Seal Beach, as well as the unincorporated community of Rossmoor.

The annexation allows the City of Anaheim, the Irvine Ranch Water District, and the Yorba Linda Water District to have greater access to groundwater from the Orange County Water District. This will help reduce Orange County's reliance on water imported by the Metropolitan Water District of Southern California from the Colorado River and from the Sacramento-San Joaquin River Delta.

All-Electronic Tolling Fully Implemented on 241, 261, 133, and 73 Toll Roads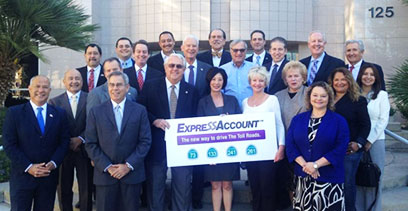 TCA Directors after the January press conference announcing the all-electronic tolling program.
In January, the Transportation Corridor Agencies (TCA) began implementing all-electronic tolling on the four toll roads it operates: the 73, 133, 241, and 261. The all-electronic tolling eliminates the need for toll booths, which were closed permanently on Wednesday.

"This new technology removing toll booths allows people to move smoothly and unimpeded on the toll roads," TCA Board Member Todd Spitzer said. "As more and more people use credit cards and online banking, cash and toll booths have become a thing of the past."

Without toll booths, electronic tolling locations now automatically scan license plates of cars without FasTrak transponders. The car owners are then automatically billed via the license plate scans. Individuals who do not have FasTrak transponders who wish to use the toll roads no longer have to stop at toll booths or worry about having exact change. Switching from traditional toll booths to all-electronic tolling also reduces the costs of toll collection, including eliminating the costs of contract staff and toll booth maintenance.

Toll road users on the 73, 133, 241, and 261 now have five options to pay tolls:

"FasTrak" transponders continue to operate as they always have, in which users sign up for a transponder and pay the lowest tolls; the FasTrak transponders operate anywhere in California
"ExpressAccount – Prepaid" allows users to prepay their accounts using credit cards, cash, or checks, with tolls deducted from their balance
"ExpressAccount – Charge" allows users to have their credit cards charged as tolls are accrued
"ExpressAccount – Invoice" allows users to receive a monthly bill for tolls used that can be paid with credit cards, cash, or checks
"One-Time Toll" allows each user to pay a toll online with a credit card 48 hours after a toll has been incurred without any fines or penalties and without signing up for an account
The electronic license plate scanning process is used by the ExpressAccount and One-Time Toll programs for the 73, 133, 241, and 261 toll roads. ExpressAccounts and One-Time Toll began operation in January and worked alongside existing traditional cash toll booths until Wednesday, when the traditional cash toll booths were closed.

The 91 Express Lanes are not part of the ExpressAccount and One-Time Toll programs, as they are not run by TCA. They are run by the Orange County Transportation Authority, which does use FasTrak transponders for the 91 Express Lanes, which also do not have toll booths.

FasTrak was first introduced to California twenty years ago by TCA and has now become the industry standard. ExpressAccount and One-Time Toll are new TCA programs that are the first of their kind in California.

To compare the five ways to pay tolls on the 73, 133, 241, and 261, click here. For more information about each of these programs, click below:


Special Saturday Opening of OC Clerk-Recorder's Office Tomorrow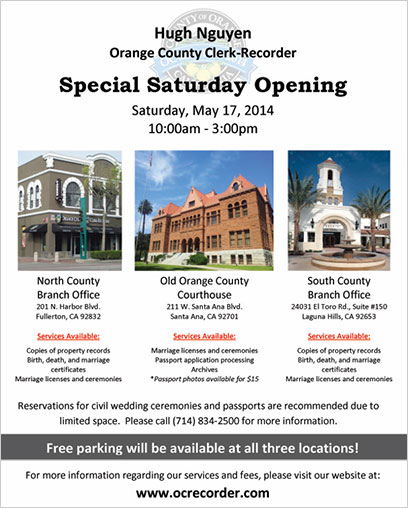 Click on the image above to view a PDF version.
Since taking office in April 2013, Orange County Clerk-Recorder Hugh Nguyen has added a number of reforms and innovations in his department. One of his efforts to improve customer service was to add a monthly Special Saturday Opening for Orange County residents who were unable to make it to the Clerk-Recorder's offices during the workweek.

"I am so proud that Clerk-Recorder Hugh Nguyen has implemented so many reforms and innovations since taking office 13 months ago," Supervisor Todd Spitzer said. "This new emphasis on customer service allows the department to better focus on assisting the people of Orange County."

Marriage licenses and ceremonies will be available tomorrow at all three Clerk-Recorder offices in Santa Ana, Fullerton, and Laguna Hills. Property records, along with birth, death, and marriage certificates, will be available tomorrow in Fullerton and Laguna Hills. Passport processing and the Orange County Archives will be open for business tomorrow in Santa Ana.

Factoid: 97.9% of OC Property Taxes Paid on Time, Highest Rate in 20 Years


According to the office of Treasurer-Tax Collector Shari L. Freidenrich, CPA, 97.9% of Orange County's secured property taxes have been collected in a timely manner, which is the highest collection rate since at least 1994. (Secured property taxes are those taxes tied to structures and land.) The amount collected on time was $190 million (3.9%) higher than last year. Electronic payments now comprise 53% of the payments made, increasing from 44% in 2010.

"Electronic payments make it easier than ever for residents to pay our property taxes," Supervisor Todd Spitzer said. "No one enjoys paying our taxes, but they are a part of the social compact we have as a society for living here; my job as your elected representative is to keep taxes to a minimum."

The combination of increasing electronic payments and streamlining the in-person payment process has reduced the amount of time it takes to pay in person at the Treasurer-Tax Collector's office, with most taxpayers waiting less than ten minutes to pay.

The Treasurer-Tax Collector's office mailed over 38,000 delinquent notices for property owners who failed to pay their complete property taxes, but this is a decrease of 10% from the number of delinquent notices sent last year. If these delinquent payments are not paid in full by June 30, they will be considered defaulted. Once in default there will be a $15 administrative fee and a penalty of 1.5% per month. If the property tax goes unpaid for five years, the Treasurer-Tax Collector may sell the property at auction to recoup the back taxes and penalties.

People with delinquent property taxes can work with the Treasurer-Tax Collector's office to implement an installment payment plan. Five installment payments of 20% in delinquent taxes over five years will be permitted under the program, along with a partial penalty reduction. The installment plan is the only way in which the Treasurer-Tax Collector will allow partial payments. All those without installment plans must pay in full. Information about installment plans can be found at ttc.ocgov.com/proptax/installplan.

Taxpayers can view and print copies of their property tax bills for the last four years at ocgov.com/octaxbill. Taxpayers can also pay any outstanding property tax balances at that site.

To sign up for reminder emails, go to ocgov.com/taxreminder. The reminders will be emailed about 10 days before property taxes are due and again the day before the due date.

Pet of the Week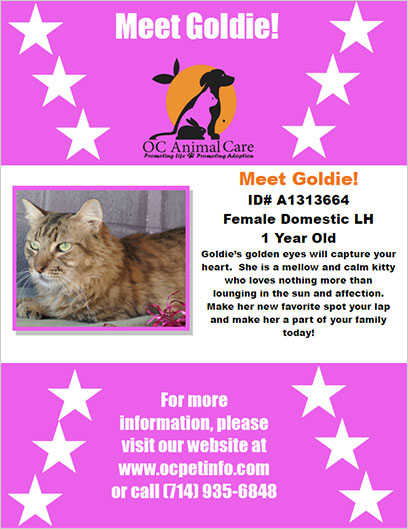 Click on the image above to view a PDF version.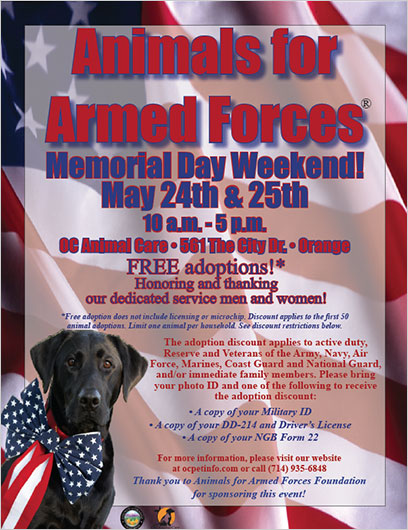 Click on the image above to view a PDF version.

Events Around the District

Anaheim
Basic Facts About Alzheimer's
Saturday, May 17, 11:00 AM
Anaheim Public Library – Canyon Hills Branch, 400 Scout Trail

Irvine
5th Annual Irvine Korean Cultural Festival
Saturday, May 17, 10:00 AM – 6:00 PM
Civic Center, 1 Civic Center Plaza

Orange
The Day of the Dog and the Veteran
Saturday, May 17, 10:00 AM – 4:00 PM
Mara Brandman Horse Arena, 6422 E. Santiago Canyon Rd.

Silverado
8th Annual Silverado Summer Concert Series
The Blues Crackers & Roadwork
Saturday, May 17, 6:00 PM – 10:00 PM
Silverado Community Center, 27641 Silverado Canyon Rd.

Tustin
Parks and Recreation Summer Showcase
Saturday, May 17, 9:00 AM – 12:00 PM
Tustin Sports Park, 12850 Robinson Way

Villa Park
City of Villa Park/American Red Cross Adult First Aid/CPR/AED Class
Saturday, May 17, 9:00 AM – 1:00 PM
Villa Park City Hall, 17855 Santiago Blvd.

Yorba Linda
Star Wars Party for All
Saturday, May 17, 10:00 AM – 1:00 PM
Yorba Linda Public Library, 18181 Imperial Hwy.




DISTRICT

STAFF
Martha Ochoa
Chief of Staff

Chris Nguyen
Senior Policy Advisor

Carrie O'Malley
Senior Policy Advisor

Martin Gardner
Policy Advisor

Christine Richters
Executive Aide



District Map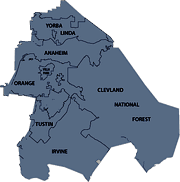 Anaheim, Irvine, Orange, Tustin, Villa Park, Yorba Linda, El Modena, North Tustin, Orange Park Acres, the Canyon Communities

Stay Updated!