May 23, 2014
Volume 2

Issue 20

Supervisor Spitzer Welcomes Community Input Wednesday on Flight Expansion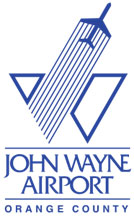 This coming Wednesday, May 28, Supervisor Todd Spitzer and John Wayne Airport (JWA) are sponsoring a community meeting on the draft environmental impact report (EIR) that examines proposed changes in the latest version of the Settlement Agreement on JWA. The Settlement Agreement governs the facility and operational improvements at JWA.

"John Wayne Airport is a critical part of the Orange County economy and is one of the most well-recognized County agencies," Supervisor Spitzer said. "Many Third District residents live within the flight path of arriving aircraft, so any flight expansions have to protect the quality of life for people who live under the flight path."

The Wednesday, May 28 community meeting will be held in the Third District from 6 PM to 8 PM at Hewes Middle School, 13232 Hewes Ave., North Tustin. The public will be able to provide written and oral comments on the draft EIR at the public meeting. These comments will be part of the official record of the EIR, and responses to the comments must be included in the final EIR.

The County has issued the draft EIR for the Settlement Agreement, which is available for public review at www.ocair.com/communityrelations/settlementagreement/.

Created in 1985 by the County of Orange, the Airport Working Group, the City of Newport Beach, and Stop Polluting Our Newport, the Settlement Agreement was set to expire at the end of 2005. In 2003, the four entities that signed the 1985 agreement approved a renewal through 2015 that included amendments permitting additional facilities and operational growth while maintaining environmental protections. With the first renewal set to expire at the end of next year, this is an opportunity for the public to weigh in on the terms and conditions for the re-renewal of the Settlement Agreement, which will govern JWA for years to come.

Supervisors Authorize Crawford Canyon Road Storm Drain Safety Improvements Project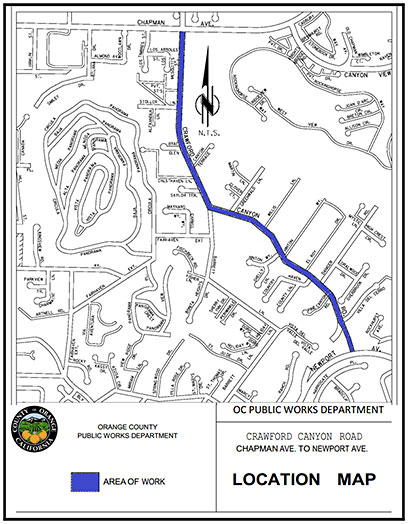 Click on the image above to view a PDF version.
On Tuesday, the Orange County Board of Supervisors voted to authorize the Crawford Canyon Road Storm Drain Improvements Project. OC Public Works will replace the storm drain facility along the entire length of Crawford Canyon Road in North Tustin stretching from Newport Avenue to Chapman Avenue by the border of the City of Orange.

"This is an important public works project that will protect the safety and mobility of Third District residents," Supervisor Todd Spitzer said. "Residents of both North Tustin and Orange regularly use Crawford Canyon Road."

The project will replace the current open channel storm drain with an underground storm drain. The project will also build a new storm drain at the site of a future park at the northwest corner of Crawford Canyon Road and Newport Boulevard.

With the approval of the Board of Supervisors, Public Works staff can begin to acquire the needed right-of-way and to gain the necessary permits from state agencies. The project is expected to go out to bid in January 2016.

OC Public Libraries Receives Donation of 7,500 Books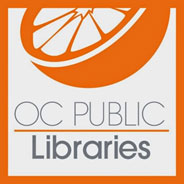 This week, the Orange County Board of Supervisors accepted a generous gift for OC Public Libraries of 7,500 Korean language books, valued at $52,500. The donation is the result of a collaborative partnership between the Orange County Korean Cultural Center, Irvine Mayor Steven Choi, and the Irvine Korean Cultural Festival Committee. The books will be distributed to three OC Public Library branches in Irvine—Heritage Park, University Park and Katie Wheeler—as well as other branches in the OC Public Libraries system.

"The gift of Korean books will certainly be well used at all of our libraries in Orange County," said Supervisor Todd Spitzer, whose district includes Irvine, which is home to nearly 20,000 Korean Americans.

The books were originally donated to the Orange County Korean Cultural Center by a Korean group that provides native language books for adults and children living overseas. Twenty volunteers from the University of California Irvine and five interns labeled the books and made them ready for final processing and cataloging at OC Public Libraries. Adults and children will equally benefit from fiction and nonfiction books available for all ages. The donation will enable the Orange County Korean Cultural Center to fulfill its mission of sharing Korean culture with the public.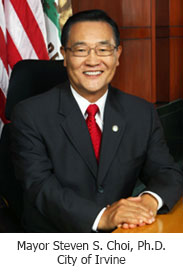 "I am so delighted that the OC Public Libraries has accepted these books donated by the Orange County Korean Cultural Center," Mayor Choi said. "We appreciate the library accepting the books and making them available. The readers of these books will be very happy with the donation."

"Many thanks to Mayor Steven Choi who was instrumental in having the Orange County Korean Cultural Center donate these books to OC Public Libraries," County Librarian Helen Fried said. "Orange County is a rich and diverse community and the donation of the Korean language material would be very much appreciated by our Korean speaking community."

Third District Residents Continue to Serve the OC Children and Families Commission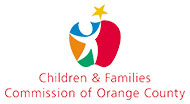 This week, the Board of Supervisors unanimously reappointed three Third District residents to the Children and Families Commission of Orange County.

"It's always a great pleasure to see citizens getting involved in serving the community," Supervisor Todd Spitzer said. "I'm so proud that there are so many civic-minded Third District residents serving the people of Orange County."

In 1998, California voters passed Proposition 10, which added a 50-cent sales tax on tobacco to fund early education, health, and child development programs for children ages 5 and under. Proposition 10 required each county to set up a commission to allocate that county's funds. The three reappointed members are:

Maria Minon, MD, of Villa Park. She is the Vice President of Medical Affairs and Chief Medical Officer for Children's Hospital of Orange County
Katherine Ahn Newen, DDS, of Tustin. She is the CEO of The Image Center
Sandra Pierce, of Yorba Linda. She is a Preschool and Kindergarten Director of Friends Christian School
Minon and Newen were reappointed to Health Category seats on the Commission while Pierce was reappointed to the Education Category seat.

The Children and Families Commission of Orange County consists of nine members: Supervisor Janet Nguyen, OC Health Care Agency Director Mark Refowitz, OC Social Services Agency Director Michael Ryan, and six public members.

Five additional public members are:

Chair Sandra Berry of North Tustin
Katherine Ahn Newen of Tustin
Hugh Hewitt of Irvine
Maria Minon of Villa Park
Sandra Pierce of Yorba Linda
Berry is a retired Superintendent of the Anaheim City School District while Hewitt is a Chapman University law professor and radio talk show host.

The sixth public seat is held by Vice Chair Kimberly Cripe of Newport Beach, who is the President and CEO of Children's Hospital of Orange County.

The OC Children and Families Commission's web site is www.occhildrenandfamilies.com.

OC Voting System Test Open to Public on Tuesday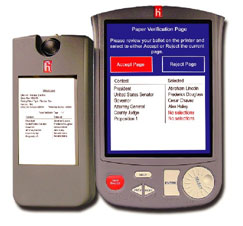 On Tuesday, May 27, at 10:00 a.m., the Orange County Registrar of Voters will perform "Logic and Accuracy" tests of the County's voting system in advance of the June 3rd Primary Election. The tests are open to the public.

"Free and fair elections are a fundamental part of our form of government in the United States," Supervisor Todd Spitzer said. "It is critical that our voting systems work properly and reliably to ensure every vote is counted."

The "Logic and Accuracy" tests of the electronic voting system will include proofing the programming of the ballot, each ballot style, and each contest position on the ballot.

There are numerous sets of ballots in Orange County, as voters live in different districts, and each form of ballot must have each individual voter's correct election contests properly loaded into the system. There are seven Congressional districts, three Senate districts, seven Assembly districts, three Supervisorial districts, and two County Board of Education districts – all with different boundaries – on the June ballot. Additionally, there is a special election in the Irvine Unified School District, a ballot measure in the Buena Park School District, and three ballot measures in the City of Anaheim. The "Logic and Accuracy" tests ensures that each of these various sets of ballots display the proper contests and measures and that each vote cast is accurately recorded.

The tests will be conducted at the office of the Orange County Registrar of Voters, 1300 South Grand Avenue, Building C in Santa Ana.

Pet of the Week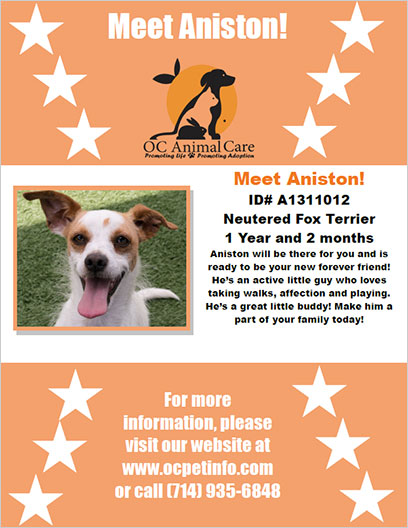 Click on the image above to view a PDF version.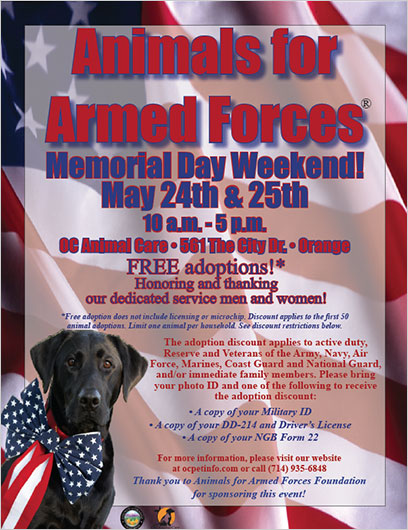 Click on the image above to view a PDF version.

Events Around the District

Anaheim
Memorial Day Program
Monday, May 26, 11:00 AM – 12:00 PM
Orange County Cemetery District – Anaheim Cemetery, 1400 E. Sycamore St.

Irvine
Memorial Day Ceremony
Monday, May 26, 10:00 AM – 11:30 AM
Colonel Bill Barber Marine Corps Memorial Park, 4 Civic Center Plaza

Orange
Salute to Contemporary American Composers
Saturday, May 24, 7:00 PM – 9:00 PM
Alexandra Nechita Center for the Performing Arts, 2222 N. Santiago Blvd.

Silverado
Amazing Plants of the Santa Ana Mountains
Sunday, May 25, 8:00 AM – 12:00 PM
Baker Canyon Staging Area, 7804 Blackstar Canyon Rd.

Tustin
OC Peace Officers' Memorial Candlelight Vigil
Tuesday, May 27, 8:00 PM
Orange County Sheriff's Regional Training Academy, 15991 Armstrong Ave.

Villa Park
Villa Park's Great American Picnic
Sunday, May 25, 11:30 AM – 4:30 PM
Irvine Lake

Yorba Linda
Veterans Memorial Day Event
Monday, May 26, 2:00 PM – 3:00 PM
Veterans Park, 4756 Valley View Ave.




DISTRICT

STAFF
Martha Ochoa
Chief of Staff

Chris Nguyen
Senior Policy Advisor

Carrie O'Malley
Senior Policy Advisor

Martin Gardner
Policy Advisor

Christine Richters
Executive Aide



District Map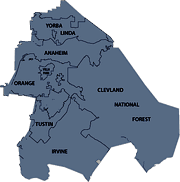 Anaheim, Irvine, Orange, Tustin, Villa Park, Yorba Linda, El Modena, North Tustin, Orange Park Acres, the Canyon Communities

Stay Updated!