June 27, 2014
Volume 2

Issue 25

Supervisor Spitzer Joins Orange County Fire Authority and Orange County Sheriff Department to Inform Public About the Dangers of Fireworks and Illegal Explosives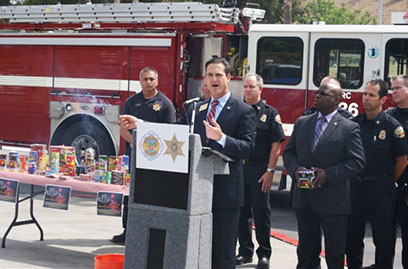 (Portions courtesy of Orange County Fire Authority)

On Thursday, Supervisor Spitzer participated in a joint press conference with the Orange County Fire Authority (OCFA) and the Orange County Sheriff Department (OCSD) to warn residents of the potential dangers of fireworks and illegal explosives this Fourth of July holiday and to promote firework safety. "Safe and Sane" fireworks are illegal in most Orange County cities, only eight allow them. If fireworks are allowed in the city, residents must comply with that city's regulations and use the fireworks only in the timeframe allowed, within those cities.

Each year in the United States, more than 10,000 people suffer eye injuries and burns from fireworks. Most of these incidents are related to the use of illegal fireworks as well as state-approved fireworks that are lit by amateurs.

The following safety tips, provided by the Orange County Fire Authority, can help you be safe this 4th of July:

Obey local laws. If fireworks are not legal where you live, do not use them.
Buy only State Fire Marshal-approved (Safe and Sane) fireworks. They must have the State Fire Marshal's seal on them and can only be purchased at licensed fireworks stands. Only the cities of Buena Park, Costa Mesa, Fullerton, Garden Grove, Santa Ana, Stanton, Villa Park, and Westminster allow Safe and Sane Fireworks.
Parents are liable for any damage or injuries caused by their children using fireworks.
Always read directions and have an adult present.
Use fireworks outdoors only and light one at a time.
Never use near dry grass or other flammable materials.
Have a bucket of water and a hose handy.
Fireworks are not toys and should be handled by adults only.
Do not wear loose fitting clothing, and always use safety goggles.
Use common sense and keep a safe distance.
Never point or throw fireworks at another person.
Never attempt to re-light or "fix" fireworks.
Supervisor Spitzer commended OCFA and OCSD for their efforts in working to keep this a safe 4th of July holiday and asked everyone to please have a "designated observer" to provide sober adult supervision around fireworks. For more information regarding firework safety, visit the Orange County Fire Authority online at: www.ocfa.org

Supervisor Spitzer Gains Unanimous Support for Resolution in Support of Proposition 13 and in Opposition to the Split Roll


Last week, the Board of Supervisors unanimously approved a resolution in support of Proposition 13 and in opposition to the split roll. Supervisor Todd Spitzer brought the resolution to the Board of Supervisors after the Howard Jarvis Taxpayers Association encouraged local government across the state to pass similar resolutions.

"Proposition 13 is one of the most important laws in California history," Supervisor Spitzer said. "Prop 13 has defended taxpayer rights in this state for 36 years, and we must take a stand against attempts to undermine it."

With the passage of the resolution in defense of Prop 13 and opposing the split roll, Orange County becomes the largest jurisdiction to pass this sort of resolution. A number of Orange County cities have also passed the resolution, including Buena Park, Fountain Valley, Irvine, Laguna Niguel, Los Alamitos, Mission Viejo, Newport Beach, Rancho Santa Margarita, San Juan Capistrano, Tustin, and Villa Park. The full text of the resolution can be read here.

Proposition 13 was passed by California voters on June 6, 1978 by a margin of 64.8%-35.2%, passing in 55 of 58 counties, with even stronger support in Orange County, where it passed by a margin of 70.3%-29.7%. Proposition 13 is enshrined in the State Constitution as Article XIIIA.

Prop 13 places property taxes at 1% of assessed value at time of purchase with a cap of no more than 2% annual increase. Advocates of the split roll are attempting to undermine Prop 13. The split roll would allow homeowners to be protected by the Prop 13 tax increase cap but would remove the cap for business owners.

In the first ten years after the passage of Proposition 13, California personal incomes grew 50% faster than the national personal incomes. California's job growth rate was double the nation's rate in the first ten years after Proposition 13 passed.

California has the highest sales tax in the nation, the highest income tax in the nation, and the highest corporate tax in the West. The split roll would needlessly add commercial property tax to that list. The split roll would remove one of the last business incentives in California. The Tax Foundation ranks California 48th in the country for business tax climate. The California Taxpayers Association found that 60% of property taxes are paid by business, which is slightly higher than the 58% figure before Prop 13 passed.

The split roll would cause job losses, put small businesses at risk, and increase prices on consumers. Small businesses would face higher lease costs. Dry cleaners, pet groomers, barbershops, small restaurants, neighborhood bookstores, and other mom-and-pop businesses would be hit by higher lease prices as their landlords pass the cost on to them.

As the resolution notes, "Voters intended Proposition 13 to protect all property owners, and they had rejected previous attempts to impose higher taxes on small businesses, knowing that these so-called 'split roll' proposals would inflict irreparable harm on California's economy…".

On November 3, 1992, California voters rejected an attempt to implement a split roll via Proposition 167, which was defeated by a 58.8%-41.2% margin statewide, with even stronger opposition in Orange County, where voters rejected Proposition 167 by a margin of 66.9%-33.1%.

Prop 13 is under attack across the state. On June 3, the San Francisco Board of Supervisors voted unanimously to weaken Prop 13 to implement the split roll. 10 other cities in California have passed similar resolutions, Santa Monica and 9 Bay Area cities (Albany, Berkeley, Brisbane, Emeryville, Oakland, Palo Alto, Richmond, San Leandro, and Sebastopol). In Orange County, the Coast Community College District has passed the resolution calling for the weakening of Prop 13 to implement the split roll.

Assemblyman Tom Ammiano (D-San Francisco) is an advocate of the split roll and has said his long-term goal is to "nuke" Prop 13. The split roll is the first step in the dismantling of Prop 13.

Even before Prop 13, there was no split roll. Before Prop 13, California charged the same property tax for both commercial properties and residential properties.

The precedent of the split roll would endanger residential property taxes. If businesses lose their Prop 13 protections, it would only be a matter of time before Sacramento came back with the argument that it is unfair for homeowners to have Prop 13 protections while business owners do not. Sacramento's solution in that case would not be to restore Prop 13 protections for business owners – it would be to remove Prop 13 protections for homeowners.

Board of Supervisors Unanimously Approve First Step for Civic Openness in Negotiations (COIN) Proposal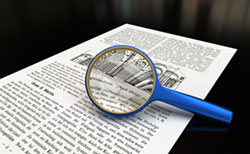 On Tuesday, the Board of Supervisors unanimously approved the first reading of the Civic Openness in Negotiations (COIN) proposal. The proposal increases levels of transparency and public disclosure regarding labor negotiations before the agreements can be approved by the Board of Supervisors.

"This changes the way we do labor negotiations in Orange County," Supervisor Todd Spitzer said. "COIN will bring increased transparency allowing taxpayers to be better informed about the County's labor agreements."

Applicable to new labor negotiations over contracts that expire after COIN takes effect, the proposal requires:

Each formal offer and counteroffer must be disclosed to the public within 24 hours during the negotiation process
Disclosure of each negotiating session information, including the date, the session length, the location, and a list of all people who attended
The Auditor-Controller must prepare an Independent Economic Analysis summarizing the fiscal costs of current benefit and pay components in comparison to the costs in each offer or counteroffer
No labor agreement can be voted on by the Board of Supervisors until the matter has been heard at two meetings of the Board where the public has the right to review and comment on the proposed labor contract
An outside party must represent the County in labor negotiations unless waived by a majority vote of the Board of Supervisors
Modeled on Costa Mesa's COIN ordinance, the County's COIN proposal must come back to the Board of Supervisors on July 15 for a second reading. If the second reading is approved, then COIN will take effect 30 days later on August 14.

Orange County Programs in Place to Ease Driver Transition to All-Electronic Toll Collection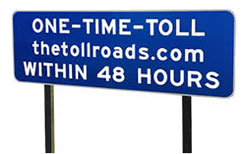 (Portions courtesy of Transportation Corridor Agencies)

Cash toll collection ended on Orange County's toll roads on May 14. Working with Supervisor Todd Spitzer, a program has been implemented that will waive penalties for first-time violations if they are paid within 30 days of receipt. This grace period will be in place through the Labor Day holiday.

"Ending cash toll collection is a move that will save drivers time in the long run. I'm glad that TCA is willing to extend the violation grace period while working to inform constituents of toll road changes through additional signage, media outreach and web information. Hopefully, this additional time will help riders understand the toll changes so they can choose the personal payment method that works best for them," Todd Spitzer, Supervisor, Third District.

Five ways to pay tolls on The Toll Roads:

FasTrak: Establish a prepaid account, pay tolls that are $1 less than all other drivers and receive a transponder that allows you to pay tolls electronically on every tolled bridge, lane and road in California.
Charge ExpressAccount: Establish an account with no prepayment. Drive The Toll Roads and each toll is charged individually to your credit card. You cannot use this account to pay tolls on any other bridge, lane or road.
Invoice ExpressAccount: Establish an account with no prepayment. Drive The Toll Roads and, at the end of the month, receive an invoice for your accumulated tolls. This account includes an invoice fee. You cannot use this account to pay tolls on any other bridge, lane or road.
Prepaid ExpressAccount: Establish a pre-paid account. Drive The Toll Roads and each toll is deducted from your prepaid account. You cannot use this account to pay tolls on any other bridge, lane or roads.
One-Time-Toll payment option: Drive The Toll Roads and within 48 hours after your drive, use our website or free app to pay your toll(s) with a credit card.
Residents with questions regarding the Toll Roads Corridor Agencies (TCA) can contact the TCA at: (949) 727-4800 or online at www.thetollroads.com.

Reminder: Time is Running Out to Enter the 2014 Eco Challenge Poster Contest, Entries Are Due Monday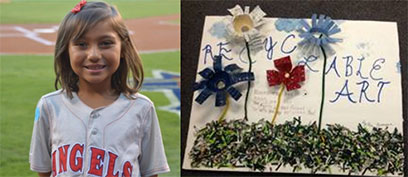 Last year's Third District winner, Mia Mongan, with the poster she designed.
(Portions courtesy of OC Waste & Recycling)

The chance to be an Honorary Bat Kid at a 2014 Angels baseball game ends soon. Orange County residents between the ages of 8 and 14 have until Monday, June 30, 2014 to submit their posters and be eligible to win. Among other prizes, the five winners of the contest will serve as Honorary Bat Kids. Visit www.discoverycube.org/batkid for contest rules and eligibility.

"This contest is a unique opportunity for students to learn about the environment and take advantage of a once-in-a-lifetime opportunity at an Angels baseball game," Supervisor Todd Spitzer said. "I encourage all Third District children to enter the contest in the next ten days."

Posters must be delivered in person or mailed to Discovery Science Center. Five lucky winners (one from each of Orange County's Supervisorial District) will be awarded the status of Honorary Bat Kid during one of five predetermined Angels Baseball home games in July, August or September 2014. Winners will also receive the following:

Four tickets to a predetermined Angels home game
Complimentary parking for the game
One Bat Kid uniform
One official baseball for autographs
One on-field credential for dugout access (for Bat Kid only)
Recognition on the video board during pre-game activities
One professional field photo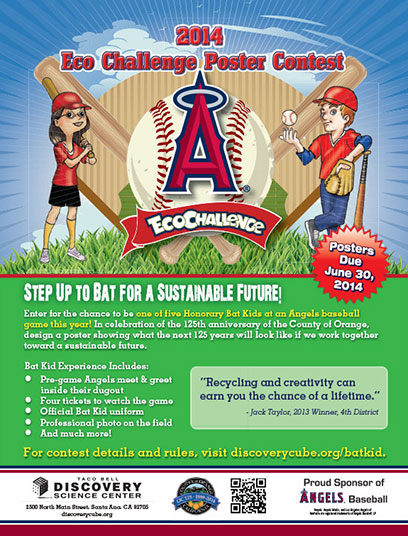 Click on the image above to view a PDF version.

Pet of the Week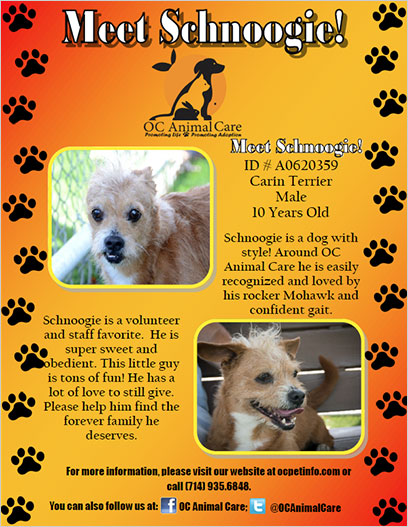 Click on the image above to view a PDF version.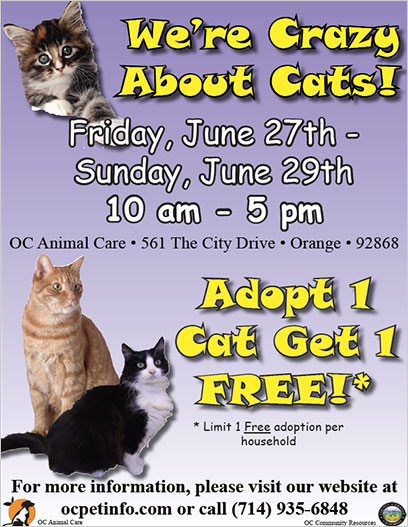 Click on the image above to view a PDF version.

Events Around the District

Anaheim
4th of July Fun Crafts
Monday, June 30, 6:30 PM
Canyon Hills Library – 400 Scout Trail, Anaheim Hills

Irvine
Story Time in the Garden
Saturday, June 28, 10:00 AM – 10:30 AM
Orange County Great Park, Sand Canyon and Marine Way

Movie on the Lawn
Saturday, June 28, 7:30 PM – 10:00 PM
Orange County Great Park, Sand Canyon and Marine Way

Certified Farmers Market
Sunday, June 29, 10:00 AM – 2:00 PM
Orange County Great Park, Sand Canyon and Marine Way

Orange
Concert in the Park, Southbound & Company, Classic Rock
Wednesday, July 2, 10:30 AM – 12:00 PM
Hart Park 701 South Glassell Street, Orange

Silverado
8th Annual Silverado Summer Concert Series
G.G.B. Gilly's Garage Band (Old School Blues)
Saturday, July 19, 6:00 PM – 8:00 PM
Silverado Community Center, 27641 Silverado Canyon Rd.

Tustin
Concert in the Park
Wednesday, July 2, 6:00 PM – 8:00 PM
Peppertree Park, 230 W. First St.

Villa Park
Outrageous Animal Origami
Wednesday, July 2, 3:00 PM – 4:00 PM
Villa Park Library 17865 Santiago Blvd, Villa Park

Yorba Linda
Family Story Time & Craft
Saturday, June 28, 10:30 AM – 11:15 PM
Yorba Linda Public Library, 18181 Imperial Hwy.




DISTRICT

STAFF
Martha Ochoa
Chief of Staff

Melanie Eustice
Communications Director

Chris Nguyen
Senior Policy Advisor

Carrie O'Malley
Senior Policy Advisor

Martin Gardner
Policy Advisor

Christine Richters
Executive Aide



District Map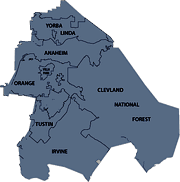 Anaheim, Irvine, Orange, Tustin, Villa Park, Yorba Linda, El Modena, North Tustin, Orange Park Acres, the Canyon Communities

Stay Updated!