July 3, 2014
Volume 2

Issue 26

Spitzer Calls for "Designated Observers" to Ensure a Safe and Happy 4th of July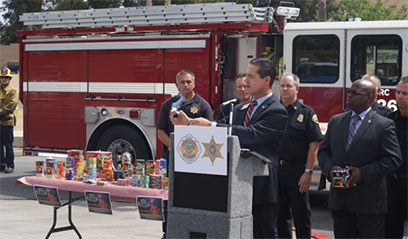 (Portions courtesy of the Orange County Fire Authority)

"Safe and Sane" fireworks are illegal in most Orange County cities. There are only eight cities that allow Safe and Sane Fireworks including Buena Park, Costa Mesa, Fullerton, Garden Grove, Santa Ana, Stanton, Villa Park and Westminster. If fireworks are allowed in the city, residents must comply with that city's regulations and use the fireworks only in the timeframe allowed, within those cities.

Last week, Supervisor Spitzer participated in a joint press conference with the Orange County Fire Authority and the Orange County Sheriff's Department to warn residents of the potential dangers of fireworks this Fourth of July holiday and to promote firework safety.

"What I took from the firework safety demonstration is that the safest option is to attend a sponsored firework show." said Supervisor Spitzer.

With the 4th of July tomorrow, the Orange County Fire Authority is encouraging residents throughout Orange County to celebrate the holiday by attending one of the many spectacular public fireworks display staged by professionals. The following is a list of fireworks shows in the Third Supervisorial District.

Fireworks Shows in the Third District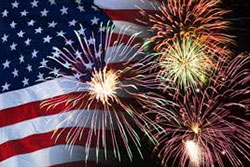 CITY OF ORANGE: Fred Kelly Stadium at El Modena High School, 3920 Spring Street, will be the site of the 19th Annual 3rd of July celebration which will be held on Thursday, July 3, at 4:00 p.m. The celebration includes live music, interactive games, entertainment, delicious food from local non-profit groups, a patriotic musical performance by the Orange County Master Chorale that leads up to a spectacular fireworks show. Tickets are $7.00 per person, children ages two and under are free. For information call (714) 744-7278.

ANAHEIM: Canyon High School, 220 S. Imperial Hwy. "An American Celebration" will be held on Friday, July 4, in Anaheim Hills. They will start the day with the "Firecracker Run 5K/ 10K at 7 a.m. at the Canyon High School track. This will be followed by a Pancake Breakfast from 8:00 a.m.-10:00 a.m. with the Yankee Doodle Dog Show at 10:00 a.m. at the high school. A parade will start at 5:00 p.m. at Canyon High going down Santa Ana Canyon Road ending at Pinney. At the park, food booths will be in operation from 3:00 p.m. to 8:45 p.m. with entertainment from 6:00 p.m. – 8:50 p.m. A firework display will start at 9:00 p.m.

IRVINE: Verizon Wireless Amphitheater, 8808 Irvine Center Drive, will present the Pacific Symphony performing patriotic favorites and will salute the U.S. Armed Forces. Big band Big Bad Voodoo Daddy will join the Pacific Symphony playing the high-energy swing rhythms from the 40's and 50's. Then the night sky will explode with spectacular fireworks to end a spectacular evening. Tickets may be ordered from the Pacific Symphony at (714) 755-5799 or online at www.pacificsymphony.org.

IRVINE: Woodbridge Village Association will have 4th of July activities and a private firework show.

TUSTIN: Tustin High School Football Stadium, 1171 El Camino Real. The City of Tustin will hold a 4th of July celebration. The event is free and starts at 6:30 p.m. with music by the band Swing Cats and Swing Kittens. Tustin High School Boosters will be providing food. Parking is very limited and entrance is on San Juan. Fireworks start at 9:00 p.m. For information call (714) 573-3326 or log on to www.tustinca.org.

For a complete listing, visit: www.ocfa.org/_uploads/pdf/Public%20Fireworks%20Displays%202014.pdf

Pool Safety Tips to Help Ensure a Safe Holiday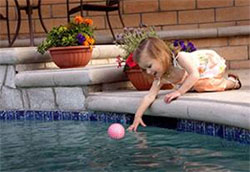 (Courtesy of the Orange County Fire Authority)

Parents whose children have drowned say the day of the tragedy started out just like any other day. No matter how the drowning happened or where it happened -- pool, spa, or any other body of water -- one thing was the same, the seconds that claimed their child's life slid by silently, without warning, and can never be brought back.

It is a fact that drowning is the leading cause of injury death of children under five years of age in 18 states. From 1991-1996, 47 children under five years of age drowned in Orange County, mostly in pools and spas.

Facts About Drowning

Children drown during routine household activities, with adults present and providing normal levels of supervision.
Most children who drowned or nearly drowned were last seen in the house or away from the pool or spa.
Action Step: Protection

Use layers of barrier protection between the child and water to warn and impede. Pool and spa owners can take practical steps to make their pool and spa less dangerous by installing "layer of protection." These include:

Alarms on doors and windows leading to the water, installed about five feet above ground level so that a child cannot reach them.
A non-climbable, five-foot fence that separates the pool/spa from the residence should be installed. Openings should be no more than four inches wide so children cannot squeeze through the spaces.
Self-closing and self-latching gates and doors leading to the pool/spa with latches above a child's reach. Gates should open outward.
Pool safety covers (power operated are the safest and easiest to use).
Action Step: Supervision

Water with its rippling, shimmering appeal is a magnet for children. Children under the age of five have no fear of water and no concept of death. They associate water with play not with danger. Adults must establish and communicate responsibility for child safety.

Assign an adult "water watcher" to supervise the pool/spa area or any other body of water, especially during social gatherings.
Assign a second adult to maintain constant visual contact with children in the pool/spa area or any body of water that might attract a child. Don't assume someone else is watching a child.
Never leave a child alone near a pool/spa, bathtub, toilet, water filled bucket, pond or any standing body of water in which a child's nose and mouth may be submersed.
Don't rely on swimming lessons, life preservers, or any other equipment to make a child "water safe."
Don't allow children to play in the pool/spa area.
Look in the pool area first if a child is missing.
Communicate pool safety measures with the babysitter and train the sitter in CPR.
Action Step: Preparation
Insist anyone over 14 years of age have current CPR in infant/child safety.
Communicate pool safety measures with the babysitter and train the sitter on infant/child CPR.
Learn how to swim and learn rescue techniques.
Mount rescue equipment by the pool such as a lifesaving ring, shepherd's hook, and a CPR sign.
Post 9-1-1 emergency phone number on all phones. Have phone near pool area.
Implement as many Layers of Protection as possible.
Partners in Child Safety: For more information about childhood drowning prevention, call the Orange County Fire Authority, Community Relations and Education Section at (714) 573-6200, the Drowning Prevention Network of Orange County at (714) 532-8887, or Children's Hospital of Orange County at (714) 532-8887.

John Wayne Airport Shares Important Tips for Fourth of July

(Portions courtesy of John Wayne Airport)

Summer travel is underway at John Wayne Airport (JWA) and with the upcoming Fourth of July holiday, JWA anticipates a busy travel period now through Sunday, July 6. Passengers are encouraged to plan ahead and are reminded that fireworks are prohibited in or around the airport.

Tips for Passengers and Visitors:

All passengers flying out of JWA are encouraged to arrive 90 minutes to two hours before the flight departure time to find parking, check luggage and go through the security checkpoint. Passengers who are members of TSA Pre-Check can expedite the screening process in Terminals A, B and C.
Drivers picking up passengers at the Airport are encouraged to utilize 2-hour parking spaces, located on the lower level of Parking Structures A1, B2 and C.
Tips for Parking at JWA:
Curbside Valet Parking for $30 per day is located on the departure level between Terminals A and B and in front of Terminal C.
Parking is available in Parking Structures A1, A2, B2 and C located adjacent to and directly across from the Riley Terminal at a rate of $20 per day and $2 per hour with the first 15 minutes being free for those dropping off and picking up passengers.
Off-site Main Street Parking, located at 1512 Main St., Irvine, is available for $14 per day with free shuttle service to/from the Riley Terminal every 15 minutes.
For parking availability, call: (949) 252-5200 or for directions to JWA, visit: www.ocair.com/parking.
For more travel tips, visit www.ocair.com. Also see TSA's summer travel checklist by visiting www.tsa.gov/traveler-information/summer-travel for more information.

Drivers Urged to Use Caution Over the Holiday Weekend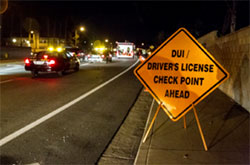 (Portions courtesy of OC Sheriff Department & Katharine Barton)

The Orange County 'Avoid the 38' DUI Task Force will be out in full force this Fourth of July weekend. The OC Sheriff's Department is asking for everyone's support this holiday and all summer long to keep the roads safe by sending two main messages: 1. Don't drink and drive and 2. Extra officers will be working to arrest those who drive impaired.

Last Memorial Day weekend, the DUI Task Force arrested 226 people for driving under the influence of alcohol or drugs, a slight increase from the year before. Fortunately, no DUI deaths were recorded during this time period. Be warned: this Independence Day, the Task Force promises more DUI crackdowns with the hope of deterring reckless driving.

You can help by following these tips, offered by the 'Avoid the 38' DUI Task Force:

Plan ahead. Arrange rides home for your friends, family, co-workers and yourself before the drinking begins.
Limit drinks to your guests or patrons. Don't serve more than one or two drinks over several hours.
Identify and provide free non-alcoholic drinks to the Designated Sober Driver.
Cut back on the amount of drinks you plan to bring to the party and provide plenty of food.
Pay full attention to the road - don't use a cell phone to call or text.
Report drunk drivers: Call 9-1-1!
The Task Force will be deploying checkpoints and DUI patrols during the Independence Day Holiday, throughout the summer, and an 18-day period in August that ends Labor Day weekend.

OC Animal Care – New Programs & Reduced Fees

(Portions courtesy of Orange County Animal Care)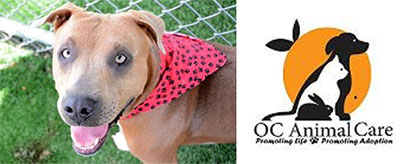 (Photo: Pet of the Week)

OC Animal care wants to help protect your pet. During the month of July, they are offering free pet tags at their booth near the shelter entrance every Saturday from 10:00 AM to 12:00 PM.

In 2013, only 6% of the 28,399 animals impounded at OC Animal Care had some form of identification (pet license, microchip, etc.). 65% of those animals with a form of ID were returned to their owners compared to only 9% of animals without identification. A license, microchip or tag could be your pet's ticket home!

Starting July 1, 2014, OC Animal Care has several new programs and reduced fees. These include reduced adoption fees, discounts for military members, free pet redemption for licensed pets, low-cost pet tags and senior licensing discounts. Check this flier for more information.

OC Food Bank Will Host a Food Drive at the OC Fair


(Portions courtesy of OC Food Bank)

Patrons bringing five or more cans of food to the OC Fair between 12:00 PM and 3:00 PM on Wednesday, July 16 will be provided one free admission and one complimentary ride ticket. The complimentary ticket for admission to the OC Fair must be used that day.

The food drive is part of the OC Fair's We Care Wednesday campaign. The OC Fair partners with the OC Food Bank on this initiative all will host additional drives throughout the month. For more information, see the flyer.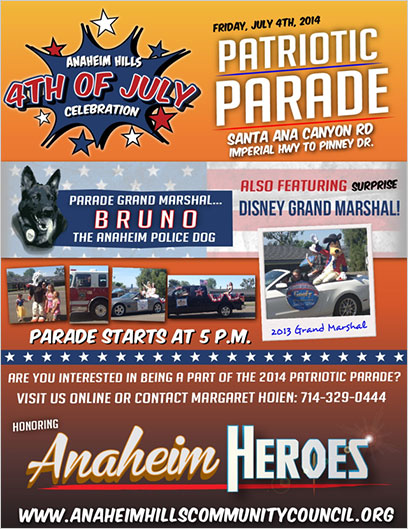 Click on the image above to view a PDF version.



Click on the image above to view a PDF version.

Pet of the Week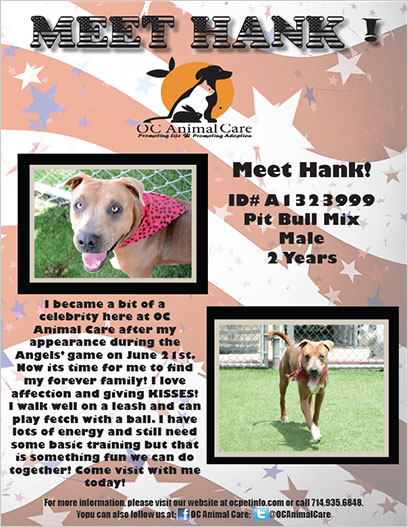 Click on the image above to view a PDF version.

Events Around the District

Anaheim
4th of July Patriotic Parade
Friday, July 4, 5:00 PM
Santa Ana Canyon Road Imperial Hwy to Pinney Drive Info: (714) 329-0444

Irvine
OC Parks Summer Concert Series with the Calico and Amy Wallace
Thursday, July 10, 6:00 PM – 8:00 PM
Mason Regional Park, 18712 University Drive, Irvine Info: (949) 923-2220

Orange
Concert in the Park, The Fenians, Traditional & Contemporary Irish Music
Wednesday, July 9, 7:00 PM – 8:30 PM
Hart Park, 701 South Glassell Street, Orange

Silverado
8th Annual Silverado Summer Concert Series
G.G.B. Gilly's Garage Band (Old School Blues)
Saturday, July 19, 6:00 PM – 8:00 PM
Silverado Community Center, 27641 Silverado Canyon Rd.

Tustin
July 4th "This is Our Country"
Friday, July 4, 6:30 PM Fireworks at 9:00 PM
Tustin High School, 1171 El Camino Real

Villa Park
Stars on Parade
Friday, July 4, 9:30 AM Parade Line Up 10:00 AM Parade
Villa Park High School 18042 E Taft Ave. Villa Park Info: www.vpcsfoundation.org

Yorba Linda
4th of July Spectacular
Friday, July 4, 5:00 PM Fireworks at 9:00 PM
Veterans Park, 4756 Valley View Avenue & Yorba Linda Middle School, 4777 Casa Loma Ave




DISTRICT

STAFF
Martha Ochoa
Chief of Staff

Melanie Eustice
Communications Director

Chris Nguyen
Senior Policy Advisor

Carrie O'Malley
Senior Policy Advisor

Martin Gardner
Policy Advisor

Christine Richters
Executive Aide



District Map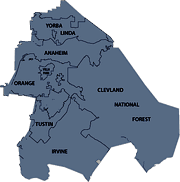 Anaheim, Irvine, Orange, Tustin, Villa Park, Yorba Linda, El Modena, North Tustin, Orange Park Acres, the Canyon Communities

Stay Updated!