September 5, 2014
Volume 2

Issue 34

Supervisor Spitzer Helps Launch the California Rail Safety Campaign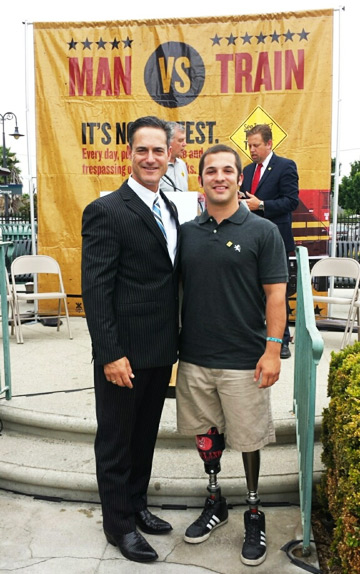 Supervisor Todd Spitzer and Featured Speaker and Volunteer Mark Kalina
(Portions courtesy of the Orange County Transportation Authority)

Supervisor Todd Spitzer joined with Metrolink, Orange County Transportation Authority and Operation Lifesaver Inc. in holding a press conference to commemorate the commencement of Rail Safety Awareness Month and highlight the importance of rail safety.

"If a car can't stop on a dime then a train definitely can't," said Supervisor Spitzer, who is also a OCTA and Metrolink Director. "Every year, thousands of people's lives are destroyed by what has become a nonchalant attitude around train tracks. People carelessly walk or drive across tracks without fully comprehending the speed and power of an oncoming train. Tragically, these unfortunate individuals pay consequences that cannot be taken back. "See tracks, think train" is a simple message, but one that will save lives."

In addition to passenger rail, the region has thousands of freight trains that cross before pedestrians and drivers in Southern California. On a daily basis, more than 70 Metrolink, Amtrak and freight trains pass through the Orange Station alone.

Mark Kalina, a "See Tracks? Think Train!" spokesperson and an Operation Lifesaver volunteer, shared his story about the night his life changed due to a shortcut across train tracks. In the fall of 2012, the then-college senior had both legs severed when he was caught underneath a moving train.

Though losing his legs was tragic, Kalina considers himself fortunate to be alive. According to Federal Rail Administration statistics, 476 pedestrian rail trespass fatalities occurred in 2013 nationally. California had the highest number (76) of trespass deaths of any state, nearly three times as any other.

In addition to the number of pedestrian trespassers, there were 2,087 highway-rail grade crossing collisions in 2013. Of those collisions, 146 occurred in California, claiming 43 additional lives.

The Orange event was the springboard of outreach efforts to caution pedestrians to stay away from train tracks and avoid the life-changing effects of carelessness around railroads. The intent of the campaign is aimed at raising awareness about risky pedestrian and driver behavior around railroad tracks.

Rail safety is a year-round campaign involving many organizations and individuals. The rail safety partners continue to raise public awareness to improve driver and pedestrian behavior around railroad tracks. The 2014 effort includes messaging to adult males through a beverage coaster campaign. According to national statistics, 80 percent of those involved in rail incidents are men, mostly between 18 and 25 years of age.

Supervisor Spitzer Helps Kick Off Orange International Street Fair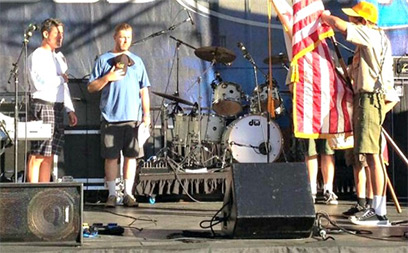 (Portions courtesy of the Orange International Street Fair)

Supervisor Todd Spitzer welcomed the crowd and led the Pledge of Allegiance at the Orange International Street Fair. Boy Scout Troop 241 of Orange presented the flag ceremony. Each year, on Labor Day weekend, Old Towne Orange becomes a festive international street fair featuring ethnic food, live music, arts and crafts.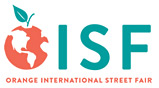 The International Street Fair has a rich history. In 1973, the City of Orange was looking for ideas to celebrate its one hundredth year. Inspired by the Orange Street Fair of 1910, it was decided that for their centennial celebration, Orange would have the Orange International Street Fair. The Fair was so successful that it has become an annual tradition during Labor Day weekend. The Fair is located near Plaza Park in the historic downtown district.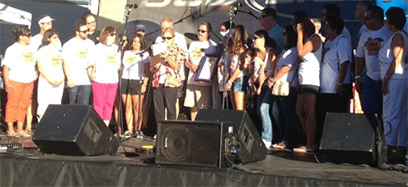 Supervisor Spitzer joined the Orange City Council in honoring former Mayor Jess Perez who authorized the first Orange International Street Fair in 1973. Mayor Perez was described as being a "guiding force" behind creating the modern day street fair, and a resolution was presented to his family.

"I'm glad that I could participate in this event over Labor Day weekend. To me, it's a great way to celebrate diversity and the hard work and ingenuity of the workforce that made our nation's economy a beacon of strength and prosperity," Supervisor Spitzer said.

Enjoy your weekend, and this awesome video presented by the City of Orange!

Orange County Leads the Opposition to the Hidden Gas Tax in AB 32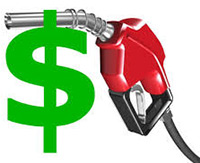 The California Air Resources Board (CARB) is proposing expanding AB 32's cap-and-trade program to include gasoline, diesel fuel, and natural gas, effective January 1, 2015. AB 32 was authored by Assembly Speaker Fabian Nunez (D-Los Angeles) and signed into law in 2006 to reduce California's greenhouse gas emissions to 1990 levels. California's population was 22% lower than it is today.

"When I was a member of the State Assembly, I voted against AB 32 because it was a sweeping bill full of needless regulation and unintended consequences that could have devastating effects on the economy," Supervisor Todd Spitzer said. "This hidden gas tax that CARB wants to implement is a perfect example of an unintended consequence of AB 32 that will hurt California's working families in these tough economic times."

On July 15, the Orange County Board of Supervisors voted unanimously to send a request to Governor Jerry Brown to delay the implementation of this expansion "until fuel cost increase concerns have been mitigated" and to express Orange County's opposition to the implementation of this program itself. The County expressed concern to the Governor about increasing costs for residents, harm to the economy, and increased costs for government services involving vehicles, such as public safety, infrastructure, and community service programs.

September is National Emergency Preparedness Month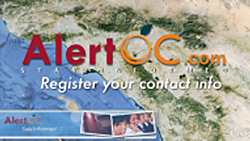 (Portions courtesy of the Orange County Sheriff's Department)

September is National Emergency Preparedness Month and the Orange County Sheriff's Department's Emergency Management Division encourages County residents to prepare and plan for emergency and disaster events. The time is NOW to make a commitment to be the survivor.

September marks National Preparedness Month, which was founded after 9/11 to increase preparedness in the United States. It's imperative that community members take the necessary steps to prepare for emergencies. The more people who are prepared for a disaster, the quicker the community will recover afterwards. Find out more about National Preparedness Month at http://www.ready.gov/september.

It is a time for residents to prepare themselves, their families and their loved ones for any emergency. Follow these three steps:

Get a Kit: Keep enough emergency supplies on hand, including water, non-perishable food, first aid, prescriptions, flashlights and a battery-powered radio. For a complete checklist of supplies, visit www.ReadyOC.org.
Make a Plan: Discuss, agree on, and document an emergency plan with family. For sample plans, see www.ReadyOC.org. Work with neighbors, colleagues and others to build a community network of resilience.
Be Informed: Information is available from federal, state, and local resources. Preparedness information is available by:


Signing up for emergency alerts and notifications at www.AlertOC.com.
Accessing www.ReadyOC.org to learn what to do before, during, and after an emergency.
Contacting local emergency management departments to ask for a tour and information about preparedness.

The Tustin Public Schools Foundation is their 3rd Annual State of the Schools Breakfast on September 22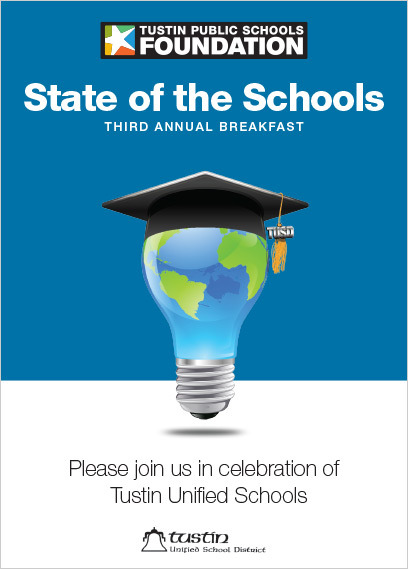 Click on the image above to view a PDF version.

4th Annual Orange County Stand Down


The Orange County Stand Down is set up like a military base, at which homeless and at-risk veterans and their families can come in off the streets and receive a variety of social services from community and government agencies, including the County of Orange Social Services Agency. Services are available from 9:00 AM to 5:00 PM each day. Veterans are welcome to sleep on site and use the facilities throughout the weekend. To sponsor or volunteer, call: (714) 547-0615 or click here.

Pet of the Week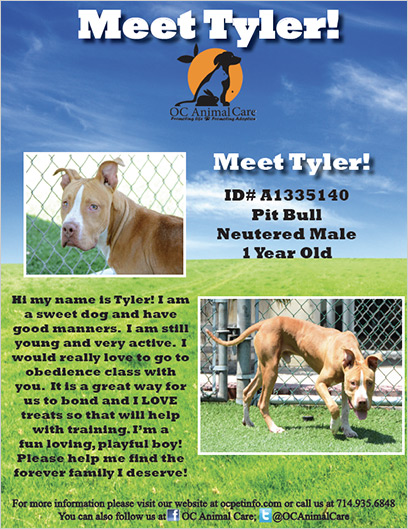 Click on the image above to view a PDF version.

Events Around the District

Anaheim
Preschool Story Time
Friday, September 12, 10:30 AM
Canyon Hills Branch Library, 400 Scout Trail

Family Story Time
Saturday, September 13, 11:00 AM
East Anaheim Branch Library, 8201 Santa Ana Canyon Rd.

Irvine
Certified Farmers Market
Sunday, September 7, 10:00 AM – 2:00 PM
Orange County Great Park

Global Village Festival
Saturday, September 27, 10:00 AM – 6:00 PM
Bill Barber Park, 4 Civic Center Plaza

Orange
Money Workshop, Estate Planning Basics
Wednesday, September 10, 10:00 AM - 11:30 AM
St. Joseph Center, 480 S. Batavia St.
RSVP (714) 288-2470 or julie.oplf@gmail.com

Tweens Book & Movie Club
Thursday, September 11, 3:30 PM
Orange Public Library & History Center, 407 Chapman Ave.

Silverado
All Canyons Clean-Up Event
Saturday, September 20, 8:00 AM - 11:00 AM
Calvary Chapel of the Canyons, 8002 Silverado Canyon Road

8th Annual Silverado Summer Concert Series
Fractal Mountain (Funky Rock) Calistoga Falls (American Bluegrass) and Tommy Reiser
(Rock & Roll Classics)
Saturday, September 20, 6:00 PM
Silverado Community Center, 27641 Silverado Canyon Rd.

Tustin
Free Document Shredding
Saturday, September 27, 10:00 AM
City Hall

Water Symposium & Open House
Tuesday, September 30, 4:00 PM
Clifton C. Miller Community Center, 300 Centennial Way

Villa Park
All Electronics Recycling Event
Sunday, September 7, 10:00 AM to 3:00 PM
Villa Park High School, 18042 E. Taft Ave.

Presentation on Water Rebates and Conservation
Monday, September 15, 7:00 PM
Villa Park City Hall, 17855 Santiago Blvd.

City-wide Neighborhood Watch Meeting
Tuesday, September 30, 7:00 PM
Villa Park City Hall, 17855 Santiago Blvd.

Yorba Linda
Blood Drive, Placentia-Linda Hospital
Thursday, September 18, 10:00 AM to 3:00 PM
1041 E. Yorba Linda Blvd., Suite 203

Wonders of Magic with Allen the Magician
Thursday, September 25, 10:00 AM
Yorba Linda Library, 18181 Imperial Hwy.




For questions or comments regarding Spitzer's E-Newsletter
please contact the Supervisor's office staff at: (714) 834-3330 or Melanie.Eustice@ocgov.com


DISTRICT

STAFF
Martha Ochoa
Chief of Staff

Melanie Eustice
Communications Director

Chris Nguyen
Senior Policy Advisor

Carrie O'Malley
Senior Policy Advisor

Martin Gardner
Policy Advisor

Melissa March
Policy Advisor

Christine Richters
Executive Aide



District Map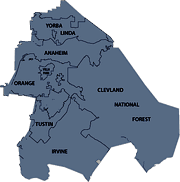 Anaheim, Irvine, Orange, Tustin, Villa Park, Yorba Linda, El Modena, North Tustin, Orange Park Acres, the Canyon Communities

Stay Updated!