July 17, 2015
Volume 3

Issue 21

Board of Supervisors Proclaim "Disneyland Day" in Orange County in honor of Disneyland Resort's 60th Anniversary Diamond Celebration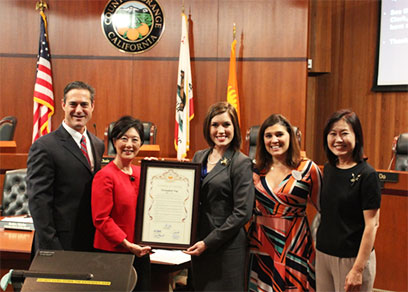 Chairman Todd Spitzer, Vice Chair Lisa Bartlett, Disneyland Resort Ambassador Jessica Bernard, Disneyland Resort Government Relations Manager Kyndell Thorson, and Supervisor Michelle Steel
The Board of Supervisors recognized the Disneyland Resort's 60th Anniversary Diamond Celebration with a resolution presentation at the Board meeting this week that declared July 17 as "Disneyland Day" in Orange County.

Disneyland opened in the City of Anaheim on July 17, 1955, marking a new era in amusement parks. It is the only theme park designed and built under the direct supervision of Walt Disney.

Disneyland has grown from a single theme park with one hotel and 1,280 cast members in 1955 into a full-scale resort with two of the world's ten most-visited theme parks, 2,500 hotel rooms, 150 restaurants, and 85 other retail locations.

Disneyland is the most visited tourist attraction not only in Orange County, but in all of California, with nearly 17,000,000 guests in 2014 alone.

The Disneyland Resort is a critical part of Orange County's economic engine, as the resort employs more people in Orange County than any other employer, with a workforce of 28,000 cast members, a number larger than the entire populations of the Orange County cities of Seal Beach, Laguna Beach, Laguna Woods, La Palma, Los Alamitos, and Villa Park.

The Disneyland Resort generates $5.7 billion in economic impact in Southern California with more than $3 billion for Orange County alone. Over 25,000 jobs at other Orange County businesses rely on visitors to the Disneyland Resort.

Board of Supervisors Thank OC Probation Department and Declare "Probation Services Week"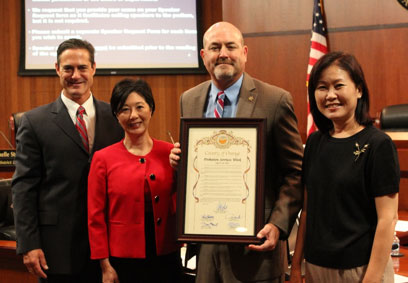 Chairman Todd Spitzer, Vice Chair Lisa Bartlett, OC Probation Chief Deputy Probation Officer Chris Bieber, and Supervisor Michelle Steel
The Orange County Board of Supervisors declared the week of July 12-18 to be "Probation Services Week" and encouraged residents to join in recognition of the positive impact and selfless service of the employees of the Orange County Probation Department.

The Orange County Probation Department is a criminal justice agency that has provided community protection to the residents of Orange County since 1909. Orange County Probation is a public safety agency that partners with the community and other law enforcement agencies to reduce crime in neighborhoods and promote lawful and productive lifestyles. On any given day, Orange County Probation supervises over 17,000 adult and juvenile offenders while managing up to 700 youthful offenders in custody.

For more information about the OC Probation Department, click here.

Chairman Todd Spitzer Offers a Message of Hope at the OC Rescue Mission Graduation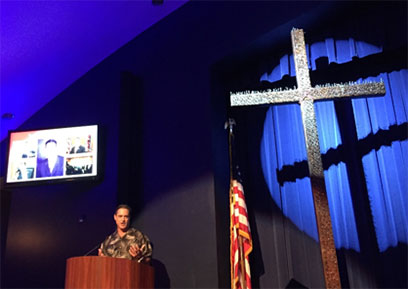 Chairman Todd Spitzer addressing graduates at the Orange County Rescue Mission
Board of Supervisors Chairman Todd Spitzer was the keynote speaker at the OC Rescue Mission Graduation in Tustin. The Village of Hope is a 192-bed transitional housing program for homeless men, women, and children.

Chairman Spitzer congratulated the graduates for their perseverance and wished them well on their future path. He acknowledged that while he may not have walked their path, it is a human quality to face life's challenges and to look for inspiration to get though the difficult times.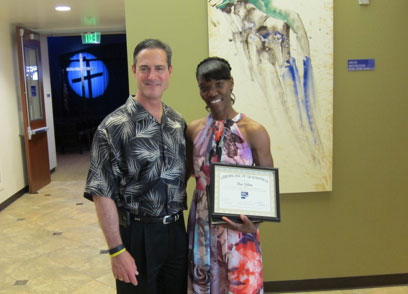 Chairman Todd Spitzer and Rae Glenn, Valedictorian graduate of the Orange County Rescue Mission
"To the graduates, I want to say that I know that the road you have traveled has been challenging but you have persevered," said Chairman Spitzer. "I want you to know that the people in this room and in your life believe in you and that there is hope."

Opened in March 2008, the Village of Hope is located on a decommissioned military base. For more information, click here.

Community Forum Meetings Postponed for 1000 North Kraemer Place, Anaheim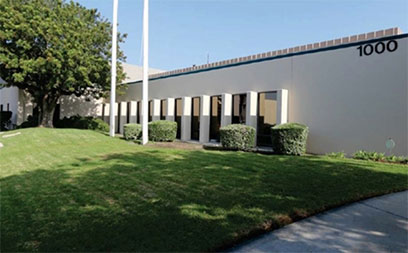 Property at 1000 North Kraemer Place
(Portions courtesy of OC Community Resources)

On June 26, 2015, a Community Forum was held to learn about proposed uses for the site at 1000 North Kraemer Place, Anaheim. The Community Forum was open to the public and structured to give residents, businesses and other interested stakeholders the opportunity to interact with representatives at table stations.

The information and discussion topics included Public Safety, Good Neighbor Plans, Transportation, Service Coordination, Shelter Advisory Board, Operator Selection and the Commission to End Homelessness. The June 26th community forum was well attended and productive in terms of dialogue and community feedback.

At this time, the subsequent tentative community forum dates on July 22 and August 5 have been postponed. In an effort to incorporate community feedback into project development, these community forums will not take place on the previously mentioned dates.

Any future meeting dates will be posted on the Kraemer website listed below. In addition, interested community members may obtain meeting information by calling or emailing the Kraemer public information line.

For more information please visit: http://ocommunityservices.org/hcd/homeless/kraemer

To obtain meeting information, sign up to be include on the contact list, or submit written comments, please email 1000NKraemer@occr.ocgov.com or call (714) 480-2998.

241/Santiago Fire Contained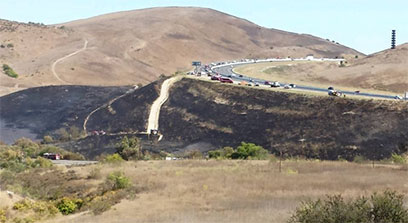 Photo of the burn area taken by Supervisor Todd Spitzer
(Portions courtesy of Orange County Fire Authority)

This week, the Orange County Sheriff's Department Emergency Management Division was notified of a fire on the 241 near Santiago Canyon Road. Emergency Management personnel immediately began monitoring the fire and coordinating with the Orange County Fire Authority.

The fire burned 180 acres in an unincorporated area in the Third Supervisorial District. Three outbuilding structures that were scheduled for demolition burned at Irvine Lake. Approximately 10 people with boats at the Irvine Lake campground voluntarily evacuated and the campground is currently closed. 50 people were temporarily evacuated from the Oak Canyon events center, but are being allowed to repopulate.

"The canyons are dry in the summer and the drought does not help," said Supervisor Todd Spitzer. "We are all just relieved that nobody was hurt."

OCFA has represented that the California Department of Forestry and Fire Protection will likely be financially responsible for reimbursing the costs of the fire, which as estimated at $1 million.

Supervisor Spitzer thanked all responders and County road crews who worked to fight the fire at the Board meeting this week.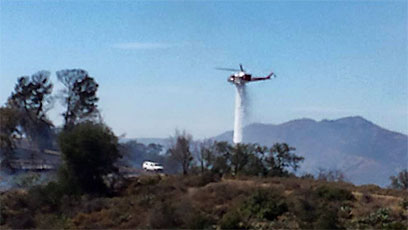 Water drop on the fire
A total of about 200 firefighters on the ground from OCFA, the California Department of Forestry and Fire Protection, U.S. Forest Service and Anaheim and Orange fire departments worked to contain the flames.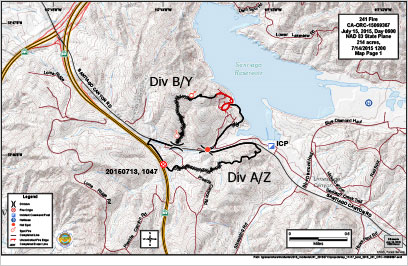 Click on the image above to view a PDF version.

Eco Challenge Day at Angel Stadium on Saturday, July 25


(Portions courtesy of OC Waste & Recycling)

OC Waste & Recycling, in partnership with Discovery Cube OC, Goodwill of Orange County, and Angels Baseball LP, will hold its annual Eco Challenge Day collection event on Saturday, July 25, from 8:00 AM to 11:00 AM at Angel Stadium of Anaheim. In 2014, the event drew over 1,000 Orange County residents to Angel Stadium and collected over 10 tons of household hazardous waste, e-waste, and gently-used clothing. This year, there will be free certified paper shredding, in addition to safe disposal options for household hazardous waste and e-waste. Gently-used clothing and household goods will be accepted by Goodwill of OC.

The first 150 cars to bring items to recycle will receive priority access for meeting Angels second baseman Johnny Giavotella for an autograph and the opportunity to choose between four FREE tickets to an Angels game or four FREE general admission tickets to experience the County's Eco Challenge Exhibit at the newly expanded Discovery Cube OC (while supplies last).

For more information, please visit www.ocEcoChallenge.com.

Board of Supervisors Meetings Now Viewable on Mobile Devices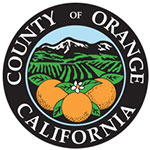 (Portions courtesy of County Executive Office)

This Tuesday, live streaming and archived videos of Orange County Board of Supervisors meetings were made accessible on mobile devices, including phones and tablets, thanks to a series of webcasting upgrades provided through GovTV.

Viewers are now able to watch Board meetings in higher resolution with improved image quality and a 16 x 9 wide-screen viewer experience.

"Streaming Board meetings on mobile devices is another great way to help people to view Board meetings so that they can be involved and informed about what is going on in Orange County," said Board of Supervisors Chairman Todd Spitzer. "This also provides a greater level of transparency in our government decision-making process."

The County has webcast Board meetings since 2007 and maintains an online video archive of past meetings. The meetings are closed-captioned, with each video searchable by agenda number or subject matter. Viewers need not watch an entire meeting but may select a specific portion for review.

For those using Internet Explorer browsers, a minimum of Version 8 is required. Some viewers may experience issues due to older browsers or security settings. If you have difficulty accessing the Board meeting video, please call toll-free (855) 886-5400.

The Board meeting online video site can be found here.
CONTENT

Orange County Sheriff's Department and City of Yorba Linda Welcome the Flame of Hope for the 2015 Special Olympics World Games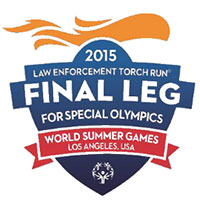 (Portions courtesy of the City of Yorba Linda)

On Monday, July 20, 2015, the Flame of Hope, the official torch for the Special Olympics World Games Los Angeles 2015, will be carried through the city of Yorba Linda, with a ceremony to be held at the Richard Nixon Presidential Library and Museum located at 18001 Yorba Linda Blvd. at 11:45 am. Speaking at the ceremony will be Orange County Sheriff-Coroner Sandra Hutchens, Yorba Linda Mayor Gene Hernandez, Correctional Officer Julie Bowman, and Special Olympic athlete and Final Leg runner Jonathan Sparks from Northern California.

Members of the community are encouraged to join the Orange County Sheriff's Department in welcoming the law enforcement officers who serve as the Guardians of the Flame of Hope and the Special Olympic athletes as they participate in the Law Enforcement Torch Run Final Leg. Law Enforcement officers and Special Olympic athletes are selected by their respective Special Olympics programs to be one of the 126 Final Leg Team members based on their dedication and commitment to the Special Olympics movement.

The Flame of Hope will complete its journey on Saturday, July 25, 2015, when the Law Enforcement Torch Run Final Leg team carries it into the Opening Ceremony of the 2015 World Games, and it ignites the cauldron at the historic Los Angeles Memorial Coliseum, site of the 1932 and 1984 Olympic Opening Ceremony. The public will be able to see daily photographs, videos and read reports of the Flame of Hope's journey online at letr.finalleg.org and on social media with @LETRforSO on Twitter and on Facebook.

For more information on the 2015 Special Olympics World Games, including volunteer and sponsorship opportunities, visit www.LA2015.org and on social with #ReachUpLA on Facebook, Twitter and Instagram.

West Nile Safety Tips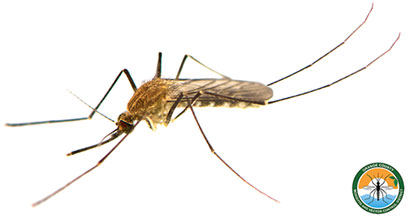 (Portions courtesy of OC Mosquito and Vector Control District)

The Orange County Mosquito and Vector Control District (OCMVCD) would like to make residents aware, in portions of Northeastern Orange County, that mosquito and dead bird samples have recently tested positive for West Nile virus.

In 2014, Orange County reported the highest number of human infections of West Nile virus in the nation with 280, including eight deaths. OCMVCD uses more than 10 years of sampling data collected during routine monitoring and testing of mosquitoes, dead birds, and human infections to determine areas of greater risk throughout the county.

This week, OCMVCD confirmed West Nile virus-positive test results from the City of Tustin and the City of Orange. So far this year, OCMVCD has reported a total of eight positive mosquito samples and four dead birds. There are no reported human cases at this time. A total list of all positives can be found at www.ocvcd.org.

Mosquitoes acquire the virus when they feed on infected birds, and subsequently pass the virus along when they bite humans. There is no cure for West Nile virus.

Partnership to Protect the Community:

All mosquitoes need stagnant water to complete their life cycle. Even though OCMVCD Inspectors are conducting investigations to find mosquito breeding in your community, stagnant water sources remain unidentified. These unidentified sources are maintaining mosquito populations and threaten your quality of life. OCMVCD is asking for help from the public to find and eliminate hidden sources.

How Residents Can Help:

It takes just two minutes to help prevent future outbreaks of West Nile virus. Residents should simply inspect their property and dump or drain any water found, and take the necessary steps to prevent the source from refilling. In addition to common breeding sources, above and underground remnants of Orange County's agricultural past (standpipes, well heads, irrigation channels) may be present on local properties and can breed mosquitoes. This easy practice is the most effective method of controlling mosquitoes. If residents observe any stagnant water not on their property, alert OCMVCD at (714) 971-2421 or ocvcd.org. An inspector will be dispatched to catalogue and treat the source with mosquito control products.

Residents can take an active role in reducing the threat of West Nile virus in their neighborhoods by taking the following steps:

Eliminate any standing water around homes
Ensure that swimming pools, spas, and ponds are properly maintained
Change the water in pet dishes, birdbaths, and other small containers weekly
Request FREE mosquitofish for placement in ornamental ponds
Make sure all window and door screens on homes are in good repair
Wear a repellent containing DEET®, Picaridin, Oil of Lemon Eucalyptus, or IR 3535
Contact the Orange County Mosquito and Vector Control District to report dead birds or neglected pools
For more information, residents can contact the Orange County Mosquito and Vector Control District at 714.971.2421 or click here to visit online.

Volunteers Needed for U.S. Department of Energy Solar Decathlon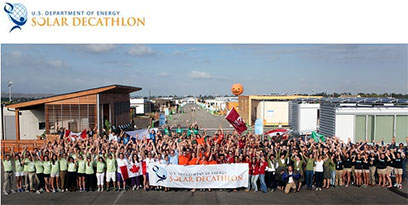 (Portions courtesy of the Solar Decathlon)

Volunteers are needed for the upcoming U.S. Department of Energy Solar Decathlon, which will be held Thursday, October 8–Sunday, October 18 at the Orange County Great Park. Open to the public free of charge, the Solar Decathlon gives visitors the opportunity to tour solar-powered houses, gather ideas to use in their own homes, and learn how energy-saving features can help them save money today.

The Solar Decathlon is an award-winning program that challenges collegiate teams to design, build, and operate solar-powered houses that are cost-effective, energy-efficient, and attractive. The winner of the competition is the team that best blends affordability, consumer appeal, and design excellence with optimal energy production and maximum efficiency.

Volunteers are an important part of this exciting event. Volunteers work alongside Solar Decathlon organizers serving as greeters, docents, visitor liaisons, education days mentors, and more.


Pet of the Week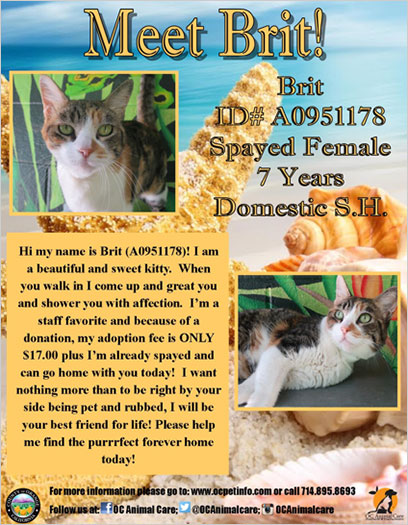 Click on the image above to view a PDF version.

Events Around the District

Anaheim
Concert in the Park, DSB Tribute Band
Thursday, July 16, 2015, Dusk
Ronald Reagan Park, 925 S. Weir Canyon Rd.

One World Rhythm
Saturday, July 18, 2015, 10:00 AM
East Anaheim Branch Library, 8201 E. Santa Ana Canyon Rd.

Flute Making Classes at Canyon Hills Library
Wednesday, July 22, 2015, 11:00 AM
Canyon Hills Branch Library, 400 Scout Trail

Irvine
Certified Farmers Market
Sunday, July 19, 10:00 AM
Orange County Great Park, 6950 Marine Way

Special Olympics Parade
Wednesday, July 22, 1:15 pm
Irvine Spectrum, Edwards 21 Theater

Orange
Orange Concerts in the Park, Smokin Cobras, Rockin' Oldies
Wednesday, July 22, 7:00 PM
Hart Park, 701 W. Glassell

Classical Guitar Performance
Saturday, July 25, 2:00 PM
Orange Public Library & History Center, 407 E. Chapman Ave.

Silverado
Silverado Summer Concert Series
Saturday, July 18, 6:00 PM
Silverado Fairgrounds, Community Center 27641 Silverado Canyon Rd.

Tustin
Ballroom, Swing, & Latin Dance
Friday, July 10, 7:30 PM
Tustin Area Senior Center – 200 South C Street

Concert in the Park, Paperback Writer
Wednesday, July 22, 6:00 PM
Peppertree Park, 230 W. First Street

Farmers Market
Wednesday, July 22, 9:00 AM to 1:00 PM
El Camino Real & 3rd St.

Villa Park
Rainbow Loom and More
Thursday, July 23, 3:00 PM
Rainbow Loom and More Thursday, July 23

Concert in (Villa) Park, Heartache Eagles Tribute Band
Friday, August 7, 7:00 PM
Villa Park High Outdoor Amphitheater

Yorba Linda
Super Hero Day
Saturday, July 18, 11:00 AM
Yorba Linda Library – 18181 Imperial Highway

Nixon Library Concert
Sunday, July 19, 1:30 PM
Richard Nixon Presidential Library & Museum, 18001 Yorba Linda Blvd.

For questions or comments regarding Spitzer's E-Newsletter
please contact the Supervisor's office staff at: (714) 834-3330 or Melanie.Eustice@ocgov.com


DISTRICT

STAFF
Martha Ochoa
Chief of Staff

Melanie Eustice
Communications Director

Chris Nguyen
Senior Policy Advisor

Carrie O'Malley
Senior Policy Advisor

Martin Gardner
Policy Advisor

Christine Richters
Executive Aide



District Map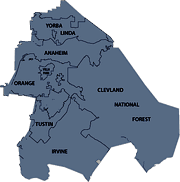 Anaheim, Irvine, Orange, Tustin, Villa Park, Yorba Linda, El Modena, North Tustin, Orange Park Acres, the Canyon Communities

Stay Updated!