September 23, 2016
Volume 4

Issue 28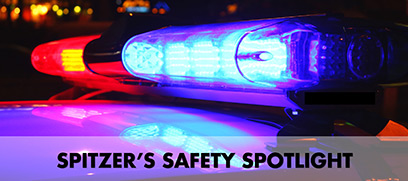 DROWNINGS IN ORANGE COUNTY
YEAR
DROWNING INCIDENTS
FATALITIES
2016*
70
29
2015
118
50
2014
86
43
*2016 data is for January through September 23, 2016
Prop 66 Gives Finality to Victims

Under our current broken system, it takes more than 20 years from conviction to execution. Inmates on death row are far more likely to die of natural causes than by execution. Since our death penalty was reinstated in 1978 more than 900 murderers have been sentenced to death in California. These are not merely murders. These are the worst of the worst. Killings where the victim was tortured first: 126, child victims: 173, and murders of police officers: 44. Only 13 have been executed and none in over ten years, since 2006. With only 747 currently on death row, that means about 200 have died while awaiting their execution. I was a witness in the last execution at San Quintin, California in 2008. I went as a witness to personally experience a lawfully ordered termination of life.

We must speed up the process while ensuring all constitutional safe guards but nothing more. Prop 66 is good for everyone involved. Prop 66 aids inmates by appointing appellate council immediately upon conviction, so that appeals can begin when the facts supporting both guilt and the death penalty are fresh and witnesses are still alive and available. Prop 66 is projected to create state prison savings that could be in the tens of millions of dollars annually for our broken state treasury according to the non-partisan Legislative Analyst's Office.

Because Prop 66 requires appeals to be heard within 5 years of conviction, Prop 66 will allow courts, who may have to conduct a retrial, to have more confidence in the evidence they receive.

Prop 66 will give the victims' families and friends a finality that is grossly lacking today. Of the 747 inmates currently sitting on California's death row, 63 are from Orange County. Five of those murderers from Orange County are in their 70's and have averaged over 32 years since the commission of their murders and today's date. Randy Kraft is 71. It has been almost 44 years since he committed his murder on December 1, 1972. He was sentenced to death on November 29, 1989.

Recently, (March 20, 2015), the Huffington Post reported on the disappointment victims' families expressed when our current Orange County death penalty case got derailed again because of prosecutorial misconduct. Huffington reported "Family members of Dekraai's victims were distraught and voiced frustration in court over the decision to appeal and the possibility that a conclusion to the case, which has already taken three and a half years, could be delayed even more." Victim's family member Paul Wilson was quoted as railing at District Attorney Tony Rackauckas "Tony, you have let me down … we shouldn't be here. This should have been very easy." Dekraai already plead guilty to the murder of eight people, yet we can't even get to the penalty phase trial until the appellate courts rule on the validity of the Court's recusal of the DA's office. This case could easily keep victim's families waiting even longer that the Kraft victims' families. Victims' families deserve better.

Folks, get behind these brash, incomplete, deceptive slogans and learn the truth before you vote. Victims and our State need Prop 66.


Share this on:




Supervisor Todd Spitzer Receives Elected Official of the Year Award for Use of Social Media at Impact 16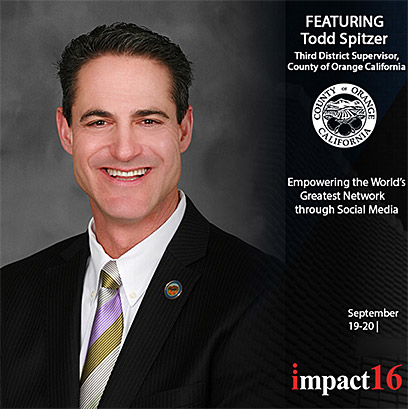 The world's top businesses and leaders came together for powerful recognition of their industry leading contributions in social media and marketing. Supervisor Todd Spitzer received the Elected Official of the Year Award for his use of social media in government. Supervisor Spitzer, who professionally teaches social media for financial executives presented social media and internet marketing strategies as a featured speaker on the Internet Marketing in Government panel. Supervisor Spitzer was joined on the panel with Juha Markkanen, who will soon be appointed as Finland's Consul General in Los Angeles and Allan Rubin, ImmixGroup, who leads a professional marketing organization that is responsible for generating leads and building awareness for immixGroup, its manufacturer clients, and its reseller partners within the public sector IT community.

The purpose of IMPACT16 is to educate professional members on the latest advancements in Digital Marketing and Organization Leadership.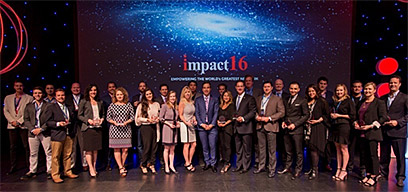 2016 IMPACT Awards in Las Vegas Honor Exemplary Performance and Contributions in Internet Marketing
Click here to view a list of the 2016 IMA Impact Award Winners and Leaders.

Third District Resident Honored by Angels for Winning 2016 Eco Challenge Poster Contest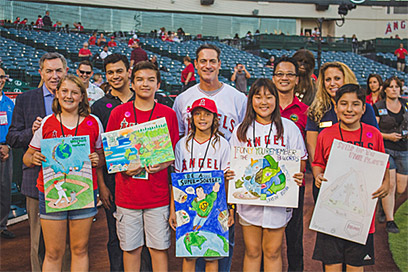 Left to Right: Chief of Staff to Chairwoman Lisa Bartlett Paul Walters, Deputy Chief of Staff to Supervisor Shawn Nelson Mark Lopez, Supervisor Todd Spitzer, Policy Advisor to Vice Chair Michelle Steel Jeremy Tran and District Representative Adrianna Lagorio from Supervisor Andrew Do's Office with Eco Challenge Poster Winners
(Portions by OC Waste and Recycling)

Ellia Chai, a nine-year-old budding artist and environmentalist from North Tustin, was recognized in an on-field pre-game ceremony at Angel Stadium on Friday, September 9. Ellia is the Eco Challenge Poster Contest winner representing the Third District. Ellia is a fifth-grader at Arroyo Elementary School. Along with the on-field recognition, Ellia served as an honorary Bat Kid at an Angels game and received an Angels Bat Kid jersey. The Eco Challenge Poster Contest winners did an exceptional job at spreading the message of waste reduction. Ellia's entry showed how reducing waste can keep our planet green. The Eco Challenge Poster Contest is sponsored by OC Waste & Recycling in partnership with Discovery Cube Orange County and Angels Baseball.

The County of Orange and OC Waste & Recycling sponsor the Eco Challenge Exhibit at the Discovery Cube Orange County, an interactive experience that showcases sustainable behaviors. For more information visit oclandfills.com and follow on Twitter @ocwaste.

County Approves Homeless Shelter, Armory Shelter Operator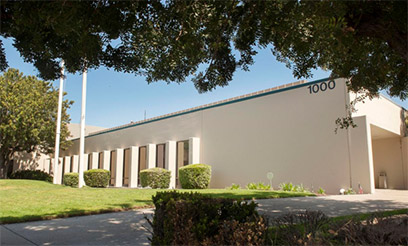 1000 N. Kraemer Place
(Portions courtesy of County Executive Office)

The Orange County Board of Supervisors has selected Mercy House Living Centers Inc. to operate a new 200-bed year-round emergency shelter and multi-service center in Anaheim to serve those without permanent housing, as well as operate seasonal cold-weather shelters at National Guard armories in Fullerton and Santa Ana.

Supervisors voted unanimously to select Mercy House, which for years has partnered with the County to provide emergency shelter and housing services. The new center in Anaheim will be located at 1000 N. Kraemer Place and is expected to be opened late next year. "Our goal is to expedite the opening of the Kraemer Homeless Shelter and Service Center and to make it available as soon as we possibly can," said Supervisor Todd Spitzer, whose Third District includes the portion of Anaheim where the center will be built. "I worked hard with the community to develop an operations plan that will ensure the public's safety and require the new shelter to be a good neighbor. As a County we need to work quickly to solve the problems of homelessness."

The County paid $4.25 million for the 24,384 square-foot industrial warehouse and 12,842 square feet of office space, situated on about 1.87 acres with 68 parking spaces. The building, built in 1975, had been occupied by a commercial heating, ventilating and air conditioning contractor.

The cities of Anaheim and Fullerton contributed $500,000 each toward the project, with $100,000 coming from the city of Brea. The city councils of Anaheim, Brea, Buena Park, Fullerton, Orange and Placentia adopted resolutions in support.

The County has operated a seasonal armory shelter program in Fullerton and Santa Ana for the past 28 years. However, the armories are only open part of the year and only at night.

Supervisor Todd Spitzer's Staff Attends the Council on Aging-Orange County Ribbon Cutting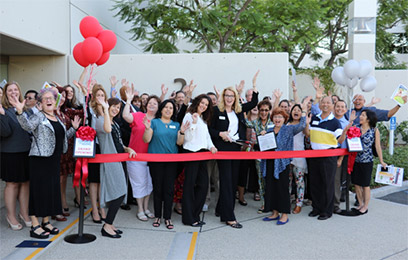 Council on Aging-Orange County Ribbon Cutting
Supervisor Spitzer's staff attended the ribbon cutting for the Council on Aging-Orange County (COAOC) that was held to celebrate their new location in Irvine. COAOC promotes the independence, health and dignity of older adults through compassion, education and advocacy. 387, 600 seniors live in Orange County. COAOC reaches out to seniors to provide vital information/resources on aging and caregiving to over 85,000 seniors and their families.

The event was attended by more than 40 guests including COAOC board members and members of the senior services community. For more information on COAOC, click here.

Supervisor Todd Spitzer's Staff Attends the 45th Annual OPA Fall BBQ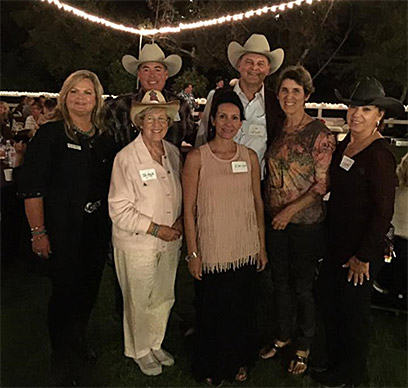 Sandy Forkert, Lance Mora, Orange Mayor Tita Smith, Kimiya Leuteritz, Jim Cathcart, Theresa Sears and Laura Thomas in Orange Park Acres
Supervisor Spitzer's staff attended the 45th Annual OPA Fall BBQ & Dance, supporting the OPA Trails and Community. Supervisor Spitzer donated a lunch at the live auction that raised $600 for the cause. Orange Park Acres is an unincorporated community, forming an island surrounded by the City of Orange in Orange County, California. For more information about OPA, click here.

Take Part in National Preparedness Month, Register for AlertOC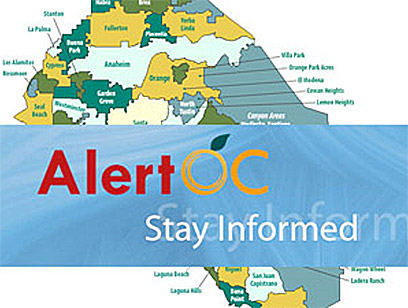 (Portions by OC Sheriff's Department)

September marks National Preparedness Month, urging residents and businesses to prepare for the many hazards that threaten our daily lives and sense of normalcy – most often occurring in Southern California with little to no warning.

Consider the state's historic drought, drawing ever-increasing concern from first responders due to the elevated wildfire danger. Often disasters occur rapidly, forcing evacuations and road closures to neighborhoods. AlertOC, the County's mass notification system, is a critical link for residents to immediately learn of any required actions, such as evacuating their homes during an imminent fire.

On September 22, more than two million Orange County residents will receive a call to test AlertOC. The drill will replicate a large scale, multi-jurisdictional emergency requiring thousands of numbers to be called simultaneously across Orange County's entire region. This is the seventh annual regional test of the system and will include 23 participating cities as well as the County's unincorporated areas.

The distinctive feature of AlertOC is the ability for individuals to register multiple contact methods and addresses. Registrations of cell phone and alternate numbers dramatically increase the ability to reach the greatest number of community members within minutes. This enables landlines, cell phones and e-mail addresses to be incorporated into a single notification system.

Residents can do their part to prepare for emergencies by registering for AlertOC. The time is now to self-register cell phone numbers and e-mail addresses to be a part of the regional test. For more information or to register alternate phone numbers or e-mail addresses, visit AlertOC.com.

Pet of the Week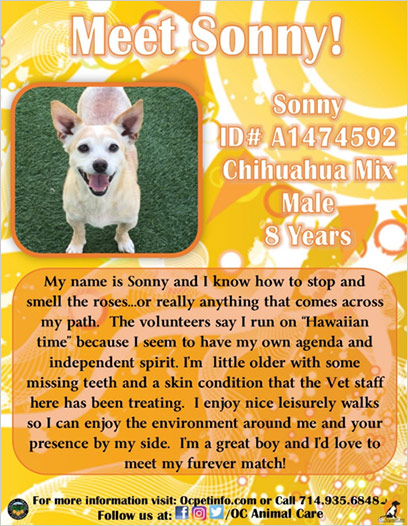 Click on the image above to view a PDF version.

Events Around the District

Anaheim
Family Story Time
Saturday, September 24, 11:00 AM
Anaheim Public Library – East Anaheim Branch, 8201 E Santa Ana Canyon Rd.

Free SAT & ACT Mock Exam
Sunday, September 24, 11:30 AM
Canyon Hills Library – 400 S. Scout Trail

Irvine
Irvine Global Village Festival
Saturday, September 24, 10:00 AM to 6:00 PM
Bill Barber Park, 4 Civic Center Plaza

Farmers Market
Sunday, September 25, 10:00 AM
Orange County Great Park, 6950 Marine Way

Orange
Digital Saturday
Saturday, September 24, 2:00 PM
Orange Public Library & History Center, 407 E. Chapman Ave.

Manners Matter
Friday, September 30, 3:30 PM
Orange Public Library & History Center, 407 E. Chapman Ave.

Silverado
Orange County Craft Beer Festival, No one under the age 21 admitted
Saturday, September 24, 5:30 PM
Oak Canyon Park, 5305 Santiago Canyon Road

Tustin
Farmers Market
Wednesday, September 28, 9:00 AM
El Camino Real & 3rd St.

Tustin Tiller Days
Friday, September 30 – October 2 17522 Beneta Way

Villa Park
Pet Fair 2K Dog Walk
Saturday, September 24, 9:00 AM
VP Greenbelt at Wanda/Lincoln

Preschool Storytime
Wednesday, September 27, 9:00 AM
Orange County Public Library – Villa Park Branch, 17865 Santiago Blvd.

Yorba Linda
Concert, British Brass Band
Sunday, September 25, 1:30 PM
Richard Nixon Presidential Library & Museum, 18001 Yorba Linda Blvd.

Science Show
Saturday, September 29, 6:30 PM
Yorba Linda Community Center, 4501 Casa Loma Ave.


For questions or comments regarding Spitzer's E-Newsletter
please contact the Supervisor's office staff at: (714) 834-3330 or Melanie.Eustice@ocgov.com


DISTRICT

STAFF
George Cardenas
Chief of Staff

Melanie Eustice
Communications Director

Dennis Bauer
Policy Advisor

Martin Gardner
Policy Advisor

Christine Richters
Executive Aide

Kassee Moseley
Executive Secretary



District Map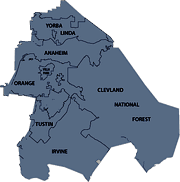 Anaheim, Irvine, Orange, Tustin, Villa Park, Yorba Linda, El Modena, North Tustin, Orange Park Acres, the Canyon Communities

Stay Updated!