July 17th - Supervisor Nelson will be attending the OC Animal Care fundraiser with Anaheim Angels.
Please visit www.ocpetinfo.com for more information.

OC ANIMAL CARE - THE CRITTER CORNER
Wanted: Foster Families!
Each year, once the weather begins to warm up, kittens pour into OC Animal Care by the litter. While some kittens are quickly put up for adoption, others are too young to be placed in their permanent homes. Kittens weighing less than two pounds cannot be adopted as they are too young to be spayed or neutered. This is where our dedicated foster homes step in. Foster Caretakers provide food, shelter, socialization and love to underage kittens until they are big enough for adoption at the shelter. Usually, kittens stay in their foster homes for one to two weeks. In 2009, 526 animals were placed into foster homes and given a second chance at finding their new forever families. If you're interested in our Foster Caretaker program, please attend one of our upcoming orientations. Orientations will be held at OC Animal Care at 10:30 a.m. on July 24 and August 28 or contact our volunteer coordinator at (714) 935-6194.
Helping the Kittens of OC
Do you want to help kittens at OC Animal Care? Donate these much needed supplies to support underage kittens in our nursery and in foster care:
3-4 lb. bags of premium kitten food (Science Diet, Nutro, Iams, etc.)

3 oz and 5.5 oz cans of premium kitten food (Science Diet, Nutro, Iams, etc.)
5 lb. bags of cat litter
Cat toys
Small cat food and water bowls
Litter scoopers
Small litter box
Small cat beds
Small fleece blankets
Please contact the Volunteer Coordinator at (714) 935-6194 for more information.
Pet of the Week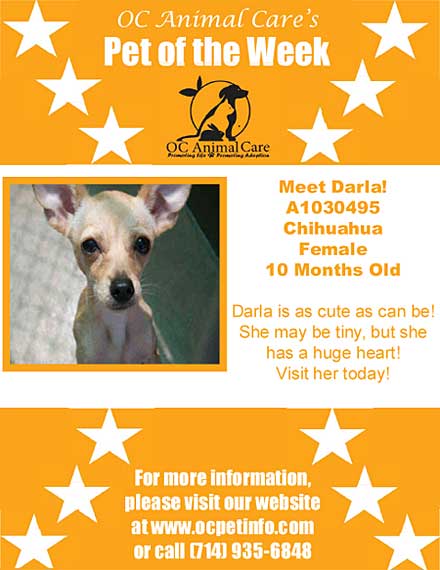 4th DISTRICT RESTAURANT OF THE WEEK
Supervisor Nelson has chosen the Anaheim White House as the 4th Districts Restaurant of the week due to their continued charity donations to the boys and girls clubs. 6 Nights a week the Anaheim White House Restaurant serves 100 hot meals to underprivileged children in Anaheim. (Story below)

On Tuesday, February 11, 2003, the inaugural meeting of "Caterina's Girls" Club was held at Anaheim White House. Seventy-five women attended the lunch. It had been Bruno's dream to honor his mother, Caterina, by creating a charity in her name.
Bruno talked about his ideas for the club. He plans on holding a benefit luncheon several times a year with 100% of the proceeds going to "Caterina's Girls" Club and he encouraged those in attendance to invite friends to the luncheons. Since its formation in 2003 the Caterina's Girls Club has raised over a quarter of a million dollars for the Boys & Girls Clubs of Anaheim.
One day 5 years ago Bruno's mom -here in vacation from Italy- went to the Boys & Girls Club to see the facility. Mike Baker the director informed Caterina that most the kids who stay in the club between 5pm to 6 pm are motel children and go back to the motel and most of them don't eat dinner because of the low income they come from and wait to eat till the next day at school.
Caterina as typical Italian mamma told Bruno that children should always eat, and told Bruno that night to go back to the Anaheim White House Restaurant and prepare pasta for the 100 children.
Since then Bruno has served 100 free dinners 6 nights a week, and today because of the economy he starts to serve 150 free dinners 6 nights a week. A total of 47 thousand free hot meals a year to underprivileged children.
he generous donations of Caterina's Club lunch underwritten by Bruno have allowed the program to donate a 12 passenger van to transport the children from where they live in local motels to the Boys & Girls Clubs. This transportation was also extended to their families so that they may go to and from a medical clinic in Santa Ana.