January 14, 2011
Volume 2, Issue 1
NELSON TEAM
Denis Bilodeau
Chief of Staff

Audra Adams
Policy Advisor /
Communications Director

Steve Spernak
Policy Advisor

David Zenger
Policy Advisor

Scott Carpenter
Policy Advisor

Mark Lopez
Executive Aide
---


Welcome to Nelson's E-News!

Welcome to my first newsletter of 2011. I hope you all enjoyed a festive holiday season and are having a great start to the New Year. I am glad to be back and hope you continue to find these periodic updates informative.

On Tuesday, January 11, the Board of Supervisors held its first meeting of 2011 and saw the election of new officers for the year. Congratulations to the 2011 Chairman, Supervisor Campbell, and Vice Chair, Supervisor Moorlach. I look forward to continuing to work in the best interest of Orange County businesses and residents with all of my colleagues in the coming year. The Board will be dark next week, Tuesday, January 18, following the closure of County offices on Monday, January 17, in observance of Martin Luther King, Jr. Day. The next Board of Supervisors meeting will be Tuesday, January 25 at 9:30am.

New Year's resolutions can sometimes be hard to keep, but I have already taken steps to keep my pledge to continue representing you at the County level as best I can. In addition to meeting and working with County department and agency heads during these first couple weeks of 2011, I have enthusiastically seized some opportunities to meet with my constituents and businesses in the Fourth District to learn more about how I can better serve our community.

Please continue reading to hear about my tour of the Disney property, my meeting with the Korean American Sports Association of Orange County and my attendance at La Habra High School's CIF Championship celebration. I also had the chance to attend a recent OC Parks Ranger Graduation ceremony to support those who help preserve and maintain the quality of our County parks. Throughout this year, I look forward to continuing the momentum of meeting with those I represent and partnering with them in the future to improve our quality of life here in the Fourth District and Orange County.

As always, I want to remind you that I am a resource for you here at the County. Please contact me with any concerns you may have. I look forward to hearing from you and serving you in 2011.

Sincerely,
Shawn Nelson.
OCTA UPDATE - Orange County Transportation Authority
The Fourth District will soon enjoy the benefits of a project being conducted by the Orange County Transportation Authority (OCTA). The implementation of seven railroad grade separation projects along the Orangethorpe railroad corridor will run through the heart of the 4th District and ease the flow of traffic in the area along the train tracks. The project is set to begin in a few months and will be conducted in phases. Below is a map of the planned intersections that will be improved: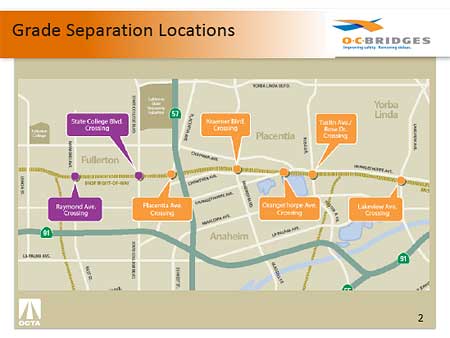 Click on the image to view a larger version.
Disney Tour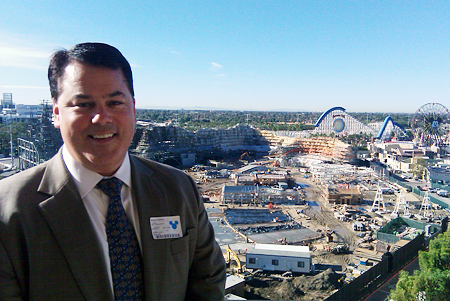 Supervisor Nelson completed a tour of Disneyland with a briefing by Disney contractors from eight stories above the coming Cars Land venue that will be completed in two years and feature rides and themes from the movie "Cars". Rides will include Radiator Springs Racers, Luigi's Flying Tires, Junkyard Jamboree designed around a food court and gift shops. Enhancements to the Disney Hotel atrium and improvements for parking will be some of the new amenities that will be offered.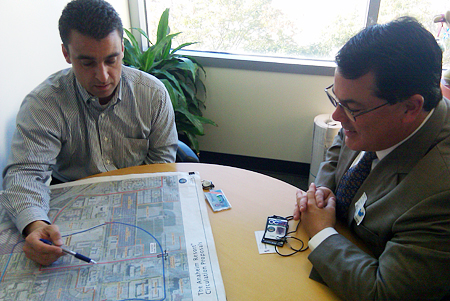 Chris Lowe (left), Director of Business Development for Disney, discusses with Supervisor Nelson the overview of proposed coming attractions, as well as new parking and transportation improvements. Disney, which is the second largest destination venue in America behind Disney Orlando, pays $250 million in taxes to OC and brings $3.5 billion in tourism and convention revenue.
Korean American Sports Association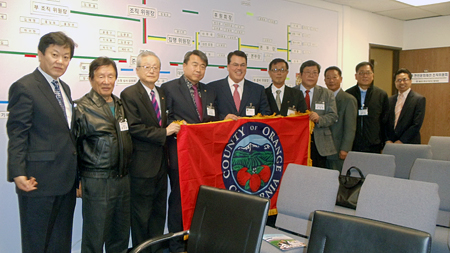 Supervisor Nelson proudly presents The Korean American Sports Association of Orange County with an official County of Orange Flag to express his support for the Korean American National Sports Festival that is scheduled for this coming June. The Sports Festival plans on bringing hundreds of athletes and a number of Korean celebrities and dignitaries from the home country. Sports Council Chairman, Richard Jung, also expressed his gratitude for the benevolent gesture by Supervisor Nelson and from the County of Orange, which has a large constituency make-up of Korean Americans. The latest estimate of Koreans is approximate to 250,000. The Festival dates are from June 22 – 26, 2011 and will be hosted by California State University, Fullerton.
Visiting with OC Sheriff's Department in Hall of Administration Building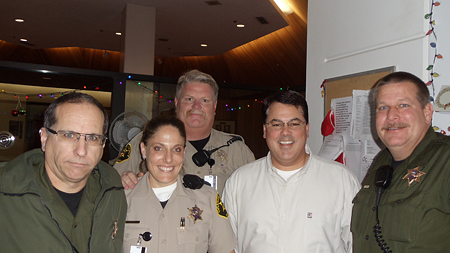 Supervisor Nelson enjoyed his visit and presentation of Christmas treats to Hall of Administration security and dignitary protection with the OC Sheriff's Department as part of his personal year-end thanks to County support staff and law enforcement.
La Habra High School - CIF Champs

| | |
| --- | --- |
| | Supervisor Nelson shared his high school CIF memories and presented Certificates of Recognition to MVP Cody Clements (left), seen here holding the CIF Southwest Division Championship Plaque, in front of family members and boosters at their appreciation rally. Most Inspirational Player (below) Drake Griffin enjoyed Supervisor Nelson's inspirational speech, and is seen below posing with his Supervisor's proclamation that listed all the La Habra opponents and scores, including their second-half rally against Tustin for their 4th consecutive CIF championship. Lastly, Coach Jesse Standifer proudly displays the 4 CIF Championship rings he owns as part of La Habra Varsity Football tying an Orange County record of 6 championships titles with Santa Ana and Mater Dei.. |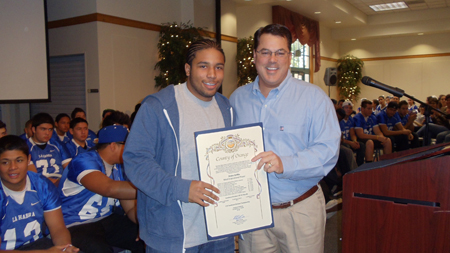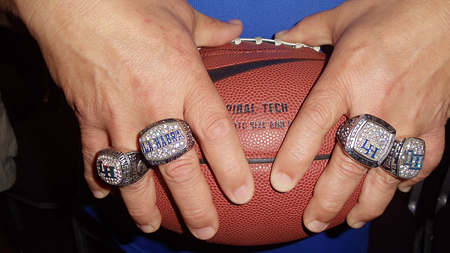 Please click onto the CalVet News link for current news and updates on benefits and news for veterans living in California.
http://bos.ocgov.com/legacy4/newsletters/pdfs/
Vol7Issue10/Vetrans_Calvet.pdf


As part of Supervisor Nelson's commitment to active and retired Armed Forces members, his staff subscribes to updates from both State Veterans and Federal Veteran newsletters that provide veterans with up to minute information on changes to retirement, health care and insurance benefits, policy changes and events that affect their lives and dependents. For more information, please visit www.military.com


Please click on the link to view the Military Report for your January 10, 2011 update on Military issues and updates: http://www.military.com/NL_MR_d/1,16887,8883,00.html
La Habra High School - CIF Champs

Senior Non emergency Medical Transportation Program Article:

The County Office on Aging Senior Non-Emergency Medical Transportation (SNEMT) Program fills a critical need for Orange County's older adults. At a fee of $2.00 per trip, this program provides cost effective transportation services to older adults age 60+. SNEMT will provide transportation to medical appointments for prevention and treatment, lab testing, outpatient services, rehab and physical therapy, mental health counseling, prescription pick-ups, and other health related trips.

St. Anselm's Cross-Cultural Community Center is the designated SNEMT service provider for the 4th District. For more information on the SNEMT program and other programs for older adults and caregivers, please call the Office on Aging at 1-800-510-2020. The Office on Aging operates a state-of-the-art call center with trained and caring, bilingual/bicultural Information Specialists who will be glad to assist you. Information Specialists handling your calls can also provide helpful information and referral services for older adult programs such as home delivered meals, in-home assistance, legal services, senior employment, caregiver support, adult day care, and much more. The number to call is 1-800-510-2020.
OC Parks Ranger Graduation Ceremony

Supervisor Nelson was honored to address the 2010 OC Parks Ranger Academy Class #2 at the Tustin Training Facility Wednesday, January 12, 2011. The new graduates enter into a regional parks system that is 50% larger than it was just a year ago, thanks to the 20,000 acre donation of the Irvine Ranch Open Space. OC Parks Director Mark Denny delivered the keynote address to the park rangers who will serve as ambassadors for our regional parks, wilderness areas, historical sites and coastal facilities. For more information on this program, please visit www.ocparks.com.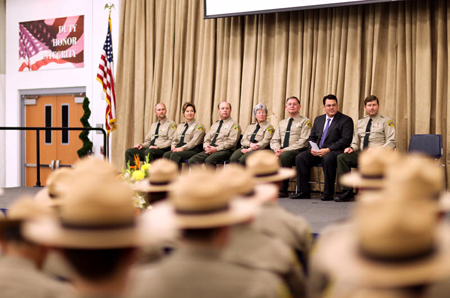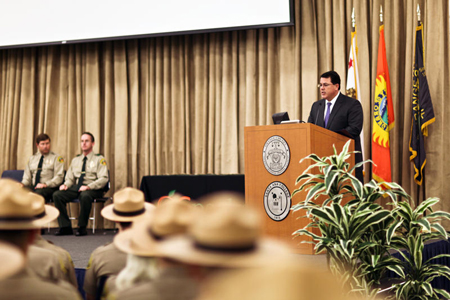 Family Fossil Day - Clark Park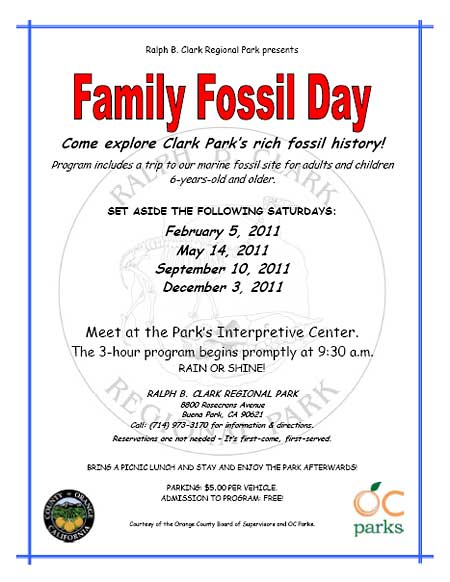 Click the image to view a larger version.
Supervisor Nelson recognizes the economic downturn has put a strain on budgets across the board. For this reason, Supervisor Nelson has decided to forgo a pay raise. For more information please click the link below.
http://voiceofoc.org/countywide/this_just_in/article_e627c916-1b7e-11e0-8bad-001cc4c03286.html

The 4th District is fortunate to have great student athletes; the most recent example is the La Habra High School football team who just celebrated their fourth consecutive CIF championship. Supervisor Nelson was pleased to join the city in honoring them.
http://www.ocregister.com/news/habra-283467-team-school.html

On January 11, 2011, District Attorney Tony Rackauckas administered the oath of office to Supervisor Shawn Nelson for his first full term to the Board of Supervisors.
http://totalbuzz.ocregister.com/2011/01/11/three-county-supervisors-sworn-in/47244/

The Los Angeles Times reported on the controversy that has risen surrounding the ARTIC transit center plan. Supervisor Nelson was quoted in the story the Times printed this week. Please click the link below to read more.
http://www.latimes.com/news/local/la-me-artic-transit-station-20110113,0,35727.story
January 2011 Events
Children's Programs: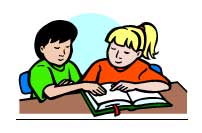 Read to the Dog!: Mon evenings, Jan 10, 24, and 31 @ 7:00-
7:30 pm in Children's Corner. Come in and read to our doggie friend, Bailey, who loves to listen to stories read to him by children! A real treat for school-age children that also improves their reading skills.

Game Day for Children, sponsored by TAB: Wed, Jan 26 @ 4:30pm after the first session of Homework Help. Board games, cards, Twister, and more! Free of course!

"Music & Movement" Programs: Tue mornings, Jan 4,11, 18, and 25@ 10:30am, & Thu mornings, Jan 6, 13, 20, and 27 @ 11am. Songs, finger plays, and fun! Popular class sponsored by La Habra School Readiness Program. Young Artist program follow Music & Movement Tue @ 11:30am. Join us!

Family Storytime: Tue evenings, Jan 11, 18, and 25 @ 7:00pm. Books, songs and finger plays for pre-schoolers, siblings, and parents. No sign up is necessary. Meet in the Picture Book area of Children's Section.

Homework Help: Mon through Thu-- High school volunteers help elementary school children with their homework Monday through Thursday in the Library Meeting Room. Parents need to register their students at their first session. Mon-Thu -- Session One meets 3:30 pm to 4:30 pm; Session Two meets 4:30 pm to 5:30 pm. Homework Help will return on Tue, January 10, 2011.

ABC Kids' Pre-school Story time: Wed, Jan 12, 19, and 26 @ 10:30am. We welcome children and caretakers to come and enjoy books, songs, finger plays, and a craft in our Library Meeting Room. We work to build pre-reading skills in the children and to help parents to learn these skills to use at home. No registration necessary.
Teen Events
TAB Meetings: Sun, Jan 9 and 23 at 1pm. Meet for fun, food and fellowship in the meeting room.


Homework Help Tutor Training: Sat, Jan 8 @ 12 Noon to 4pm in the Library Meeting Room. Please check with Jill or Sylvia. Returning Tutors attend 3 to 4pm.
Adult Programs
Book Club: American Lion: Andrew Jackson in the White House, by Jon Meacham . Wed, Jan 26 @ 1pm. Bring your lunch and join us in the Library Meeting Room.
COUNTY COMMISSIONS AND COMMITTEES
The 4th District has vacant appointments on the following commissions or committees:


OCTA Special Needs Advisory Committee
Waste Management Commission

If you are interested in serving on one of these committees, please call Audra Adams at (714) 834.3998.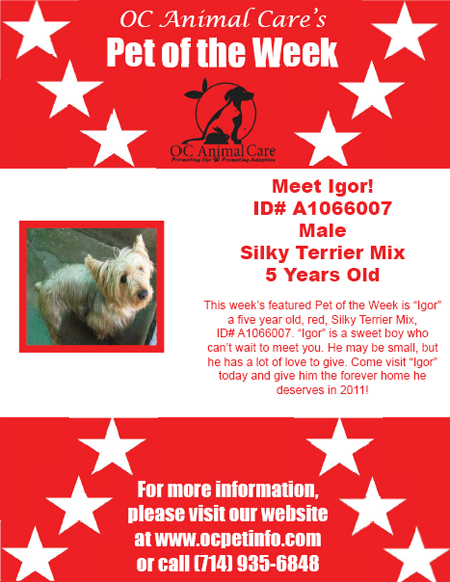 For questions or comments regarding Nelson's E-News
please contact the Supervisor's office staff:
Audra Adams Ph: 714-834-3440 Email: audra.adams@ocgov.com