Welcome to the 6th Edition of Nelson's E-News!

Dear Friends,

I hope you all had a great Labor Day weekend and now, having marked the unofficial end of summer, the transition to fall is coming up quickly. There has also been plenty happening at the County since you received my last newsletter.

One event synonymous with the fall is the return of a new academic year with thousands of students returning to class. Therefore, to kick off the 2010-11 school year on a safe note, my office has partnered with high schools throughout the Fourth District to raise awareness about the dangers of DUI and to prevent their occurrence among students.

One of the most pressing issues affecting residents of the Fourth District is the annexation of unincorporated "islands" into neighboring cities. These islands are scattered throughout the County and can be home to substantial populations, sometimes thousands of people. Since they've never became or joined a city during Orange County's 121-year history, the County continues to provide services, such as public safety, to them. The question of annexation is often hotly contested as residents living within unincorporated areas see both advantages and drawbacks to annexing into adjacent municipalities. There were two significant developments in the past few weeks regarding islands in the sphere of influence of Anaheim and La Habra.

I also had the opportunity to once again tour the Fourth District. Recently, I visited the Boys & Girls Club of Buena Park to see first-hand the terrific work being done to help our youth. In addition, I was interviewed by CNN Headlines where I discussed various topics of County-wide significance. Please find details of its airing, as well as these other important topics, below and tune in!

Sincerely,
Shawn Nelson.
Broadway / Thistle Annexation Fails

On September 2nd, 2010 the Anaheim City Clerk counted the ballots from the recently completed mail-in vote to determine whether or not the "Broadway/Thistle" portion of the large, unincorporated "island" surrounded by Anaheim would be annexed by that City.

By a vote of 84-35, the annexation question was soundly defeated by residents. "Island" resident Nancy Francis, noted succinctly: "Twice in five years Islanders said no to annexation. That should say something."
La Habra Islands Annexation Moves Ahead

At its September 15th meeting, the Orange County Local Area Formation Commission (LAFCO) voted to recommend annexation by the City of La Habra of two parcels of unincorporated territory.

The recommendation, involving the "Chestnut" and "Hensel" islands, should be taken up by the La Habra City Council this fall.

Large majorities in each of the two islands participated in meetings facilitated by Supervisor Shawn Nelson over the summer, and are supportive of annexation.
Supervisor Nelson visits the Boys and Girls Club – Buena Park

Special thanks to Bruce Hird and Rick McCauley, Chief Operations Officer and Board member respectively, for their one hour tour and technical briefing on the operations of the 50 year old Knott Avenue facility that remains a landmark of service and children's recreation-education for the City of Buena Park. The after-school teen study center, computer research room and the rock-climbing wall are just a couple of the amenities that the facility offers.

The next chapter for the center is an expansion of the facility for a new teen center that will be attached to the east side of the complex and accessed by a new road proposed to allow cars ample parking and teens a protected center to study, work in the computer rooms, host dances and enjoy socializing in a protected environment.

Companies or sponsors interested in assisting this terrific center are welcome to contact Bruce Hird at his office number of (714) 522-3042 or Supervisor Nelson's Office at (714) 834-3440.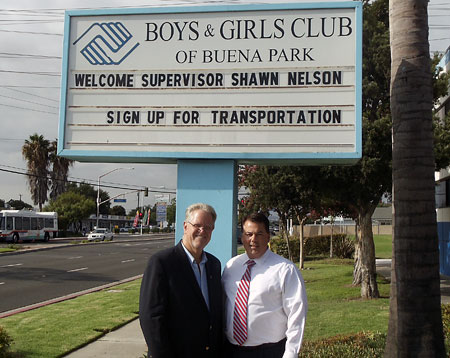 Alongside Supervisor Nelson is Bruce Hird as they pause
for a photo under the Boys and Girls Club sign.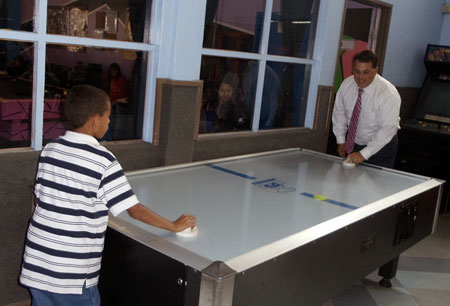 Supervisor Nelson took a moment to play a competitive
air hockey game with one of the boys at the center.

Above, Supervisor Nelson is discussing the expansion plans
with Rick McCauley and Bruce Hird.
Supervisor Nelson's High School DUI Prevention Program

A new 4th District program is called "ASB vs DUI" and is the first of its kind in the county. Supervisor Nelson is coordinating his staff, county agencies, and local high school ASB council members.

ASB members are some of the most influential students on campus, so it's a natural fit to partner with student leaders and help them set a zero –tolerance attitude at the start of the school year.

Each ASB member was provided with Supervisor Nelson's contact information at his County offices including a 11x17 poster with information about the legal consequences of DUI violations and a personal invite to attend the County's September 25th Red Ribbon Training course on "Alcohol and Drug Education Prevention" that is put on by the Health Care Agency. The event will be held at South Junior High, 2320 East South St., Anaheim. Students are welcome to register at (714) 834-4194 or email Mepham@ochca.com.
Attention 4th District! Please tune in on October 1,2 and 3!

Supervisor Nelson will be featured on Time Warner's CNN Headlines discussing
John Wayne Airport improvements, Pensions, and OC Parks.
SUPERVISOR NELSON'S CERTIFICATE CORNER
Congratulations to Anaheim High School and the 10 student-scholars who received the Simon Family Foundation Scholarships worth $30,000
Michelle Aleman - Michelle Alonzo - Edwin Hernandez

Tri Ho - Jennifer Katekintha - Humberto Lopez
Nubia Morales - Guillermo Pineda - Ruby Rodriguez - Naomi Sanchez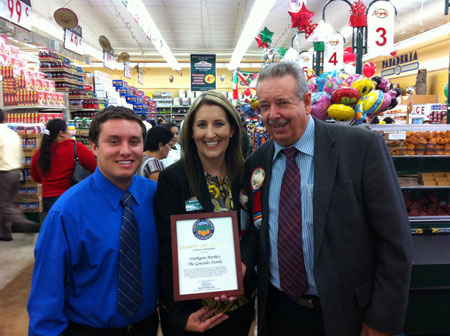 Pictured above is Nelson staffer Nick Constantino presenting an award to Alicia Valadez and Miguel Gonzales at the Northgate Market Ribbon Cutting in the City of Placentia
Please contact our office if you know of an individual who deserves recognition for outstanding community or public service.
Contact: Steve Spernak at 714-834-3440.
COUNTY COMMISSIONS AND COMMITTEES
The 4th District has vacant appointments on the following commissions or committees:


Mental Health Board (3 year term)


Public Financing Advisory Committee (3 years)


OC Cemetery Board of Trustees (4 year term)

If you are interested in serving on one of these committees, please call Audra Adams at (714) 834.3998.
Pet of the Week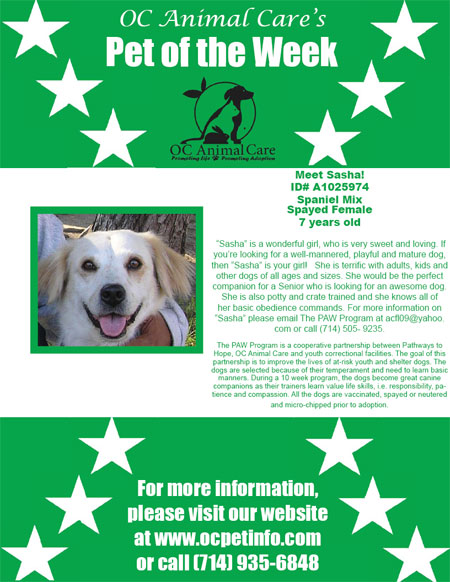 4th District Resturant of the Week

Supervisor Nelson has chosen Neel Kamal in Buena Park as the 4th District Restaurant of the Week!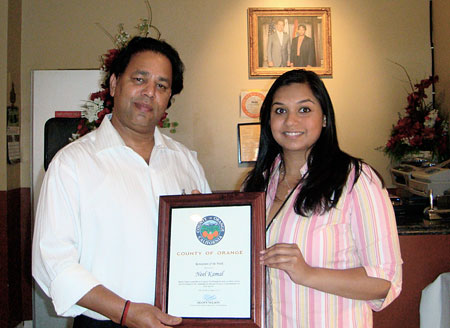 (Above) Nelson Staffer Neha Sata presenting Neel Kamal's owner with a Certificate of Recognition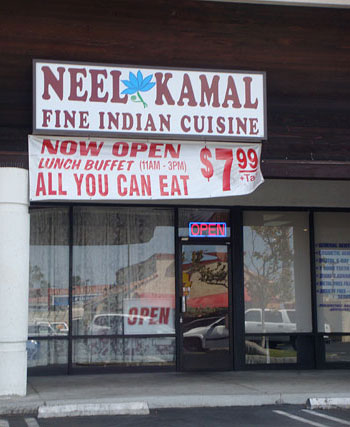 For questions or comments regarding Nelson's E-News
please contact the Supervisor's office staff:
Audra Adams Ph: 714-834-3440 Email: audra.adams@ocgov.com