November 9, 2010
Volume 1, Issue 7
NELSON TEAM
Denis Bilodeau
Chief of Staff

Audra Adams
Policy Advisor /
Communications Director

Steve Spernak
Policy Advisor

David Zenger
Policy Advisor

Mark Lopez
Executive Aide
---


Welcome to Nelson's E-News!

Dear Friends,

I am humbled and thankful to the Fourth District voters for returning me to the Orange County Board of Supervisors for a full four-year term last Tuesday, November 2 with over 63% of the votes cast. I am proud to have the voters' confidence now for the second consecutive election in less than five months and I look forward to continuing to serve and represent my constituents at the County level.

Despite this momentary disruption, I was still fortunate enough to make time to serve the residents of the Fourth at two exciting and successful events. Please continue reading for details of the OC Parks Sports Day in Fullerton and the Anaheim Health Expo. If you were unable to attend either of them, however, it is my hope that you will continue to check this newsletter regularly for updates and information about future community happenings.

This has also been a busy time for the County with many important items coming before the Board. For your benefit, I have included in this newsletter a concise list of some of the most significant items that I have voted on recently along with explanations of their impact and justification for my votes. I also had the opportunity to join Supervisor Moorlach as he toured the ongoing John Wayne Airport improvement program. The completion of this half-billion dollar project to open a third terminal at the airport is expected next year. Please find photos and information of the progress below.

Finally, there were many special recognitions and certificates that my office was pleased to award these past few weeks to outstanding individuals and businesses in the district.

Thank you for taking the time to read this newsletter and thank you once again to my constituents for your vote of confidence for the next four years. I look forward to serving you and hearing your feedback during my term.

Sincerely,
Shawn Nelson.
OC PARKS SPORTS DAY - OCTOBER 10
The OC Parks Sports Day Event held at Craig Park in Fullerton attracted families all across the County for a chance to get tips and lessons from professional athletes and meet their County Supervisor, Shawn Nelson. Supervisor Nelson was also among the football coaches and offered advice to the kids that went around the various booths and sports of their choice. Coaching alongside Supervisor Nelson were former USC standout running back Anthony Davis and former Angels pitcher David Frost. Also volunteering their time at the event were the LA Galaxy Soccer Street Team, Cal State Fullerton woman's volleyball team, Hope International University's softball team and Rocky Carson, three-time World Outdoor Singles Champion in racquetball.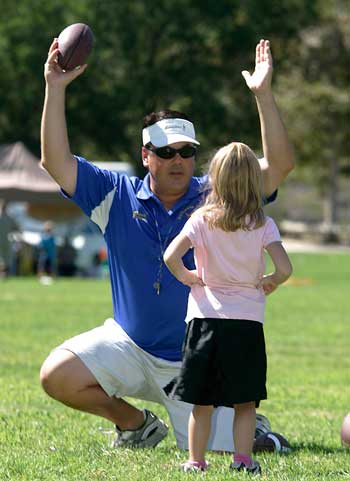 Orange County Fourth District Supervisor Shawn Nelson gives a
touchdown sign to Chloe Montera after she successfully kicked a
field goal during Sports Day at Craig Park in Fullerton.
On Monday, September 27, the OCTA Board adopted the 2010 Transportation Enhancement Priority List of Projects. Among the bicycle and pedestrian facilities projected for funding were the Santa Ana Canyon Multi-use Trail and Edison right-of-way Bike Path, both in Anaheim; and the Bastanchury/Valencia Mesa Bike Path, in Fullerton.


On Tuesday, September 28, Supervisor Nelson initiated discussion at the Board of Supervisors about a policy that would move all newly elected Orange County officeholders to a defined contribution retirement plan similar to the 401K programs in which most private sector workers with retirement plans participate. After a lively and informative debate, the Board directed CEO Tom Mauk to develop the parameters for future discussion that will help coalesce the policy decision.


Also on Tuesday's agenda was an item for approving the concept of financing Sheriff-Coroner facilities though Federally subsidized bonds. The issue was continued for further discussion, including defining appropriate projects. The policy of financing relatively minor projects and those that are essentially maintenance items is problematic, even with Federal subsidy. This item will be monitored closely by Supervisor Nelson.


On October 5th the Board of Supervisors agreed to a twenty year deal with Psomas/FMG to build and operate solar energy systems on several County facilities and that electricity will be sold to the County. The proposal was approved on a 3-2 vote with Supervisors Moorlach and Nelson opposing the deal.The agreement is based on the assumption that the Psomas/FMG price escalation will be lower than that which Southern California Edison would apply to the County over the same period, and that the County can get credit from Edison for supplying excess generation back to the grid in a process known as "net metering."Supervisor Nelson opposed the scheme because the term of the contract was too long, because of unforeseen energy development technology, because of an impending County-wide alternative energy study, and because of a potential Department of Energy loan guarantee grant that would provide highly favorable financing for the County to develop its own systems.


Nelson Designates Prop. 1B Allocations in Anaheim, Buena Park and La Habra: For the latest Proposition 1B 4th District allocation, Supervisor Nelson has proposed storm drain/street repair projects in two unincorporated County areas. The Creek Lane project is located in one of the La Habra "islands;" the Ashgrove project is in the unincorporated area adjacent to Buena Park and the County line. Both projects will replace failed corrugated metal pipe with reinforced concrete pipe, as well as related street repair. These projects augment two previously approved projects at Stonybrook Lane in the Anaheim Island, and Palm Street, also in unincorporated La Habra. Construction on these projects is tentatively scheduled for 2011-2012.
JWA Construction Tour

Supervisor Nelson completed his walk-through tour of the JWA airport improvement program with JWA Director Alan Murphy, Project Manager Larry Sarafini and Construction Director "Katch" Tchapadrian as part of his orientation-briefing on the largest public works program happening in OC.

Supervisor Nelson was impressed with the incredible scope and complication of the renovations that will modernize the airport as it becomes a national model of citizen-centric operations and modernization for the arrival-delivery of passengers, parking access, food centers, advanced security and baggage screening systems that the TSA, US Customs and Border Patrol have designed and overnight jet parking.

The project is expected to be completed in August 2011 and will stand as a model for 21st century aviation with state of the art power, utility plants, cooling towers, emission control and heat recovery systems that drive compressors that can cool the aircraft and airport with maximum efficiency.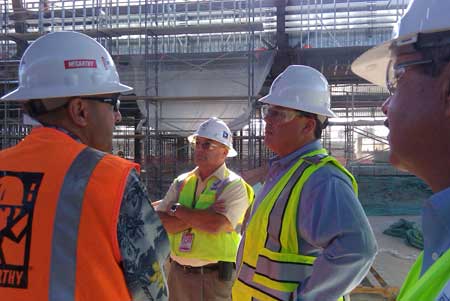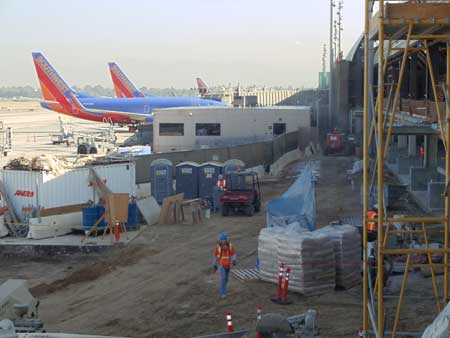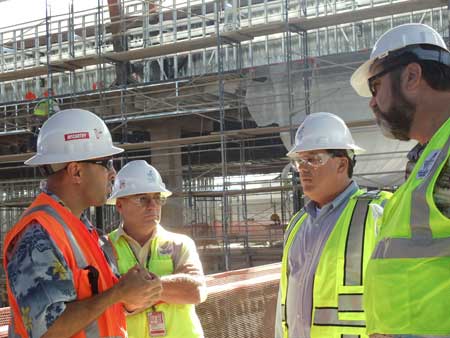 To show his support for Bruno Serato and the Catarina Boys and Girls Club fundraiser, Shawn attended the Friday morning KFI 640 Bill Handel Show where he went on the air to appeal to residents in Orange County to drop by the live-remote event and daylong donations effort at the White House Restaurant. The program raised $72,000 that will go entirely to purchasing food that Bruno prepares for 150 low-income and homeless children in Anaheim.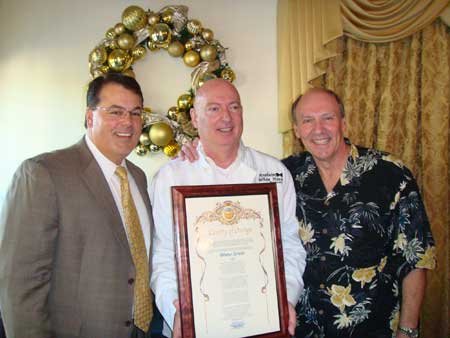 Shawn presents White House owner and chef Bruno Serato and KFI host Bill Handel with commemorative certificates of recognition for their 5 hour effort to raise $72,000 to feed the homeless and low-income children in Anaheim. The certificate included comments of appreciation by Shawn on behalf of the residents of the 4th District centered around the text of the inspirational poem "IF" by Rudyard Kipling to honor the selfless work of Bruno and Bill helping 'where a man never stands taller than when he stoops to help a child'.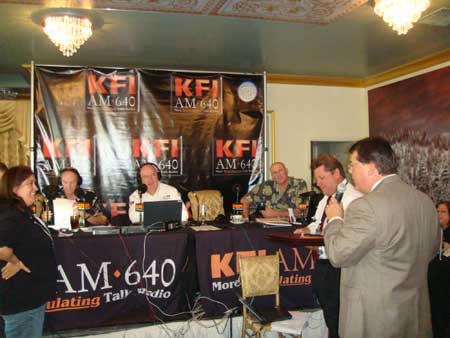 Supervisor Nelson Partners with Health Care Agency and Senator Lou Correa for Anaheim Health Expo:

Supervisor Nelson completed his first community health and fitness expo in cooperation with the Office of Senator Lou Correa to bring medical and vision screening and access to 21 health providers to low income and homeless residents in Anaheim.

Hosted at Maxwell Park, the expo featured doctors and medical technicians who provided free services and screenings that resulted in 4 people being referred to surgery for cataract and cornea operations. Approximately 100 pairs of free glasses will also be provided to residents who will pick up the donated lenses in two weeks. Approximately 1,000 residents attended the daylong expo.

Supervisor Nelson's office provided printed literature on county services, resources, smoking prevention and alcohol abuse counseling. Adjacent to Supervisor Nelson's booth were representatives from the Council on Aging, OC Healthcare, UCI, Dayle Macintosh Center, Cal State Fullerton, OC Social Services, Kaiser Permanente, CHOC, ABRAZAR, the OC Public Health Nurses and the American Red Cross.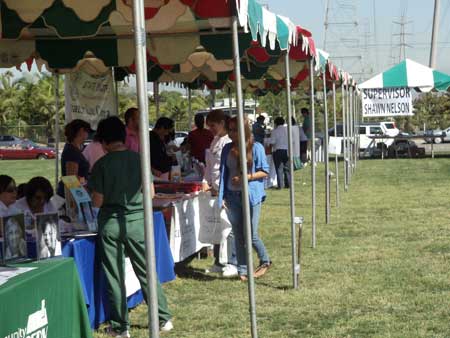 City to Honor Veterans and Current Military Members

BUENA PARK, California (November 10, 2010) – Military veterans as well as men and women currently serving in the military will be honored at the City of Buena Park's Veterans Ceremony, taking place at 2:30 p.m. at the Veterans Memorial, behind the Walter D. Ehlers Community Recreation Center. Medal of Honor recipient Walter D. Ehlers, will be part of this colorful commemorative for those who are or have served and protected the United States. The public and media are invited to this spectacular event which has an added important tribute this year.

In addition to honoring our veterans, the city will be placing a beautiful monument naming 17 men who listed "Buena Park" as their home of record, and have made the ultimate sacrifice for our nation by laying down their lives in battle. There will be a 21 gun salute, reenactors in period uniforms, a bag piper and bugler to name a few who will be involved in this heartfelt tribute.

All veterans will be asked to come to the "Heritage Hall" behind the recreation building and sign in prior to the event at 1 p.m. If you need more information about the event, contact Kim Garber, at 714-236-3870 at the Buena Park Senior Activity Center or VFW Post Commander, John Muller at 714:223-2143.

One local man killed in Vietnam, by the name of SP4 Sammy Burrola, Jr. will have his family there to help with the unveiling of the memorial stone with 16 other Fallen Warriors names. SP4 Sammy Burrola, Jr. earned the Combat Infantryman Badge, the Bronze Star, the Purple Heart, the National Defense Service Medal, the Vietnam Service Medal, the Vietnam Campaign Medal and the Vietnam Cross of Gallantry with Palm Unit Citation.

Come and enjoy this event, feel proud and give honor to our Veterans. You can visit the current Veterans Memorial at the Walter D. Ehlers Community Recreation Center at 8150 Knott Ave, Buena Park, CA 90620. Better yet, visit our new web site www.bplegacy.org where you can gather information and photos of many of our events or visit the city web site at www.buenapark.com.
SUPERVISOR NELSON'S CERTIFICATE CORNER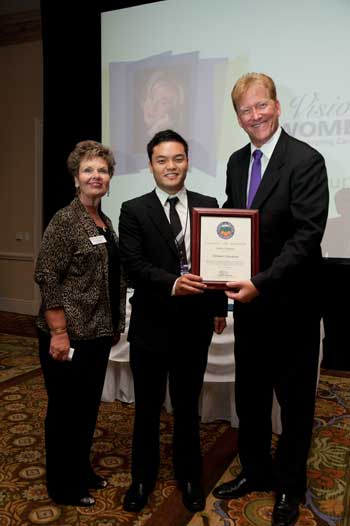 (Above) Sam Han presenting a certificate of Recognition to the Alzheimer's Association in honor of their 4th Annual Visionary Women's luncheon which is dedicated to caregiver's all around Orange County. The award is presented to Jim McAleer who is the CEO of the Orange County Alzheimer's Association Chapter as well as to Chris Schaefer (left) who is their Public Policy Specialist and a Placentia Native.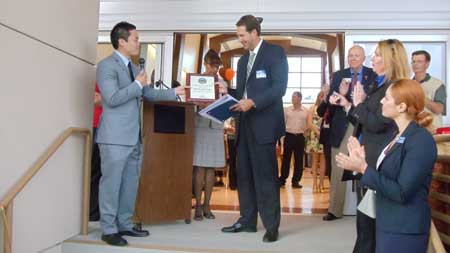 Nelson Staffer Samuel Han presents the CEO of Placentia Linda Hospital, Kent Clayton, with a Certificate of Recognition in honor of their Ribbon Cutting of their new facilities. Other representatives from various Elected Officials were present along with members of the Placentia Chamber and City Council.
Certificate of Recognition delivered to Principal Jason Alleman of Katella High School for his outstanding leadership and the entire school's participation in securing the Governors Fitness Challenge as first place winner of the Governor's Fitness Challenge for all the high schools in California. The students exercised 30 to 60 minutes a day, at least 3 days a week for the month-long challenge and helped Anaheim Union High School District secure the coveted ' School District of the Year' for having half the county's 24 finalists in the competition.


Certificate of Recognition delivered to Chief Alan Hostetter, Chief of Police, La Habra PD, Retired.


Certificates of Recognition for National Achievement in the Semifinals of the National Merit Scholarship competition for scoring at least a 219 on PSATs: Sarah M. Hightower, Maya D. Jackson, Hailey M. Logan, Andrea-Gale, O. Okoro, Zeleka Shawel
Please contact our office if you know of an individual who deserves recognition for outstanding community or public service.
Contact: Steve Spernak at 714-834-3440.
COUNTY COMMISSIONS AND COMMITTEES
The 4th District has vacant appointments on the following commissions or committees:


Mental Health Board


Public Finance Advisory Committee


Waste Management Commission


Development Processing Review committee


Orange County Historical Commission

If you are interested in serving on one of these committees, please call Audra Adams at (714) 834.3998.
CIGARS FOR HEROS - UPDATE

US Army Staff Sgt Marc Arizmendez's Company Receives "Cigars for Heroes' Package In Germany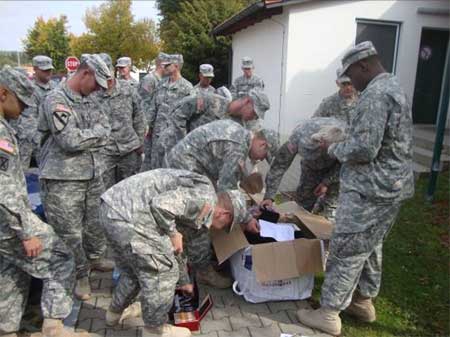 Open letter of appreciation to donors, friends, Veterans received at Supervisor Shawn Nelson's Office.

Classification: UNCLASSIFIED
Mr. Nelson,

I would first and foremost thank you and Orange County for sending the donated items to our unit here in Hohenfels, Germany. Losing SSG Marc Arizmendez was a sad day for our platoon, his family, and our country. The items that were sent arrived to our unit right before leaving country and we were unable to open them until we were back in Germany. All of the items were still in great order and my soldiers really appreciated all the good treats and woven hats that were sent. Those will help out greatly here in Germany once winter really sets in. Most of all we made sure that SSG Arizmendez's wife was present when we opened the boxes and she is in a couple of photos.

Nothing can express the appreciation of knowing that fellow Americans back stateside are supporting us not only in good times but when it matters the most and a fellow patriot has died. I am thankful to your office and to the group of Americans you represent along with knowing that the Arizmendez family will be taken care of with Marc gone.

Thank you again and attached are some photos of my soldiers with the donated items.

Sincerely,

MATTHEW K HILDERBRAND
CPT. IN
D CO. 1-4 IN
HOHENFELS, GERMANY
Classification: UNCLASSIFIED
Pet of the Week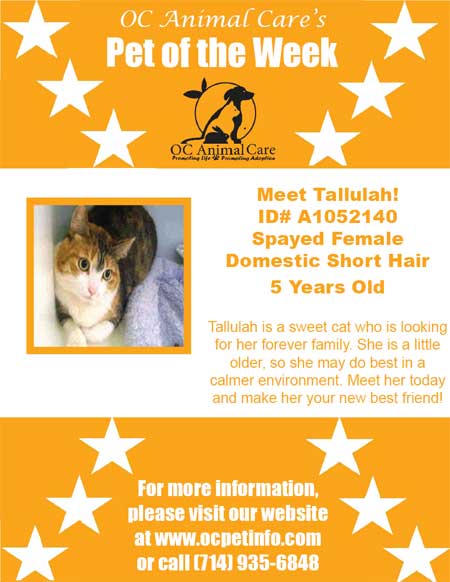 For questions or comments regarding Nelson's E-News
please contact the Supervisor's office staff:
Audra Adams Ph: 714-834-3440 Email: audra.adams@ocgov.com