Welcome to Nelson's E-News!

Dear Friends,

I hope you all had a happy and safe Thanksgiving weekend with your loved ones!

With Thanksgiving occurring last Thursday, I took some time to pause and reflect on all the things for which I am thankful. Foremost among those things to be thankful for is the abundance of freedoms we all enjoy living here in the United States. Also occurring in the month of November, appropriately, is a day in which we celebrate and honor those who have preserved those freedoms. I had two opportunities to honor those who served our country by participating in ceremonies recognizing our veterans for their selflessness and sacrifice, held in Fullerton and Buena Park. Pictures and details of the ceremonies can be found below.

During this season of service, it is also important to remember those who work tirelessly to keep us safe locally as well as abroad. On November 18, I attended a curfew sweep, part of a county-wide effort by authorities to prevent gang activity and keep our communities safe. I had the opportunity to meet and talk with several officers, many volunteering their time, who patrolled late into the night, long after many of us went to bed.

Personally, I was honored to participate this year by serving in my first Thanksgiving Day food delivery program with Frank Garcia and his "We Give Thanks" foundation. This event provides meals to 15,000 Orange County homeless and underprivileged families at the Honda Center in Anaheim. I have included photos of the event below. Those of you who would like to donate through the Christmas holiday are welcome to contact my office staffer Steve Spernak (Steve.Spernak@ocgov.com).

A second opportunity for those desiring to contribute food or finances to benefit those in need is available through White House Restaurant owner Bruno Serato, who prepares meals nightly for 150 motel children from his Anaheim kitchens. In this era of challenging financial uncertainty, every dollar you give goes directly to making a difference, be it a single wholesome meal or the smile that comes with a simple unexpected act of compassion.

Finally, to keep you updated on the latest County news, I have highlighted a few select items from last week's Board of Supervisors meeting. These items inspired some lively debate and I hope you will find the following summary informative. During the November 9 Board meeting, I presented a certificate of recognition to long-serving commissioner Frank Brix. Mr. Brix served on the Orange County Cemetery District for 24 years and his experience and knowledge will be greatly missed.


Sincerely,
Shawn Nelson.
At the November 23 meeting, the Board of Supervisors passed an ordinance banning the sale and dispensing of marijuana in the unincorporated areas of Orange County.


The new law passed 4-1 with Supervisor Nelson dissenting. The Supervisor objected to the practice of using zoning/use restrictions for activity already deemed criminal, and noted that the dispensing of marijuana is an activity included in Proposition 215, the "Compassionate Use Act" of 1996.


Also discussed at the meeting was a proposal by Supervisors Nelson and Bates to introduce a revised ordinance addressing lobbying activity. The proposed ordinance was directed at lobbying activity, per se, rather than by time or income. The issue was passed to the County CEO and the County Counsel to further develop the proposal addressing concerns raised by other supervisors.


Finally, the Board approved a plan to privatize the County staff who currently support the OC Human Relations Commissions. The action will provide savings to the County as well as provide a level of funding to support the Commission.


The board meeting can be viewed in its entirely at www.ocgov.com. There is a "Board Video" link on the right side of the home page.
In a recent Orange County Transportation Authority meeting Supervisor Nelson supported the Regional Traffic Signal Synchronization Program that will improve the flow of traffic throughout the county. The program will be conducted as a part of the countywide Measure M transportation project that was approved by voters in 2006. Below is a map of the streets and highways that will be improved by the program. Click to see full view of map.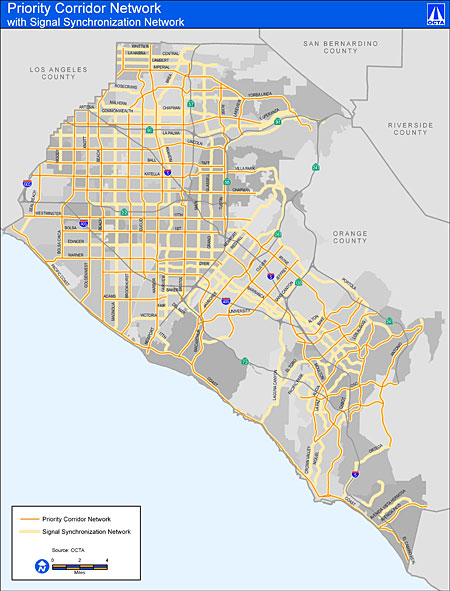 "We Give Thanks" Foundation

Supervisor Nelson serving the community

Supervisor Nelson alongside Frank Garcia, founder of "We Give Thanks Foundation"

"We Give Thanks" Community Thanksgiving Dinner. Coordinated by Kent French of the Anaheim Ducks/Honda Center
Veterans Day Celebration

Supervisor Nelson made two appearances last week in tributes to American servicemen and women who give their time and lives in our defense.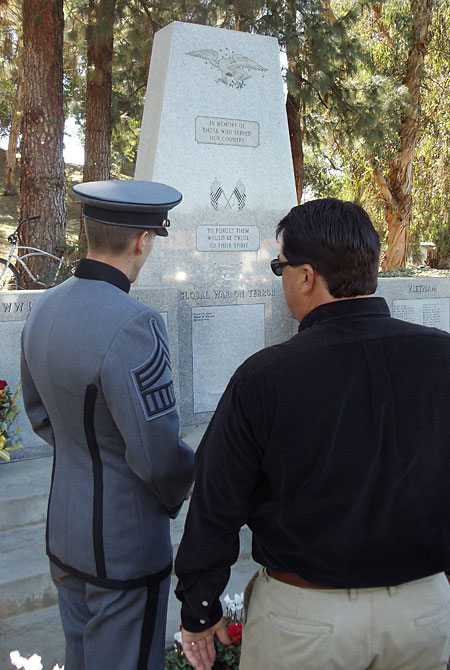 At the Fullerton War Memorial after marching in the Veterans Day Parade with Supervisor Nelson, US Army Academy Senior Cody Van der Raadt learns the history and sacrifice of Fullerton's fallen military patriots whose names are engraved for all eternity to honor.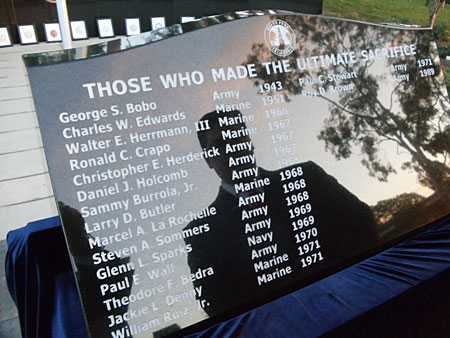 At the Buena Park War Memorial Wall, Supervisor Nelson is reflected in the history of 17 men from Buena Park who gave their lives in heroic conflict with the enemies of democracy going back to 1943.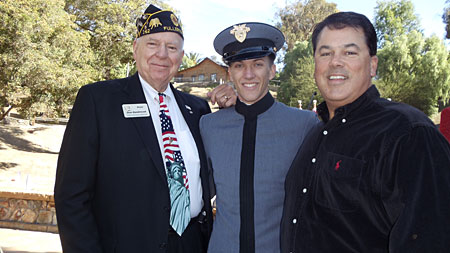 Joined by Fullerton Mayor and Master of Ceremonies Don Bankhead and Supervisor Nelson, Cadet Van der Raadt shares a proud moment of appreciation for his 4 years at the US Military Academy in preparation for his career defending America.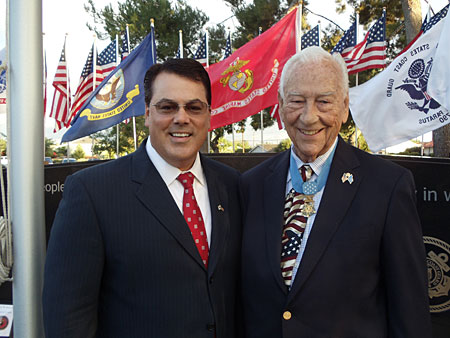 Lastly, Nelson was proud to stand next to Congressional Medal of Honor recipient Walt Ehlers who helped Shawn dedicate the newest names added to the Buena Park Memorial Wall. He made posthumous presentations to 3 Buena Park families who lost sons and fathers in Vietnam in a tearful tribute that honored their ultimate sacrifices over 40 years ago.
Curfew Sweep

Supervisor Nelson was honored to attend the 9 pm briefing of Officers and Deputies from 18 agencies who were part of the recent county-wide curfew sweep in cooperation with the District Attorney's GRIP (Gang Reduction and Intervention Program) to reduce the amount of juveniles on the street from joining gangs, committing criminal acts or defying school district rules with next-day truancy or probation violations.
http://www.ocregister.com/news/kids-276782-parents-orange.html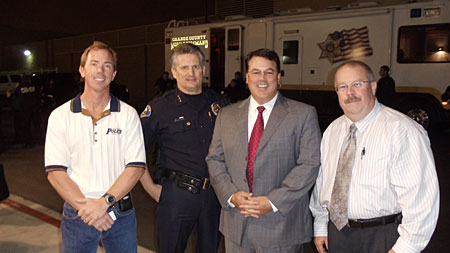 Joining Supervisor Nelson are Placentia Detective Lt Dale Carlson, Anaheim Asst Chief Craig Hunter and Placentia Captain Ward Smith.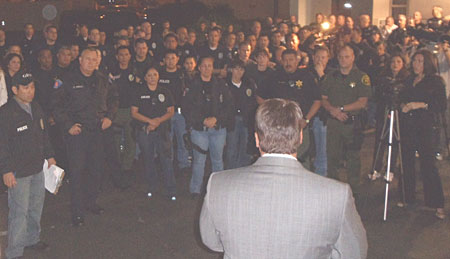 Supervisor Nelson addressed over 300 law enforcement officers with an explanation of how vital their efforts were that night to deter gang activity, promote safer streets and interrupt negative behaviors that lead to crime, drug abuse, prison or funerals.
SUPERVISOR NELSON'S CERTIFICATE CORNER

(Above) Supervisor Nelson presented Frank Brix with a Resolution commemorating his service on the Orange County Cemetery District. Brix was appointed to the Cemetery District in 1986 and served as its Chair in 1990, 1994, and 1999. Brix's 24 years of service on the Cemetery District brought improvements and care to the El Toro Memorial Park, substantial contributions to the Santa Ana Cemetery, and oversight to the project of beautification of the Anaheim Cemetery. In honor of his retirement, the Supervisors also recognized Brix for his 24 years of dedicated service at their weekly Board Meeting on November 9th, 2010.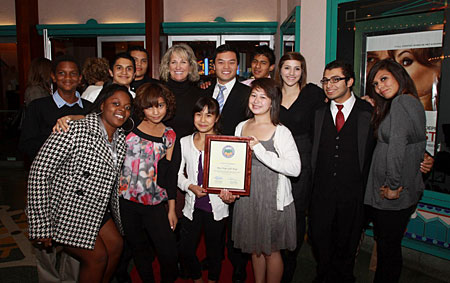 Nelson staffer Samuel Han presents Robin Sinclair and the boys and girls of BoysHopeGirlsHope a Certificate of Recognition on their Red Carpet Premier of Extreme Makeover Home Edition. BoysHopeGirlsHope is a non-profit organization that houses academic scholars around the country who come from broken families. Many of these boys and girls live in gang violent neighborhoods and seek refuge in a BoysHopeGirlsHope sponsored home where they receive warm meals and mentors. The girls in this photo belong to a BoysHopeGirlsHope in Fullerton, Ca. For information on how you can help this organization, please contact RSinclair@bhgh.org.
Please contact our office if you know of an individual who deserves recognition for outstanding community or public service.
Contact: Steve Spernak at 714-834-3440.
COUNTY COMMISSIONS AND COMMITTEES
The 4th District has vacant appointments on the following commissions or committees:


Mental Health Board


Public Finance Advisory Committee


Waste Management Commission


Development Processing Review committee


Orange County Historical Commission

If you are interested in serving on one of these committees, please call Audra Adams at (714) 834.3998.
ORANGE COUNTY GRAND JUROR - MAKE A DIFFERENCE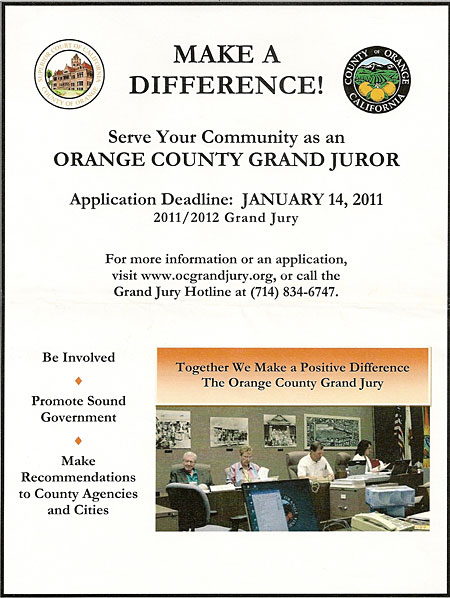 Pet of the Week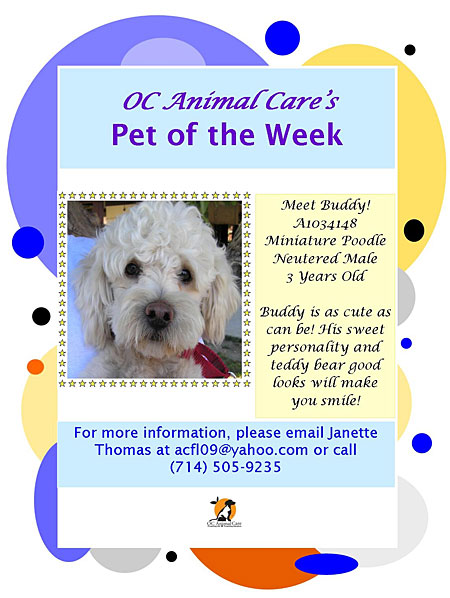 For questions or comments regarding Nelson's E-News
please contact the Supervisor's office staff:
Audra Adams Ph: 714-834-3440 Email: audra.adams@ocgov.com