Welcome to Nelson's E-News!

Dear Friends,

Welcome to my last newsletter for the year 2010. Thank you for continuing to read my periodic missives throughout the last six months. I hope that you have benefited from receiving my newsletter as much as I have appreciated the opportunity to distribute it to you to keep you updated on the goings-on at the County.

Please continue reading for an update on a few of the actions taken by the Board during the last regular meeting of the year, on Tuesday, December 14. There were many important items up for discussion, and I hope you find the following summaries and justifications for my votes informative.

Despite this busy holiday time, between Thanksgiving and Christmas, I was fortunate to once again have the chance to visit parts of my district and the County. Below, please find pictures of my attendance at the La Habra High School football game with members of the US Army Reserve, my tour of the former MCAS Tustin base and opportunities I had to serve residents of senior centers in both Buena Park and Fullerton.

I have truly enjoyed my first six months of service on the Orange County Board of Supervisors during 2010 and look forward to an increasingly productive and successful 2011. I remain deeply committed to working with my colleagues on the Board next year and to responsibly representing my constituents in the Fourth District and the residents in all of Orange County.

Our next regular meeting is scheduled for Tuesday, January 11, 2011, at 9:30am, at which time the Board will elect its 2011 officers.

Have a happy holiday season and a safe new year!


Sincerely,
Shawn Nelson.
At its December 14 meeting the Board of Supervisors approved an agreement with The Children and Families Commission to recruit and hire an Executive Director for the End Homelessness 2020 Commission, and pay half the cost for that person. The vote was 4-1 with Supervisor Nelson dissenting.

The proposal was a clear contradiction of the original solicitation of funds approved by the Board on September 28, that clearly established that funding for the executive director position was to be a "public/private partnership" and not 100% publicly funded. Furthermore, the staffing by an outside agency of a commission that reports to the Board of Supervisors is an untenable abdication of Board responsibility and accountability.


In other action, the Board voted 4-1 to approve an incentive bonus to IT services contractor ACS of $254,609. Supervisor Nelson voted against the granting of the bonus because it was not clear that the contractually stipulated procedures to create the necessary survey had been performed.


The ad-hoc Redistricting Committee made its report to the Board which, in turn established the process for redistricting that must be performed after each national census is complete. A committee made up of appointees from each Board office will conduct public hearings throughout 2011 and develop the boundaries for new districts according to demographic changes and identified communities of interest.
HEALTH CARE AGENCY UPDATE
The Health Care Agency has opened recruitment for the consumer seat on the CalOptima Board of Directors. Interested parties may contact my office for information on how to apply. Application deadline for the position is December 30th at 5pm. To be eligible the candidate must be served by CalOptima or other health care consumer; or be a representative of an organization representing the population of consumers served by CalOptima, or a purchaser of health care; and be residents of, or employed in, Orange County.

The Board of Directors meets once a month in addition to quarterly Finance and Quality Assurance committee meetings.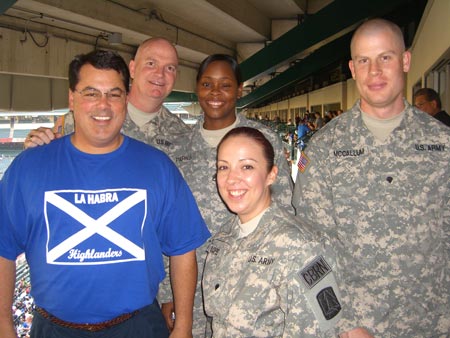 Nelson Cheers on La Habra HS to 4th CIF Championship:

Supervisor Nelson attended the La Habra-Tustin CIF Southwest Division Championship Saturday and cheered with thousands of parents, alum and City Council members where he savored their 35-26 second half comeback. That win garnered them their 4th consecutive CIF championship. Members of the US Army Reserve western regional bio-terrorist response command joined Supervisor Nelson for the game (picture above). This is the 6th CIF title for the 11-3 Highlanders who joined Santa Ana and Mater Dei as the only county teams to win at least 6 CIF championships. Congratulations to both of these 4th District Champions, their parents, coaches, administration and booster clubs for a terrific season of memories.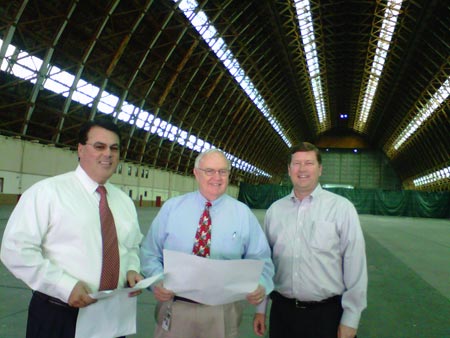 Supervisor Nelson (left) along with Supervisor Campbell (center) and OC Parks Director Mark Denny tour the former MCAS Tustin Base.
Supervisor Nelson enjoyed serving food to his constituents and hanging out with Santa at Fullerton's Senior Center this holiday season
(Above) Supervisor Nelson takes a break at the Buena Park Senior Center after serving food at their holiday party
HOLIDAY TOY DRIVE - BUENA PARK
Supervisor Nelson is requesting that friends and associates in the 4th district help the Buena Park Knights of Columbus Council 3526 who will serve Christmas dinner from 9 a.m. to 2 pm this Friday. Along with dinner, each participating needy child or teenager will receive a toy. There will be gently used clothing collections and each family will get a bag of groceries as long as supplies last. Donations such as canned goods, non-perishable foods as well as fresh-frozen turkeys and hams, including money are welcome. Last year the Knights served 800 people and 2010 has an expected 1,000 anticipated patrons. The Knights will accept your donations at 8410 Kass Drive in Buena Park. To help or for more information, please call John Muller at 714 883 1836 or Phil St. Amant at 714 828 5633. You may also email the office of the Supervisor Shawn Nelson at Steve.Spernak@ocgov.com
Send a Christmas Card to an American Soldier!

When doing your Christmas cards this year, take one card and send it to this address. If we pass this on and everyone sends one card, think of how many cards these special people who have sacrificed so much would get. A Great Idea!!!


A Recovering American Soldier
c/o Walter Reed Army Medical Center
6900 Georgia Avenue NW
Washington, D.C. 20307

Supervisor Nelson Sends Christmas to Marine Outpost

Answering a last minute call for assistance from Marlon Chinchilla,
whose brother we honored with "Cigar for Heroes" in August, Shawn and staff
secured personal effects and goodies with a Costco- run to make the
mail-call deadline that will be sent to Marines stationed in the remote regions of
Afghanistan. The Placentia community and neighbors gift-wrapped the care-package contents and got it on its way for a Christmas delivery to two Marine buddies of Cpl Claudio Patino, who was killed in combat operations earlier this year.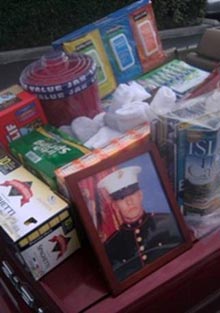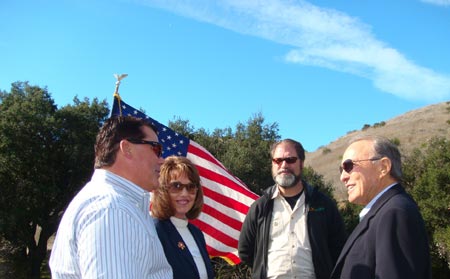 From left to right, Supervisor Nelson, Supervisor Bates, Supervisor Moorlach and Donald Bren all gather for a brief chat before the ceremony of one of the biggest land transfers in county parks history. To read more, please click the link below.

http://sciencedude.ocregister.com/2010/11/30/
bren-on-20000-acres-its-all-yours/115982/

County bans medical marijuana dispensaries - Supervisor Shawn Nelson was the lone dissenting vote, please click link below to read more.

http://www.ocregister.com/news/marijuana-279229-county-medical.html
Maligned county contractor gets $254,609 bonus and Supervisor Shawn Nelson was the lone dissenting vote, please click links to read two stories on this issue from the Register.

http://taxdollars.ocregister.com/2010/12/14/county-contractor-gets-254609-bonus/70414/

http://www.ocregister.com/opinion/bonus-281239-acs-county.html
SUPERVISOR NELSON'S CERTIFICATE CORNER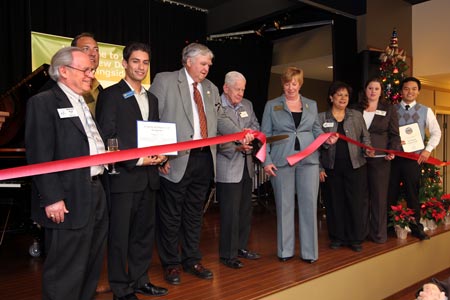 Supervisor Nelson is proud to recognize Morningside on its newest facility, The Lakeview Hall. The latest addition to the Senior Assisted-Living Home is equipped with state of the art computers, a brand new gym and spa, and a huge multipurpose banquet hall where they plan on hosting concerts, dance classes and other events they previously were unable to. Presenting the Certificate of Recognition is District Representative Samuel Han (far right) who stands beside Fullerton Chamber Members, elected officials and James Richards, the President of the Resident Council at Morningside who is seen cutting the ribbon at the ceremony.

Certificate delivered to Placentia United Methodist Church for their prodigious efforts in raising money to build a well for a Kenyan community. The Church hopes to raise at least $4000 by the end of the year. The project was launched with an outreach program at Placentia's annual Heritage Festival in October and congregation members are encouraging people to donate in someone's name in lieu of buying a Christmas present.
Certificate delivered to Cal State Long Beach political science major Dina Alhayek for winning an award at the International Model United Nations Conference.
Certificate delivered to Kristie's Foundation for their efforts in helping a family get back on their feet after their 14 year-old daughter passed away due to complications from a bone marrow transplant. Kristie's Foundation provided food and shelter to the family in their hour of need.
Certificate delivered to Anaheim Police Department's Cops 4 Kids program to recognize their community service to families and children. This year, their program hopes to exceed last year's holiday contributions of gifts to more than 600 children and turkey dinners to more than 125 families.
Restaurant of the Week
Supervisor Nelson has chosen Portillo's as this month's Restaurant of the Week. Portillo's is known for their Chicago style hot dogs and sandwiches. Presenting the certificate is Nelson Staffer Nick Constantino who is a Chicago Native and a regular at Portillo's in Buena Park.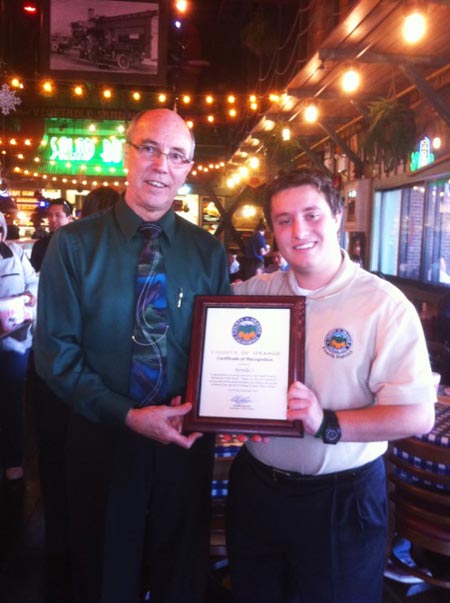 Entrepreneur of the Year
Supervisor Shawn Nelson presented his first-ever Entrepreneur of the Year award to Aaron and Patricia Barkenhagen, owners of Bootlegger Brewery, to memorialize the individual spirit of this family enterprise and small business success. Barkenhagen started perfecting his recipes for beer 10 years ago as part of his business plan in the CSUF Entrepreneurship program and grew the family-owned enterprise from 1 to 12 employees this year.

Supervisor Nelson chose the Bootlegger Brewery as his first recipient from his meeting with Aaron and Patricia Barkenhagen through mutual friends several months ago. "I am impressed with the Barkenhagens tireless work efforts to make their business succeed. The best part is the business keeps growing in spite of the challenges this economy delivers. They are a shining example of the American dream and they serve as a testament to the entrepreneurial spirit that makes our economy grow."

Bootleggers Brewery produces 15 flavors of beer that are available for purchase by the public in 22 oz bottles, 1 gallon growlers, bottles and both 5 and 30 gallon kegs. Beer tasting is available at the facility every Thursday and Friday from 4-9 pm, Saturday from 2 to 9 pm and Sundays from noon to 6 pm.

The Brewery is located at 401 S. Richman Ave at Walnut. You can call at 714 871-BEER (2337) or visit their website at www.bootleggersbrewery.com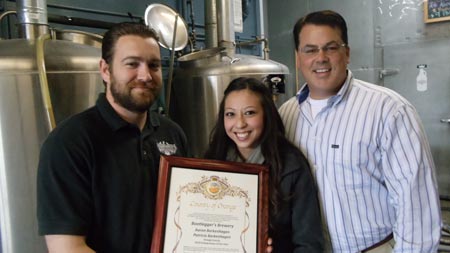 Please contact our office if you know of an individual who deserves recognition for outstanding community or public service. Contact: Steve Spernak 714-834-3440
COUNTY COMMISSIONS AND COMMITTEES
The 4th District has vacant appointments on the following commissions or committees:



Mental Health Board
Public Financing Advisory Committee
Waste Management Commission




If you are interested in serving on one of these committees, please call Audra Adams at (714) 834-3998.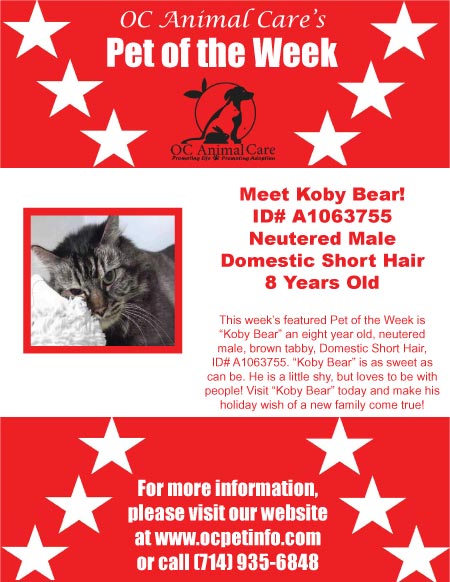 For questions or comments regarding Nelson's E-News
please contact the Supervisor's office staff:
Audra Adams Ph: 714-834-3440 Email: audra.adams@ocgov.com