June 3, 2011
Volume 2, Issue 10
NELSON TEAM
Denis Bilodeau
Chief of Staff

Audra Adams
Policy Advisor /
Communications Director

Steve Spernak
Policy Advisor

David Zenger
Policy Advisor

Scott Carpenter
Policy Advisor

Mark Lopez
Executive Aide
---


Welcome to Nelson's E-News!

Dear Friends,

I hope you all enjoyed the Memorial Day weekend and took advantage of the chance to thank those who have chosen to dedicate their lives to serve and protect the rest of us at home and abroad. Over the past week, I was able to reflect more deeply on the meaning of their sacrifice as I visited multiple memorials to recognize those who wore the uniform and have provided brief descriptions below.

As you may know, in my capacity as County Supervisor, I also serve on the Orange County Transportation Authority and the Air Quality Management District. I had the opportunity to interview with Leslie Leyton regarding policies I have initiated in those areas and numerous other issues. Please continue reading to view the entire interview via the link I have included.

One of the issues I discussed was my Bicycle Summit, which I hope will address and improve transportation options for North Orange County residents. The first meeting held in April drew a large number of community leaders, stakeholders and experts who provided invaluable contributions toward achieving this goal. Following up on this success, a second meeting will be held later this month, the results of which I will pass on to you.

Thank you to all of those who have participated in the redistricting process by submitting map options for consideration in redrawing the Supervisorial boundaries. Occurring only once a decade, this significant step to gain public input offered residents a chance to help shape district boundaries for the next ten years. Although Wednesday, May 18 was the deadline for submitting maps, there are several more opportunities to get involved. Please see the list of committee meetings occurring over the next month.

Take care and have a good weekend.

Sincerely,
Shawn Nelson.
OC Peace Officers Memorial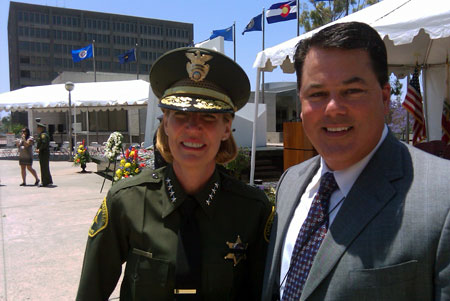 Above, Supervisor Nelson and Sheriff Sandra Hutchens attend the Orange County Peace Officers Memorial and formal ceremonies to honor Sergeant Ira Essoe. On February 4, 2010, Sergeant Ira Essoe of the Orange County Sheriff's Department succumbed to injuries incurred 29 years earlier in a line of duty incident. Family members of the other 48 Peace Officers who died in the line of duty joined together to honor the fallen officers.
---
Memorial Day Celebration - Fullerton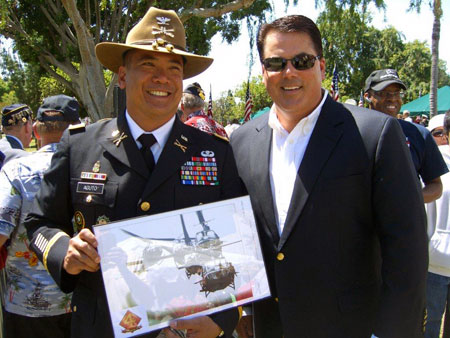 Supervisor Nelson takes a moment to present Col Aguto, Commanding Officer of the 11th Armored Cavalry, with his "Fighting Fourth" District commemorative poster as a "thank you" for delivering the key-note address on American heroes and patriotism at Monday's Memorial Day ceremonies at Loma Vista Memorial Park. Orange County residents enjoyed the patriotic program produced by 50 organizations, Captain Marilyn Harris and members of the American Legion Post 142, City of Fullerton, and countless civic volunteers.
Time Warner Cable Interview

Supervisor Nelson recently sat down for an interview with Leslie Leyton of Time Warner Cable, where he discussed his recent Bicycle Summit, his work on the boards of OCTA and AQMD, and his recent ordinance preventing 290 registrants from entering County Parks.

To watch the interview, please click the link below:
http://www.youtube.com/watch?v=aJ8ULcMvslw
Anaheim Senior Club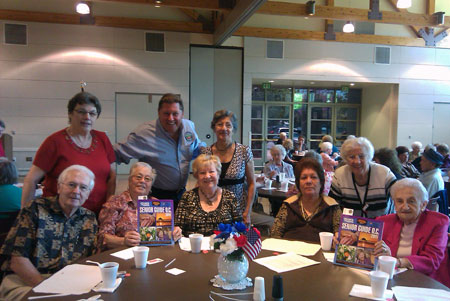 This week, Fourth District representative Steve Spernak joined attendees at the Anaheim Seniors Club monthly luncheon. The monthly luncheon is open to all seniors who pay the $5 yearly membership to the club and $4 for the buffet luncheon prepared on-site by volunteers. Senior Guides provided by the Orange County Council on Aging went home with all the attendees who will also be invited to Supervisor Nelson's Senior Summit August 27th at the Buena Park Senior Center.
The 4th District has vacancies on the following commission:

Waste Management Commission

Public Finance Advisory Committee


If you are interested in serving on one of these committees,
please call Audra Adams at (714) 834-3998.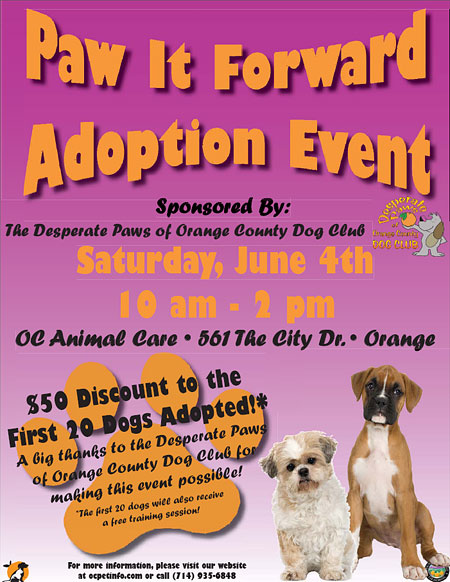 Click on the image above to view a larger version.
---
Nelson Family Adopts a Puppy!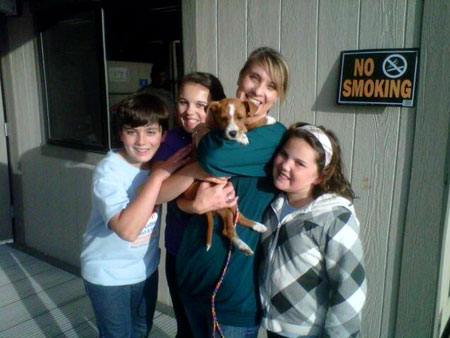 Recently Supervisor Nelson and his family stopped by the OC Animal Care's facility to lend his support for their Animal Adoption drive. While helping out with the animal adoption efforts, the Nelson's met Charlie, and loved him so much they decided to take him home with them. Charlie has been with the family for one week now, and is loving his new life.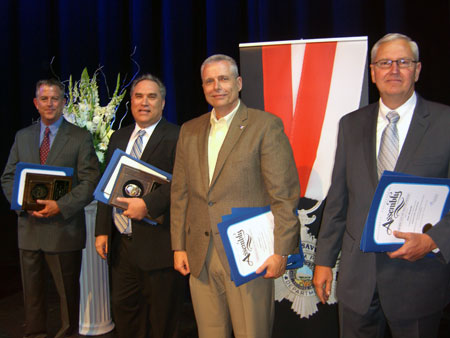 The Fourth District honored four retiring Anaheim Police Officers who attended department ceremonies with certificates of achievement to document their years of service and career contributions to the public safety of Anaheim residents. Featured above are Anaheim's retirees (left to right) Bill Cowhey, Greg Palmer, Chris Sayers and Stan Ziemelis.
---
4th District Certificates

Lauralyn Eschner, Teresa Crawford – Orange County Music and Arts Administrators' Chairman's Award
John Kohn – Orange County Music and Arts Administrators' Honoree for Theater
Kailah Delaney – Southern California Level 10 State Gymnastics Competiton, First Place All-Around
Elisa Rodriguez – YouthSpeak Speech Contest Winner
Anaheim High School Varsity Cheer (1st Place) - Sharp International Cheer Nationals – Ixsayana Chavez, Ashley Colorado, Erika Cruz, Geraldine Diaz, Stephanie Diaz, Nathalie Gomez, Dulce Gonzalez, Naiby Gonzalez, Michelle Gudino, Jalisa Guerrero, Lizett Jaime, Estefania Lopez, Wendy Martinez, Viviana Mosqueda, Cristina Perez, Ana Rodriguez, Karla Rodriguez, Cindy Ruvalcaba, Erendida Ruvalcaba, Katrina Troup, Christian Banda, Justin Martinez
Anaheim High School JV Cheer (2nd Place) – Sharp International Cheer Nationals - Ariana Acosta, Leslie Alcantar, Maria Andrade, Jessica Arellano, Daisy Dorado, Gabriela Fernandez, Vanessa Garcia, Elizabeth Gonzalez, Carina, Hishmeh, Kelly Martinez, Angelica Melendez, Elizabeth Ojeda, Katia Palma, Elsi Pineda, Angie Retana, Iris Reyes, Elva Rivera, Erika Santa Maria, Nathalia Velasquez
Christina Capen – Coach of award-winning Anaheim High School Cheer
Robert Perez – Retiring after 40 years of service to the City of Placentia
Richard Kirkland – Retiring after 21 years of service to the City of Placentia
Sunshine Cavalluzzi – Orange County Education Department's Teacher of the Year, 2012
National Merit Scholars – Amanda V. Ferguson, Christine K. Nguyen, Karthik Vasan, Ryan K. Pham, Da Yun Chung, Alicia Guo, Charles M. Jones, Hye Sun Kim, Yisu Kim, Esther J. Lee, Sung Hyun Lee, Ashley H. Song

Please contact our office if you know of an individual who deserves recognition for outstanding community or public service.
Contact: Steve Spernak 714-834-3440.
Are you interested in the redistricting process? If so, attend one of these mettings!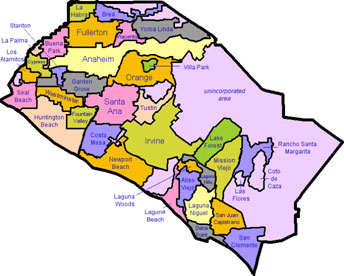 Scheduled Redistricting Committee Meetings

June 8 – 6 p.m.
Buena Park Community Center
8150 Knott Ave.
Buena Park
June 9 – 6 p.m.
Orange City Hall, Council Chambers
300 E. Chapman Ave.
Orange
June 16 – 6 p.m.
Westminster City Hall, Council Chambers
8200 Westminster Blvd.
Westminster
June 23 – 6 p.m.
Mission Viejo City Hall, Council Chambers
200 Civic Center
Mission Viejo
June 30 – 2 p.m.
Board Hearing Room, Hall of Administration
Santa Ana
July 7 (if needed) – 2 p.m.
Board Hearing Room, Hall of Administration
Santa Ana
---
EVENTS

Anaheim
Event: Flag Day
Time: 10:30 AM – 12:00 PM
Date: Saturday, June 11th, 2011
Location: Downtown Anaheim, Center Street Promenade & Clementine
Notes: Free Flags, Cake, Ice Cream, and a Patriotic Parade! Free Admission and Parking

Buena Park
Event: US REPRESENTATIVE ED ROYCE HOSTING JOB FAIR
Time: 7:00 PM – 8:00 PM
Date: Saturday, June 25th, 2011
Location: Walter D. Ehlers Community Center, 8150 Knott Avenue, Buena Park, California (CA)
Contact: Ryan Hougardy, 714-744-4130

La Habra
Event: 2010 Gem Show: Rock for All Ages
Time: 10:00 AM – 5:00 PM
Date: Saturday, June 4th, 2011
Location: La Habra Community Center, 101 W. La Habra Blvd.

For questions or comments regarding Nelson's E-News
please contact the Supervisor's office staff:
Audra Adams Ph: 714-834-3440 Email: audra.adams@ocgov.com.