Welcome once again to my newsletter.

Dear Friends,

Thank you for reading my newsletter once again. I hope you have all been well since my last newsletter and in this issue I look forward to continuing to bring you valuable information regarding updates in our community and what the County has been doing for you.

Over the past couple of weeks I was able to help recognize the wonderful service and efforts made by our County agencies and partnerships. Below, please find photos and brief descriptions of my participation at the Annual Cal Optima Community Alliances Conference and congratulating the OC Public Libraries at the Board of Supervisors meeting.

Next weekend, I have the privilege of attending the 63rd Annual Lions Corn Festival in La Habra. I will be in the parade beginning at 9:30am on La Habra Boulevard (between Idaho and Cypress) and afterwards I will have a booth at the festival. I hope to see you there.

As always, there are also several opportunities for you to get involved. Please continue reading to see how you can help improve our community and keep it safe.

Sincerely,
Shawn Nelson.
OC Public LIbraries is turning 90!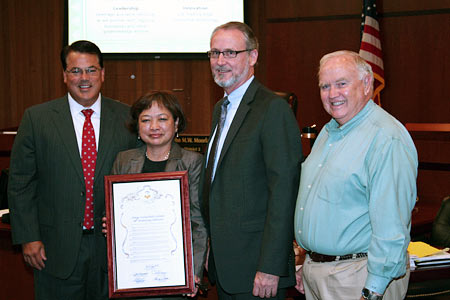 Above, Supervisors Nelson (left) and Campbell (right) recognized OC Community Resources Director Steve Franks and County Librarian Helen Fried prior to Tuesday's Board meeting. Orange County Public Libraries is celebrating their 90th Anniversary next month, the occasion highlighting the decades of successful programming and service the libraries have provided to the residents of Orange County.

Today OC Public Libraries provides over 2.5 million print, eAudio, eBooks, newspapers, magazines, CDs, DVDs, copies of sheet music and historical images to a service population of 1.2 million people. Branches offer storytimes, book clubs, job information, literacy services, free Wi-Fi, Internet computer workstations and cultural programming for all ages.

Patrons are invited to participate in the 90th birthday celebration by donating a new book for children or adults to the library. Donated Birthday Books will feature a specially designed Birthday Bookplate honoring the donor. Please contact your local branch of OC Public Libraries for book suggestions.

Stop by any one of the 34 branches and join us as we celebrate 90 years of serving you. Visit www.ocpl.org for upcoming special 90th Birthday Celebrations and the location of your nearest branch library.
---
Cal Optima Community Alliances Conference

The Fourth District was home to the Annual Cal Optima Community Alliances Conference. The event took place at Cal State Fullerton and was attended by over 500 service providers, community partners and residents who receive services from Cal Optima. Supervisor Nelson participated by welcoming everyone to the fourth district and presenting former Assemblywoman and Director of the California Department of Aging Lynn Daucher with a resolution honoring her dedication to the health care and senior community through the years. The program provided attendees with an overview and conversation about the state of health care in the county, state and nation. In addition to the informational sessions the conference also took opportunity to recognize the 2011 Cal Optima Safety Net Award recipients, which were Council on Aging Orange County, The Illumination Foundation, Korean Community Services and Providence Speech and Hearing Center.
---
Anaheim Independencia Neighborhood Pride and Civic Cleanup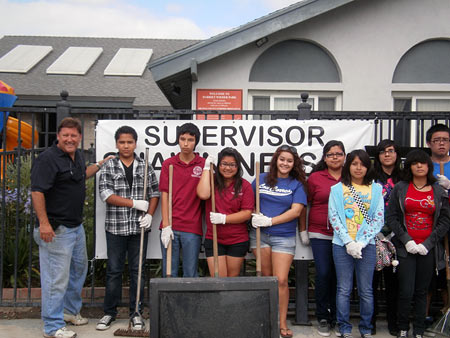 Congratulations to Rosa Renteria, director of the West Anaheim Independencia Center, for putting together this past weekend's Civic Cleanup in cooperation with Supervisor Nelson's staff and the OC Waste and Recycling Department. The 4th District coordinated the delivery of five 40 ft. dumpsters that were filled by 10 am by residents who emptied yards, fields and driveways of car parts, furniture, rugs and debris. Senator Correa provided Junior Senator volunteers who worked and walked with Nelson staffer Steve Spernak to pull trash and weeds on each of the streets and fences in the neighborhood. Special thanks to OCWR staffer Isabel Rios who delivered the dumpsters and worked with the civic pride project all day Saturday.
OC Fair Express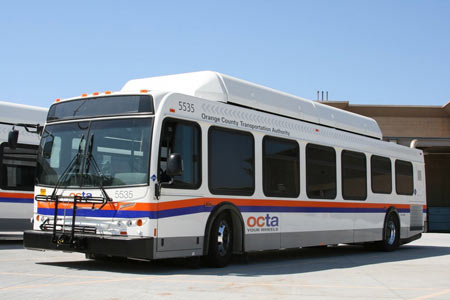 No more sitting in traffic or paying for parking!

OCTA is bringing back the popular OC Fair Express bus service, thanks to a transportation event grant from the Mobile Source Air Pollution Reduction Review Committee (MRSC). Catch one of five bus routes that will take you directly to the yellow gate at the Orange County Fair, running until Sunday, August 14.

To view the route, please click below: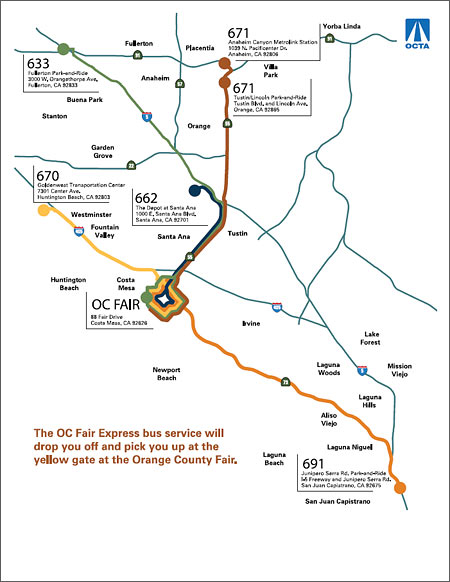 The 4th District has vacancies on the following commissions:

Waste Management Commission

Public Finance Advisory Committee


If you are interested in serving on one of these committees,
please call Audra Adams at (714) 834-3998.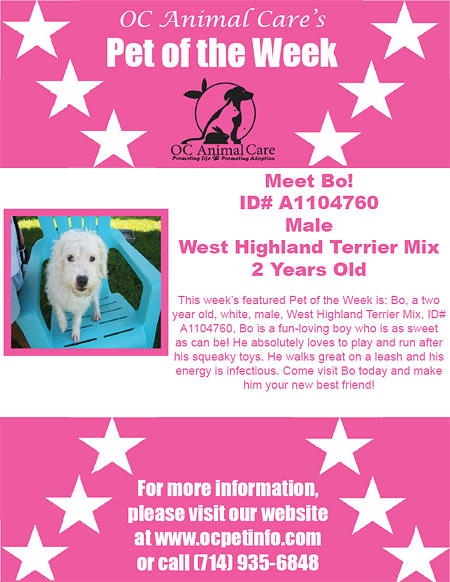 Click on the image above to view a larger version.
---
Working Together to Make Rabies History!
World Rabies Day: September 28!



What is Rabies?
Rabies is a viral disease that affects the central nervous system of all warm-blooded animals.
Rabies can be transmitted when saliva from a rabid animal comes in contact with an open cut on the skin or the eyes, nose, or mouth of a person or animal.
Rabies is a terrible, yet preventable disease with approximately half of all human rabies deaths occurring in children under the age of 15.
It is estimated that every year 30,000-40,000 US residents are potentially exposed to rabies requiring human rabies post-exposure prophylaxis.
Protect your Pets and Home!
Vaccinate your dog or cat and keep their vaccinations up-to-date.
Don't allow your pet to roam free without supervision.
Don't touch or feed, and stay away from wildlife, such as raccoons, bats, coyotes, and skunks.
Don't leave exposed trash or pet food outside, as it may attract wild or stray animals.
Bat-proof your home and other structures to prevent bats from nesting and having access to people.
(For more information, www.cdc.gov/ncidod/dvrd/rabies/bats_&_rabies/bats&.htm)
If you notice a bat in your house, notify your local animal control agency immediately. Never touch a bat with bare hands!
Report stray animals to your local animal control agency.
Questions?
Classic Barbers - Fullerton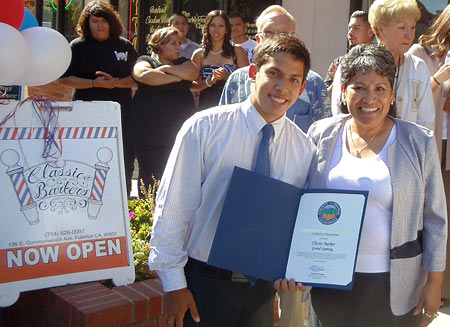 Above, fourth district staffer Gerald Espinosa (left) presents the Certificate of Recognition to Maria Negrete, owner of Classic Barbers congratulating them on their official opening, marking their two years in business. Located at 135 E. Commonwealth Avenue in Fullerton, Classic Barbers' friendly staff and nostalgic barbershop feel offer such signature haircuts as "old school shaves" and "lineups." Classic Barbers' unique blend of old school barber and competitive prices promise to draw in many returning and new customers in Orange County.
---
CF Dance Academy - West Campus - Fullerton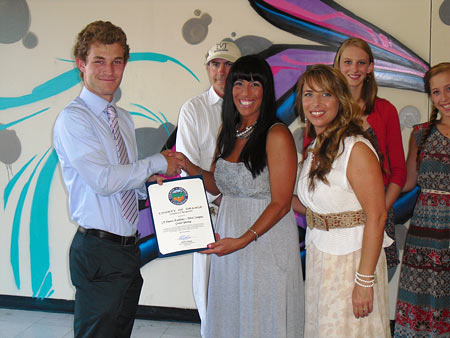 Above, Nelson staffer Sebastien Welch presents a Certificate of Recognition congratulating Co-owner Leanna Forucci-Herron CF Dance Academy-West Campus for their opening and welcoming them to the Fullerton community. The Academy is eager to teach people how to dance a wide-array of styles; from hip-hop to ballet. The Academy is looking forward to getting involved with the community and aims to help with scholarships. With its excellent course selection and great dance instructors CF Dance Academy is sure to dazzle the community.
---
4th District Certificates

PLuke Blalock, Time Warner Cable – Exceptional Act of Heroism in reaction to a fire in Buena Park
Juvensio Borjas, Time Warner Cable – Exceptional Act of Heroism in reaction to a fire in Buena Park
C.F. Dance Academy – Grand Opening
CTS Appliance Store – Grand Opening
Mestizo Grill – Grand Opening
Lynn Daucher – CalOptima Honoree, 2011
Council on Aging of Orange County – CalOptima Safety Net Award
Illumination Foundation - CalOptima Safety Net Award
Korean Community Services - CalOptima Safety Net Award
Providence Speech and Hearing Center - CalOptima Safety Net Award
G Burger, George Makri -La Habra Chamber of Commerce Business of the Year
Leos Club - La Habra Chamber of Commerce Youth of the Year Award
Sandi Baltes - La Habra Chamber of Commerce Lifetime Achievement Award
Donna Strachan, Primarily Hair La Habra Chamber of Commerce Entrepreneur of the Year Award
Mark Handler - La Habra Chamber of Commerce Citizen of the Year Award
La Barca De Jalisco - La Habra Chamber of Commerce Business Revitalization Award
Jimmy Campanis - La Habra Chamber of Commerce Chamber of Commerce Award
Jennifer Cervantes, City of La Habra - La Habra Chamber of Commerce George Rochester Professional Award
Kim Bickerdyke-Praster, Lady Bugs Termite and Pest Control -La Habra Chamber of Commerce Scott Lawrence Award
Community Development, City of La Habra - La Habra Chamber of Commerce Special Recognition Award
JMR Foundation - La Habra Chamber of Commerce Special Recognition Award
Mario Carlos, Principal, Washington Middle School - La Habra Chamber of Commerce Golden Apple Award
Pastor Mike Murphy - La Habra Chamber of Commerce –Presidents Award


Please contact our office if you know of an individual who deserves recognition for outstanding community or public service.
Contact: Steve Spernak 714-834-3440.
Medal of Honor Recipient Walt Ehlers turns 90!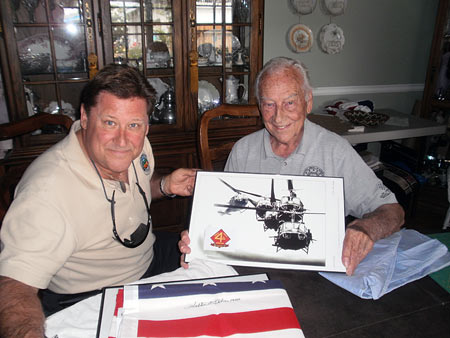 Congratulations on your 90th Birthday! Mr. Ehlers is pictured here with Nelson staffer Steve Spernak who presented him with a framed 'Fighting Fourth' air cavalry poster. Walt landed at Normandy on D-Day, 65 years ago, and received the Congressional Medal of Honor signed by President Roosevelt from General JHC Lee in Paris. Ehlers is invited to light the first candle at Supervisor Nelson's Veterans Day sunset memorial on 11-11-11 at Tri City Park to honor his brother, Roland, who was killed on Omaha Beach on D-Day.
COMMUNITY EVENTS AND ANNOUNCEMENTS
La Habra
Event: Corn Festival
Date: August 5th, 6th and 7th
Where: La Habra Blvd between Idaho and Cypress
Notes: Please come watch Supervisor Nelson and his family ride in the parade at 9:30am on Saturday, August 6th!
The Nelson team will also have a booth with County informational pamphlets and goodies!
http://lahabracornfestival.com/

Placentia
Event: Concert in the Park – Rock-it Scientists
Date: Thursday, July 29th, 2011
When: 6:30 PM – 10:00 PM
Where: Tri City Park (2301 N. Kraemer Blvd)
Notes: 50's and 60's Rock and Roll! Absolutely free!
---
Library Overdue Fines – No Worries!!
Amnesty week: September 12th to September 18th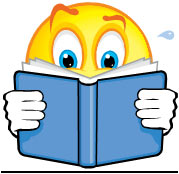 OC Public Libraries is encouraging its borrowers to participate in the library's Overdue Fines Amnesty Program. The program gives library borrowers a chance to return overdue library material and clear their accounts during the Libraries' Amnesty Week scheduled from September 12th to September 18th, 2011.

The Amnesty Program, which coincides with the Libraries' 90th Birthday Celebration and National Library Card Sign-up Month, was approved on July 26 by the Orange County Board of Supervisors and will be promoted in all 34 library branches. For more program information or a list of branch libraries and phone numbers, please visit OC Public Libraries website at www.ocpl.org.
For questions or comments regarding Nelson's E-News
please contact the Supervisor's office staff:
Audra Adams Ph: 714-834-3440 Email: audra.adams@ocgov.com.